Recently Wildlife SOS' team operating out of Srinagar received a distressed call about an unusual snake that was spotted at the former Chief Minister's residence. The snake had made prior appearances and had taken shelter in a wall covered with plants in the garden.
On sighting it in the early hours of the day, the security personnel at the residence, instantly reached out to the Wildlife SOS helpline to intervene and aid. The team led by Wildlife SOS Project Manager and Education officer in J&K: Ms. Aaliya Mir rushed to the location with the necessary rescue equipment. Having taken cover in the dense vines of the garden, the reptile made a no-show for almost an hour.  Finally, after a long wait, the reptile in an attempt to escape made an appearance and was safely rescued.  Holding years of experience of rescuing snakes and reptiles in distress, Aaliya Mir carefully extricated the snake from behind the vine cover and transferred it into a transport carrier, designed for the purpose.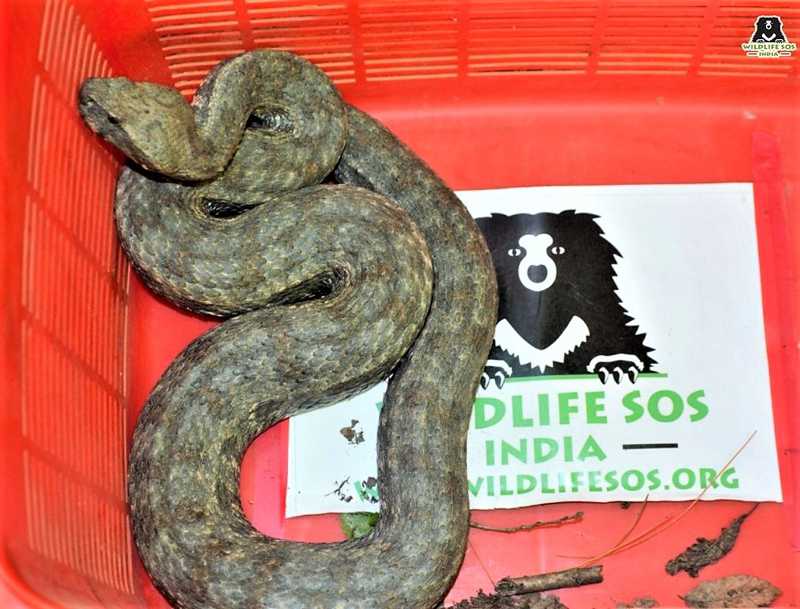 On visual examination the snake was identified as a rare species of Levantine Viper that is largely found across the rocky mountainous regions of the country.  Often sighted in Srinagar and Dachigam, the Levantine Viper is also known as 'Gunas' by the locals of the state. A highly venomous snake species, it feeds on rodents, lizards, birds etc.  The envenomation causes hemotoxic effects, resulting in extreme pain, inflammation and tissue damage at the bite site.
Rescue operations involving venomous species are highly dangerous and require extreme caution to be maintained. Featuring an outstanding record of successful past rescues, Wildlife SOS also deals with rescuing other wildlife species from man-animal conflict situation. A surge in the number of such sightings in the urban areas demands an increased tolerance and awareness amongst the public. The need to educate the masses about coexistence with wildlife sharing our landscape thus forms one of main focus of awareness workshops conducted by Wildlife SOS, which works closely with the local communities in the state.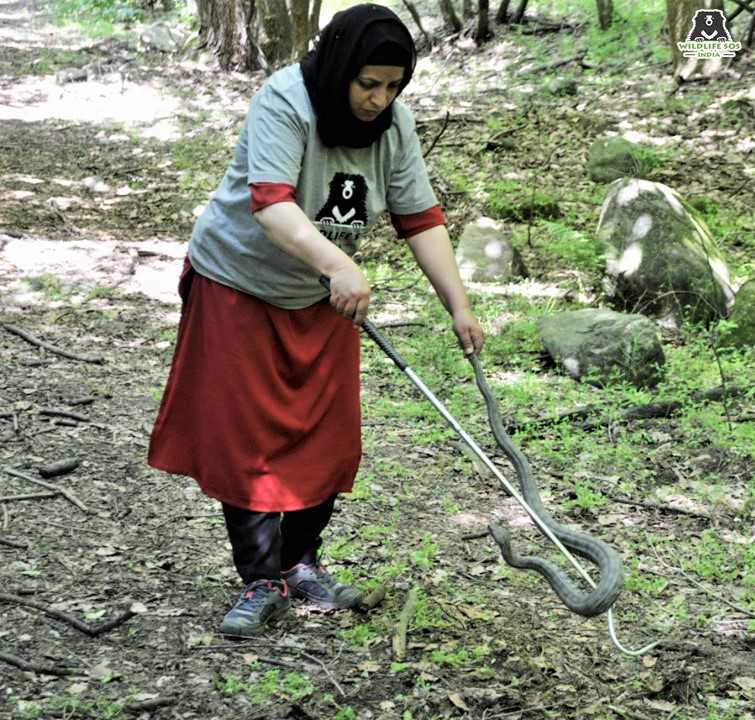 Even though slow moving the Levantine Vipers are capable of striking fast on being provoked. They often give out a hissing sound as a sign of warning before striking. Hence, it is necessary to keep them calm and maintain safety to avoid accidents. The snake was taken for further medical assistance and on being affirmed fit was later released back into the Dachigam National Park.
It is extremely important for the public to contact the right authorities in such incidences and not take up matters in their hands. A delay in such interventions can often lead to unfortunate accidents. Wildlife SOS is grateful to be able to successfully rescue the snake and return it back to the wild.