Pooja was around 18 months old when she first arrived at the Agra Bear Rescue Facility in 2008. She was rescued from a Kalandar community in Uttar Pradesh and as in the case of most captive sloth bears that were forced into becoming performing animals, Pooja bore the scars of physical and psychological abuse inflicted upon by her masters. The rope wound in her nose was infected and she was in indescribable agony. Her coat was rough and dull because of the lack of care and nourishment. Moreover, she was extremely scared and displayed stereotypical behavior.
Given her traumatic history with humans, Pooja would initially cower and tremble with fear when approached by the bear keepers and veterinarians at the Bear Rescue Center. But over time, she realized that they posed no threat to her and that our staff was simply trying to lend her a helping hand. Nine years on, Pooja has recovered from her painful past and is enjoying a free and peaceful life with fellow rehabilitated dancing bears. She is a healthy, active bear who weighs almost 116 kilos now. Though she remains wary of human interaction, Pooja is comfortable with her keepers Shyamu and Saddique.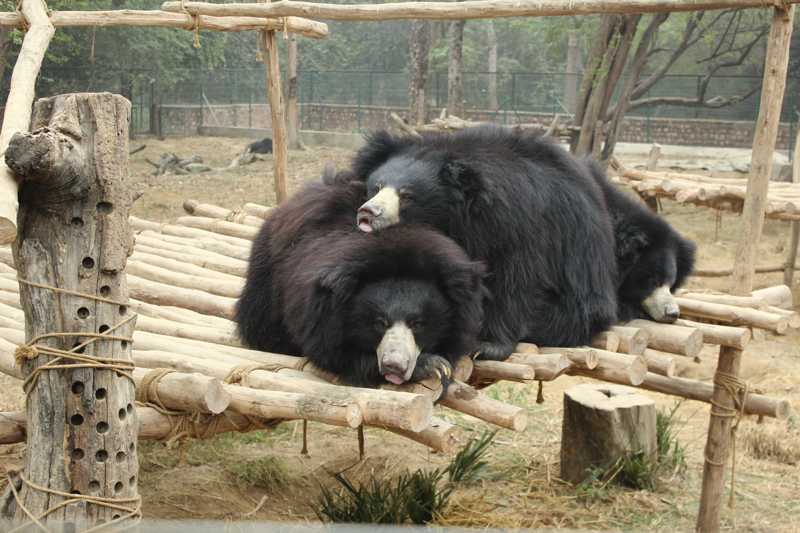 Pooja shares a beautiful friendship with Tarina and Manali bear, with the trio being almost inseparable. On most afternoons, you can often behold the endearing sight of the girls cuddled up into one giant fur ball! Forming bonds and socializing also plays a very important role in rehabilitation of animals that have been rescued from abusive, captive situations. Pooja and Manali often grapple over honey logs but they always end up making peace with each other and sharing their favorite enrichment.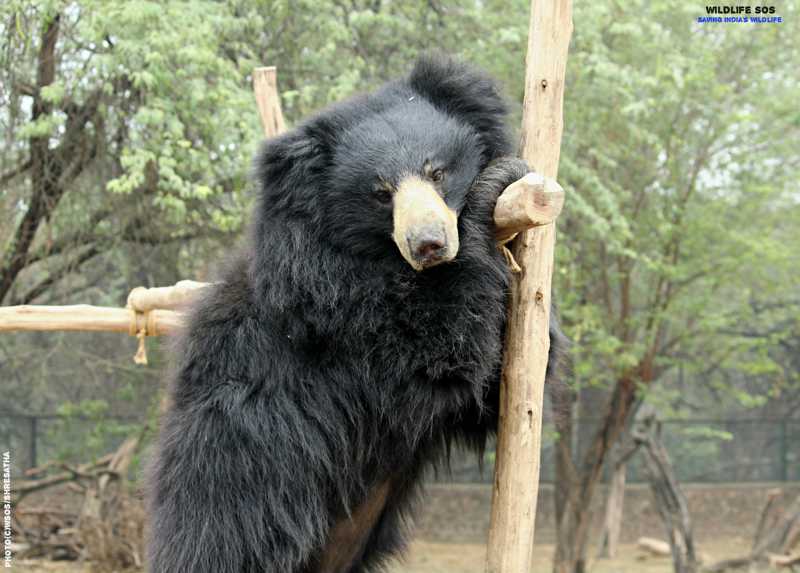 She is not much of a fussy eater and is extremely fond of coconut, dates and jaggery. According to Saddique, "Porridge is something that makes her day and she will gulp down the entire contents of her bowl within a matter of minutes. When she is in a playful mood, she will put her paw on the empty bowl to stop me from taking it. This is her way of trying to get me to play with her before I head back out." Pooja is quite active and likes to play with various structural enrichment's as well as enrichment balls especially when honey is poured on them. She also enjoys chasing after monkeys around the enclosure.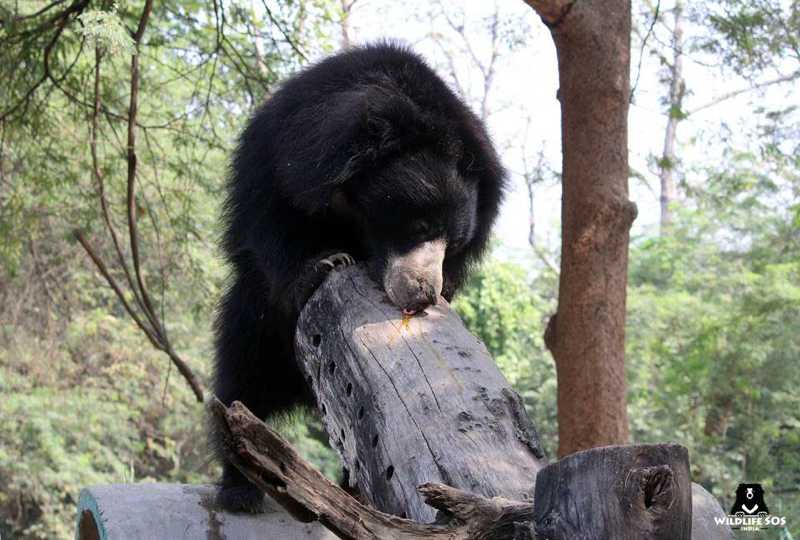 Our veterinarians recently conducted a routine medical examination on Pooja and she appears to be in the best of health. It is your love and unwavering support to this cause that Pooja and many other bears like her were finally able to find their freedom. We would love to thank you for providing a safe and secure abode for Pooja where she can lead a life of exuberance and good health. Please consider becoming a monthly donor and help care for these beautiful & intelligent creatures of god by following this link: https://give.wildlifesos.org/ea-action/action?ea.client.id=1971&ea.campaign.id=62879