Monsoons at the Bannerghatta Bear Rescue Centre is a beautiful time with lush greenery all around and our sloth bears look forward to the respite from summer heat! One of the bears in the spotlight today is Swati, who is our bear of the month.
Human-wildlife conflict is an issue of serious concern across India. Swati was one such victim of conflict who had sustained severe pellet wounds on her body. She also had a tiny cub clinging to her as she lay in a field, struggling to stay alive. Sloth bear mothers are fiercely protective of their young so it's highly possible that she was trying to shield her cub from the brunt of the brutal encounter.
On being alerted to this incident, the Forest Department along with a team from Wildlife SOS rushed to their aid. Swati and her cub were immediately taken to the Bannerghatta Bear Rescue Centre for urgent medical intervention. After assessing the extent of her injuries and performing two surgeries to avoid deterioration in her condition, Swati started to recover in our care. She was left with a permanent limp on her left fore limb, which could have a direct impact on her survival capabilities in the wild, especially with a cub by her side. Hence under the decision of the Forest Department, she was placed under our care along with her cub, who we named Lucky.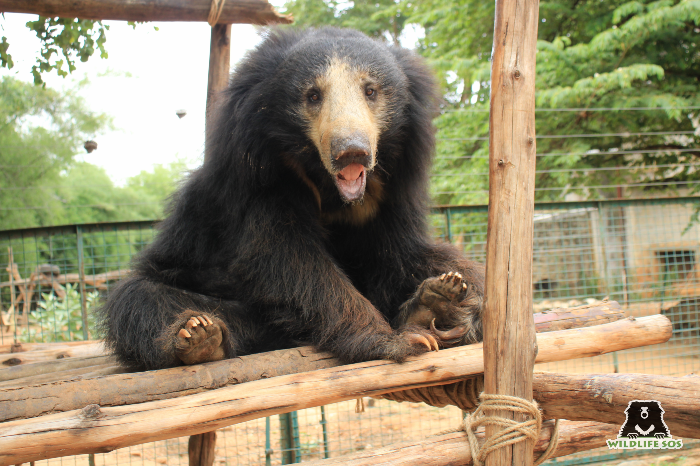 After several months of treatment and careful monitoring, Swati was introduced to Gubbi, a bear who has a similar origin story and had an amiable personality. This move proved vital since we observed how the companionship between both these bears, helped them to thrive. Swati gradually began to adapt to her new life. Her cub Lucky was also gradually introduced to bear closer to her age so she could adapt well to her new surroundings and hone her innate skills. After more than half a decade with Wildlife SOS, Swati and Lucky have both shown tremendous headway in their recovery.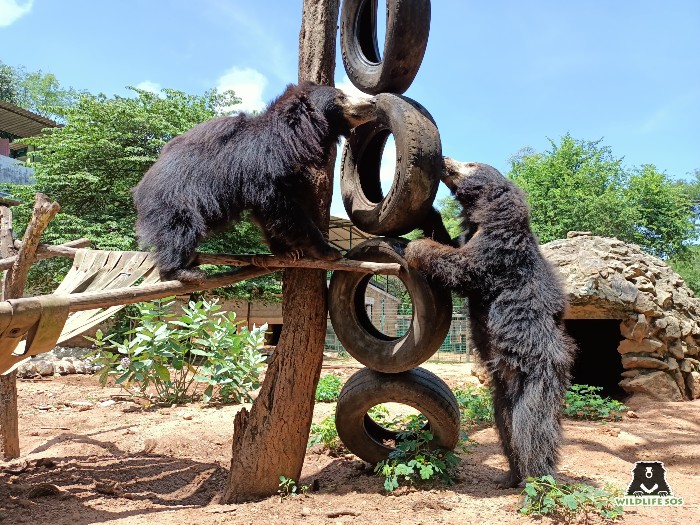 Swati has a speculative personality and enjoys climbing trees, although she cannot get too far up due to her old injury. She finds joy in using puzzle feeders stuffed with honey and dates and spends many hours trying to get every last bit. Swati and Gubbi's relationship has blossomed into an unbreakable bond and the duo loves engaging in an array of activities such as climbing on bamboo structures, playing with enrichment balls, and mock-wrestling. The staff is always left with joy watching them cooperating heartily. After accomplishing a long days worth of play, you can find them exhausted and asleep together under the shade of a tree.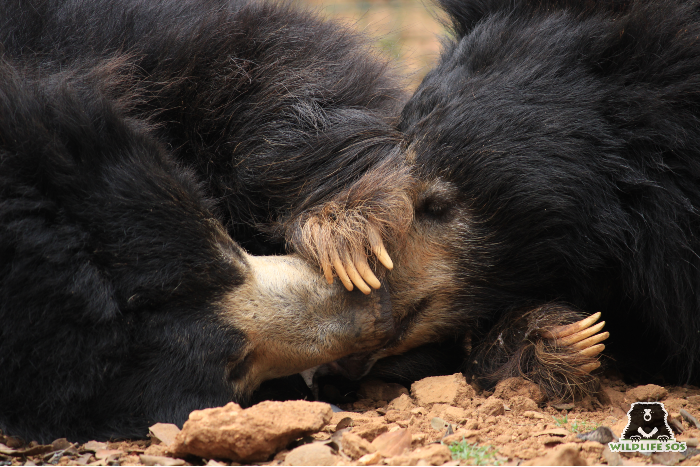 She is wary of most people but over the years her caregivers and the vets have managed to earn her trust. Her caregiver Hussain shares some of her antics with us, "She spotted me holding a bottle of honey one day from the other side of the fence, and immediately started to drool over her favorite treat!" Just like most sloth bears, Swati loves raw honey so we always mix it with her porridge, which is served twice a day.
Her remarkable recovery after her injury took several months of intricate care. Her wounds have healed up well but the limp she bears serves as a reminder of the brutalities of human-wildlife conflict inflicted upon countless animals in India every year. Swati currently weighs approx. 70 kgs and she was given a clean bill of health by our veterinary team during a recent routine checkup.
You can help support Swati by donating much-needed funds that enable us to provide the animals in our care with the life they deserve, here.