Valmiki bear was rescued from the Indo-Nepal border in 2010. His Kalandar owners were intercepted at the border just as they were attempting to illegally migrate to Nepal, where the practice of 'dancing bears' still persists. Due to the sheer negligence on the part of his former owners, Valmiki was highly emaciated and was suffering from halitosis due to severe mouth ulcerations that were left untreated.
Having spent the first 5 years of his life in an abused and half-starved condition, our veterinarians had to put him on a proper nutritious diet along with multivitamin supplements to help him regain his strength and provided him with the love and care that he truly deserved. Today, Valmiki is a strong and healthy bear, who has developed quite a friendly and mischievous personality. He is thoroughly enjoying his free and peaceful life at the Agra Bear Rescue Facility.  He has a hearty appetite and is quite fond of fruits, especially coconuts and watermelons which he relishes with great joy. It is quite comical to see him play with the left over coconut shells, whose pieces usually end up getting stuck all over his thick fur.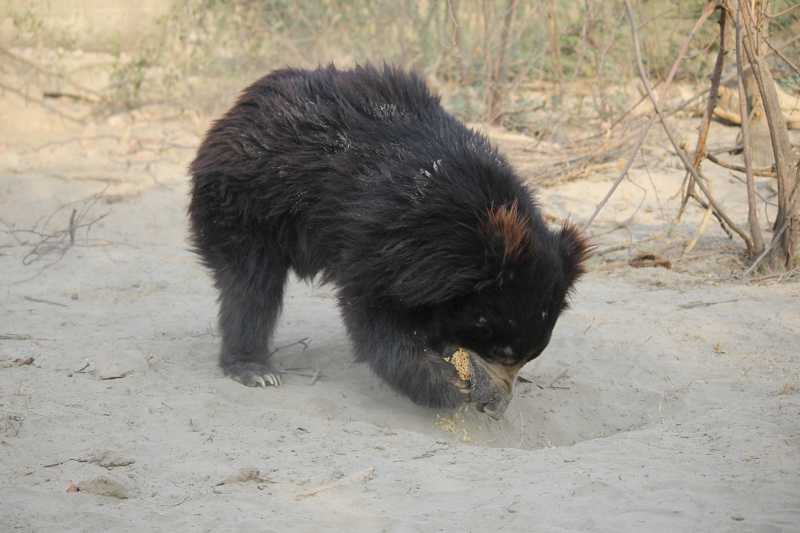 Valmiki has a close relationship with his keepers Israfil and Nem Singh, who in turn love to pamper him with peanuts, corn kernels and honey. He has recently developed a fondness for rice krispies and even hordes them inside a small mud pit to prevent the other bears from seeking them out. He is quite possessive when it comes to food and will charge at anyone who tries to approach his hidden treats.
He loves spending time with his bear buddies Neelkanth, Pepper, Digit and Yogi.  From digging up mud pits and playing in the bear pool to mock-wrestling and demolishing structural enrichments, this lovable foursome like to getting into all kinds of mischief. When he is not playing with his friends, he prefers foraging in forested patches of his enclosure and can often be seen spending lazy afternoons strolling by the pool.
Like all our rescued and rehabilitated sloth bears, Valmiki will be able to spend the rest of his live in safe and free environment, which would not have been possible without the constant love and support that we receive from our generous donors.