Recently Bhima – a resident tiger of Bellary Zoo in Karnataka made headlines when he underwent dental surgery. At 22 year of age, he is one of the oldest living Royal Bengal tigers in India. On an average, the lifespan of a tiger in the wild is between 10-15 years whereas in captivity they can survive up to 20-26 years. Bhima was born in the zoo and has reigned supreme over the years, and despite efforts made by the zoo staff to introduce him to other tigers, has preferred a solitary life rather than accepting a companion. With age slowly creeping up on this strong and graceful tiger, he has begun suffering from several ailments with the most recent being a dental infection.
Dental problems can be extremely painful and uncomfortable for animals, and nobody understands this better than Wildlife SOS' Dr. Arun A. Sha- Director Research & Veterinary Operations – who is known for his expertise in the field of veterinary dental surgery and is frequently called in to treat distressed wildlife, particularly those with dental problems. A veterinary team from the Wildlife SOS Bannerghatta Bear Rescue Center led by Dr. Arun made the nearly 330 kilometre journey to the zoo, to carry out a dental examination of the distressed tiger. The evaluation which was followed by a dental x-ray revealed that there was a maggot infestation in Bhima's gums that had resulted in his incisors becoming loose. This infection was causing him immense pain and had resulted in loss in appetite.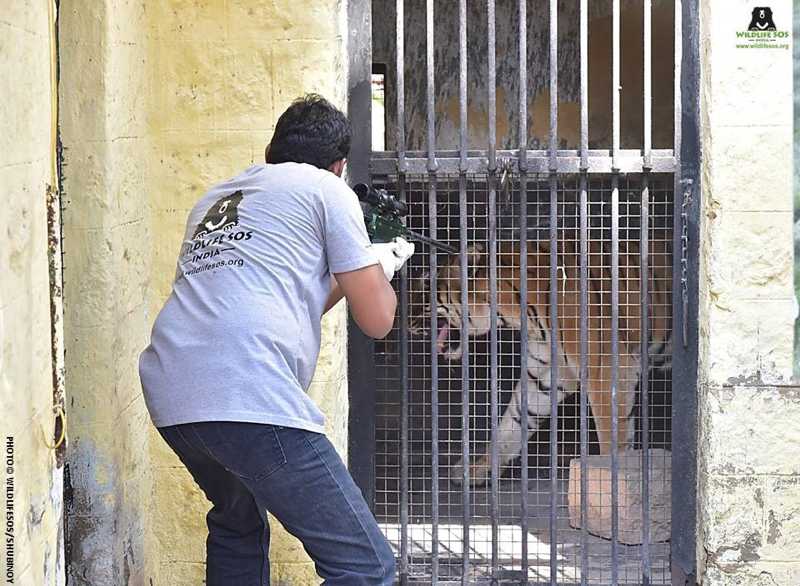 A decision was made to perform a surgery to extract the four loose incisors and proper treatment was provided for the gum infection. Dr. Arun had previously operated on Bhima to remove an overgrown nail in his paw. Because of his age even a minor surgery could have repercussions and Dr. Arun had to be extremely careful with both pre and post-surgical care. Bhima however has recovered very well and has gone back to his daily activities with a renewed spirit!
One of the most powerful creatures to walk this Earth, the majestic tiger has always been a symbol of national pride and integral to India's rich culture and heritage. However, the population of this unique species is constantly a target of human exploitation. Their exquisitely striped pelt is a much sought after novelty and their body parts are often used in traditional Chinese medicine.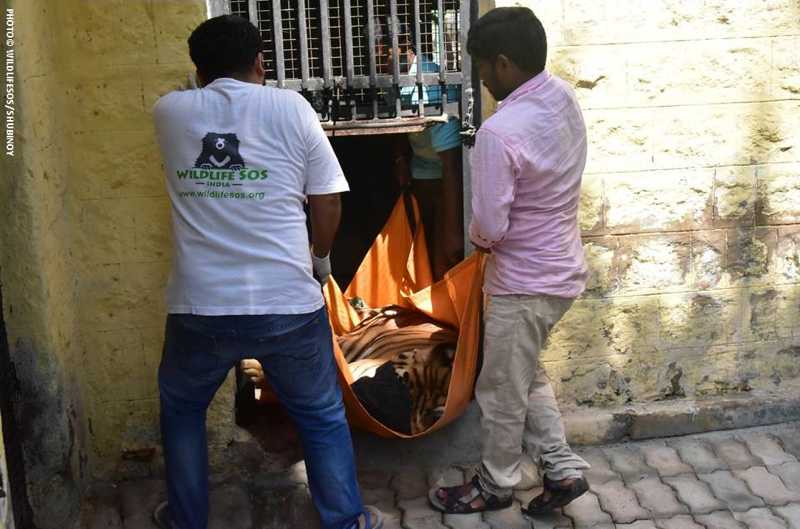 After a century of decline, recent surveys have indicated an increase in the world population of wild tigers at 3,890, this is a remarkable rise from the 3,200 count recorded in 2010. Classified as Endangered by the IUCN Red List of Threatened Species, tigers continue to face hazards due to threats such as habitat loss, rampant poaching and illegal trade of body parts.
Wildlife SOS in collaboration with the Karnataka Forest Department and Born Free Foundation has been actively involved in a project to rescue tigers from human-wildlife conflict situations in the state of Karnataka. The rescued big cats are rehabilitated at the rescue centre at Bannerghatta where they receive specialised medical care if needed and are kept in large forested enclosures. Every effort is made to find alternative habitats for releasing these animals back into the wild.