Earlier this month, we played host to celebrated music producer, composer and conservationist Ricky Kej who paid a brief visit to the Bannerghatta Bear Rescue Center, Bangalore. He has acquired a host of accolades over the years, including a position on the Billboard No. 1 Artist (USA) and a United Nations "Global Humanitarian Artist" Award.
Ricky who was accompanied by his wife, spent time interacting with the Wildlife SOS staff who shared a brief history of Wildlife SOS'  journey in rescuing sloth bears from the cruel dancing bear trade as well as about our work with rescued animals they were a part of our rescue facilities across the country.
Being a firm advocate for conservation and animal rights, Ricky was deeply moved by the stories of our rescued bears and the suffering they had endured at human hands, and was kind enough to pledge his support to Wildlife SOS' rescue and rehabilitation efforts.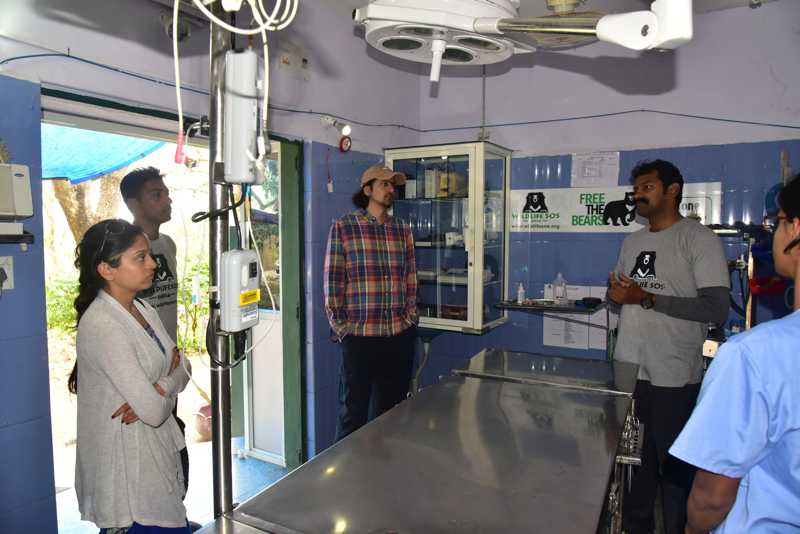 Our senior veterinarian Dr. Arun also gave Ricky and his wife a tour of the centre where they had the opportunity to see some of our bears in their enclosures that have wide open spaces for foraging and digging mud pits and are equipped with various structural enrichments to keep them active and fit. They even accompanied the bear keepers for a fruit feeding session.
Wildlife SOS is extremely grateful to have a prominent Ricky Kej extend his support our rescued and rehabilitated sloth bears and promote our endeavour to give these exquisite bears a better life.
Sloth bears are listed as 'Vulnerable' by the International Union for Conservation of Nature (IUCN) and protected under the Wildlife Protection Act, 1972. In 2009, Wildlife SOS made history by bringing an end to the 'dancing bear' practise that inflicted terrible cruelty on thousands of highly endangered sloth bears, by taking the last dancing bears off the streets of India.  In turn, the organisation has rehabilitated, sponsored education and provided alternative livelihoods for the Kalandar communities, who for centuries were dependent on sloth bears to earn a living.
Wildlife SOS has been instrumental in rescuing and providing life-time care for nearly 620 Sloth Bears rescued from the Dancing Bear trade; from poaching, and Human-Bear conflict situations. The Bannerghatta Bear Rescue Centre currently houses 78 rescued bears amidst the lush greens and rocks of the dry-deciduous Bannerghatta Biological Park, making it the world's second largest rescue centre for Sloth Bears in the world.