As Santa Claus found his way down the chimney awaiting some cookies and milk by the fireplace in houses all around the world, our teams at the Agra Bear Rescue Facility and Elephant Conservation and Care Centre, in Mathura, were no less than Santa as they donned bright red attires to bring Christmas home for our rescued elephants and bears. Like every year, we made sure that the seasons' greetings reach our rescued animals which is why our mahouts and elephant keepers wore Santa caps and filled their gunny sacs with dates as they went for the evening and morning walks with the elephants. Buttered popcorns being a personal favourite for our elephants in the setting winters, Christmas stars were filled with popcorns and hung around different places inside their enclosures. Initially surprised to see the starry and bright additions to their enclosures, our intelligent pachyderms were quick to realise that it is the season to be jolly, as they carefully plucked it out and instantly devoured the stars, munching on the treats.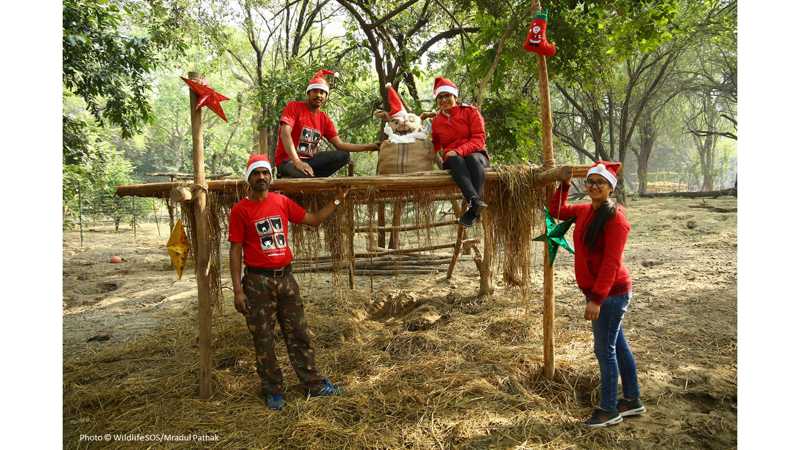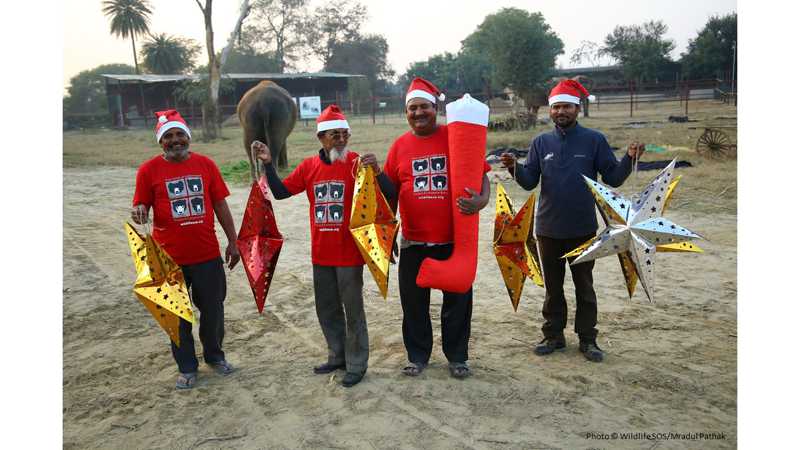 Our beloved Bijli was hesitant as she returned from her evening walk to find huge mounds of mud decorated with stars, but as she approached the mounds, her dexterous trunk was quick to pick out the stars.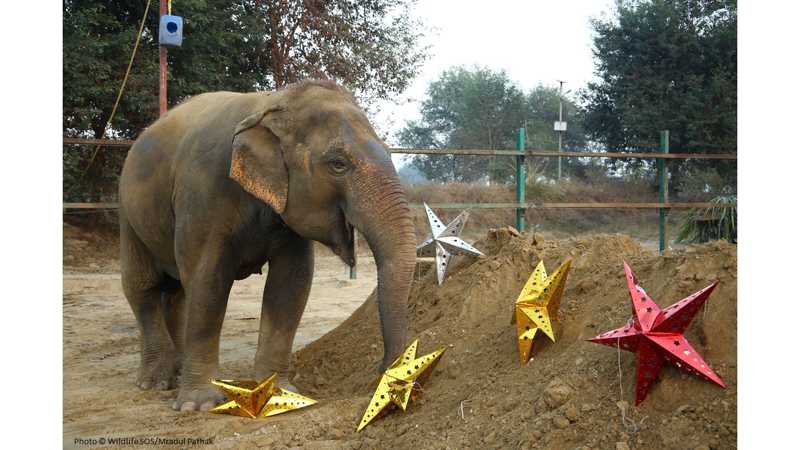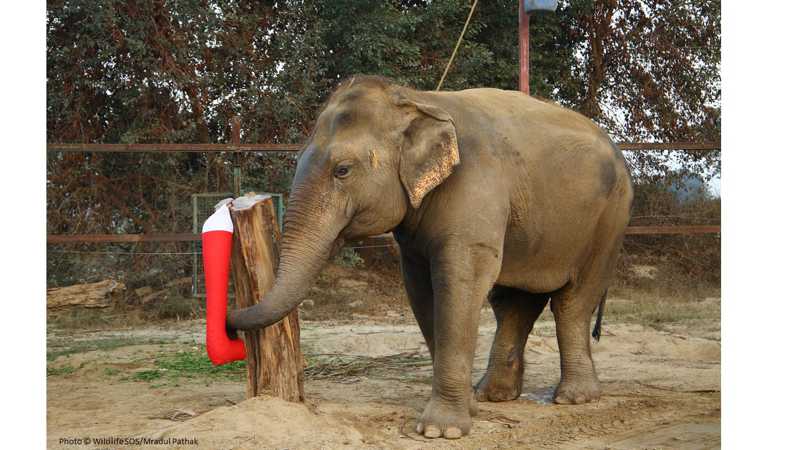 Maya and Phoolkali were quick to notice the giant red colour stockings in their enclosure, as they eagerly rushed to the log enrichment that it was hung against. Toying around with the stocking a little and then carefully undoing the knots to unleash the popcorns, they enjoyed their festive treats thoroughly.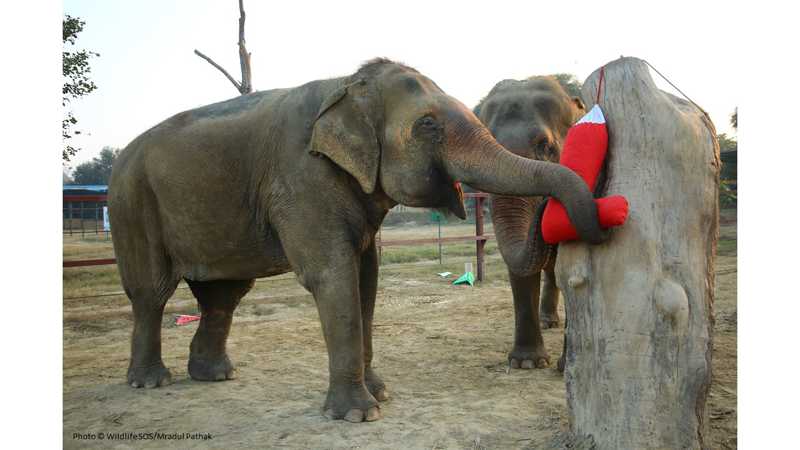 Chanchal grew particularly fond of the giant stocking and started playing around with it as soon as the team put it in her enclosure, wasting no time in getting some warm buttery popcorns out of the stocking and into her mouth.
Santa was quick to reach the Agra Bear Rescue Facility where our bear-keepers and education officers wore Santa caps and did an elaborate Christmas display with gunny sacs full of dry grass and dates that looked like a snowman! Special 'gifts', stockings and stars were filled with popcorns for our bears to devour, as they were seated atop their log platform enrichments.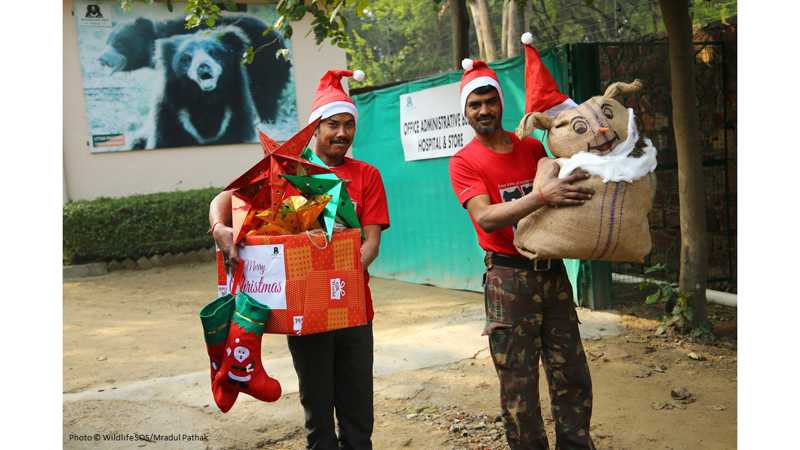 Mowgli was found lurking in the shadows curiously overlooking the process of his star enrichment being tied, and rushed to carefully examine it. As he toyed around with the popcorn-filled enrichment before bringing it down to quickly munch down the treat after which he happily ran around in festive spirit.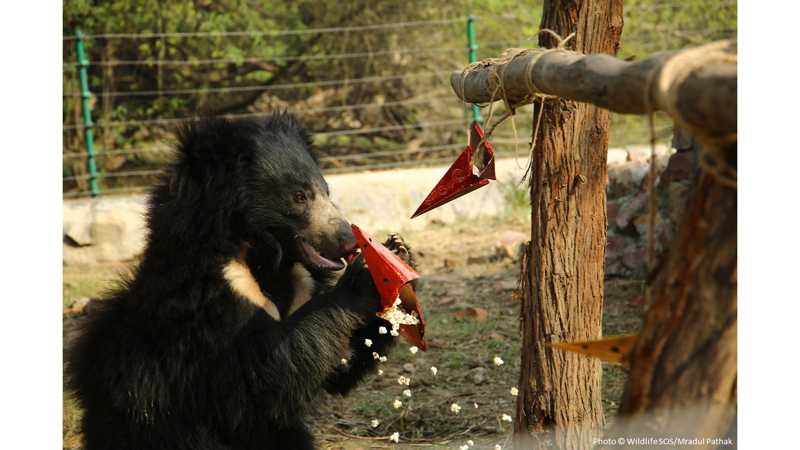 Our dear Elvis was no less when it came to finding out what was in his stocking as he sniffed it carefully and then, played around with it. When the dates started to spill out, Elvis paused for a second with a shine in his eyes and was found happily enjoying them, making sure nobody steals his dates from him!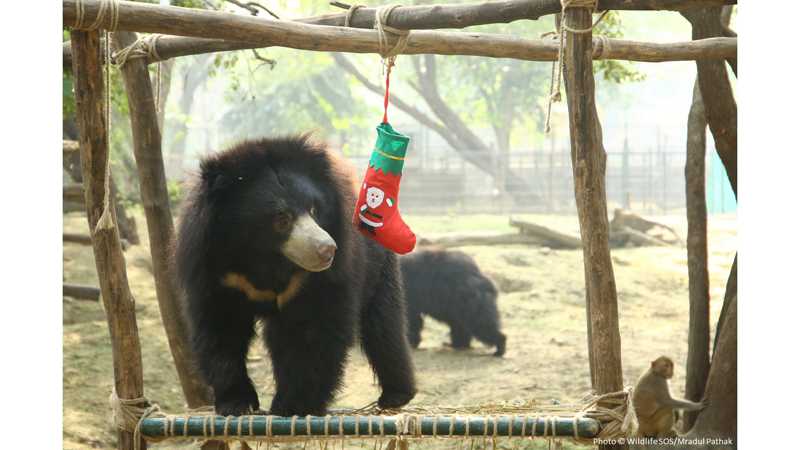 The gunny sac enrichment adorning a Santa hat was immediately taken notice of, by Rose, who climbed the log platform and sniffed the hat carefully. She nudged the gunny sac snowman a little as it fell and sent her two steps back, but she quickly climbed atop and tore it to eat her favourite dates!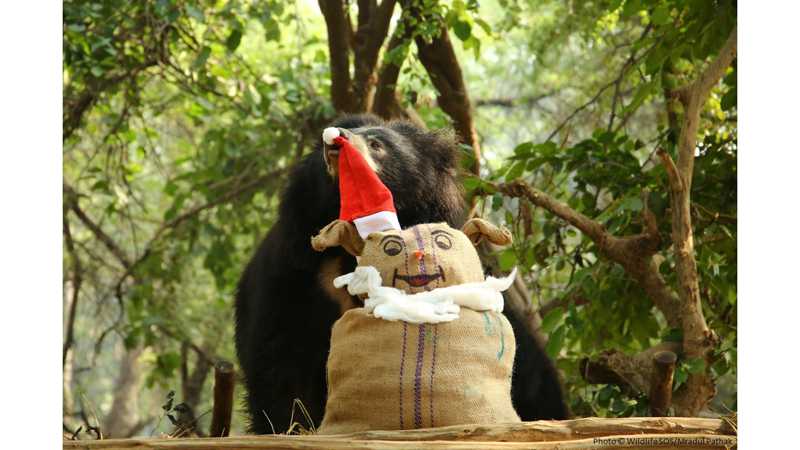 Tharun spent a good time looking at the star enrichment in his enclosure, and was quick to tear it down and enjoy the popcorns stacked inside. Curious as ever, he also eyed the gunny sac snowman in the enclosure and grew exceptionally happy upon smelling the dates stuffed inside.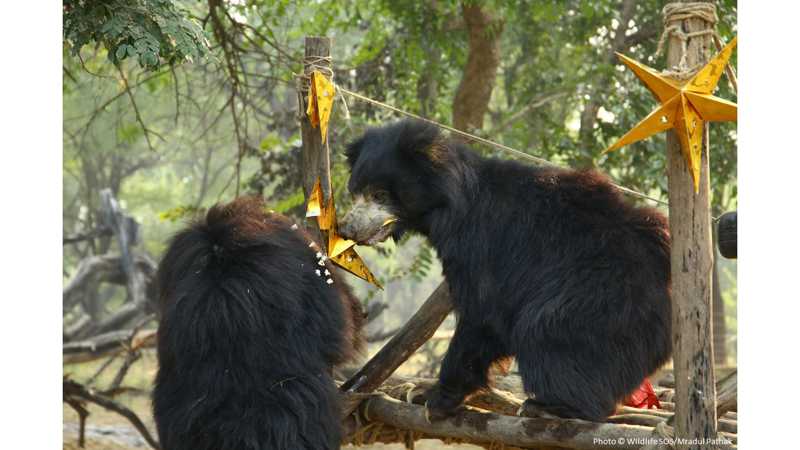 The efforts put in by our teams at the Agra Bear Rescue Facility and the Elephant Conservation and Care Centre, in Mathura, was done only to make sure that our rescued animals enjoy the festivities the way they deserve. Watching them munch down popcorns, dates,  tear apart stockings and kick around the stars with sheer joy and enthusiasm brought a smile to our face. As they heal each day, moving far far away from the brutal past that captured them, at the command of a bullhook or the pull of a rope, we hope that our work reaches to every animal in distress to bring them relief and a new lease of life!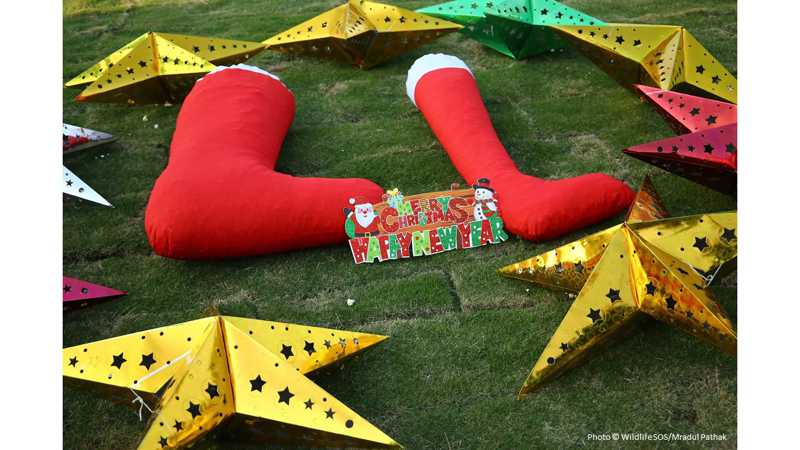 Watch our elephants and bears get into the festive spirit as they curiously play around with their enrichment
From team Wildlife SOS and our rescued animals, we wish you a Merry Christmas and a Happy New Year 2020!