In the middle of the night on 16th of April, a very special member was welcomed to the Ban Santour family: Daisy, one of the last captive elephants of Delhi, was finally at a safe haven with kind hands to care for her, after having suffered abuse and torture for nearly five decades of her life.
Living in a cramped city was no easy task and it came at a great mental and physical cost to Daisy. The blaring sounds of the chronically traffic-jammed roads of Delhi caused her tremendous mental stress. However, she had no choice but to cooperate, for any 'disobedience' of her keeper's command would lead to a painful blow from his ankush. She had learnt to fear the pain that her master was capable of inflicting and accepted the life of being merely his charismatic puppet. Unsurprisingly, her body is covered with wounds resulting from the use of sharp objects. Even though Daisy was completely blind in one eye and partially blind in another, there was no respite from work, for there was always more money to be earned. The comfort and health of this aging pachyderm were easily brushed aside as is evident from the terrible condition of her body. The toenails of all four of her feet are severely overgrown and some of them are even cracked. Her footpads too are thinning due to standing on unnatural surfaces for prolonged periods. We can only imagine the excruciating pain that she had to endure every day!
Today, Daisy has a peaceful, comfortable life at her new home at Ch. Surinder Singh Elephant Rescue and Research Centre (ERC) in Ban Santour, where a dedicated team works round the clock to give her the best care possible. Surrounded by lush green forests on all sides, Daisy has ample opportunities to embrace and exhibit her natural behaviour.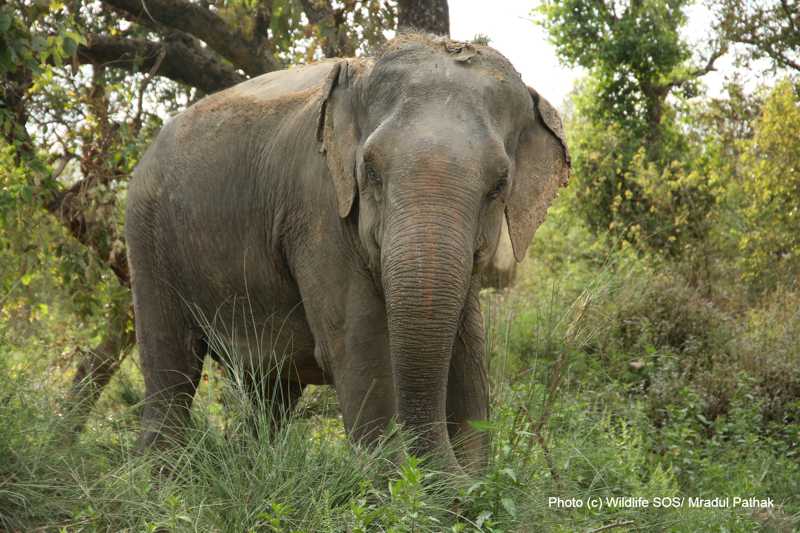 At the break of dawn, she goes out for long walks in the forest with her keeper, where she forages endlessly. Daisy enjoys spending her mornings in the forest, for she gets to explore new sounds, scents and smells, which is immensely enriching for her. However, her favourite part of the morning walk is the trip to the marshy pond downhill where she has a great time plastering herself with mud to her heart's content. Being an incredibly intelligent animal, she knows how to tread a bog and avoids going too close to water lest her feet get stuck in the mud!! We believe that being at the nurturing habitat of Ban Santour will truly aid her psychological recovery.
In contrast to her life in Delhi, Daisy's every day is now relaxed. Followed by her enriching morning walks, she spends the hot afternoons napping in the big pool surrounded by trees on all sides. Daisy enjoys the weightlessness that the water brings to her tired feet and enjoys submerging herself in the water. Occasionally, she playfully splashes water using her dexterous trunk, giving us hope that she is beginning to trust her new home. Daisy has a soft spot for the pool, and it is difficult to coax her out of it even when it is time to eat the fresh green fodder!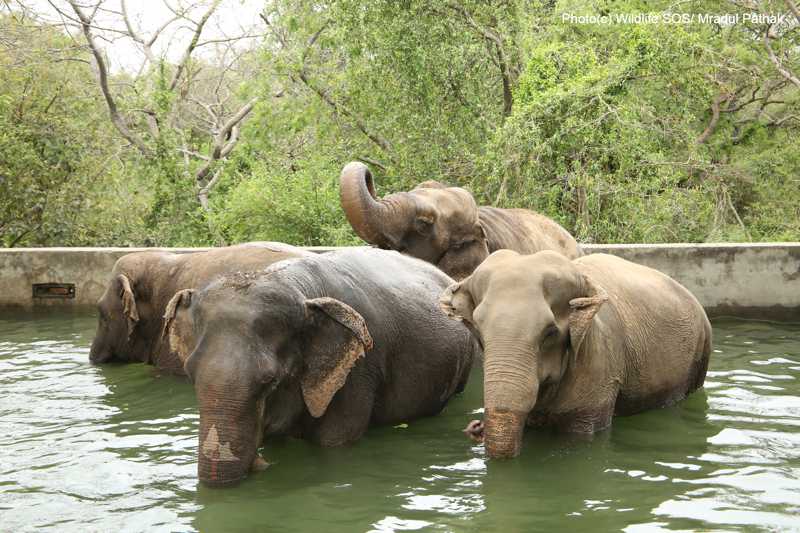 Recently, Daisy was introduced to the existing herd- Erika, Ella and Lilly, and it was a heart-warming sight to behold. There was an excited commotion filled with stomach rumbles and trumpets. The three girls understood Daisy's apprehension and reassured her with trunk touches that it was all fine. The herd immediately took to Daisy and like a family ate their fruits together as if to celebrate. Lilly, in particular,  has developed a special interest in Daisy and never leaves her new friend alone. She is always ready with trunk hugs for her friend and in fact, it looks as if she has taken it upon herself to help her friend learn to be an elephant again. Lilly can be seen teaching Daisy how to properly roll in the mud so as to get the maximum coverage of mud on the body. In fact, Lilly has also introduced Daisy to her own favourite scratching spots. Daisy, too, has taken to this new friendship and enjoys Lilly's company thoroughly. It is truly touching to see our other elephants trying to help this pachyderm.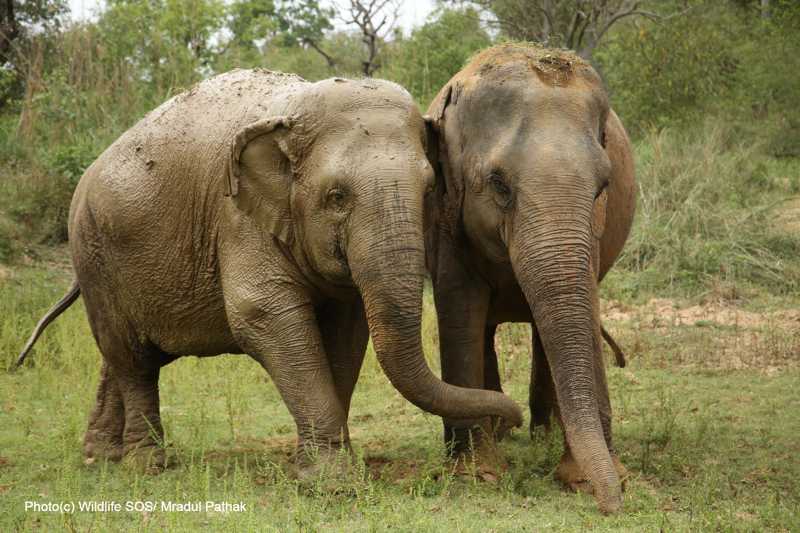 Our team's topmost priority is to help her body gain essential nutrients so as to build her strength and immunity. As such she has been put on a nutritious diet consisting of green fodder, seasonal fruits and vegetables, and a protein bolus to which a multivitamin powder is added. Daisy still appears apprehensive of veterinary procedures, although she has been slowly developing a bond with the keeper which has allowed the team to give her essential pedicures. We hope that eventually, Daisy will learn that our team is only there to make her comfortable.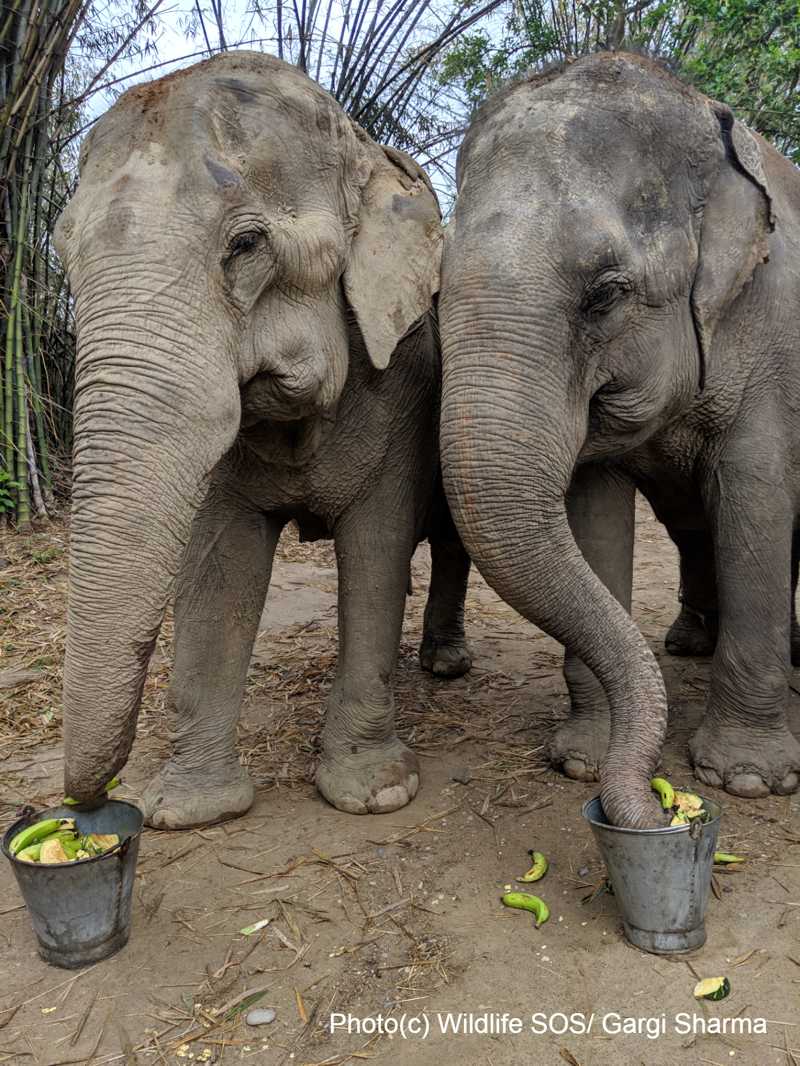 This last one month with Daisy has been a beautiful journey. We are thrilled beyond words to see her be with an elephant family like she was destined to. We hope that you will continue to root for her as she continues on this path.