Try as one might and there can be no known fault of a mother fending for her unborn child so as to survive in this ever-changing, ever-surprising world, and yet, the brutality that she had to suffer for trusting humans led to the tragic end of her life, and her child's. Indeed, the gut-wrenching and heart-breaking incident of a pregnant wild elephant becoming a victim of an inhuman incident of consuming a country bomb hidden strategically in a fruit which led to a painful explosion in her mouth, and subsequent asphyxiation has shaken the country to the core. People are enraged that such an abhorrent incident could take place in the state that is fondly renowned as "God's own Country" and has umpteen temples revering Lord Ganesha. Revered in Indian mythology and culture, it is quite ironic to see these very animals being treated with such violence and injustice.
At the tender age of 15 years old, this female elephant was carrying a calf, her first according to the reports, that would've made its entrance to the world to carve its own niche. The use of locally-made explosives also known as country bombs or fruit bombs has been prevalent in the district. These "fruit bombs" are thrown into the forest by people so as to ward off wild animals from wandering into human habitations and agricultural fields, primarily used for wild boars! It is extremely unfortunate that this female elephant had to suffer the callousness and the vile side of humanity for the sake of feeding herself and her young one.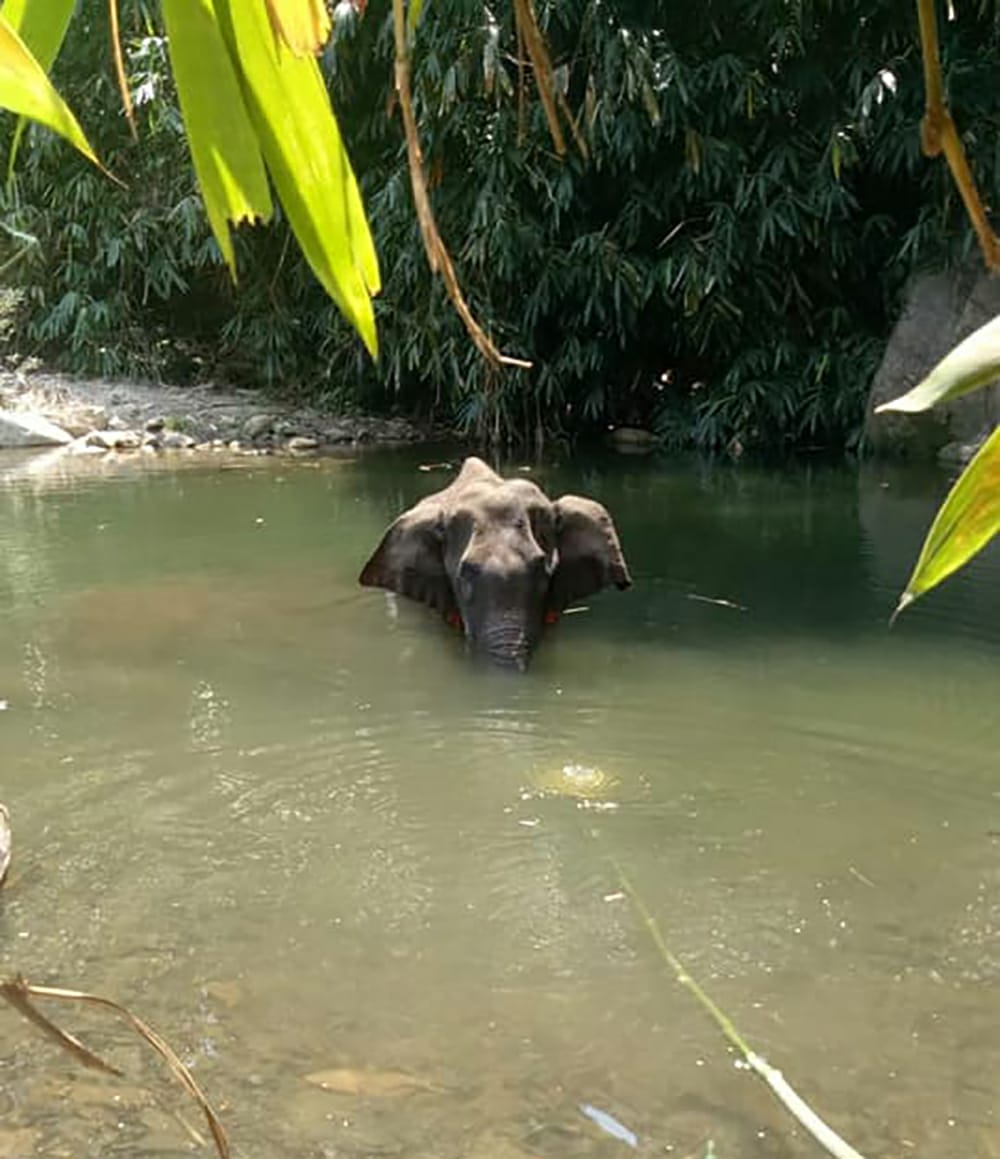 For days after the explosion in her mouth that fractured her lower jaw and burnt her tongue, she walked around in pain growing weak and emaciated, constantly worried for the survival of the life inside her. Even in excruciating pain, she was gentle and did not harm anyone until finally giving up. They say, an elephant knows when their time is coming to an end, which is why they choose to go near marshy lands and rivers to live out their days. To imagine the plight of this pachyderm in pain, fighting to live for the sake of her calf, brings tears to the eyes and sets one's soul on fire in failing to understand to what level humanity has stooped down to!
One is faced with many such questions each time that an incident like this, this unforgivable act of cruelty occurs. Each time that one feels there is a better future and foundation being laid for the country's wildlife, an incident like this sends us back to the Dark Ages of despair and doom.
Out of sheer desperation to ease her burning mouth, she went and stood in the Velliyar river, Malappuram, in seemingly excruciating pain and in the fervent attempt to save her calf. But the soothing river relieved her of her pain, forever, as she passed away standing.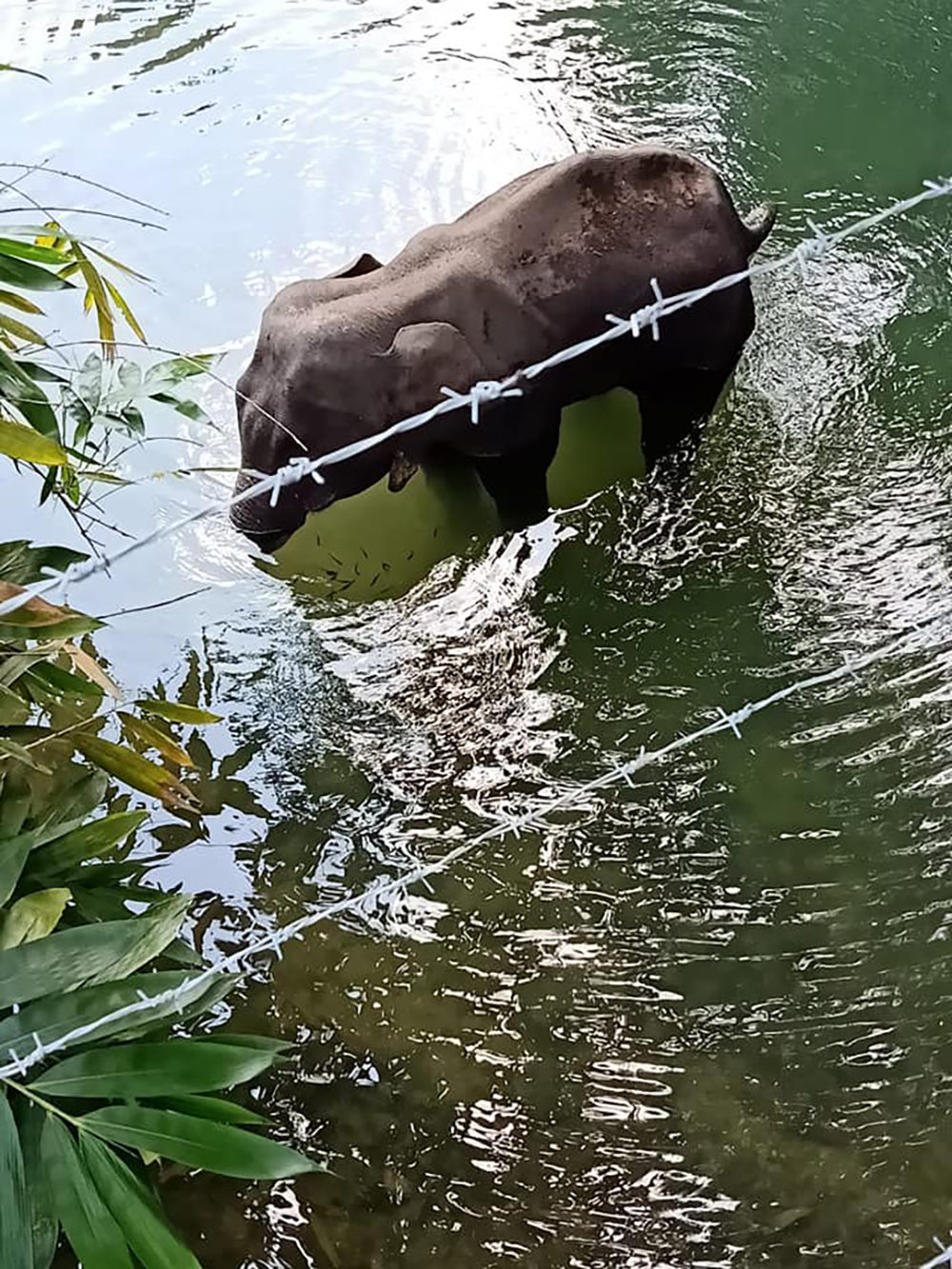 The 21-month long gestation and the bond, thereafter of a mother elephant and her calf severed brutally. Of all the things that her calf would learn with his own experiences, his first and last taste of humanity was one that would never bring him to this world. As her unnamed soul transcends to a pain-free world, with her calf close to her, one is forced to wonder, what has the world come down to? We stand unforgiven, as a race, that was created in the hope of justice and equality, for the way in which we treat these majestic animals.
As she and her calf look down upon us, abashed at the brutality that they suffered without any fault of their own, it is time that we look up to their souls and focus on the root cause of the problem – the production and sale of country bombs that put the wildlife of India under threat! With better alternatives of mitigating the human-animal conflict, the unawareness and callous approach that people undertake leads to the death of the wild animals that look for survival, in this ever-urbanising world.
Join Wildlife SOS' initiative and sign the petition to ban the sale, production and creation of locally-made explosives procured and hidden in fruits to harm the wild animals, and save the life of the voiceless!
Wildlife SOS is offering ₹100,000 Rs reward for information that results in the conviction of this elephant's killer! If you have information, please text us on our Elephant Hotline +91-9971699727 or send an email to info@wildlifesos.org.
– Demand a full investigation of the crime and prosecute those responsible.
– Enforce laws banning the use of explosives to control wildlife conflict.
– Stop the sale and purchase of materials used in the creation of locally-made explosives and home-made bombs.
– Encourage awareness and education of humane methods to manage human-wildlife conflict, instead of ruthless revenge-killings.