February signals the end of the painfully cold winter, with the gentle warmth of spring gradually ebbing its way through the cities that dot the north Indian plains. For sloth bear Julee, slowly making her own way through the dusty bylanes of the city of Agra, the changing weather was coinciding with a huge change in her life – After six years as a tortured and abused dancing bear, Julee was finally about to find freedom at the Wildlife SOS Agra Bear Rescue Facility.
Julee had us all worried when she first came to us. Her matted and infested coat hung coarsely over her emaciated frame, and an old injury to her hind limb had left her limping and in pain. The injury was accentuated by the deteriorating condition of her hip joints as a result of the osteoarthritis she was diagnosed with during the course of her first few months at our centre. Malnourishment, dehydration and being forced to stand on her hind legs for hours as part of her 'dancing' performances had taken a severe toll on Julee's joints and limbs, as well as a more subtle blow to her psyche. She was terrified of the other bears, seeing her limp as a disadvantage and weakness, and chose instead to hide away for the majority of her first year at the centre. Her arthritis progressing, eventually Julee had to be moved to a new enclosure where she could be monitored constantly.
And that's how Julee met Gail. Two years earlier, Wildlife SOS had rescued Gail from similar circumstances as Julee – as a severely undernourished and terrified dancing bear in the state of West Bengal, and brought her to the safety of the Agra Bear Rescue Facility. Underdeveloped and tiny, Gail was bullied by the larger bears, and was forced into seclusion. On the suggestion of their keepers, Gail was moved into Julee's enclosure, and the stage was set for one of our most enduring stories of friendship at Wildlife SOS.
As her limp healed, Julee found a confidence in herself, and a natural inclination to both befriend and protect Gail as if their friendship was borne out of a heartfelt mutual understanding of what it was like to be the underdog. Without the stress of other bears around, Julee was able to come to terms with her condition, and regain her confidence. Despite her struggles with arthiritis, she still enjoyed climbing the enrichment platforms and chasing her keeper around during mealtimes. She loved her food, particularly her porridge, and was fiercely protective of it against invading macaques that tried to sneak a bit from her bowl.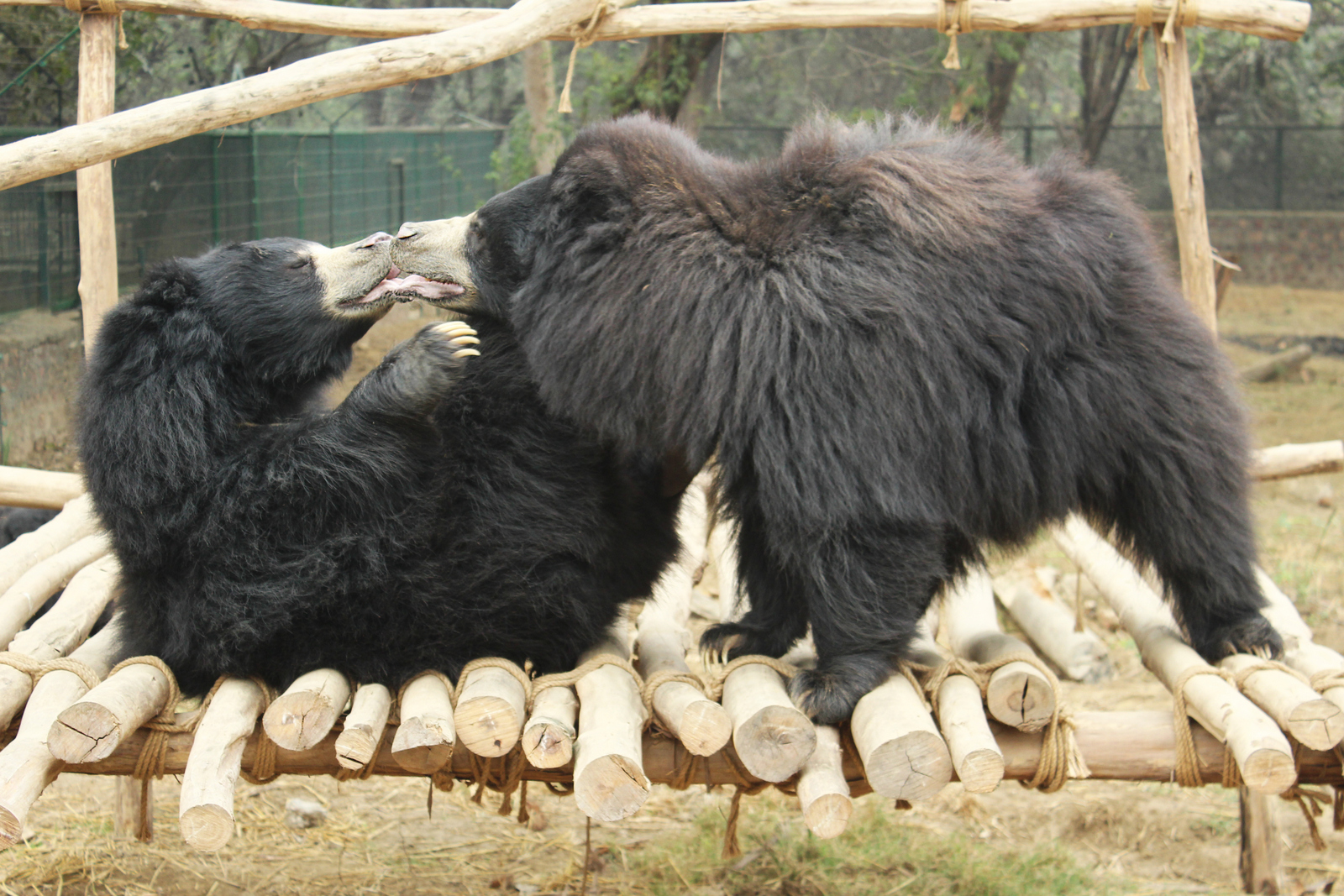 Julee and Gail remained inseparable, each other's strongest ally and closest friend. Even as time took its toll on their bodies, allowing the horrors of their past to catch up with their physical condition, their friendship remained steadfast. The two were almost an entity on their own, gradually growing into our most famous and possibly our favourite bear pair – the bears that retired staff returned to meet, volunteers enquired about long after they'd left, and the bears that everyone who'd ever met them remembered the most fondly.
All she had ever needed was time to heal, space to roam and play, and the chance to be a bear again – and a friend, for all the support, encouragement and clumsy playtime that eventually helped heal the psychological wounds of her horrific abuse. With Gail by her side and her rejuvenated spirit, Julee seemed to find newfound purpose –a far cry from the sad, traumatised bear that came to us with the turn of the seasons all those years ago.
And then this year, as spring slowly melted into summer, Julee began behaving listless and low on energy. The sudden change in temperature caused her to contract pneumonia, aggravating the tuberculosis that had lain latent in her lungs for all her life. She passed away quietly, but shattered our world when she did.
For all of us, Julee's death came as a huge loss, but with Gail in mind, things had an even more heartbreaking impact. Her best friend in the world taken away from her, Gail is quieter now, and spends her time sleeping in her den or sitting at the corner of the enclosure she once shared with Julee, but which now seems empty and lifeless.
Even as we deal with our own sorrow at the loss of our beloved bear, we are doing everything we can to give Gail the space and time to heal, and the chance to recover from this immense loss – and to realise that the ten years that Julee was with Wildlife SOS had been the safest and happiest years of her life, thanks to her selfless kindness, her determination, and the healing friendship of the little bear that was her best friend.
We've compiled some of our precious moments with Julee here;