After weeks of intelligence gathering and careful investigation by the Wildlife SOS Anti-Poaching Unit (Forest Watch), a leopard skin was seized on the outskirts of Delhi in Ballabhgarh and a man named Ram Das was arrested in a night long joint operation carried out by Wildlife SOS, Haryana Forest Department & Haryana Police.
On Wednesday night, our team based out of the Delhi head-quarters contacted the APCCF & Chief Wildlife Warden – Mr Somashekar, IFS of the Haryana Forest Department who immediately deployed a team of forest officials. The Conservator of Forests Mr Vinod Kumar from Faridabad also requested the Haryana Police to provide security cover for the operation while all three teams gathered at the Ballabhgarh Police Station to strategically plan out the raid.
At around 10 pm that night, the assigned teams gathered outside Ram Das' house and he was caught under the influence of narcotics at the time. After a thorough search of his room, the contraband was found concealed under several layers of blankets on his bed. He was immediately arrested and taken into police custody.
Ram Das has been posing as a god man for years and on being interrogated, confessed to have come into possession of the leopard skin through a middleman. He has been booked under relevant sections of the Wildlife Protection Act 1972 and authorities are investigation the matter further to track down the middle man. Poaching or possession of protected wildlife species is a punishable offence and if convicted the punishment could be imprisonment for up to seven years.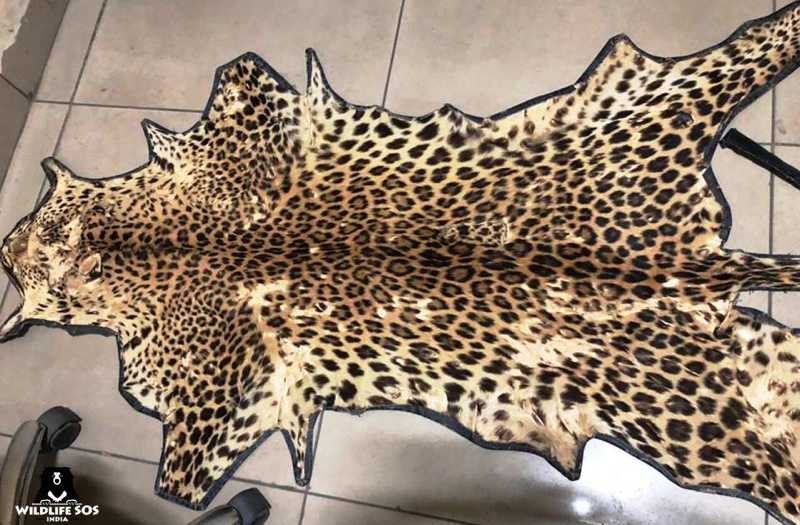 The Indian Leopard (Panthera pardus fusca) is protected under Schedule I of the Wildlife Protection Act, 1972 and is listed as Vulnerable on the IUCN Red List because they are threatened by habitat loss and fragmentation, poaching and man-animal conflict situations.
According to Vinod Kumar, IFS Conservator of Forests (Wildlife), the confiscated leopard skin appears to be around 4 to 5 years old. It measures 73 inches in length and 36 inches across and is now evidence in this matter. Kartick Satyanarayan, co-founder & CEO Wildlife SOS who was also present during the seizure expressed his gratitude to the Haryana Forest Dept. & Police for their cooperation and for making the operation a success!
Wildlife SOS assists enforcement agencies like Forest Department, Police, WCCB, DRI, CBI etc. by gathering and relaying valuable intelligence pertaining to wildlife crimes. Wildlife SOS's Anti-Poaching team, code name "Forest Watch", works by way of a large and complex network of informers who gather critical intelligence on wildlife criminals and the illegal trade of endangered wild animals and their body parts. If you see or hear of any such misdoings contact Wildlife SOS on their 24 hour helpline (+91-9871963535). It will be a small step for you, but a large step for the animal kingdom.