The Maharashtra Forest department in association with the Manekdoh Leopard Rescue Centre conducted a leopard awareness and plantation drive at Modern English School at Belha village, approximately 40 kilometres away from Junnar. The program was a part of the State-wide week long plantation drive being held to encourage awareness about conservation of environment and increase the green cover in Maharashtra.
The program was attended by around 400 students from standard 1st to standard 10th. Senior wildlife veterinarian, Dr. Ajay Deshmukh acquainted the students with the significance of wildlife and the importance of conservation of environment. The children were shown a documentary about leopards which educated them about leopard biology and behavior and the various threats posed to the existence of their species. They were also told about the  many reasons behind man-leopard conflict and were given instructions and advice about how to avoid confrontation with leopards and minimize situations of conflict.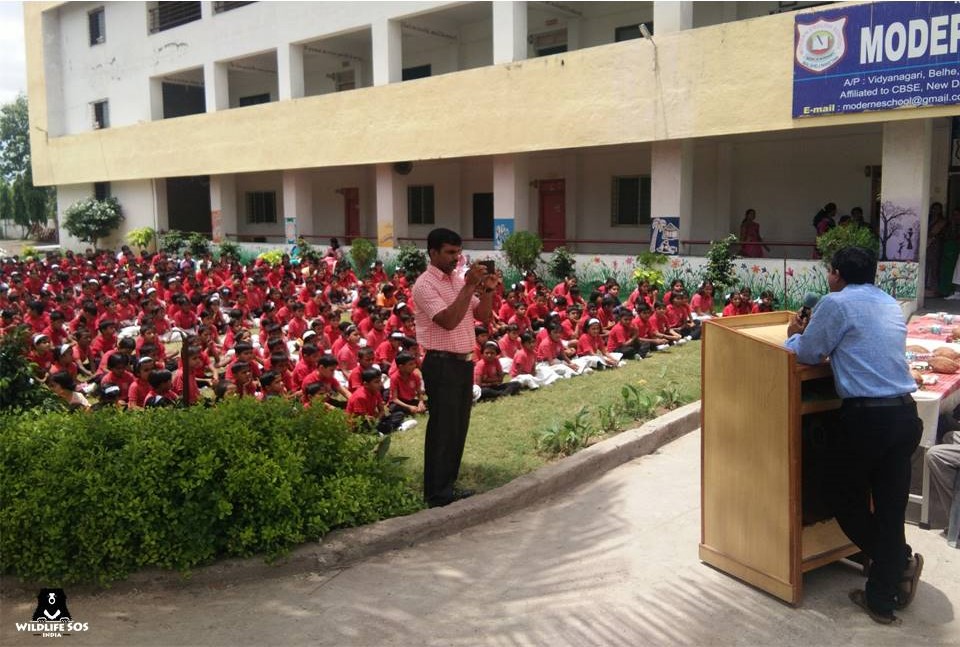 In addition to this, Mrs. Manisha Kale, Forester, Junnar also gave a lecture on the importance of protecting forests and plants and how we can put in our bit to help make a positive change to the cause of conservation. The students, teachers, forest department officials and the staff from Wildlife SOS then proceeded to plant around 1000 saplings in the school premises and pledged to care for these plants and ensure that they grow into healthy trees. Mrs. Kale stressed on the fact that children are the hope of our future and therefore it is necessary to educate them and encourage them to be sensitive towards nature and their environment. The students participated in the initiative with great enthusiasm and interest.
The program ended with a note from the school principal, Mrs. Vidya Ghatge who expressed her happiness about the school being able to be a part of this endeavour and hoped that programs like this would inspire the young generation to work whole heartedly for this cause and will help make this planet a better place to live in for both human beings and animals.