Spread across 467 sq kms of undulating plains and deciduous forests, the Sanjay-Dubri National Park located in Sidhi district of Madhya Pradesh is blessed with a rich population of diverse wildlife species. Earlier this month, a female sloth bear followed closely by her tiny ten week old baby set out for the day in their quest for food only to find themselves near an agricultural land located off the reserve.
As anthropogenic pressure on their natural habitat depletes the food available to them in the forest, animals like wild boar, nilgai and sloth bears often venture out to the remote villages bordering the reserve in search of fruits and berries grown by the villagers. Seeing this as an means to get easy access to wild animals and target them, a group of poachers had set up high-tension wires along the side of these fields.  In her curiosity to explore the new surroundings and her desperation to feed herself to sustain her still milk-dependent cub, the unsuspecting mother bear walked right into this barbaric death trap. The impact from the high voltage electric wire jolted through her and immediately paralyzed the mother from waist down while the cub miraculously survived despite minor burns on his forehead and back.
When the Forest Department rushed to the location after being alerted by concerned villagers, they were met with a heart-wrenching sight. The hungry and terrified baby bear clutching his dying mother desperately and struggling to nurse from her. The injured and traumatized cub had to be carefully separated from the mother so that the forest officials could transfer both bears to a treatment center for immediate veterinary care where Wildlife SOS team in nearby Bhopal was called in to try to save the lives of this family. Sadly the female bear's injuries were so severe that she succumbed the next morning, leaving her traumatized cub orphaned, but in the care of her rescuers.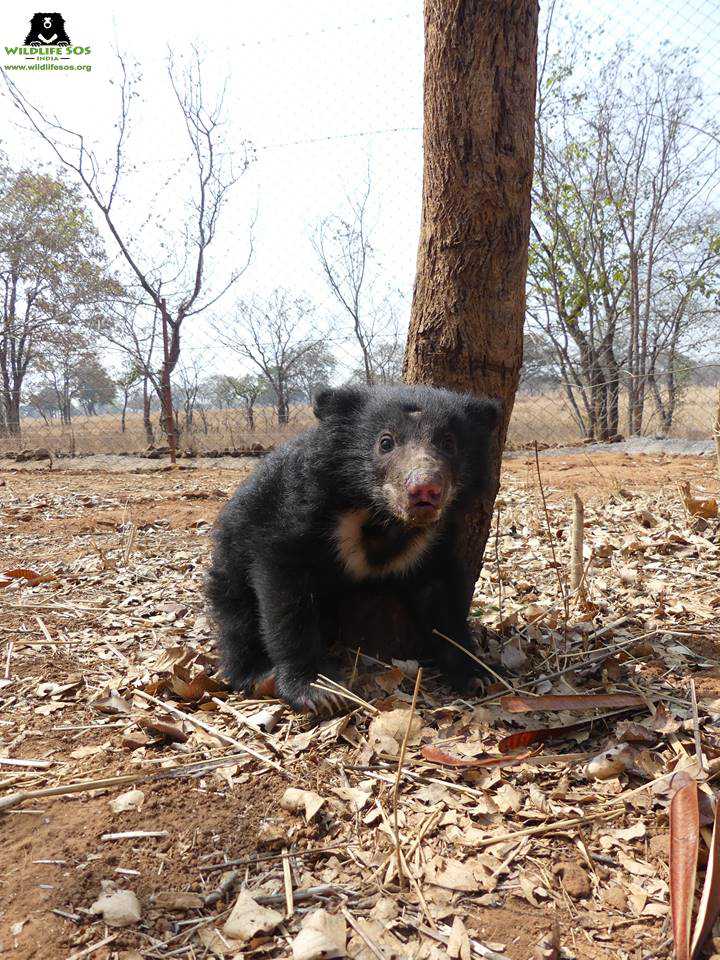 Upon further investigation, sniffer dogs brought to the scene of the crime followed the trail of the poachers and led the investigators to their doorstep. Six poachers were found with the tools used to set the deadly trap in their possession and confessed to the crime. They have all since been arrested for poaching a sloth bear under relevant sections of the Wildlife Protection Act 1972. Sloth bears are a 'Vulnerable' species, threatened by habitat loss and poaching, although accorded the highest degree of protection under Wildlife Protection Act 1972.
Following the arrest of the six accused, the PCCF (Wildlife) and Chief Wildlife Warden of Madhya Pradesh Forest Department Shri Jitendra Agarwal issued written orders to transfer the young bear to the Wildlife SOS Agra Bear Rescue Facility in Uttar Pradesh as it has specialised medical and weaning facilities to provide care for young animals. Permission was issued by the PCCF (Wildlife) and Chief Wildlife Warden of Uttar Pradesh Shri Umendra Sharma, IFS to move the bear to the Agra Bear Rescue Facility for long term medical treatment and lifetime care.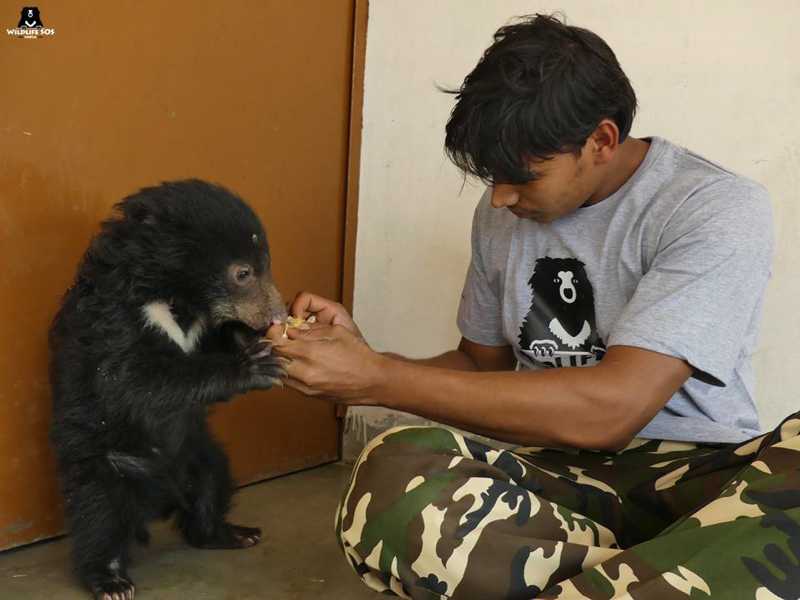 The cub, identified as a male, is naturally severely traumatised and will require constant medical observation. This young bear has been robbed of his chance to life a life of freedom in the wild as it is in the first 18-24 months of their lives that sloth bear cubs pick up the skills and natural instincts from their mothers that they require to survive in the wild.  He is scared and yearning for his mother's presence and is currently at our separate cub weaning unit under the full time care of a keeper. We are currently feeding him special milk formula along with multivitamin supplements, as he is still unable to ingest solid food. He is eating well and has even put on a few pounds.
It will take a considerable amount of time for this baby bear to fully recover from this painful and traumatic experience, but we are there for him at every step of the way by giving him all the love and care possible, to help him grow into happy and healthy bear. Please consider donating towards his life long care HERE.