When one decade of abuse seems like a lifetime, imagine the trauma of five decades of unimaginable level of abuse, cruelty and neglect, waking up each day with a yell and then being dragged on to the unforgiving streets of Allahabad, Uttar Pradesh for begging. Raju had already lived 50 years of abuse, brutal training, disciplining and breaking down of his spirit to a point that he became a docile, quiet and scared elephant whose body bore the scars of a horrendous past and unhealed wounds that spoke for themselves. Covered in paint that would hide his wounds, Raju would walk tirelessly on blazing hot roads for his cruel owner who could not care less about the torture he was subjecting Raju to.
Raju's legs had heavy, spiked chains that were tightly clamped and dug into his skin, putting him under constant pain and discomfort. When Raju arrived at the Wildlife SOS Elephant Conservation and Care Centre, in Mathura, his swollen legs and worn out footpads cast a faint shadow of horror on our faces as the heavy spikes became the cause of suppurating wounds and oozing pus! It is indeed a miracle that Raju survived this horrible fate that he did not deserve and reached a point where he can trust people again. His journey has been remarkable and brave, as we see him become a little more of the beautiful elephant that he actually is!
In his 5 years with us, Raju's health has improved gradually and he continues his healing journey. Considering he has been subjected to insurmountable amount of torture that we may never know of, Raju's mental and physical strength has been greatly affected and altered. Raju is his keeper's favourite, and all his needs are properly tended to, especially his unmatched love for mangoes and jackfruit. With mango season still a few months away, Raju will be found expectantly looking at his keeper when he comes with buckets of fresh fruits that will have watermelons and apples, but not Raju's favourite mangoes! Since winters are harsher in northern parts of the country, Raju's diet has delicious additions of spinach, cabbage, beetroot, along with sugarcane and jackfruit which will help build his core strength and provide him internal warmth to be shielded from the cold winds. Cooked concentrate with nutritious condiments like ginger, garlic and turmeric has been added to Raju's diet, and he is quick to munch them down.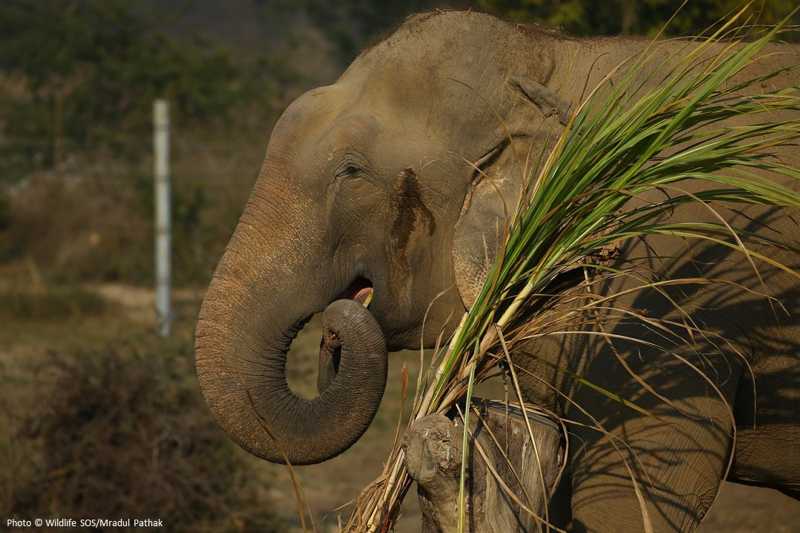 Presently, Raju is in musth which is a completely natural and healthy phenomenon for adult bull elephants both tuskers and makhnas (tuskless bulls). Generally characterised by the secretion from the temporal gland (on either side of the elephant's head) and a steady trickle of urine down the back legs of the elephant, musth involves a rise in the reproductive hormones in the elephant's body. This causes the elephant to feel more restless, energetic, aggressive or unpredictable – and generally irritable and oversensitive to sounds and movements.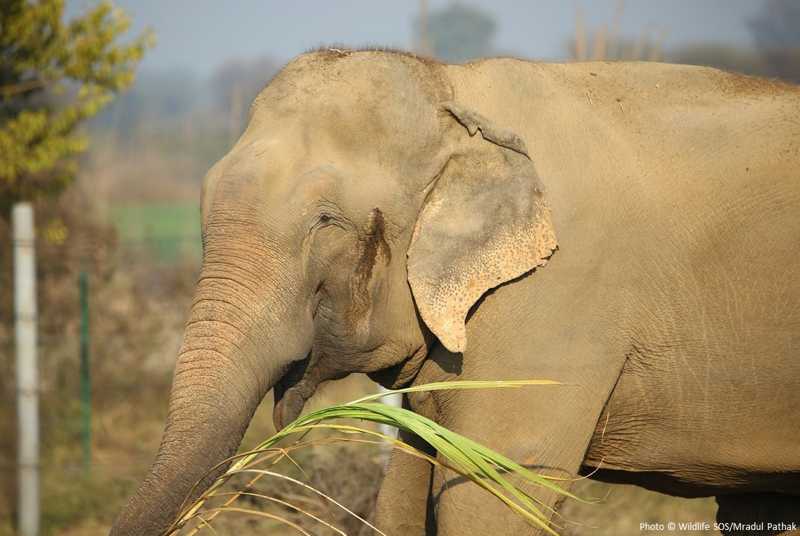 The childhood that was brutally snatched from him tends to come out every time that Raju sees his tyre enrichment and his pool being filled with water! His favourite past-time includes him throwing around his tyre enrichment and then, lifting his trunk to play around with it. Finding excuses to somehow end up in the pool for a splash, Raju will end up throwing the tyre in the pool and will be quick to go and sit inside the pool when his keeper would only find a trunk hanging out.
Raju is currently receiving treatment for his chronic hip abscess that is cleaned regularly and dressed with antiseptic ointment. The reason for the gradual healing of his hip abscess is because he lies down towards his left side more which is what interferes in the medication and slows down the process. However, our veterinarians firmly believe that the severity of it is merely 20% left now and that, too, will be fine with time.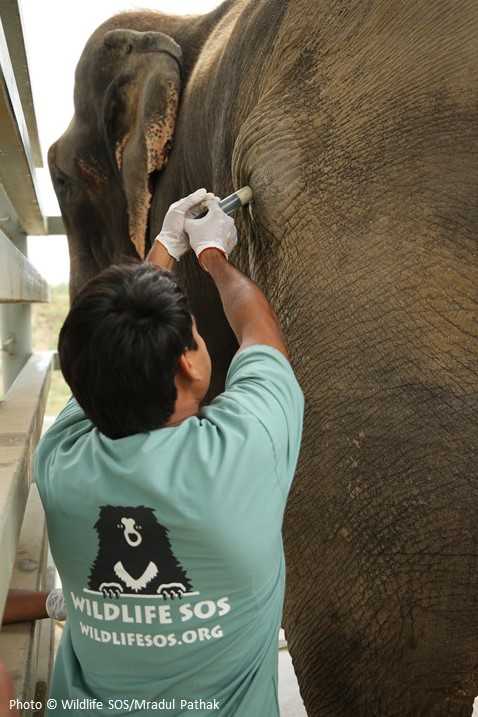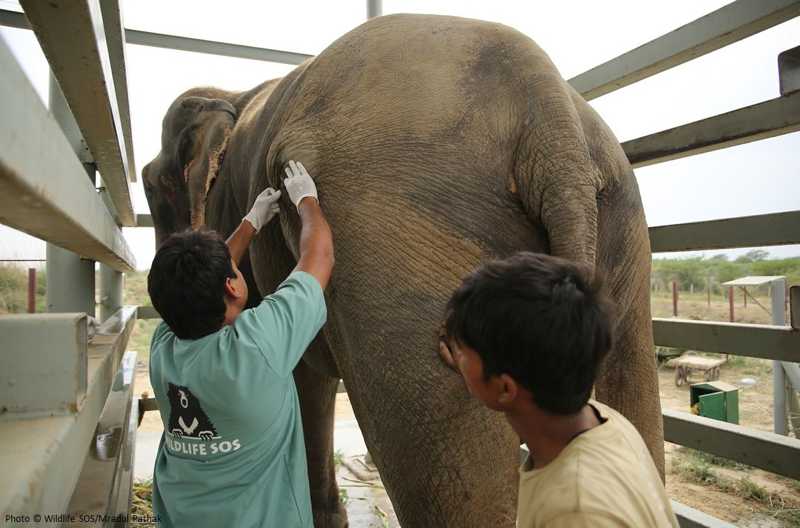 His tears shook the core of everyone's heart as the chains that controlled him were removed and he embraced his independence on the 4th of July 2014, all these years later when we watch Raju munch on green fodder and sugarcanes, in all his grandiosity, the remarkable journey that he has undertaken inspires us each day to continue our work to save more lives.