Time and again, we have come across incidents that shed light on the dangers of open wells and uncovered water tanks near buffer areas- marking the transition between forested regions and human habitation. Earlier this week, we witnessed yet another case where a female Sambar deer was found trapped inside a nearly 12 foot deep water tank in Khangaon village, Maharashtra.
Sambars reside in the neighboring forests and often wander into farmlands to forage. This is an all too familiar situation in rural India, as wild animals are invariably competing over the decreasing prey base, natural territory and water sources as a result of increasing human encroachment and deforestation. Consequently, these animals are forced to venture out into human settlements, which put them at risk of falling into uncovered wells and water tanks.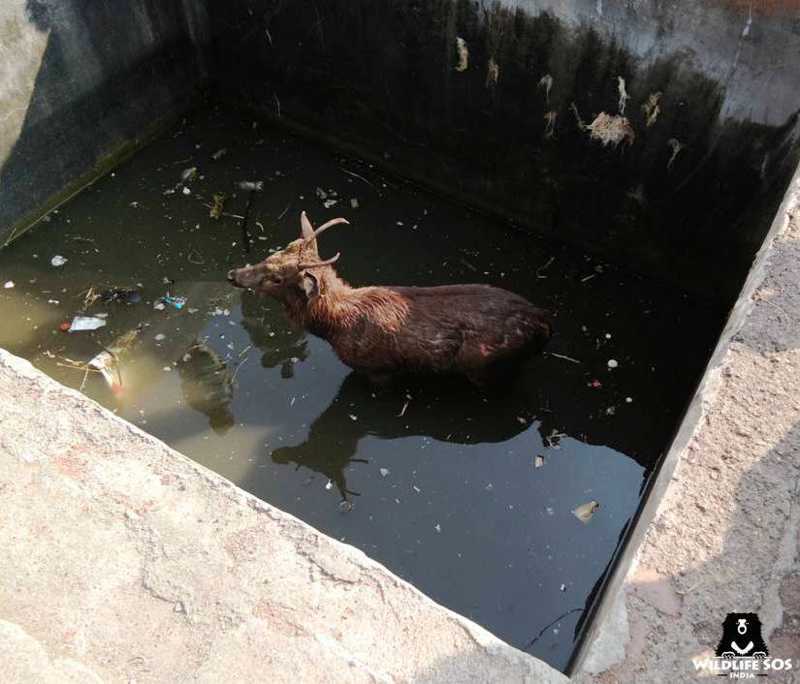 On finding the majestic deer in peril, concerned locals immediately requested the forest department for help. Forester S. T. Sonawane also called in the Wildlife SOS team operating out of the Manikdoh Leopard Rescue Center in Junnar for assistance. A three member team of our trained rescuers the along with six forest officers soon arrived at the location to carry out the rescue mission. After an assessment of the situation, they lowered a metal platform for the sambar to clamber onto but it proved difficult for the terrified animal to remain calm and steady. A secondary plan was immediately put into motion and the large deer was eventually extricated with the help of rope harnesses. It took almost two hours for the team to safely carry the rescue operation.
The sambar was approx. 2 years old and was distressed due to the incident. Wild animals are not accustomed to human contact, and often completely unaware of it. In such cases it can be dangerous for the spectators, as the animal can attack them in agitation. It is important to ensure the animal remains calm in such stressful situations. We were fortunate to find the animal unhurt and she was able to safely return to her natural habitat. The Sambar (Rusa unicolor) is a large deer native to the Indian Subcontinent, southern China and Southeast Asia. Over the years, the population of sambars in the wild has been threatened due to loss of habitat and poaching, making them a vulnerable species under the IUCN Red Data List. This species is also protected under Schedule III of the Wildlife Protection Act, 1972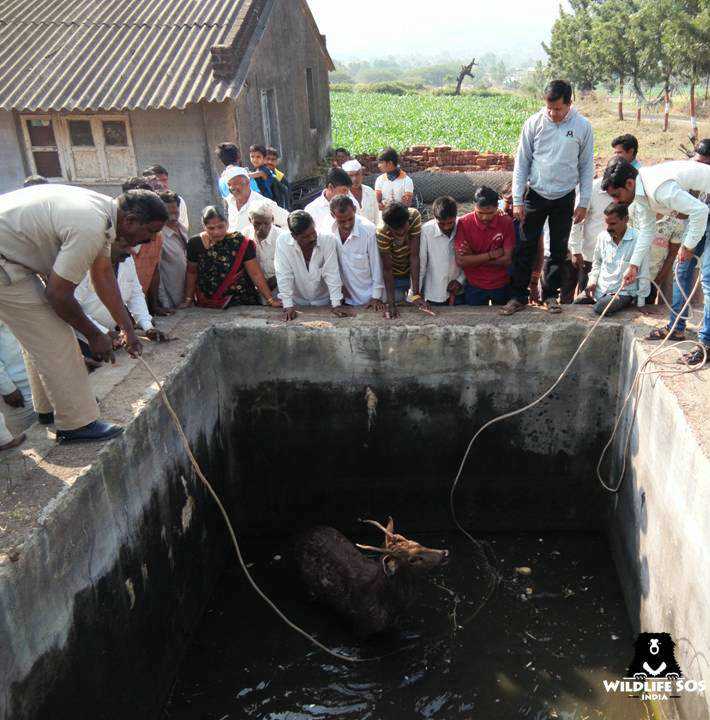 In the last decade around 1,500 animals, including leopards, jackals, jungle cats, sambars and hyenas, have reportedly died after falling into open wells and uncovered water tanks, making these a growing threat to wildlife in Maharashtra. In a tragic incident last year, our MLRC team rescued a critically injured pregnant leopard from a 40 foot deep uncovered well in Borwadi village but the animal soon succumb due to extensive internal injuries.
You can make a difference by signing Wildlife SOS' petition asking concerned authorities to fence areas around open wells or cover them so that the lives of many innocent animals and people can be saved here; http://bit.ly/2rbr7Kl