Drawn by the painful cries of an animal in distress, local farmers of Koratagere village, Karnataka were shocked to find a sloth bear cub in the periphery of a Betel nut plantation. The young bear was caught in a deadly barbed wire that was intertwined around its waist and its struggle to escape were in vain. On seeing the animal in such a painful and miserable condition, the residents reported the incident to the Range Forest Officer of Korataege, Mr Chinnappa. He gathered a team of officials and alerted the Wildlife SOS team at the Bannerghatta Bear Rescue Center, requesting for their immediate intervention.
Director Veterinary Operations, Dr Arun A. Sha and a four member rescue team from Wildlife SOS soon joined the forest officials at the location. In an attempt to break free, the bear had been struggling for hours causing the metal wire to tighten its grip around the waist and entangled fur. The team had to first immobilize the animal before cutting through the wire. The rescue operation lasted for almost four hours but our efforts paid off and we were successful in freeing the injured bear. A thorough medical assessment of the female bear cub was conducted after the wire was removed and immediate treatment was provided for her wounds that she had suffered during her futile struggle to break free from the wire.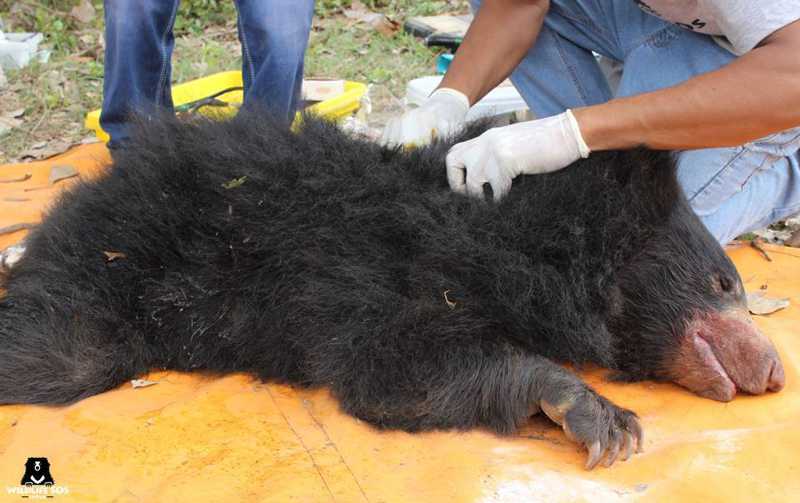 The cub was identified as a female, approx. nine months old. She had sustained minor cuts and bruises on her body and had also lost a small tooth from gnawing on the metal wire. We had to gently cut through the wire and administer topical treatment for the wounds along with anti-inflammatory injectable. We then transferred the cub to a nearby transit facility where it was kept under observation for a few hours. As she had received the necessary treatment and was deemed fit by our veterinarians, we considered it best to release the bear in the neighboring Thimmalapura State Reserve Forest, the area in which her mother was last sighted.
Catch a glimpse of the successful rescue and release here; https://www.youtube.com/watch?v=ru3Kwm1nDYU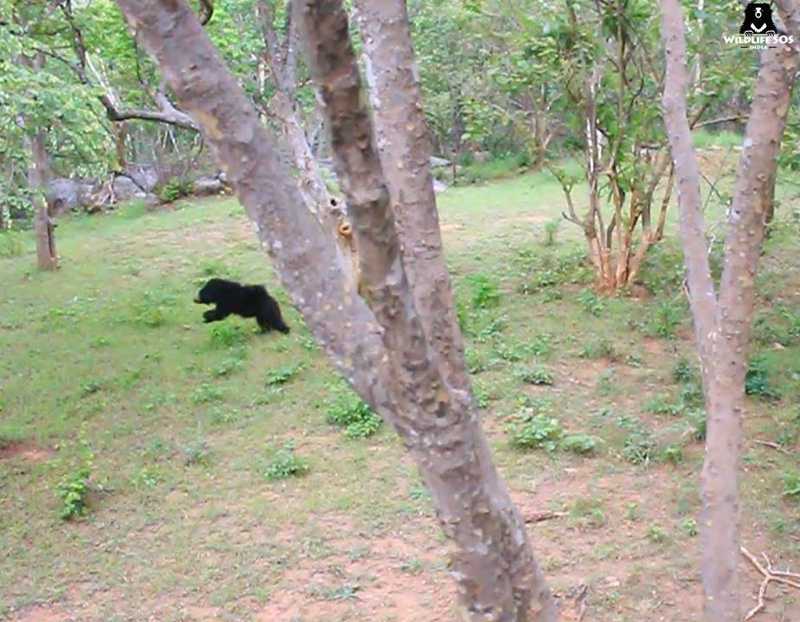 Animals such as wild boars, nilgai and sloth bears often venture out to the remote villages bordering forest in search of fruits and berries grown by the villagers. To prevent them from consuming and damaging their crops, farmers often lay down barbed wire fences around their plantations. However, such measures often end up injuring or in some cases even killing animals that unknowingly walk into this silent trap. Last year, our team rescued an adult female sloth bear from a poacher's snare outside Koratagere. Barbed wires and snares are human-created threats to wildlife and thousands of animals fall victim to these barbaric devices every year.