The southern state of Karnataka is home to a large population of the indigenous sloth bears (melursus ursinus), one of the four unique bear species found in the Indian subcontinent.  However, over the years, their numbers in the wild has dwindled due to loss of habitat and poaching, making them a Vulnerable species under the IUCN Red Data List. Today, there are estimated to be around 8,000-10,000 sloth bears in India.
The Wildlife SOS team operating out the Bannerghatta Bear Rescue Centre in Bangalore has been instrumental in rescuing and providing life-time care for over a hundred sloth bears rescued from the dancing bear trade; from poaching, and human-bear conflict situations.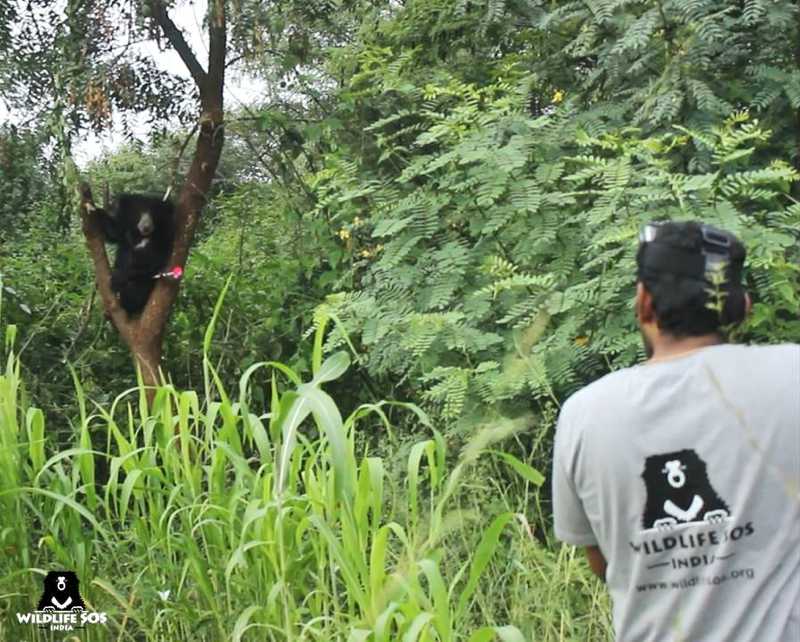 Last week, Dr Arun. A. Sha Director Veterinary Operations at BBRC received an emergency call from Range Forest Officer Mr. Dinesh Gowda about a wild sloth bear that was caught in a metal snare set up by poachers in Gangadharan gudde located near Kanakapura road, Bangalore. In a quest for food, the bear had wandered out of its forested home and into a large millet field only to have the misfortune of walking straight into a deadly trap. To make matter worse, when the traumatized bear tried to escape by climbing onto a tree, the snare got entangled on the branches. In a desperate attempt to break free, the animal had been struggling for hours causing the snare to tighten its grip around the waist and entangled fur.
Villagers passing by the field were shocked to see the bear in this dreadful predicament and reported the incident to the forest officials, who further informed the Wildlife SOS Team. Snares are one of the cruelest human-created threats to wildlife and every year these barbaric devices claim the lives of thousands of animals across India. Animals caught in snares and traps often struggle for hours, in some cases even days before succumbing to thirst, hunger, strangulation, internal injuries and even predation from carnivores.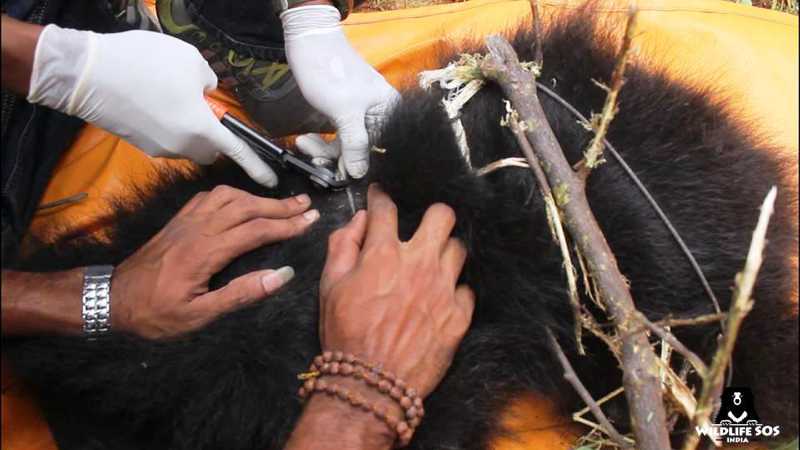 With rescue kits and medical equipment in hand, the Wildlife SOS team along with forest officers rushed to the site, located nearly 30 kilometers from the center. They had to first immobilize the bear in order to safely bring it down from the tree and cut through the metal wire. Upon close observation, the bear was identified as an approx. nine month old female. A thorough medical assessment was conducted by our veterinarians on-site and immediate treatment was provided for minor wounds around the waist. After keeping it under observation for a few hours the young bear was released back into the neighboring forest.
Follow the link to catch a glimpse of the thrilling rescue operation: https://www.youtube.com/watch?v=USZEZaRyU4Y