With the growing number of incidents involving the use of deadly snares by poachers, another sloth bear was reported to have fallen victim to this barbaric hunting device near Narasimha Devara Betta in Chikkaballapur Range, Karnataka. This is the third incident this month where a bear has been found trapped in a poacher's snare.
The Wildlife SOS team at the Bannerghatta Bear Rescue Center responded to a late night emergency call from Chikkaballapur RFO, Mr Vikram about a wild bear that was found trapped in a snare outside a cashew nut plantation and the snare cable had coiled around a branch making it difficult for the bear to even move. The deadly trap was twisted tightly around the neck, leaving the bear on the brink of death. Under the guidance of Dr. Arun A.Sha, our Director Veterinary Operations, a five member team comprising of expert veterinarians and rescue personnel, along with eight Forest officers rushed to the location.
The bear's desperate attempts to break free had resulted in the snare to tighten its grip around the neck, causing it to suffocate. Time was running out and the team had to act quickly. After carefully tranquilizing the traumatized animal, the rescuers first carefully extricated it from the branch before they could remove the metal snare that was coiled around the neck.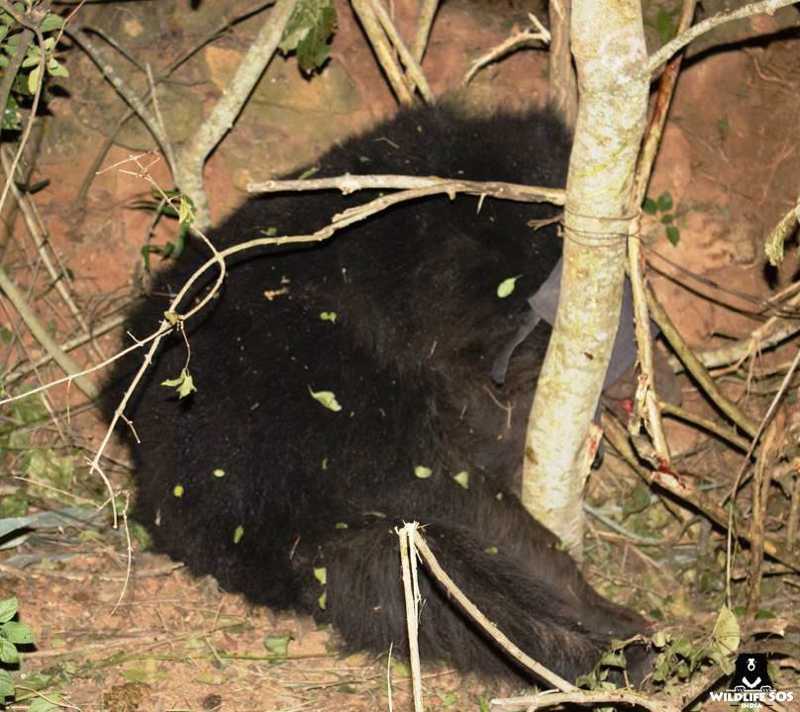 Dr. Sha carried out a preliminary on-site checkup and the bear was identified as a male of approx. eight years. The snare was made out of clutch cable which is generally used for catching wild boars. Apart from receiving cuts and bruises in the neck region caused by the tight snare, the bear had also hurt his teeth and gums while trying to gnaw his way out of the trap. The wounds were cleaned up and disinfected followed by topical treatment for the external injuries and administration of anti-inflammatory injectibles.
As the extent of the internal injuries was undetermined, the animal was immediately transferred to the Wildlife SOS Bannerghatta Bear Rescue Center for a more detailed examination. The internal injuries were extensive and despite our best efforts, after four hours the bear succumbed from severe damage to the trachea and suffocation. Postmortem examination revealed that the tracheal cartilage was ruptured which had also led to oedema (excess fluid retention in the cavities or tissues of the body) and emphysema (shortness of breath).
While our team was in shock and despair about the terrible fate of this bear but are also confident that the Forest Dept. will be taking strict actions for this heinous act of violence against wildlife. As an organization that focuses on helping wildlife, over the years, we have been witness to animals under siege in myriad different ways. However, we have found traps and snares to be among the cruelest of human-created threats to wildlife. It is distressing to imagine the millions of animals that succumb to these devices every year.