The Wildlife SOS team at the Manikdoh Leopard Rescue Centre recently celebrated World Sparrow day and International Day of Forests with over a 100 students from Vidya Pre-school in Junnar, Maharashtra.
Dr. Ajay, the senior veterinarian at MLRC was accompanied by Forester-Mr. D. D. Salunke and Forest Guards-Mrs. Saurna Kutekar and Mr. Sanjay Gaikwad. The main objective of observing these two global celebrations was to raise awareness about the declining population of house sparrows as well as the importance of trees and forests and the crucial role they play in sustaining and protecting us.
Strongly associated with human habitation, house sparrows are a widely distributed bird species that is commonly found in urban and rural spaces. For decades, this peaceful and adaptive species has co-existed with human beings, however, in recent years; there has been a significant decline in their population across India. One of the major factors for the loss of habitat is the change in traditional constructions and modern designs of infrastructure.  In urban settings, house sparrows build their nests in eaves or crevices of houses but with contemporary buildings comprising of flat-faced glass and concrete taking precedence, there is no provision for sparrows to nest and lay eggs. Furthermore, pollution caused by pesticides as well as electromagnetic waves emitted from mobile towers have also attributed to this decline.
The children actively participated in the interactive session and eagerly listened to Dr. Ajay as he talked about sparrow biology, their behavior, the need to conserve and protect them and management for house sparrows during breeding season. He then went to explain the importance of forests in maintaining a balance in the life cycle of the earth.
The event also comprised of fun activities such as constructing bird houses, feeding bottles and drinking pots for the sparrows residing in the vicinity of the school. All in all, the day proved to be quite a success in terms of teaching the children a valuable lesson about the need to protect and conserve our natural environment and respect the sparrows still around in their villages. We hope to see the younger generation taking the initiative to protect the rich natural heritage and learning to live with acceptance of the wildlife that surrounds them.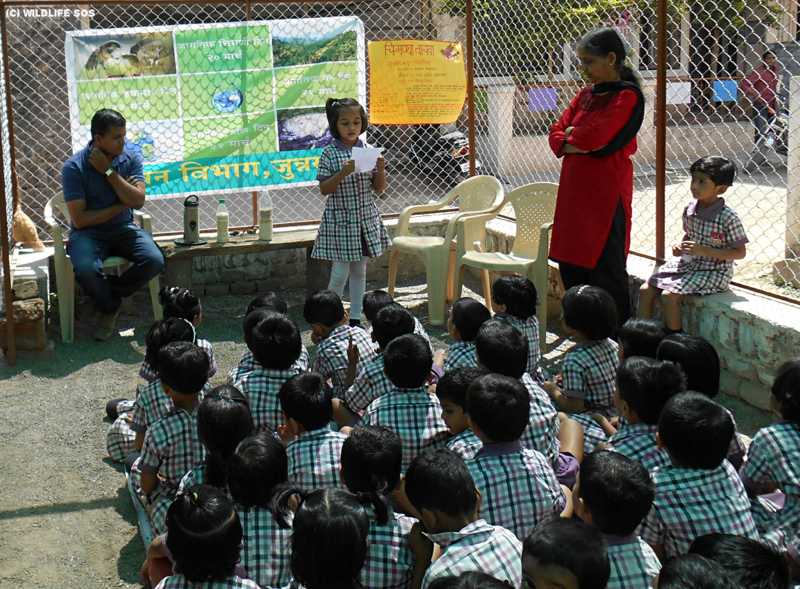 On the same day, our team at the Agra Bear Rescue Facility in collaboration with the Uttar Pradesh Forest Department, conducted essay writing and drawing competitions for students at the Soor Sarovar Bird Sanctuary. In honour of World Sparrow Day, they took the initiative of distributing wooden bird-houses to the participants so that they could put them up in their homes, in an effort to encourage the sparrows living in the vicinity to build their nests in these bird houses.  Environmentalist, naturalists, students and residents from neighboring villages were involved in this initiative to help protect and restore this species.