Prahlad's journey with Wildlife SOS started four years ago along with Sita who was rescued from a circus in Tamil Nadu and brought under our care at the Elephant Conservation and Care Centre. Wildlife SOS also rehabilitates former elephant mahouts giving them opportunities to learn to care for the animals they work with by applying ethical and humane management techniques.
We asked Prahlad about his transitional journey from circus to conservation, and how this journey has been for him.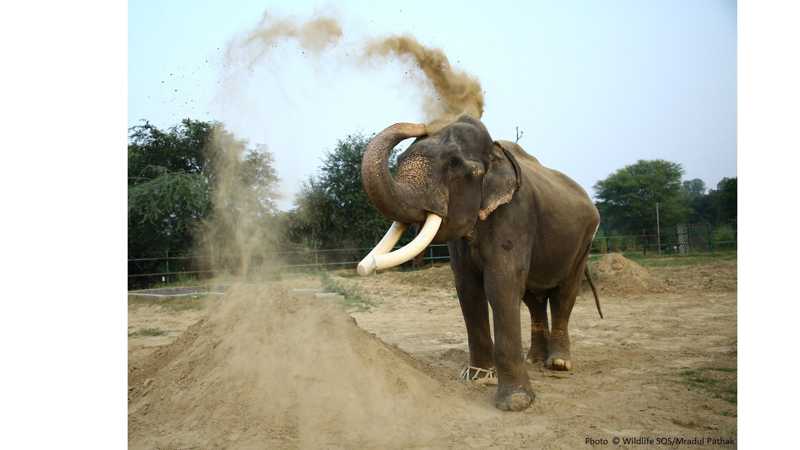 How did you come to join Wildlife SOS?
For the longest time, I worked as a mahout at a circus, where I was looking after Sita. In 2015, when both Sita and Mia were rescued by Wildlife SOS, I was offered a choice to continue being her caregiver at the Elephant Conservation and Care Centre. This meant a lot to me as I wanted to carry on looking after dear old Sita and other elephants just like her.
When did you start working with elephants and how?
I have been working with elephants since my childhood. I used to help other mahouts with the daily upkeep of elephants back in my hometown and developed a similar interest. While I was employing more traditional techniques to manage elephants back at the circus, over time, I have gained a broader perspective in what entails elephant care and management. Wildlife SOS gave me a great opportunity to work with elephants and take better care of them. It is comforting to watch the elephants leading peaceful and healthy lives at ECCC. Sita's passing in 2017, took a great toll on me emotionally, but I sought comfort in the fact that I was right by her side till the very end and that she has finally found peace.
How is your relationship with Gajraj?
Gajraj is very special to me and we share a bond where we he trusts me. My day starts with him and ends with him so I feel very complete around him! I have immense respect and admiration for Gajraj and he reminds me of my own elderly father who has had an eventful life, well deserving of a peaceful retirement, just like Gajraj is living now, after years of severe abuse.
Gajraj was 70 years old when he came to the Center and due to a lifetime in captivity, he was very hesitant to open up to us, but we were determined to make him comfortable, and I was relieved when he finally started responding to my voice. It felt like he recognized me and considered me close to him. It is a proud moment for me to watch Gajraj be his actual self and munch healthily on green fodder.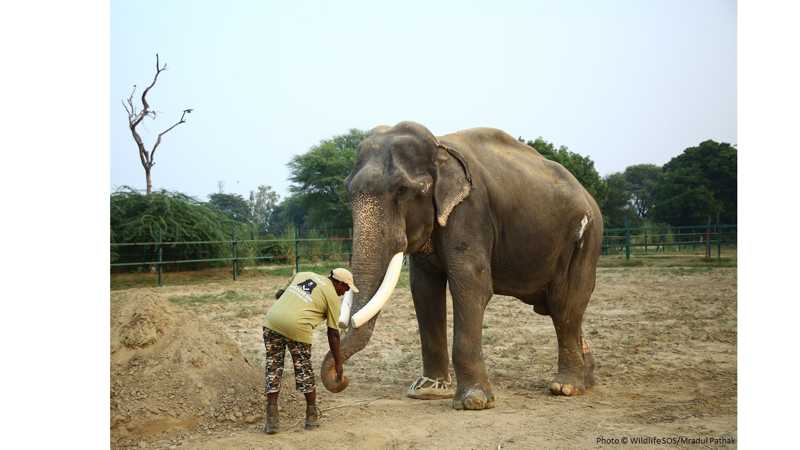 What is the typical day at work for you?
My morning begins at 6am with cleaning Gajraj's enclosure and feeding him his favorite fruits which he happily munches. It is then time for his morning walk which he really enjoys with the light breeze engulfing him. I recall this one time when I came late for his morning walk, and he was eagerly waiting for me at his enclosure's entrance!
After he returns from his morning walk, it is time for his shower which he loves! It is, then, followed by medical checkups to clean his abscesses, especially the one on his hip! It makes me very sad to imagine the horror he would have suffered. I provide him with 60-70kg of green fodder in his feeder enrichment. After Gajraj finishes his second meal, I clean his enclosure and place another set of fodder for the night.
What do you like the most about his job?
My job here is very different from the one at the circus. Here, the approach is to only care for the elephants and to provide them the love that they deserve. I feel very happy that I can use my knowledge of elephants for their welfare.
I'm proud of the organization that I belong to and it has instilled me with a great sense of moral responsibility. Gajraj is like one of my own and I have deep concerns about his well-being. He has clearly seen more life than I have and I am honored to be a part of his journey.
What is the most challenging part of your work?
Being with elephants can be very challenging sometimes, especially when they are old or sick. Their requirements change with age and they tend to give up on the things they used to enjoy earlier, which is why one must be very patient with them. Gajraj has been very humble and cooperative, especially with me. He carefully listens to me. However, the change in his appetite tends to worry me but I understand that it is natural for the elephants to eat less with age due to their unsteady metabolism.
For someone who has spent a major part of their life in captivity being tortured and mistreated, optimism seems like a forgotten path but I am so proud of Gajraj's journey and the way he is healing emotionally and physically.
What is life like besides work?
I enjoy sleeping when I'm free. I stay in touch with my family back in Bihar and sometimes, I go to visit them as well. Apart from that, my elephants keep me occupied and never make me feel alone. They are my home away from home.
Apart from elephants, what all animals do you like to work with?
I am an animals' person but I find myself more connected to the elephants as I have been working with elephants all my life and I believe this is my comfort zone. I feel warm and protected in the company of these majestic giants. Their dignity is unmatched!
What is your fondest memory of working with Wildlife SOS?
My journey started with Sita's journey to the Centre, it was not just her chance at a better life but also for me, as I learned how to ethically take care of elephants. I was so close to Sita, and she was suffering from a lot of pain when she reached the Centre. After the unfortunate demise of Sita, I was confused about my life here, as I was not prepared to take any other elephant under my care. I was unable to focus on my job and it was a very hard time for me. I missed her very much, and I still do, I think about her every day and I hope she is not in pain anymore.
It was when Wildlife SOS rescued Gajraj, that I was driven with a renowned sense of purpose. I immediately agreed to taking care of Gajraj as I felt responsible for him and felt heartbroken at his ill-health. It is because of him that I am able to recreate my memories with Sita. I remember watching Gajraj enter the premises with the most innocent and exhausted face. His struggles were evident and I could see the torture that he had gone through. That is when I decided that I wanted to work with this elephant. I felt a sudden connection and a dire need to put him out of misery and make him feel like he has a home. I think it's the time I spent with Gajraj that I cherish the most in all these years of elephant keeping!