Leopards in Maharashtra are increasingly falling prey to uncovered wells around forest areas. The buffer areas which mark the transition between forested regions and human habitation are dotted with uncovered wells which often prove to be fatal traps for the leopards and other species that slip and fall into them after dark.
The startling increasing rate of habitat encroachment has resulted in decreasing prey base, territory and water sources for predator species like leopards that are then forced to come out into human habitation. Since these elusive cats usually prefer to move around at night, it is common for them to slip into the uncovered wells.
Several instances of leopards falling into wells have been reported over the last few years in Maharashtra and several others in states like Madhya Pradesh, Karnataka and Assam. Such cases have been increasing in the recent years and the main reason behind this appears to be the lack of proper covers and fencing around these wells. Uncovered wells pose a hazard not only to animals, but also to human beings, particularly children.
The Wildlife SOS Manikdoh Leopard Rescue Centre in Junnar, Maharashtra is dedicated to rescuing leopards in one of the areas afflicted with maximum man-animal conflict. Leopards also frequently become victims of these uncovered wells in this belt. Our team has been conducting awareness programs across these leopard-prone villages to educate the local farming communities and to increase tolerance for coexistence with these majestic cats. The centre on an average rescues two to three leopards caught in conflict situations or trapped in wells monthly.  This is a challenging task and leopards are at fatal risk of drowning if not rescued in time or sustaining injuries that make them unfit to live the wild.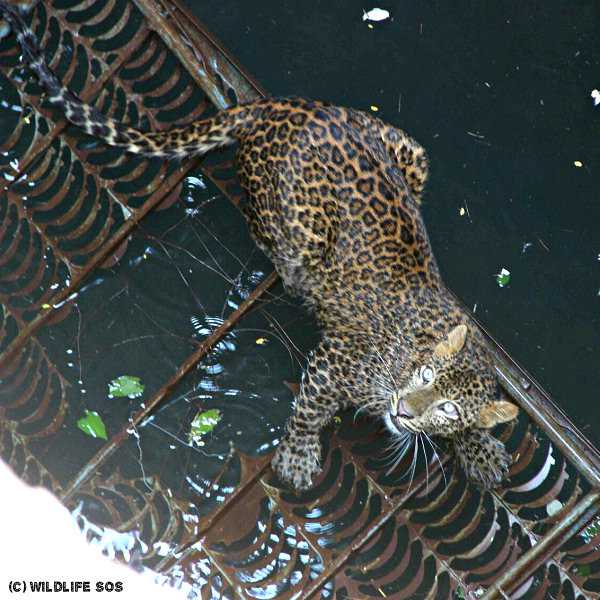 It is not just leopards, a species protected under Schedule I of the Wildlife Protection Act 1972, that are vulnerable to these wells, but also several other species that may fall in accidentally, with potentially fatal results, such as nilgai, civet cats, porcupines and small jungle cats.
In 2014, a two year old male leopard had fallen into a well in Ajitha district of Aurangabad. In 2015 another leopard was rescued after villagers found her struggling to keep her trembling body from drowning in a 50 foot deep well in Panner Taluka. Similarly in 2016, a young female leopard was rescued from a near death situation after falling into a 60ft well at Pimpalgaon Siddhanath village located in Junnar. This was followed by the rescue of a pair of leopard cubs that had the misfortune of falling into a 40 foot deep well outside Parner village. After a thorough medical examination, the cubs were successfully reunited with their mother. In a more tragic incident, a severely injured hyena was rescued from a well in Fatehpur Sikhri but the animal succumbed to its injuries. These are just a few among thousands of animals that perish in uncovered wells every year in India.
Without the support and understanding of local communities, it is almost impossible to address the issue. We have started an online petition imploring the District Collector of Pune to take measures to cover or fence off the area's wells or even construct safety walls so that people and wild animals are not further jeopardized. It is estimated that the lives of over 1500 animals have been claimed by open wells in Maharashtra alone in the last decade. Please take a minute to sign our petition & help make a difference;
Petition Link: http://e-activist.com/ea-action/action?ea.campaign.id=64997&ea.client.id=1971