Kuber and his brother Nakul were mere 2 month old cubs when they were rescued from Tumkur district, Karnataka, in 2011. The two cubs were transferred to Wildlife SOS's Bannerghatta Bear Rescue Centre in Bangalore, which went on to become their new home.
5 years on, Kuber has settled in perfectly at the centre with the rest of our rescued sloth bears. A friendly and sociable bear, Kuber gets along well with his furry companions as well as his human keepers. He and his bear buddies love engaging in fun activities such as mock-wrestling, demolishing structural enrichments and sleeping in freshly dug mud pits on lazy afternoons.
Being a big foodie, Kuber is the first to enter the feeding area to devour his meals and is particularly fond of dates, coconuts and honey. He always looks forward to visits from his keepers as they shower him with love and pamper him with yummy treats.
In the month of February, Kuber started showing signs of weakness and a significant loss in body weight. Our vets were greatly alarmed by this sudden change in his health and decided to conduct a detailed preliminary medical examination. The tests revealed that he was suffering from muscular in-coordination and he also tested positive for tuberculosis.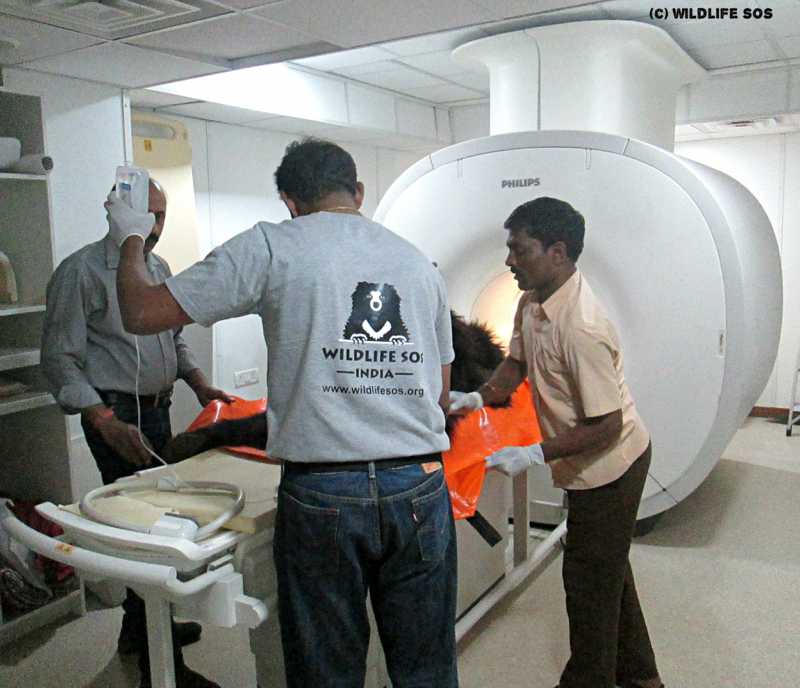 He was immediately put under intensive care at the centre, where he was put on intravenous fluids along with injectable multivitamins and plasma volume expanders. However, he showed very little sign of improvement and was unable to stand on his own. Therefore, a decision was made to carry out a MRI and CT scan procedure, which unveiled some more terrible news for us. It revealed that Kuber had suffered cerebral haemorrhage and the left side of his brain was more severely affected. This had led to the muscular incoordination on the right side of his body.
He is currently on antibiotics and multivitamins and is undergoing physiotherapy comprising of infrared lamp therapy and leg massages with liniments. Kuber's health has improved significantly in the past few weeks and he has also started consuming small amounts of porridge, fruits and tender coconut water. A soft bed of hay and gunny bags has been specially made to help him sleep more comfortably. He is able to stand on his own now and is being let out for short walks around his enclosure, under the watchful presence of a vet. With the gradual but encouraging response to the treatments, we are hoping to see a more positive change in his condition in the coming weeks.