Riddled with a painful bullet wound on her left shoulder, a famished young sloth bear hobbled her way across farmland in search of food. She was almost immediately discovered by the residents of a village in Bandipur, Karnataka who called in the authorities and the Wildlife SOS team for help. In need of immediate medical intervention, the traumatized bear was rushed to the Bannerghatta Bear Rescue Center where she spent hours in surgery under the expert hands of our veterinarians. Fortunately, our team was able to treat and clean out the infected wound in time but the injury had already affected the joints of the left forelimb, thus compromising her gait. She is approx. seven years old and currently weighs around 90 kilos.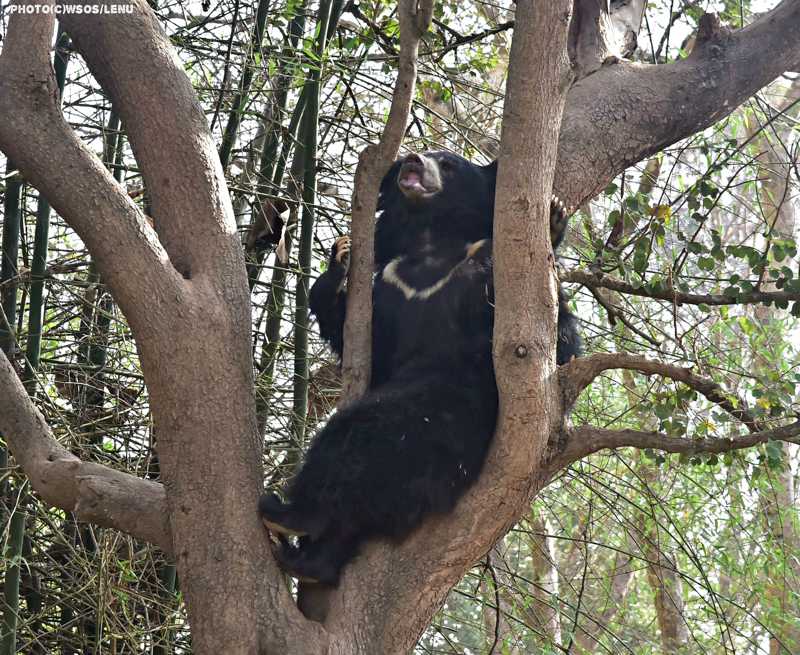 She was initially quite wary of her new surroundings and would display signs of aggression towards our staff. We decided to call this feisty and brave bear Hamsi, and over the course of two years, we have seen a remarkable progress in her recovery.  Today, she has developed a strong bond with her current keeper, Darmeendar Omprakash who describes her to be an energetic bear. "Hamsi is a natural born climber and it is truly amazing to see the ease with which she climbs up the tall branches of trees despite her injury" he stated.
Hamsi even befriended fellow bears Dolly, Ankita, Chamundi and Gokul who were quick to accept her as one of their own. She is the peace keeper in her group and often intervenes when her friends mock wrestle each other. She is always keen to try out new enrichments which are specially designed to keep our bears physically and mentally stimulated. However, by far her favourite is the see-saw. Engaging in activities and playing with enrichments have helped with her physiotherapy and in overcoming the pain of her brutal shoulder injury.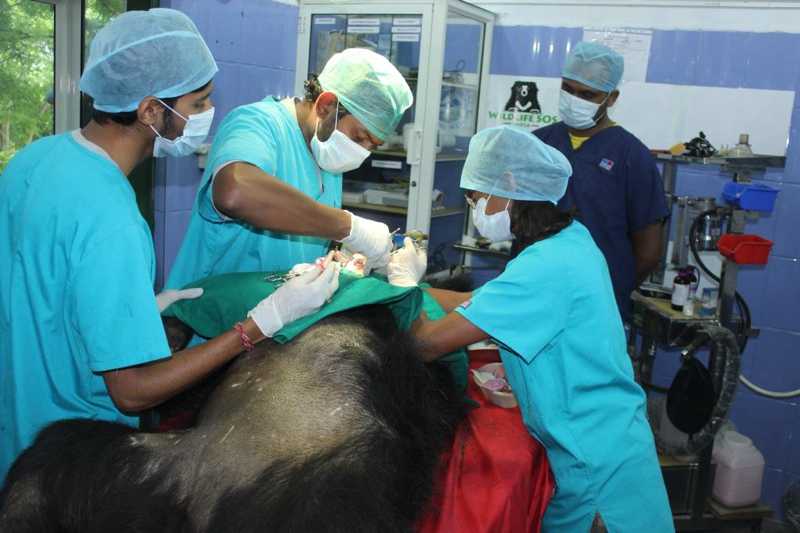 Recently, Hamsi was chemically immobilized for a general health examination and treatment of her old gunshot wound. Being young and restless, Hamsi sometimes nibbles on her suture lines which had caused the stitch to open. The tear was re-sutured after plugging the pockets with platelet rich fibrin plugs. Radiography, ultrasonography, sampling and supplementation were also carried out. We are continuing to administer analgesics, antihistaminics and topical dressing to enable quicker healing. Fortunately, the external wound has healed completely but radiography continues to show intense damage to the shoulder joint. She is receiving regular physiotherapy for her painful shoulder injury and we hope to see more positive results in the months to come!
We are able to provide the very best to our rescued Sloth Bears like Hamsi, all thanks to our kind supporters. If you would like to contribute towards Hamsi's on-going treatment, please click HERE.