Morning had barely dawned on the Wildlife SOS Bannerghatta Bear Rescue Facility in Karnataka, and the bears were waking up to the smell of their morning porridge, when a panic stricken call from the Divisional Forest Officer of Ramanagara district informed the Wildlife SOS team of an injured bear lying in a stream near some fields in the region.
The bear had been spotted first painfully attempting to escape from the village of Kabbal before it had collapsed in a rivulet on the outskirts of the village. When the team arrived at the location, the sight that met their eyes was heart wrenching. Bleeding profusely and barely able to move, the bear could have passed off as dead had it not been for its agonized whimpering. It was evident he was in acute distress, so the team immediately tranquilized him and got to work examining the damage.
They were horrified to discover that the bear had sustained severe internal injuries that were caused by a country made explosive device concealed inside food bait. The team had to take quick action as the animal was in need of immediate medical attention and was put in the transport cage before being rushed back to the center for treatment.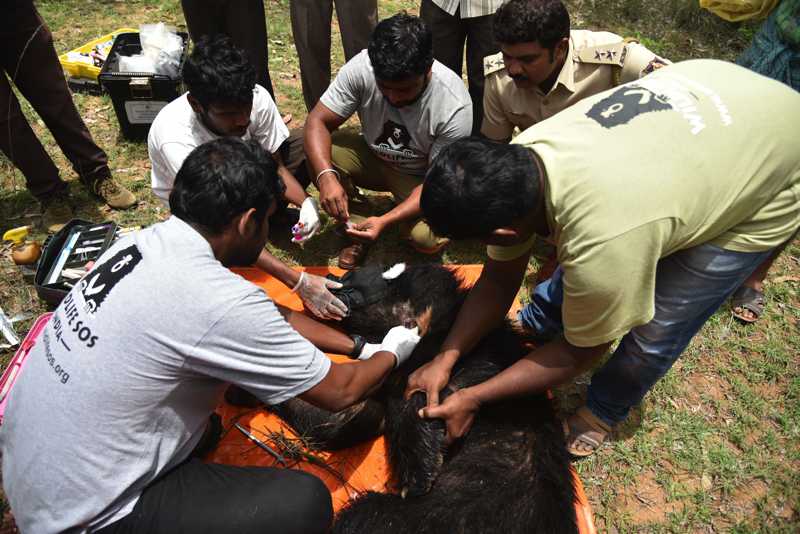 Poachers often use this crude explosive method to kill wild boars and other game. These locally made bombs are concealed inside food baits and curious wild animals are tricked into biting into them. The result is often devastating and causes the head or mouth parts to explode, leaving the animal to die a slow and very painful death while waiting for the poachers to retrieve their prize. The state of Karnataka in Southern India is home to a large population of sloth bears. Over the years, the natural habitat of these sloth bears has deteriorated due to increasing human encroachment and their population in the wild is threatened due to poaching, illegal trading of bear parts and man-animal conflicts, putting them under the IUCN list of Vulnerable species.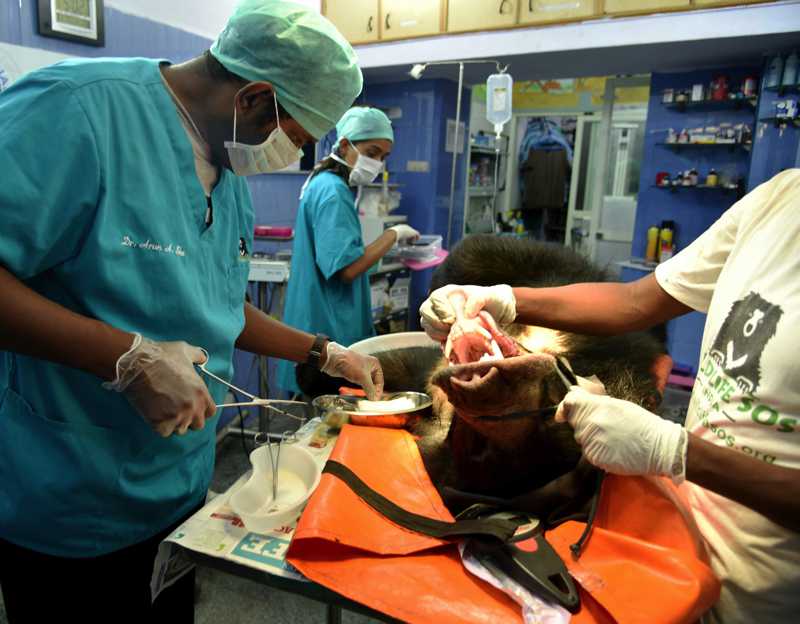 The sloth bear identified as a male, is about 6 to 7 years old and has suffered massive injury and internal damage to his mouth, head and neck regions. As the bomb had gone off inside the bear's mouth, it had sustained a severe fracture in its upper and lower jaws going into the skull. His condition has been deemed critical and is currently kept under close observation at the Bannerghatta Bear Rescue Center.
You can donate towards his care and treatment HERE.