Wildlife SOS was recently felicitated with the international Lifetime Achievement Award and the 'Conservation Medal' from San Diego Zoo Global at their annual "Friends of the Animals" event on Aug. 16, 2018. A crowd of nearly 500 who's who in California cheered as Douglas G. Myers, president/CEO of San Diego Zoo Global presented the prestigious Conservation Medals for "Conservation in Action & Lifetime Achievement" to our co-founders, Kartick Satyanarayan and Geeta Seshamani for their dedicated conservation efforts in India since 1995 when Wildlife SOS was established. The award comes with a $10,000 grant to further the efforts of Wildlife SOS in this field.
During the ceremony, organizers shared the honourees' remarkable body of work, spotlighting their efforts in saving vulnerable species such as sloth bears, elephants, leopards & tigers. Kartick Satyanarayan and Geeta Seshamani are pioneers in a movement to protect forests and wildlife in India. Together they founded Wildlife SOS to combat illegal wildlife trafficking and to stop poaching by working with indigenous communities to provide alternative livelihoods, education and women empowerment to create sustainable solutions.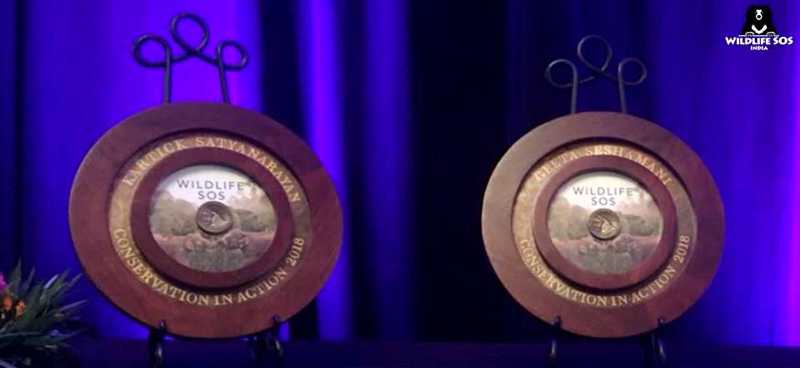 San Diego Zoo Global is a not-for-profit umbrella organization that recently celebrated its 100th year in existence that runs the Institute for Conservation Research, Wildlife Conservancy as well as the Wild Animal Safari Park and the San Diego Zoo. The organisation's mission is to save vulnerable species through animal care based in conservation science.
The Medal has previously awarded to conservation luminaries such as Jane Goodall, Edward O. Wilson, Ian Player, H.R.H. Prince Philip, Sir David Attenborough, Gordon Moore, Betty White and many other.
Wildlife SOS is extremely grateful to San Diego Zoo Global for recognizing our commitment towards protecting India's precious wildlife and for presenting our co-founders with this prestigious award. We feel humbled by this gesture and this award marks a milestone for Wildlife SOS.