An occupant of Vadaj village, farmer Anil Salunke had stepped out to turn on the water well pump for the day but little did he expect to find a jackal trapped inside it. The nearly 40 foot deep uncovered well is located in the periphery of the neighbouring forest, which is home to several wild animals. Concerned for the well-being of the animal, he immediately alerted the Forest Department who in turn contacted the Wildlife SOS team that manages the Manikdoh Leopard Rescue Center in the Junnar district of Maharashtra.
A three member rescue team led by Wildlife SOS veterinarian Dr. Ajay Deshmukh along with forest department officials rushed to the village and a rescue strategy was set in motion almost immediately. As the animal was submerged in about 2.5 foot deep water, the team decided against tranquilizing it. The team lowered a plastic crate, while a forest official climbed down a ladder to help lure the terrified animal into the crate.  Rescues like this one can be exceptionally nerve-wracking as both the safety of the public and the animal needs to be kept in mind. It took the team almost 40 minutes to safely extricate the jackal from the well.
The jackal identified as a male of approximately two years of age was thankfully unhurt. The villagers were quite supportive and maintained their distance so that the rescue could be carried out with ease. They even insisted that the team releases the young jackal back into the same area, so that it could be reunited with its pack.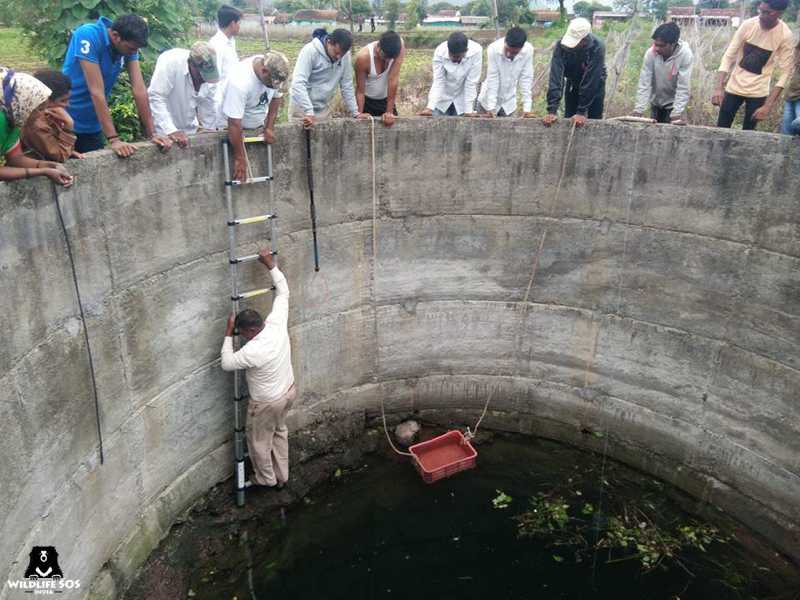 In India, the golden jackal (Canis aureu) also known as the common jackal or Asiatic jackal is included in CITES Appendix III, and found in Kutch, Maharashtra, Rajasthan and Haryana. Omnivores in nature, they feed on small mammals, insects, hares, fish, birds and fruits and often venture into human habitats in search of the same. This species is protected under Schedule II of the Wildlife Protection Act, 1972.
In recent years due to loss of forest cover and depletion of prey base, wildlife animals such as this jackal have been forced to venture into human habitation in search of food and water. This in turn has resulted in increasing incidents of man-animal conflicts in this region.
Wildlife SOS has launched a petition to invite public participation to drawing the attention of the authorities to the issue of open and abandoned wells that pose a threat to human lives as well as that of hundreds of animals each year. It is estimated that the lives of over 1500 animals have been claimed by open wells in Maharashtra alone in the last decade. You can make a difference by signing our petition asking concerned authorities to fence areas around open wells or cover them so that the lives of many innocent animals and people can be saved here; http://bit.ly/2rbr7Kl