Forests, with their majestic emerald canopies, cover a whopping one-third of the Earth's landmass, and serve as the nurturing cradle for over 80% of all land-based species. These vibrant kingdoms are not only breathtakingly beautiful but are also fundamental to the survival of our planet's intricate ecosystem.
On March 21st, the world celebrated International Day of Forests, a day dedicated to raising awareness about the importance of these majestic forests ,its wildlife and their conservation.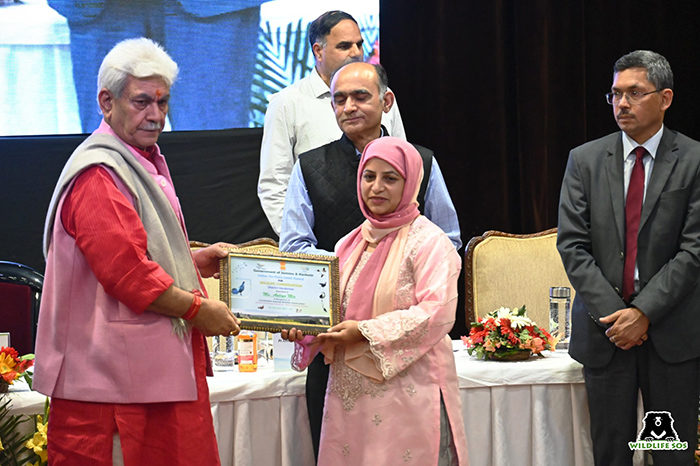 This year, the day was particularly memorable for the Wildlife SOS team. Ms. Aaliya Mir, Education Officer and Programme Head, Jammu & Kashmir – Wildlife SOS, was felicitated with an award by the Department of Forest, Ecology and Environment of the Jammu & Kashmir government in recognition of her commendable efforts spanning diverse aspects of wildlife conservation. She became the first woman from Jammu & Kashmir to receive an award for efforts towards wildlife conservation in the region. The prestigious award was presented to her by Lt. Governor of Jammu & Kashmir, Mr. Manoj Sinha, at an event organised for the occasion.
Ms. Aaliya's association with Wildlife SOS dates back to 2002 when she volunteered with our team in Delhi. Over the years, she rose through the ranks, dedicating herself to the welfare of Kashmir's wildlife. With unwavering commitment and tireless efforts spanning over 15 years, Ms. Aaliya is now the Project Head and Education Officer for Wildlife SOS in Jammu & Kashmir. Furthermore, she spearheads several of organisation's conservation programmes in the state, leaving an indelible mark on the preservation of precious wildlife.
Ms. Aaliya has rescued a wide range of animals, including Asiatic Black bears, Himalayan Brown bears, leopards, Levantine vipers, and birds, among others. Her expertise in dealing with snakes has been highly regarded. She has rescued these slithering creatures from the most unexpected places, including kitchens, lawns, gardens, and even toilets of residential, government, and office buildings, as well as public spaces such as parks.
Beyond her role as a rescuer, Ms. Aaliya is a prominent wildlife researcher, and supervises various projects that study the Brown and Black bears found in Kashmir. She also trains frontline staff on animal rescue, mob management, and aspects to enhance capacity building. As an Education Officer, Ms. Aaliya actively conducts programmes in schools, colleges, villages, and communities to spread awareness among people and students about wildlife conservation.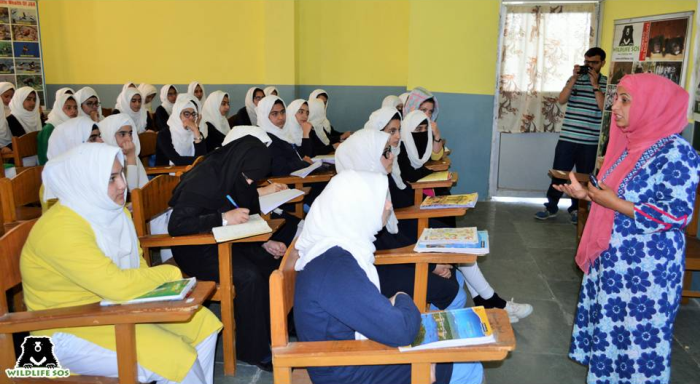 With her team, Aaliya doesn't just rescue wild animals, but also aids in their rehabilitation. Their exemplary efforts have resulted in the successful rehabilitation of eight bears, including both Asiatic Black bears and Himalayan Brown bears, at the Wildlife SOS rescue centres in Dachigam and Pahalgam.
Ms. Aaliya's passion for wildlife conservation has led her to take part in several groundbreaking surveys, including the Hangul (Kashmir Stag) census and the Asian Waterbird Census. Her contributions have been invaluable in promoting scientific research and the conservation of various species in the region.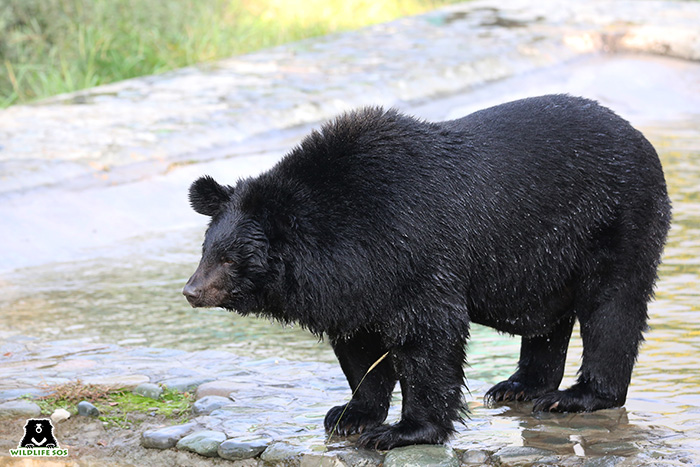 Under her guidance, Wildlife SOS launched a J&K wildlife rescue helpline in May 2021. This service has been instrumental in facilitating the rescue of snakes and other wild animals in distress. The organisation collaborates closely with the J&K Wildlife Protection Department, and together, they respond to rescue calls to ensure the safety and protection of wildlife in the region.
As the sun sets over the picturesque hills of Jammu & Kashmir, the sounds of the forest come alive. The rustling of leaves, the chirping of birds, and the occasional growl of a leopard. For the villagers of the region, these sounds are a reminder of the constant threat they face from the animals they share their land with. Where breathtaking landscapes host magnificent leopards and Himalayan bears, lies a challenging reality. The delicate border region, despite its military presence, is prone to rampant modifications that have resulted in a drastic fragmentation of the animal's habitat. Unfortunately, this has caused the already scarce leopard and bear population to become increasingly isolated.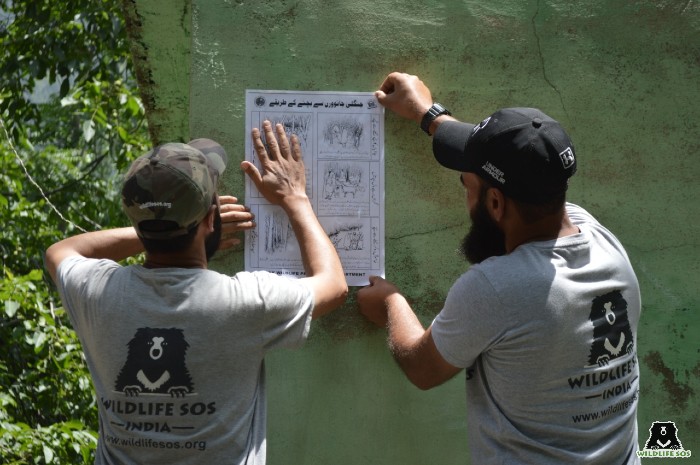 Ms. Aaliya highlights the daunting task of mitigating human-leopard conflicts in the North division. Once upon a time, a buffer zone existed between human settlements and forests, but now that land has been taken over by human encroachment, leaving settlements in direct contact with the forest. Ms. Aaliya has spent years studying the human-animal conflict in the region. According to her, the conflict arises from the complex interactions between humans and the animals that call this place home. From bears raiding crops, to leopards attacking livestock, to snakes hiding in the undergrowth, the conflict takes many forms.
But the animals are not solely to blame. Habitat destruction and changes in land use patterns have made matters worse. The encroachment of human settlements into the natural habitats of these animals has led to a depletion of their prey base, forcing them to hunt domestic animals and raid crops. This, in turn, has led to retaliatory killings by angry villagers, creating a vicious cycle of violence and retribution.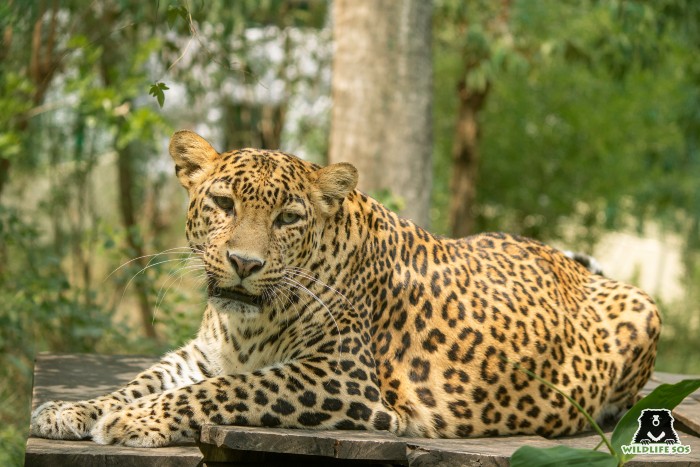 Wildlife SOS is committed to looking for solutions to this complex problem. From establishing community-based conservation programmes to implementing measures to mitigate the conflict, we are determined to find a way to coexist with the animals that share this fragile ecosystem. Ms. Aaliya has also led the Wildlife SOS team in distributing Standard Operating Procedures (SoPs), precautionary measures and dos and don'ts in the form of pictographic flyers to create awareness on how to avoid leopards. As the conflict rages on, the team remains steadfast in their pursuit to find a peaceful solution, one that will allow both humans and animals to thrive in the beautiful hills of Jammu & Kashmir.
Ms. Aaliya Mir serves as a beacon of hope for promoting women's empowerment in Jammu & Kashmir. Wildlife SOS has always been leading the way in empowering women, and the recognition Ms. Aaliya Mir has received is a testament to her exceptional leadership qualities and skills. Through her hard work, Ms. Aaliya has played a pivotal role in expanding the reach of Wildlife SOS' conservation efforts in the region.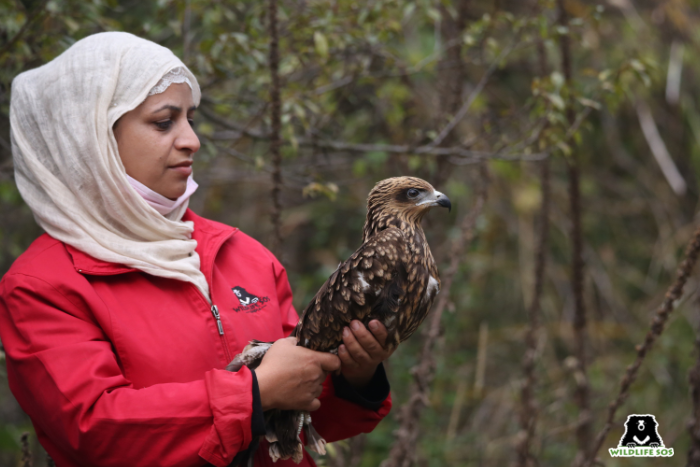 Ms. Aaliya's relentless adherence to her work is not only inspiring, but also confidently reinforces the fact that women excel in what are perceived to be male-dominated fields. Her passion for wildlife and her advocacy for animal welfare has not only improved the lives of countless animals, but have also transformed the outlook of many people in the region. Through her leadership, Ms. Aaliya has paved the way for a new generation of women conservationists, encouraging them to make a positive impact on the world. She serves as a role model, mentor, and guide to those who aspire to follow in her footsteps.
It brings us immense pleasure to have the esteemed presence of Ms. Aaliya Mir in our team. Her distinguished contributions are a source of great pride for us, and we cherish the privilege of working alongside such a remarkable individual.
The consequences of encountering wild animals can be unpredictable, and oftentimes, lack of education and awareness about their behavior is the root cause. If you share a passion for animal welfare and wildlife conservation, you have the power to make a positive impact by becoming a monthly donor for Wildlife SOS. Your contribution can help us continue our critical conservation efforts.