The air was full of celebration and excitement (with a whiff of mango popsicles) at the Bannerghatta Bear Rescue Centre on Saturday as the Wildlife SOS team celebrated the 16th rescue anniversary of three former 'dancing' bears. A special guest and long-time supporter of Wildlife SOS, actress Samyukta Hornad, graced the occasion with her contagious enthusiasm.
Our bear trio—Gayathri, Gomathi and Ganga—were rescued from the brutal dancing bear practice in 2006 when they were merely two to four-year-old cubs. Wildlife SOS rescued the cubs from the Kalandar community in Hampankatta, Karnataka, where they were being used for street performances.
Mango Popsicles and Honey Cakes
Samyukta Hornad is popular for her roles in South Indian films such as Lifeu Ishtene, Un Samayal Arayil and Oggarane. She bagged the Filmfare award in 2015 for Oggarane. She also recently starred in two Telugu web series, G.O.D and Locked, which are popular in the OTT space. Her latest work is Arishadvarga, a mystery thriller film in Kannada.
Off the screen, the Bangalore-based film star is an animal welfare advocate and has been supporting Wildlife SOS for many years now. Upon arriving at the centre, she immediately took to learning about the history of the three bears and how they were doing under the dedicated care of the team at BBRC. She conversed at length with the vets, keepers and the rest of the team.
To mark 16 years of their freedom, the Wildlife SOS team prepared refreshing popsicles and delicious cakes for each of the bears—made with all their favourites: cherries, bananas, apples, grated coconut, dates and honey. The bears devoured the cakes and then climbed up the trees at their enclosures to lick and slurp away at the mango-flavoured popsicles that the team had hung up for them!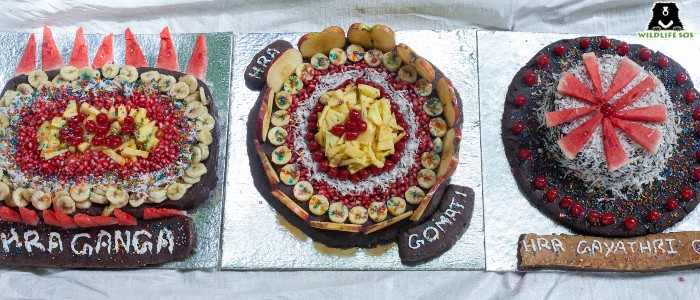 "I am so happy to be here, celebrating the freedom of these beautiful bears! I am simply in awe of the love and care given to them by the Wildlife SOS team. I urge more people to support them in their efforts to care for these animals that were rescued from really terrible pasts. Seeing them today, wandering about freely, is truly inspiring," said the actress, as she watched the bears enjoying their treats.
Our 3Gs
The three bears are some of the oldest ones living at BBRC, which was established in 2005, merely a year before their rescues. At the time of her rescue, Gayathri's canines had been broken to make her a 'dancing' bear. Even today, she can be identified by the prominent scars on her muzzle through which a hot iron rod was pierced—a routine ordeal that all dancing bears are put through when they are snatched from their mothers as cubs, their muzzles still soft.
Over the years, however, Gayathri seems to have slowly been able to let go of her traumatic past—for she is one of the wildest bears at BBRC!—despite being taken away from the wild at a tender age. She is a very adventurous bear, with the spirit of a born explorer. One would find her wandering off on one of her little expeditions or climbing a hammock at her enclosure.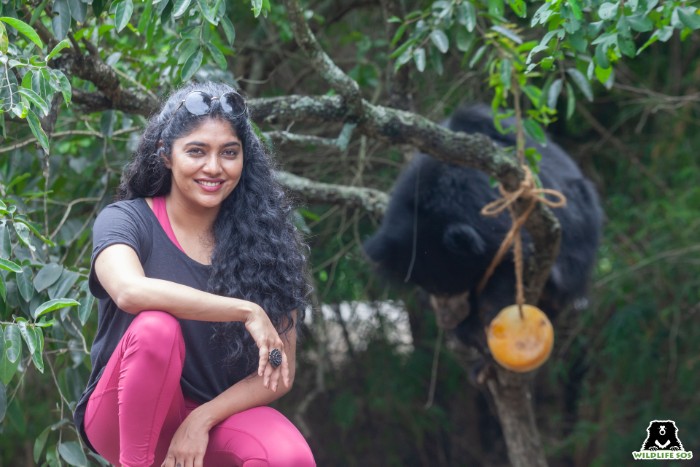 Gomathi arrived at the centre with corneal opacity in her eyes, wherein, the cornea is scarred or clouded, causing decreased vision. Like her two companions, she too was underweight. She also had missing or broken teeth. Today, she has grown into a commanding, self-assured bear. She loves to scavenge for little insects and is also one of the first to run towards treats!
Ganga, a polar opposite, is one of the few bears at the centre who is not fond of honey. She is still wary of people but her caregiver has managed to gain her trust over the years. She too arrived with a pierced muzzle and broken, but not entirely missing, canines. She is not the most social bear at BBRC and enjoys her solitude.
Towards a Kinder Life
For Wildlife SOS, resolving the 'dancing' bear practice was a long and hard battle, beginning way back in 1996. With the support and cooperation of the government, Wildlife SOS has rescued and rehabilitated over 620 'dancing' bears through the years. In 2009, the last 'dancing' bear, Raju, walked towards his freedom.
Moreover, our work did not end with merely rescuing the bears from the hands of the Kalandar community. Afterall, generation after generation of the Kalandar community had taken to the illegal practice as a means of livelihood.
Wildlife SOS works with the Kalandar families to provide and support alternate livelihoods so they no longer had to depend on earning through the bears. The team has also helped provide education to over 5,000 Kalandar children so far.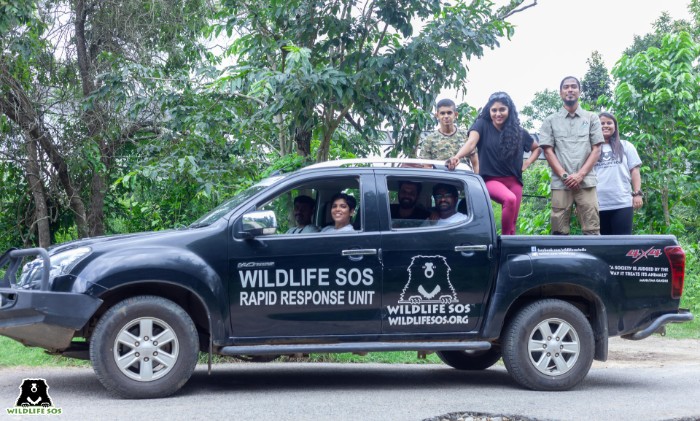 It was a tedious journey but at the end of the day, watching our bears wandering about freely, swaying on hammocks to a gentle breeze or stretching about under the warm sun, makes every last effort worth it.
If you wish to support us in our efforts to rescue and rehabilitate Sloth bears, please donate here.