Traditions have a way of binding us together; creating a continuity that we can depend on year after year in an unpredictable world. At Wildlife SOS we have plenty of traditions – from celebrating rescue anniversaries to elaborate welcome feasts. One of the most exciting traditions, however, is that of Easter! Every year on this special occasion, our team of caregivers at the Agra Bear Rescue facility gets together to formulate an egg-citing day for our rescued sloth bears.
As a part of this tradition, our care team spends hours carving out juicy watermelons in the shape of bunnies!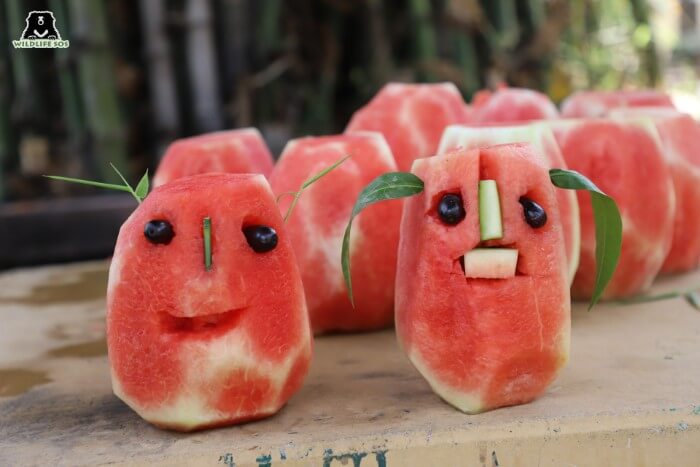 With leafy ears and fruity eyes, these watermelon bunnies function as adorable enrichments for our rescued sloth bears! They are often hung from trees or placed atop their wooden platforms to nudge the bears to use their natural foraging abilities, keeping them mentally and physically fit!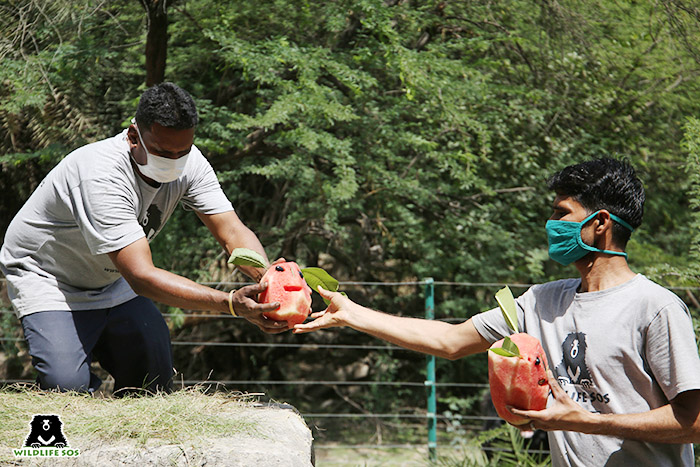 This year, the watermelon also acted as a much-needed respite from the heat taking over northern India! As temperatures soar, watermelons provide the bears with a rich source of nutrients and hydration.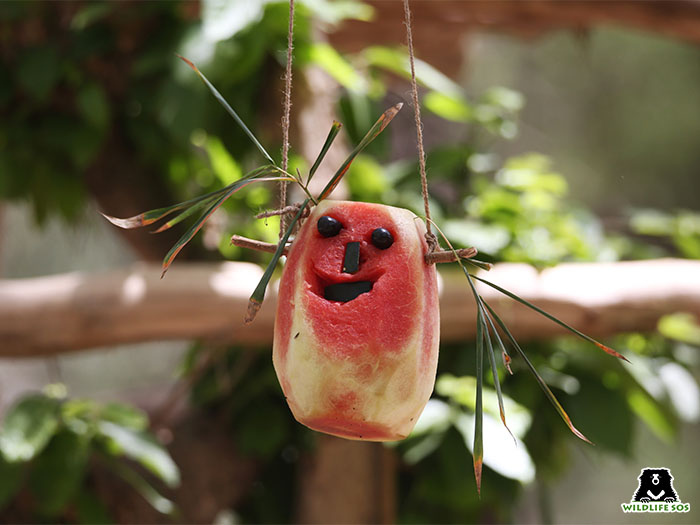 With a penchant for juicy watermelons, our bears were dizzy with excitement to find their enclosures full of bunny watermelons! Elvis wasted no time in getting his claws on the lowest hanging watermelon!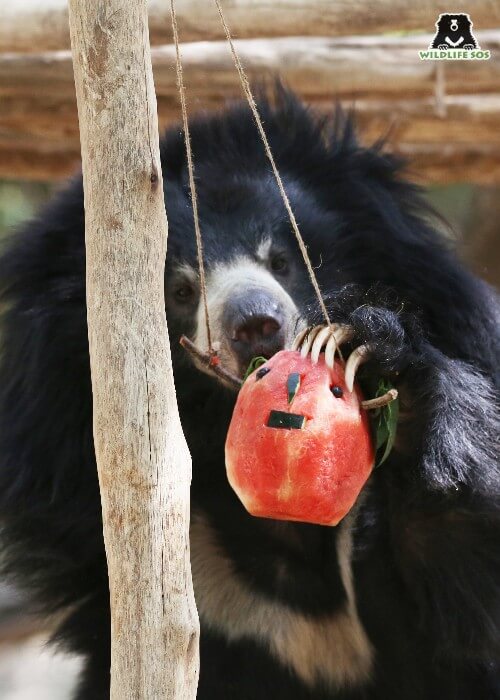 Mowgli, one of the youngest bears at Wildlife SOS, was the most excited and quickly climbed on top of his wooden platform to get to the watermelon!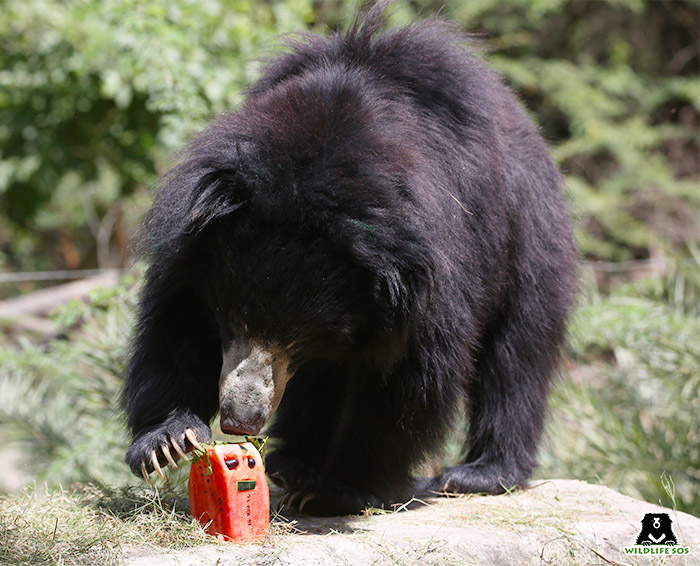 Ron was the quickest eater of all, devouring his treat within seconds! Once he was done his enclosure was sparkling clean, with no trace of the watermelons that once covered the area.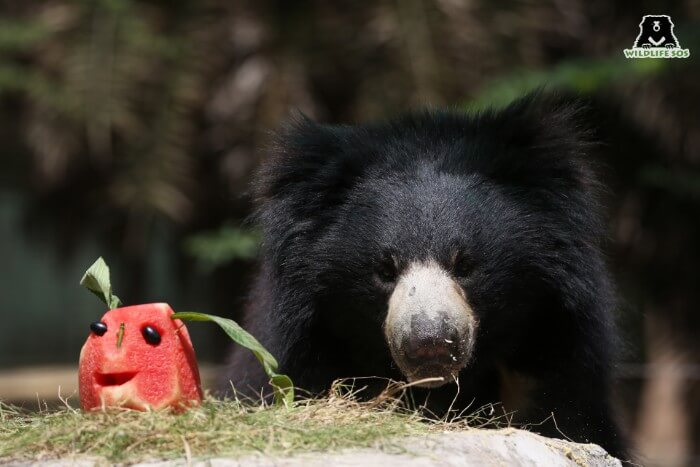 Intoxicated by their delicious meal, Ron and Mowgli engaged in a fun session of mock wrestling!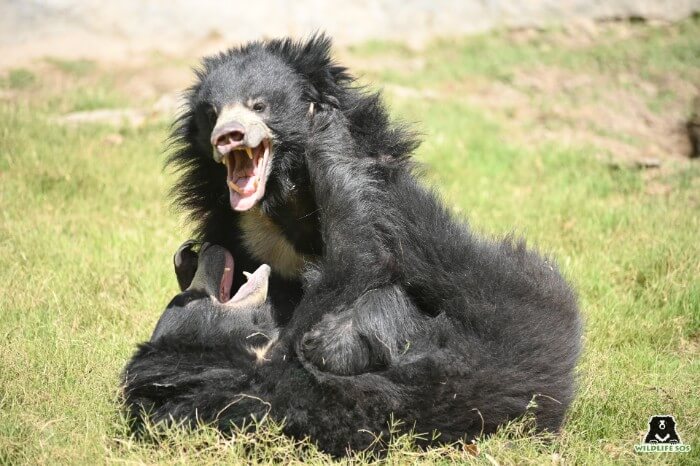 Lallu Master, true to his personality, walked slowly towards each watermelon. He slowly munched on the pieces, relishing each and every bite.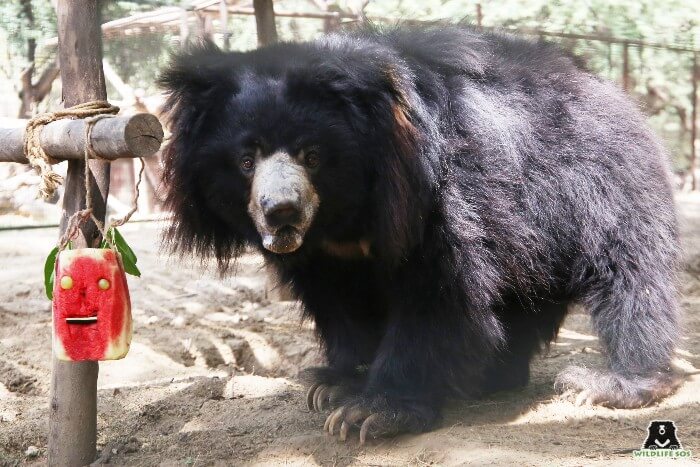 Abhay, one of the biggest foodie at ABRF, was ecstatic at the sight of bunny-like watermelons! He sniffed each piece before gently plucking them.
Arthur shed his usually calm demeanor and revealed his jovial side on seeing the watermelons. He got on all fours, stretching his body to hold on to a watermelon and plucking it out excitedly!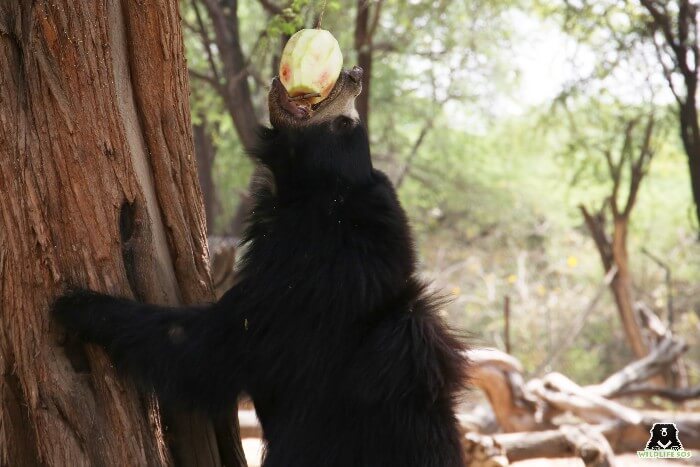 Watching our resident sloth bears run around in joy during Easter, fills our hearts with gratitude for them.
Our goal as an organization is to not only rescue bears but provide them with a life of freedom, dignity, and joy. Such feasts are a part of our effort to bring a little joy to their lives.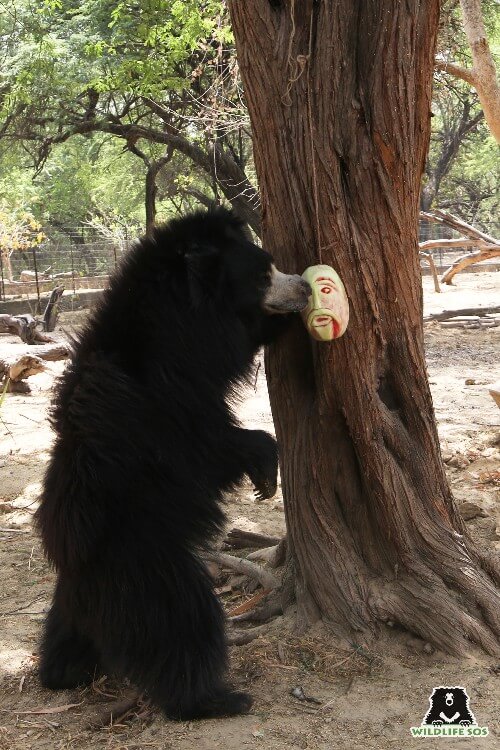 Despite all the ups and downs, the world has experienced during a global pandemic, our Easter celebrations have continued. This celebration stands as a reminder of the power of hope!
Today, we thank you all for being a part of the ever-growing Wildlife SOS family and wish you all a Happy Easter!