Wildlife SOS and Maharashtra Forest Department have joined forces in rescuing animals in distress in Maharashtra. From rescuing Sambar deers in human habitation to hand-rearing orphaned leopard cubs, the unwavering support of Maharashtra Forest Department has facilitated the smooth rescue, release and rehabilitation of these animals.
A barn owl had the misfortune of getting trapped in a sewage drain and was struggling to fly away, when a passerby spotted the bird in an exhausting ordeal. He immediately alerted the officials of Maharashtra Forest Department who carefully extracted the owl from the sewage drain. The barn owl is a primarily nocturnal bird, very elusive and rarely spotted. The bird was completely drenched and covered in grime, so the officials rushed it to the Wildlife SOS Leopard Rescue Centre in Junnar for treatment.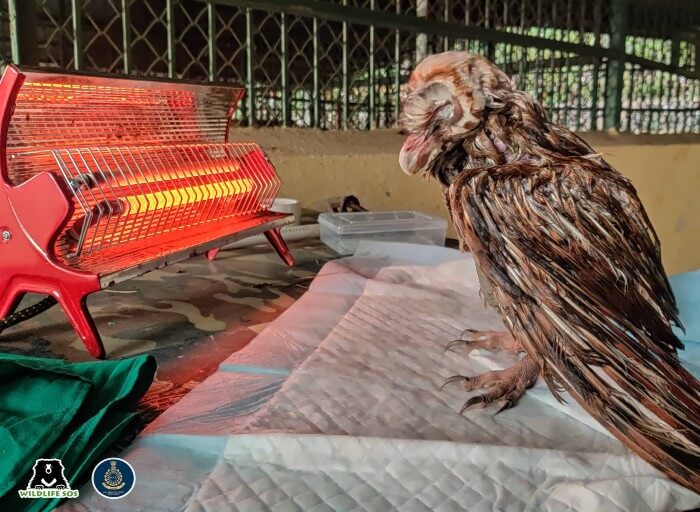 There is a cold wave that encapsulates the country at present, the temperatures also take a dip along the Western Ghats. The air becomes cool towards late evenings, which is why the barn owl was cold and violently shivering. In order to stabilise its condition, our animal care staff placed the bird under artificial heating for proper comfort. The medical team carefully removed the dirt from its plumage and feather and ensured that the bird got plenty of food and rest to overcome this exhausting ordeal.
After days of recuperation, the owl was ready to return to the wild as our animal care staff spotted him spreading his wings and gradually walking around. We were relieved to see the bird taking a confident flight into the dense forest.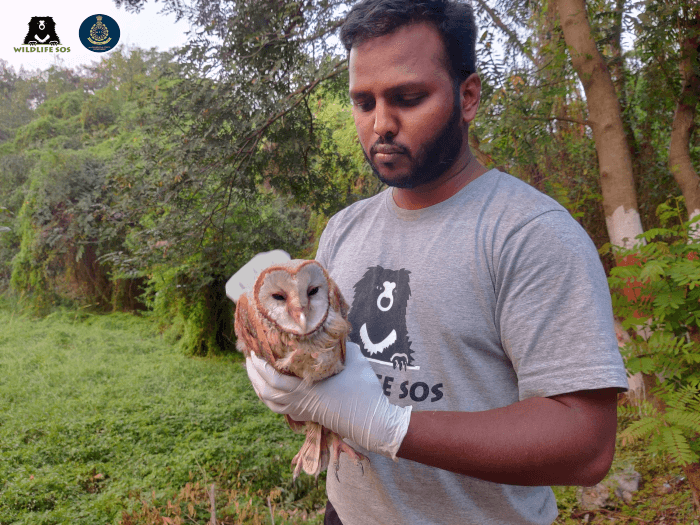 The Barn Owl (Tyto alba) is a widely distributed owl species and commonly found in the Indian subcontinent. They generally rest in unused burrows, tree cavities or terraces and prey on rodents, small mammals and birds. Owls are considered to be friends of farmers as they keep a check on the rodent population. In India, owls are protected under the Wildlife Protection Act, 1972 and the International trade in owls is prohibited under the Convention on International Trade in Endangered Species of Wild Flora and Fauna (CITES).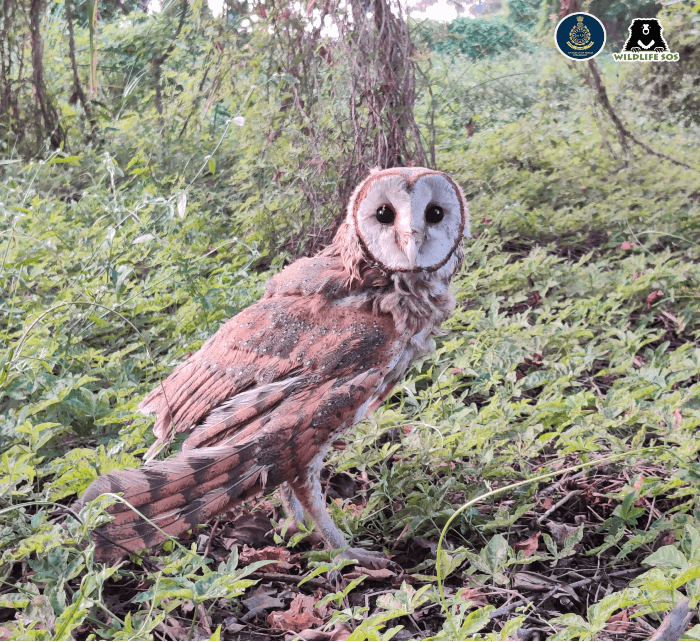 If you spot a bird or wild animal in distress, please call Wildlife SOS Rescue Hotlines in Delhi-NCR (+91-9871963535), Agra and Mathura (+91-9917109666) and Vadodara (+91-9825011117). You can reach out to the local Forest Department for immediate assistance.