The lush greenery of the Agra Bear Rescue Centre (ABRF) is home to Sloth bears who were torn apart from their families and natural habitats so that they could be trained to become 'dancing' bears. Among them is Bizi, who was rescued from poachers as a cub. Many who have visited our centre have been overwhelmed by the stories of cruelty our rehabilitated bears have lived through. But one look at Bizi and his playful antics reaffirms how essential humane care is for the well-being of rescued animals. 
It is easy not to miss Bizi if you happen to visit ABRF — he is one of the most enthusiastic and animated bears at the centre! Looking up, you may spot the talented climber right at the top of a tree. After scaling a height, Bizi stays put, as though investigating his environment thoroughly from his vantage point. We are delighted to name Bizi as our Bear of the Month, and celebrate his journey with us at ABRF!
On the verge of becoming a victim of the 'dancing' bear trade, Bizi, who was barely a few months old at the time was saved in the nick of time by the Wildlife SOS team. He was brought to ABRF for long-term care, where he has grown up in a healthy environment, and has been surrounded by bear companions and our dedicated caregivers. 
Bizi spends his days indulging in mock-wrestling with Kartikayani and Arsitha, the two Sloth bears he is closest to. When Bizi sets out on his lengthy strolls across the field, he makes sure to call out to his companions. To entice the duo to participate in his antics, Bizi likes to startle them with sudden movements. After all the fun and frolic, he spends his afternoon napping in one of the pits he enthusiastically excavates. Now that summer has arrived, you can spot Bizi and the other bears lounging by the pool or snoozing under the trees.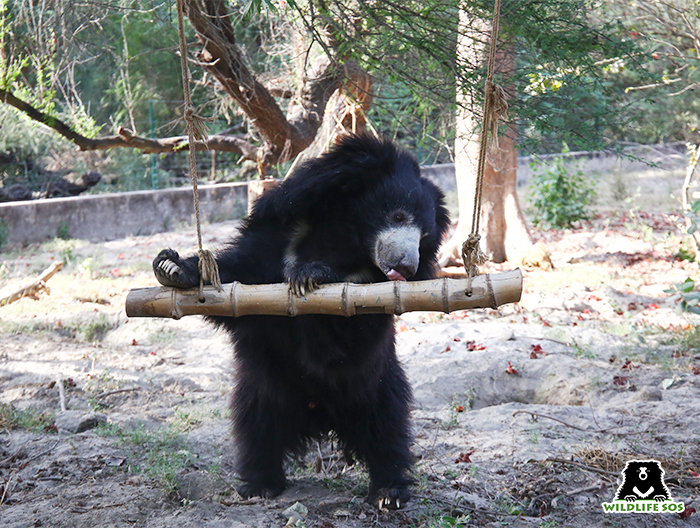 Bizi can be best described as a complete foodie! His love for fruits is evident in the way he enjoys mangoes, grapes, and watermelons in particular. He relishes a nourishing meal of porridge and seasonal fruits, which is fed to him thrice a day. His diet plan has ensured that Bizi retains his good health, and he currently weighs about 106 kg. His interactions with the bears in the nearby enclosures along with the different physical activities he takes part in around the free-ranging facility, keep him cognitively active. 
Bizi's eyes light up when his caregivers present him with a ball of enrichment! His uncontained excitement has him jumping around when he plays with it.  It's truly a sight to behold to watch Bizi as he engages with his enrichments with such gusto! Bizi spends hours tossing the ball and feeder enrichments around and racing after each, extracting all the yummy treats from within them. His energy sure keeps his caregivers on their toes! 
Among all the tales that we hear from our staff, the most interesting ones are those that reveal how responsive Bizi is to his caregivers. He's been with them since he was a young cub, and has grown to trust them completely.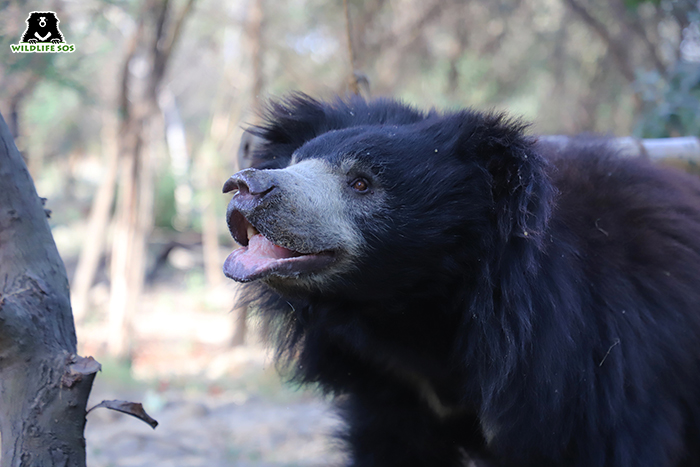 Bizi is a special bear who has won the hearts of everyone at ABRF. His fondness for climbing trees is endearing to witness, and he excels in it. As we reflect on Bizi's journey, we can't help but feel grateful for the hard work and dedication of our vets and bear caregivers.  We are also grateful to everyone who helped us on our mission to put an end to the 'dancing' bear practice in India. 
You can help us care for Bizi and other bears like him by making a donation.