The bear of the month for November is our shy and introverted Leena! Unlike some of our other bears who catch the eyes of all the caregivers in the vicinity, Leena prefers not to be the centre of attention. Rather, she is one of the quieter and more withdrawn bears at the Agra Bear Rescue Facility. She usually keeps to herself and prefers to spend her time alone, playing with her enrichments. Leena used to be a dancing bear who was rescued from a Kalandar settlement in Uttar Pradesh, in 2008.
At the time of rescue, she was around seven years old and was all skin and bones. She was a mere 71 kilograms, which is severely underweight for a bear her age. The pain of 'dancing' and performing all day for the entertainment of humans and the sheer neglect of her health brought her to this state of malnourishment.
Upon her arrival at the Agra Bear Rescue Facility, the first thing the veterinarians did was to surgically remove the nose ring. Leena's handlers had brutally pierced her delicate muzzle and in most of these procedures, anaesthesia is never used. The continuous tugging on her nose ring to make her 'dance' reopened the wound many times which required extreme care and treatment. The removal of the nose ring relieved her of physical discomfort but was also a reminder of her freedom. Leena remained in quarantine for a couple of weeks upon her arrival so the vets could monitor her health.
During this time, she was extremely docile and showed signs of stereotypical behaviour like head bobbing and swaying. Animals keep in captive environments often showcase these types of behaviour. She was constantly wary of her surroundings and also easily startled. As a result, she tended to avoid other bears and humans; preferring to stay reclusive. It took a lot of work on the care staff's part to gain her trust. Thanks to the hard work of the bear care staff and the veterinarians who cared for her each day, she now weighs a healthy 91 kilograms.
After a fair amount of time at the Agra Bear Rescue Facility, we thought that it was finally time to introduce her to other bears. Despite our efforts, Leena refused to come out of her shell for the longest time. She did not make attempts to play with any other bears. From our experience of working with rehabilitated bears, we have observed that socialization plays an important role in their healing journey.
When all hope for a friendship seemed lost, Leena met Ranjan.
In many ways, the playful Ranjan the polar opposite of the shy Leena and no one really expected this friendship to work. Yet the two got along extremely well and Ranjan even managed to get the introverted Leena to mock-wrestle with him and brought out a playful side of her that she didn't showcase often.
After Ranjan's passing earlier this year, Leena has not taken to bonding with any new bears. Instead, she prefers to keep to herself and interacts with her caregivers. Although Leena is sad about losing her friend, she has not reverted back to her past self. She is not withdrawn and hyper-aware of her surroundings. Rather, she keeps to herself in comfortable silence and spends her time playing with her enrichments.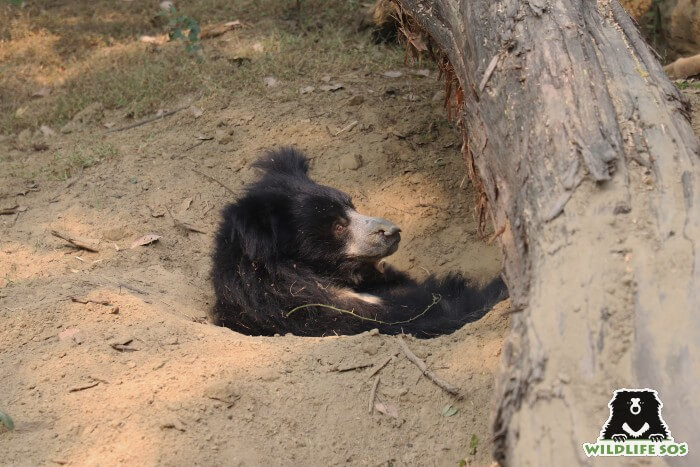 Leena is not picky about her food at all and loves to eat everything from porridge to nuts to papayas. Her caregivers adore her calm demeanor. As the winter is now in full swing, Leena eats a lot of warm foods like jaggery. She spends her days digging up the mud in the ground and making little pits to sleep in. She lays in the cool mud while taking in the sunlight and spends endless hours just basking and enjoying her freedom.
Recently, Leena's caretaker built a bamboo hut for her to play in. Knowing Leena's love for food, he dangled a swinging ball in the hut covered with honey and stuffed with dates and coconut shavings. Leena was instantly thrilled to see the hut and was off to explore it in a dash! Feeling pleased with the new structure, she spent the entire day in the hut.