*GRAPHIC CONTENT WARNING*
As we approach the new year, we have asked for your help in rescuing another elephant that desperately needs our care – 50-year-old Jai is now on the verge of a new journey of recovery with Wildlife SOS.
Jai's story is heartrending – His cruel owner forced Jai to walk thousands of miles in spiked chains which led to badly infected feet and legs. He spent the past 40 years walking thousands of miles in chains throughout Punjab, to Delhi, Madhya Pradesh, and finally to Rajasthan. His painfully infected wounds have rendered him immobile and nearly lame.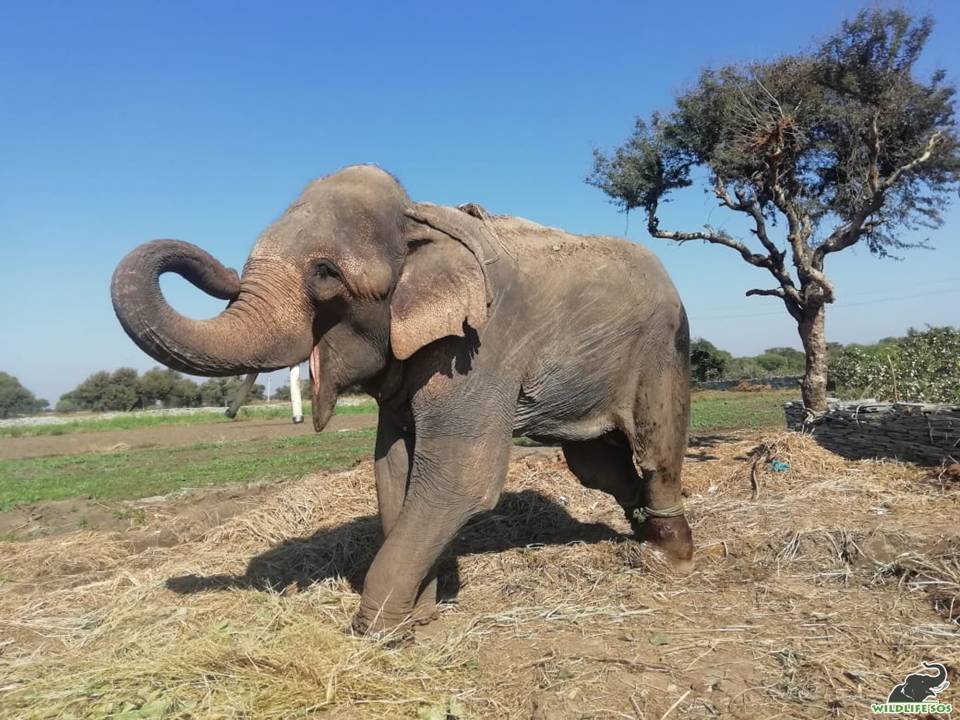 This criminal neglect and abuse points to unfathomable cruelty, hence leading to the Forest Department seizing the elephant from the owner. We are being given the opportunity to bring him to safety and provide him the medical care he can only receive at the Elephant Hospital Campus.
Wildlife SOS has dispatched a primary response unit with our team of veterinarians to the elephant's location to conduct a preliminary medical test on the bull. He needed immediate medical attention as he was neither consuming food or water. Our team administered broad-spectrum antibiotics and pain management for Jai's condition to provide him relief.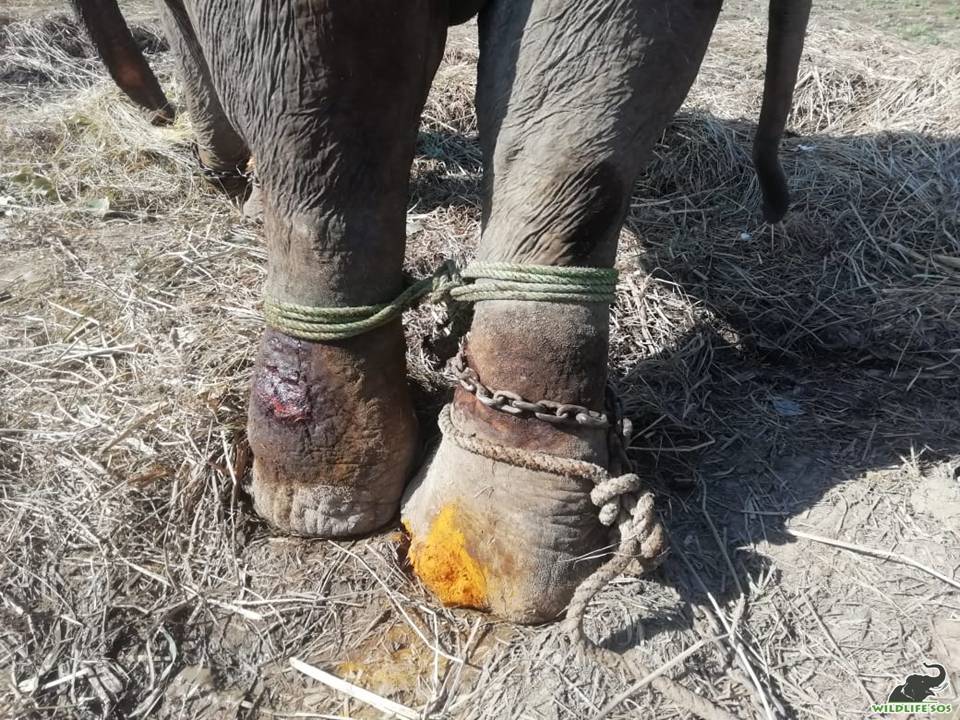 Because his condition could become critical, we're planning to rescue Jai in record time. Our goal is to have him in the Elephant Ambulance and on his way to freedom no later than Thursday. Thanks to your ongoing support, we are able to act quickly with our rescue efforts and help elephants like Jai. We will let you know when he has arrived safely at the Elephant Hospital. You can help us by donating here.
9th December, 2020 – 9:00 am (IST)
Our team is working on preparations to go help Jai. The team plans to be leaving in less than 12 hours. We are planning to undertake this challenging operation in record time. We hope to have reports, photos and video to share of Jai's journey to freedom.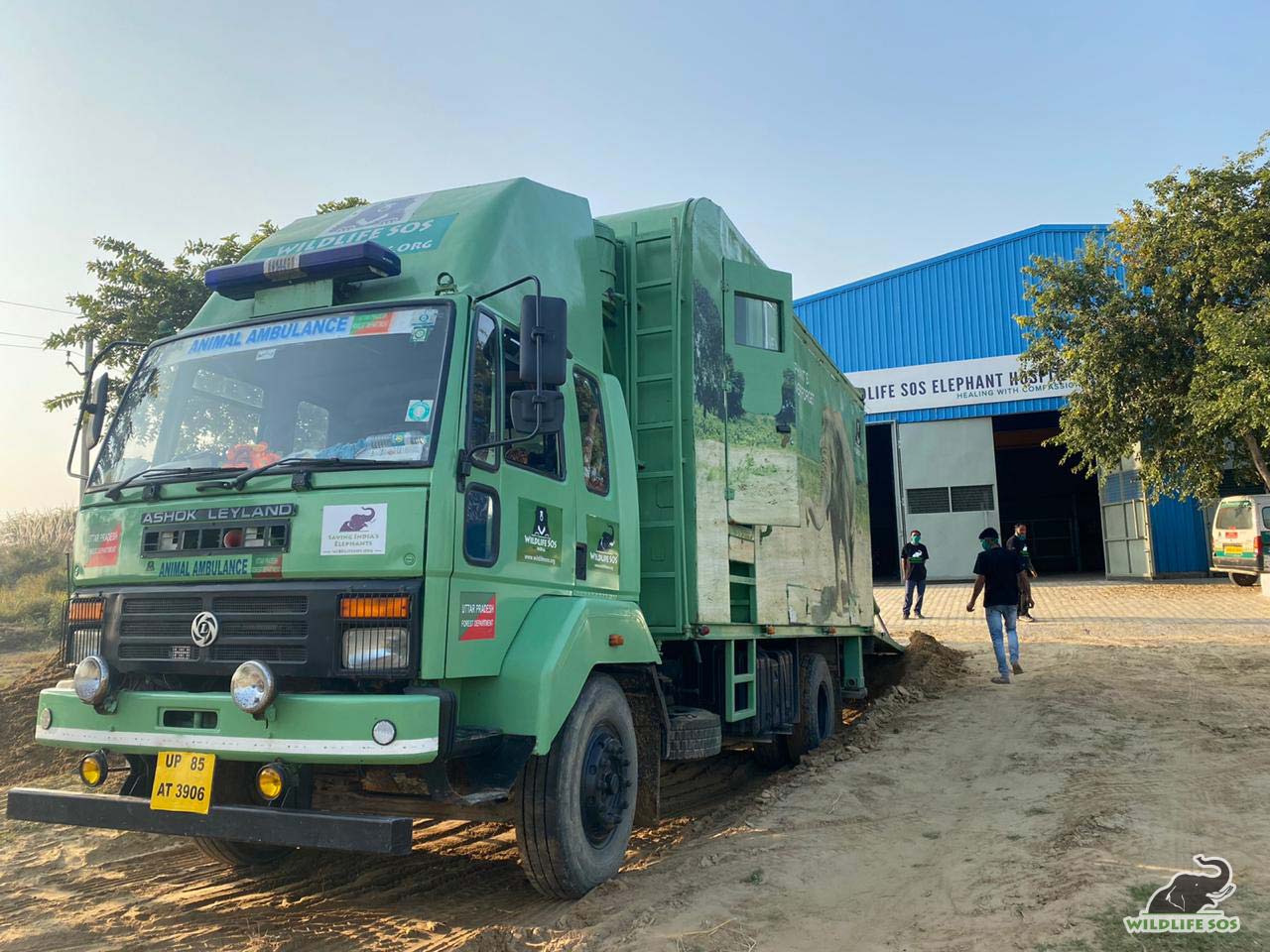 9th December, 2020 – 09:00 pm (IST)
Our team is on the road driving throughout the night to save Jai. Part of our extensive preparations include careful washing and sterilization of the elephant ambulance. This can help reduce the chance of infection of Jai's wounds while he endures the long ride back to the elephant hospital. Elephant Campaign Officer Mahima will be reporting throughout Jai's rescue and journey to freedom.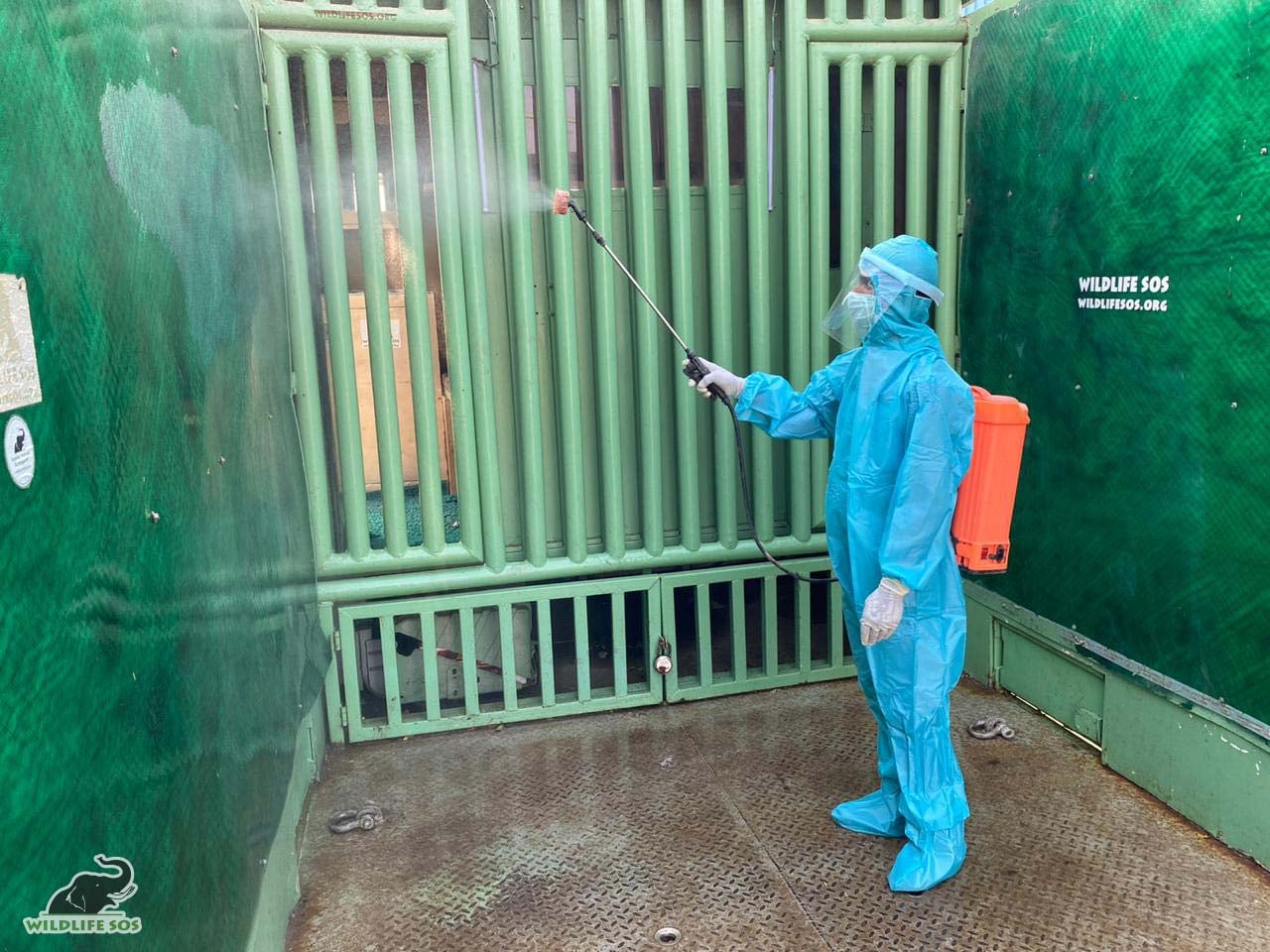 9th December, 2020 – 11:00 pm (IST)
Extensive preparation is needed to ensure a safe, successful rescue. Our experienced rescue teams prepare for the unexpected. At this moment they're driving throughout the night to reach Jai.
Our rescue team (from left to right): Mahima, Elephant Campaign Officer; Rajkumar, Driver, Elephant Ambulance; Dr. Tenzing and Dr. Rahul, Wildlife Veterinary Officers; Somveer, Veteran Elephant caregiver; Narendra Singh and Phoolchand, Drivers for Elephant Ambulance. And we can't forget our two photographers behind the camera, Shresatha and Mradul.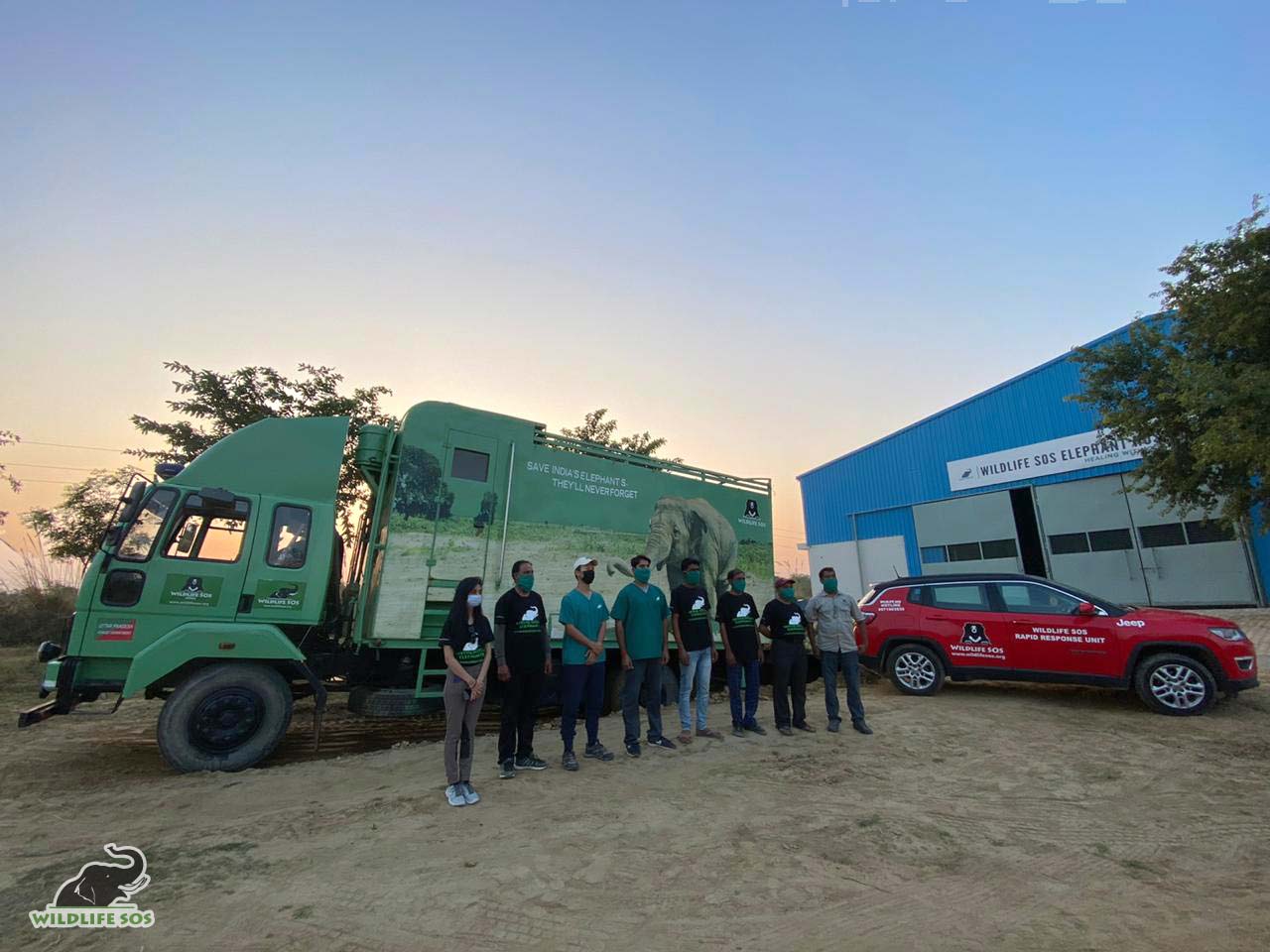 10th December, 2020 – 01:30 am (IST)
Our team is still driving to Jai's location. We estimate an about 15+ hour drive to reach him under current conditions. While we all wait in anticipation, here is more info about our extensive preparations for this rescue:
The Elephant Ambulance is kept in tip-top condition because any roadside mechanical problems could be very dangerous with a scared, injured bull elephant inside.
We are told that Jai may have never been in a truck before so getting him into the truck could prove challenging. Our team digs up dirt ramps to ease the elephant's entry and exit from the ambulance. We've also filled the ambulance with plenty of fresh sugarcane.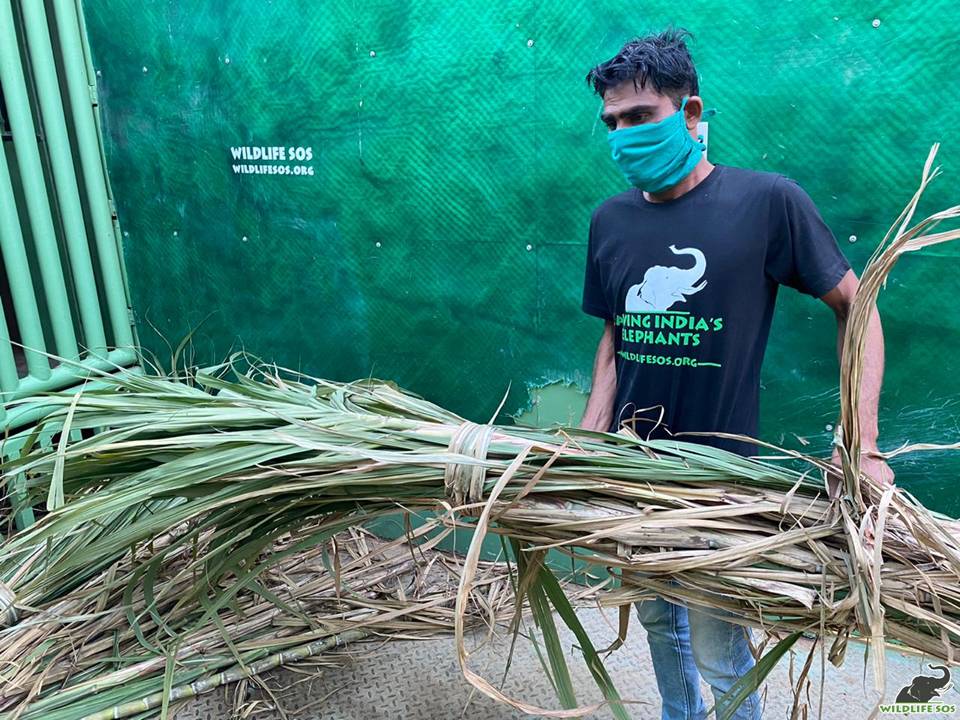 10th December, 2020 – 05:00 am (IST)
Our team is still driving through the dark, but daylight is soon approaching. The team will stop for a short break to stretch their legs, fill up on fuel and then depart immediately towards Jai's location.
10th December, 2020 – 10:00 am (IST)
Our team has been driving through the night to ensure they reach Jai in record time! The team is only a few hours away from Jai's location. Meanwhile, the advance Wildlife SOS team on the location is taking care of Jai, making certain that he's fit for his journey to the Elephant Hospital Campus. Sharp temperature dips and bouts of fog face the team as they rush to get Jai home.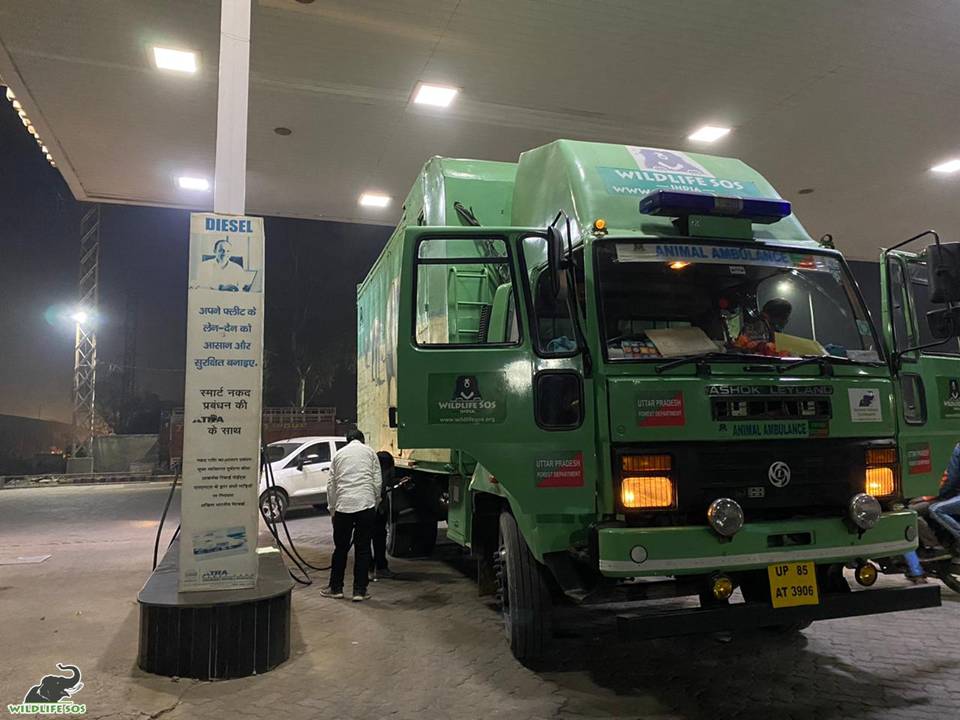 10th December, 2020 – 12:20 pm (IST)
While awaiting Jai's arrival at the centre, the elephant care staff has embarked on preparing Jai's enclosure for him. Here, keepers disinfect the proposed enclosure with a mixture of lime and turmeric. They'll also be wrapping the enclosure with tarpaulin covers to keep the biting chill out.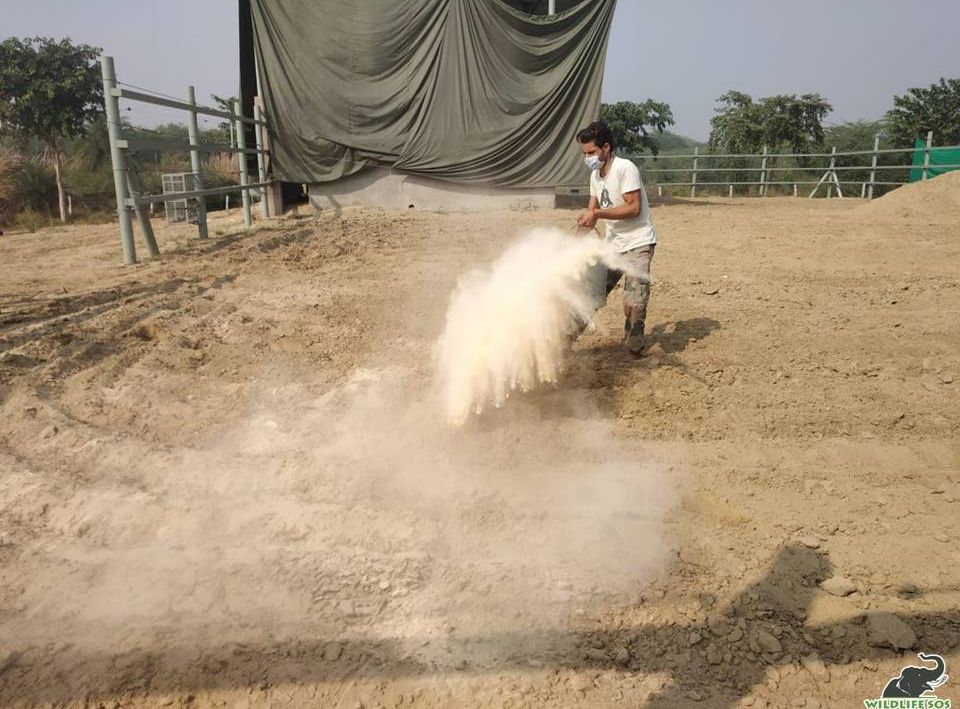 10th December, 2020 – 02:00 pm (IST)
Finally, the team has arrived at Jai's location. At the moment, the team is preparing to conduct a preliminary assessment of Jai's condition. In the picture below, our Wildlife Veterinary Officer Dr Rahul and Elephant Campaign Officer Mahima Sharma discuss the process of conducting the assessment.
10th December, 2020 – 03:30 pm (IST)
While on their way to Jai, the rescue team had loaded up on sugarcane for the bull as it is a very useful method of enticing the attention and cooperation of an elephant. The veterinary team is working towards gaining his confidence while treating him to some fresh sugarcane. Jai seems to be enjoying himself.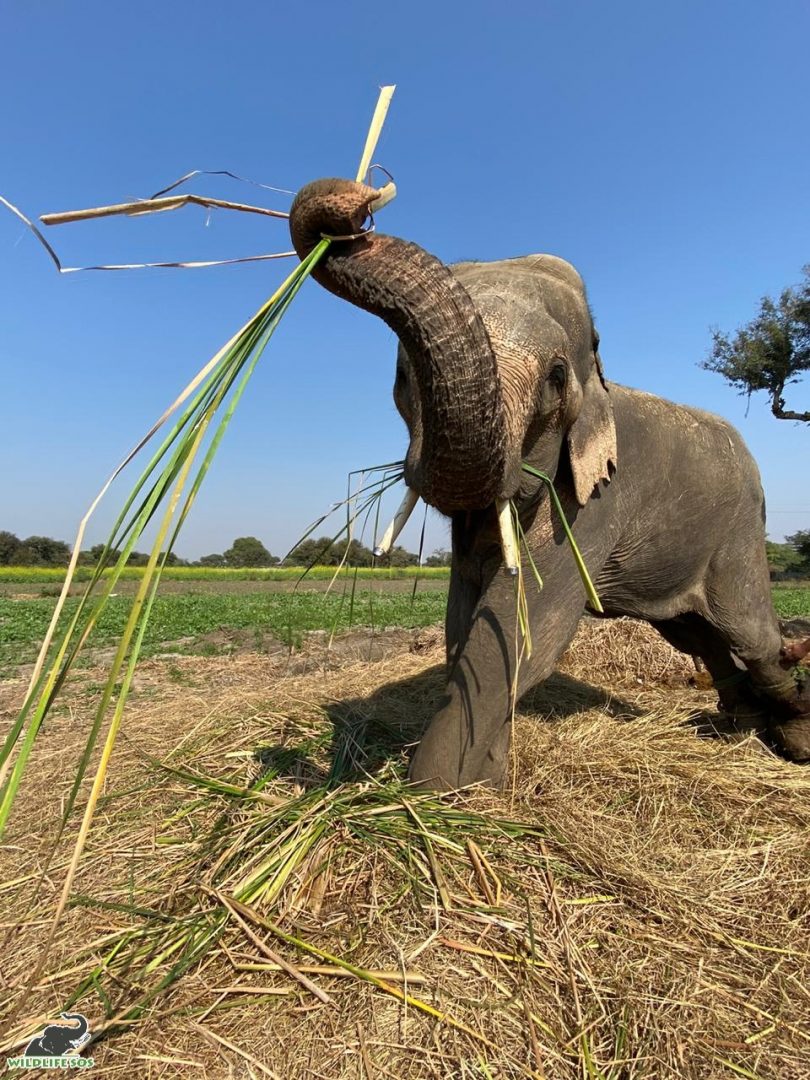 10th December, 2020 – 05:30 pm (IST)
Wildlife Veterinary Officer Tenzing Lachenpa talks about Jai's condition and the challenges the team might face while loading him into the Elephant Ambulance.
We are told that Jai may have never been in a truck before, since his owner made him walk thousands of miles, from one state to other on hot tarmac roads without relief – his legs bound in spiked chains, which caused serious, infected wounds.
Considering his unfamiliarity with large vehicles, the team is prepared to meet all eventualities during the transportation.
10th December, 2020 – 07:00 pm (IST)
After a sumptuous meal, a preliminary assessment was conducted on Jai to gauge his condition. Jai's left hind limb is dangerously swollen, with septic infected wounds and possible abscesses were observed on both hind limbs; he also has an abscess on his hip and needs urgent medical attention. He is extremely emaciated and weak and has a protruded spine structure. Psychologically too, Jai needs immediate ministrations. The team is preparing to leave in a short while with Jai after ensuring he is fit for travel.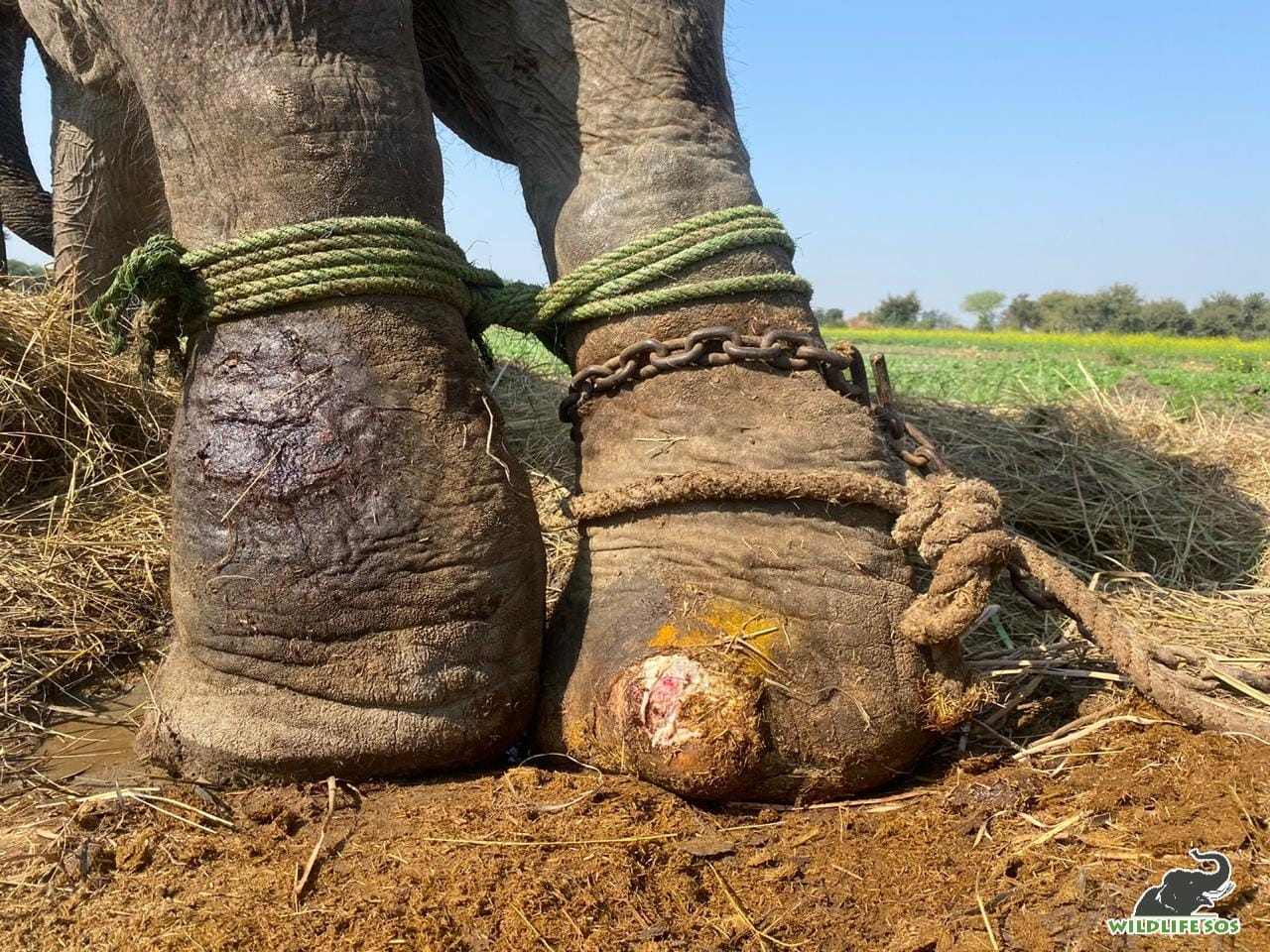 10th December, 2020 – 08:00 pm (IST)
Jai has been safely and comfortably loaded onto the Elephant Ambulance and our team is finally on its way to the Elephant Hospital.
Jai is now on his way to a safe and secure home. He'll undergo medical treatments, a mandatory quarantine for his safety and our staff's. He'll still be able to see and interact with other elephants from his enclosure.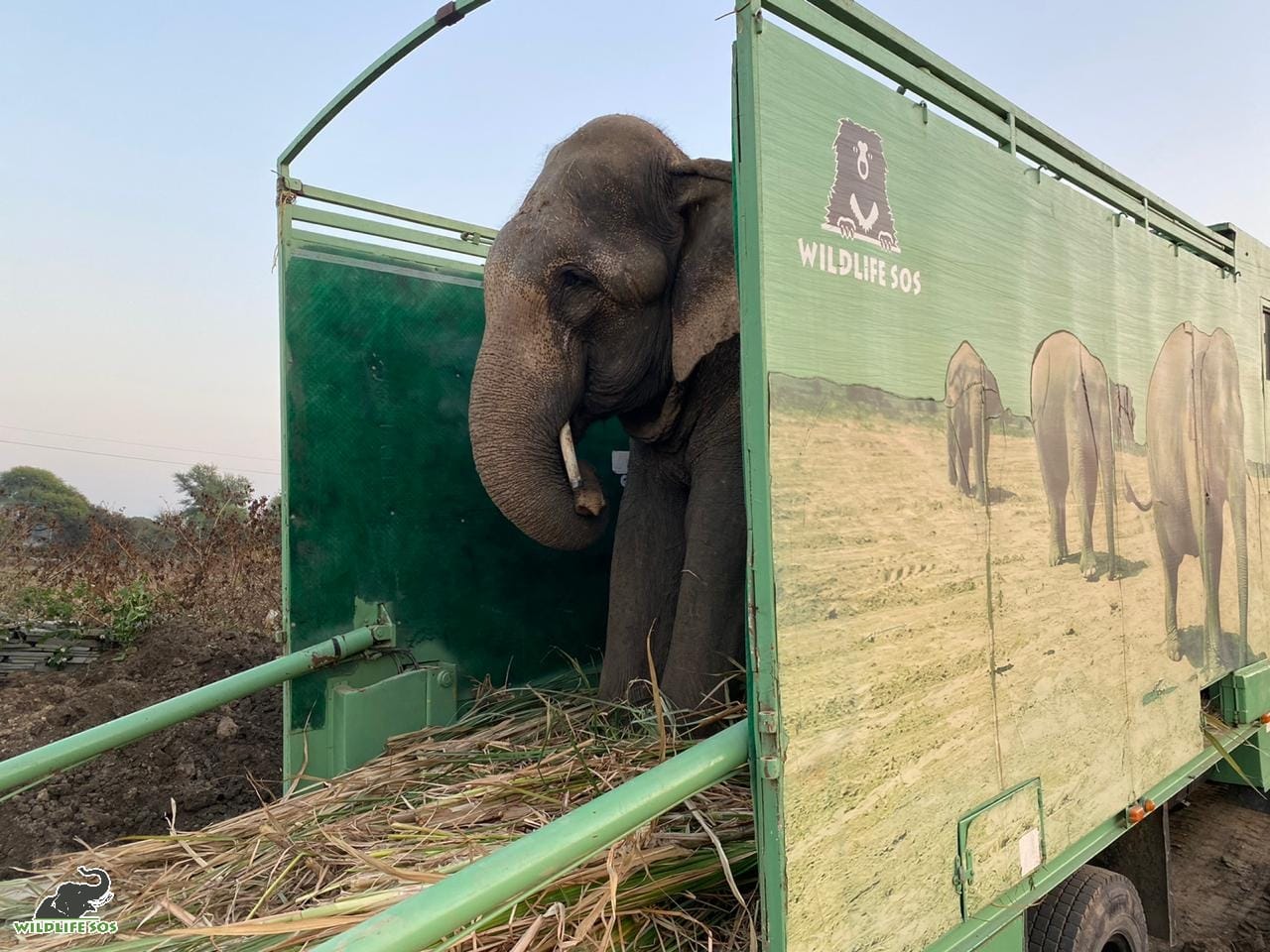 11th December, 2020 – 08:00 am (IST)
JAI RESCUE UPDATE – So far we've had an uneventful trip with Jai. Fog and weather slowed our progress driving throughout the night, but he is comfortable in his insulated blanket and seems relaxed. It's probably the first time he's felt well-fed and comforted in his entire life. By tomorrow Jai will be experiencing his first moments of freedom!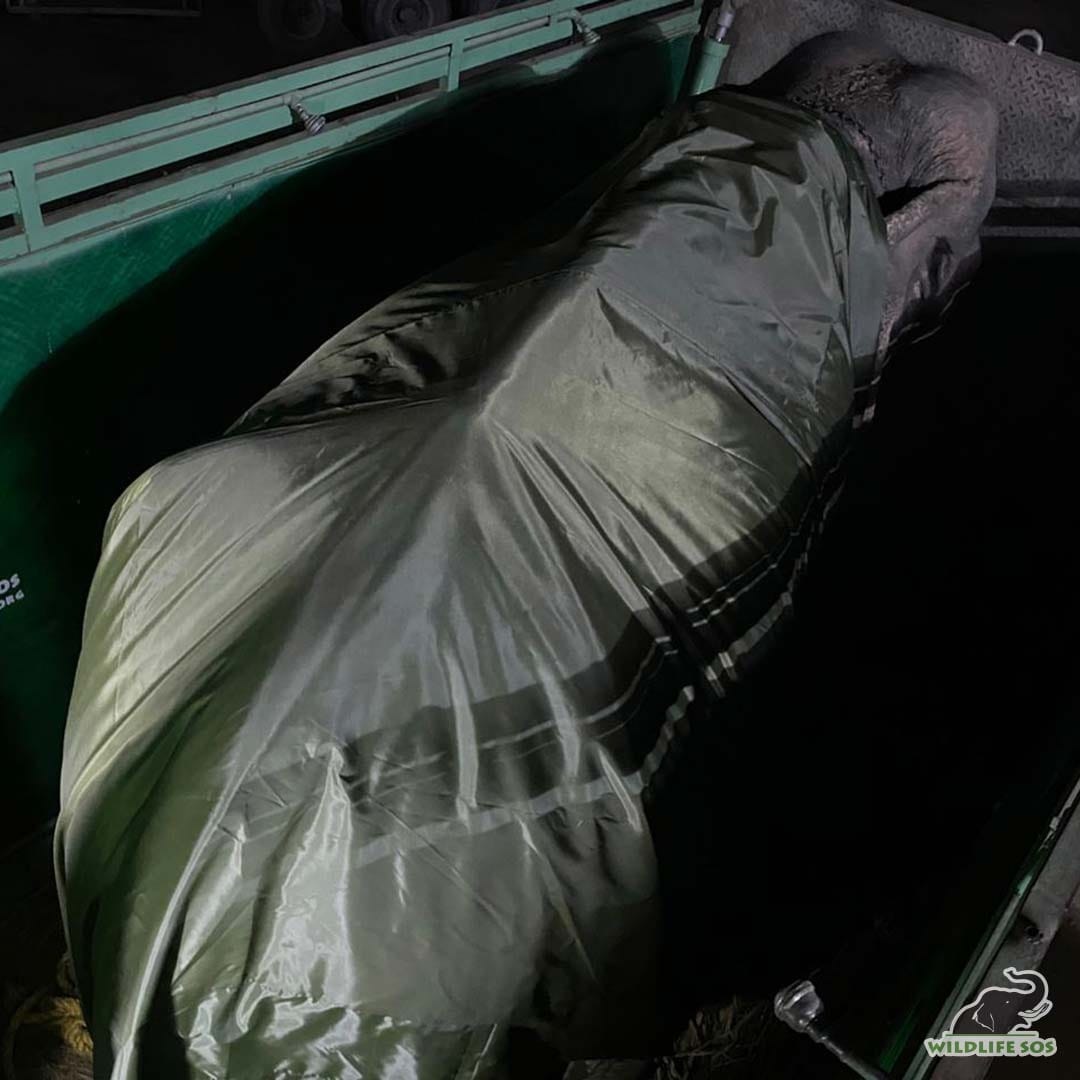 11th December, 2020 – 10:30 am (IST)
Our rescue team has made a short pitstop on their way to the Elephant Ambulance to replenish their supply of fruits. A member of the rescue team purchases pumpkins, ripe bananas and apples for Jai at a fruit vendor's stall.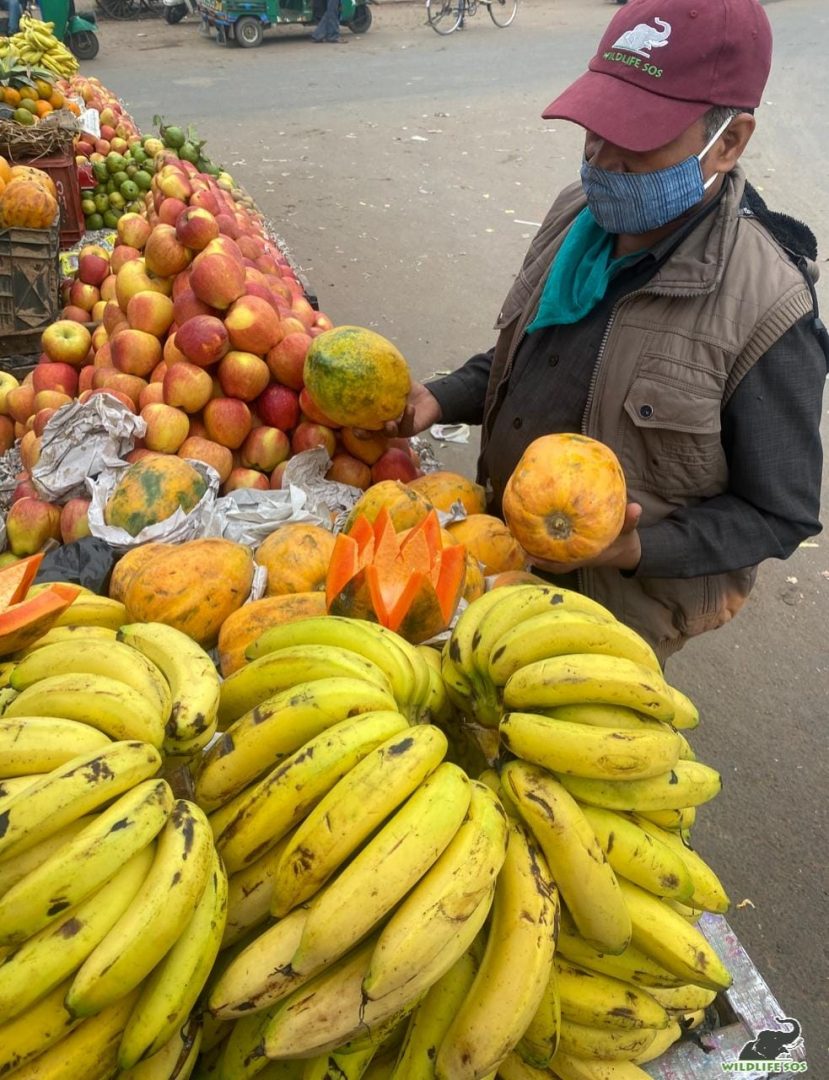 11th December, 2020 – 12:00 pm (IST)
After buying (bucket)loads of fruits for Jai, we stopped for a short break while Jai enjoyed digging into the fresh treats we'd procured for him. Here, the bull is helping himself to some ripe pumpkin from Wildlife Veterinary Officer Rahul Prasad.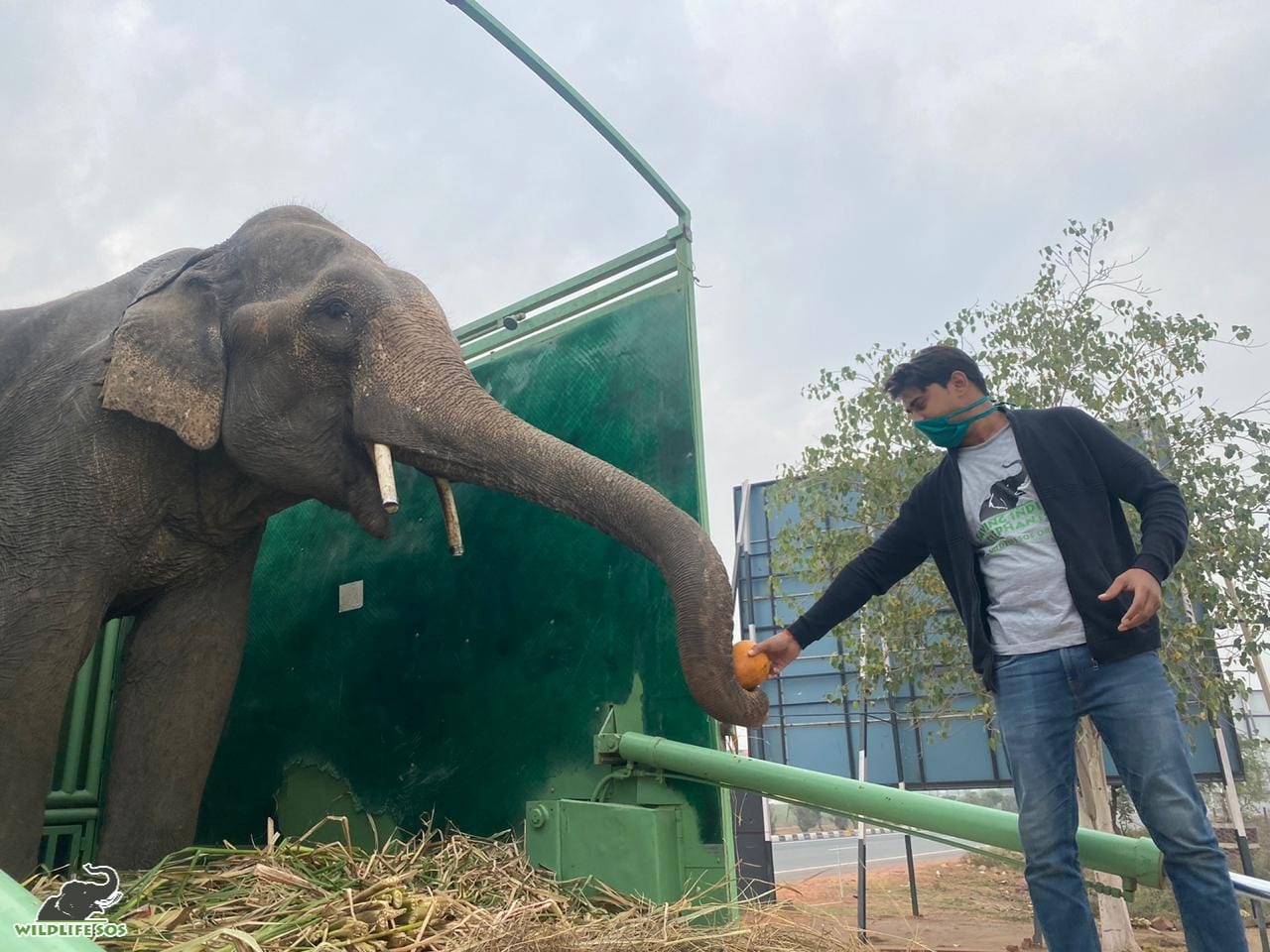 11th December, 2020 – 01:00 pm (IST)
An average adult elephant needs 300 kilograms of food to sustain itself, consuming everything from fruits, roots, grasses and barks.
But till date, Jai has only ever been fed dry fodder. The first time he was offered sugarcane and papaya, Jai's delight seemed to have no bounds. We're now treating him to delicious, fresh fruits and vegetables that are a major variation from his regular meals of dry fodder and he seems to be loving it!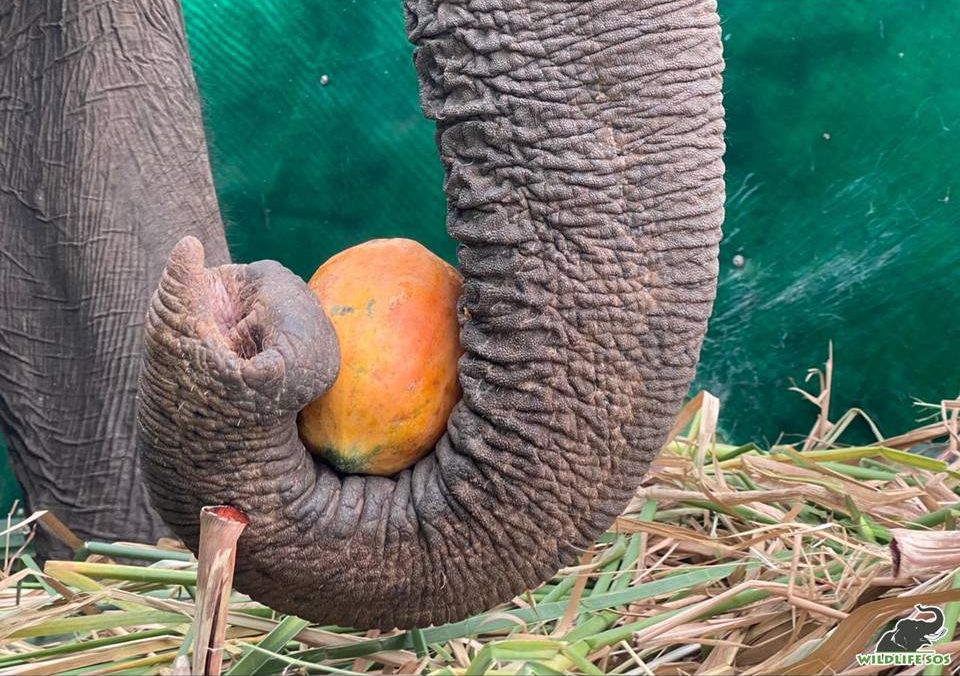 11th December, 2020 – 04:00 pm (IST)
One of the most important roles is that of the driver of the elephant ambulance as these tireless men have to drive extremely large distances in order to reach an elephant in need as soon as possible, involving many sleepless nights during the course of a rescue with the drivers taking turns at the wheel to stave off exhaustion!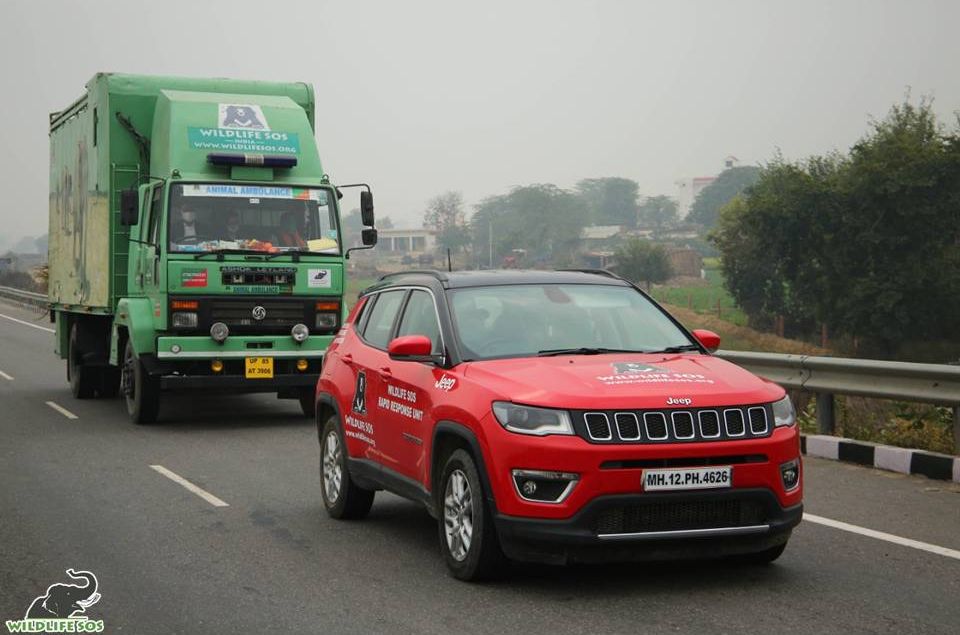 11th December, 2020 – 06:00 pm (IST)
Almost there!! The team has covered a major part of the journey and is now on the last leg of their odyssey. It has been a long, exhausting journey.
While the journey to Jai's location was quick, the drive back with him has been slow, punctuated with rest stops and food breaks. The team drove cautiously and carefully keeping Jai's comfort in mind and avoiding startling him.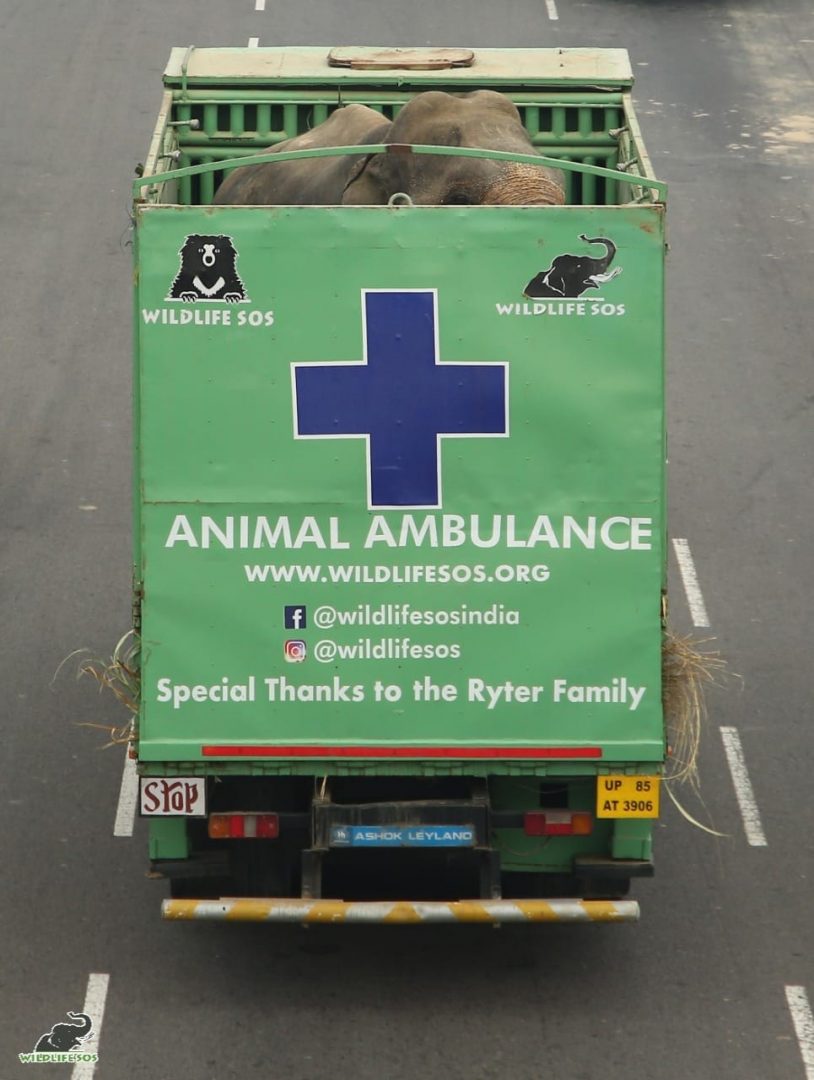 11th December, 2020 – 07:00 pm (IST)
Jai is an inquisitive bull who has retained his curiosity despite the atrocities he has faced in his life! As we drove towards the Elephant Hospital we observed Jai's trunk sticking out of his cab enquiringly, sniffing out the different scents he encountered!
11th December, 2020 – 10:00 pm (IST)
We are here!
Jai has finally arrived at the Elephant Hospital Campus and is ready to embark from the Elephant Ambulance. He's a little apprehensive at the unfamiliar sight that greets him. As his wounds need immediate treatment, Jai will be taken to the hospital for a check up after a brief recess.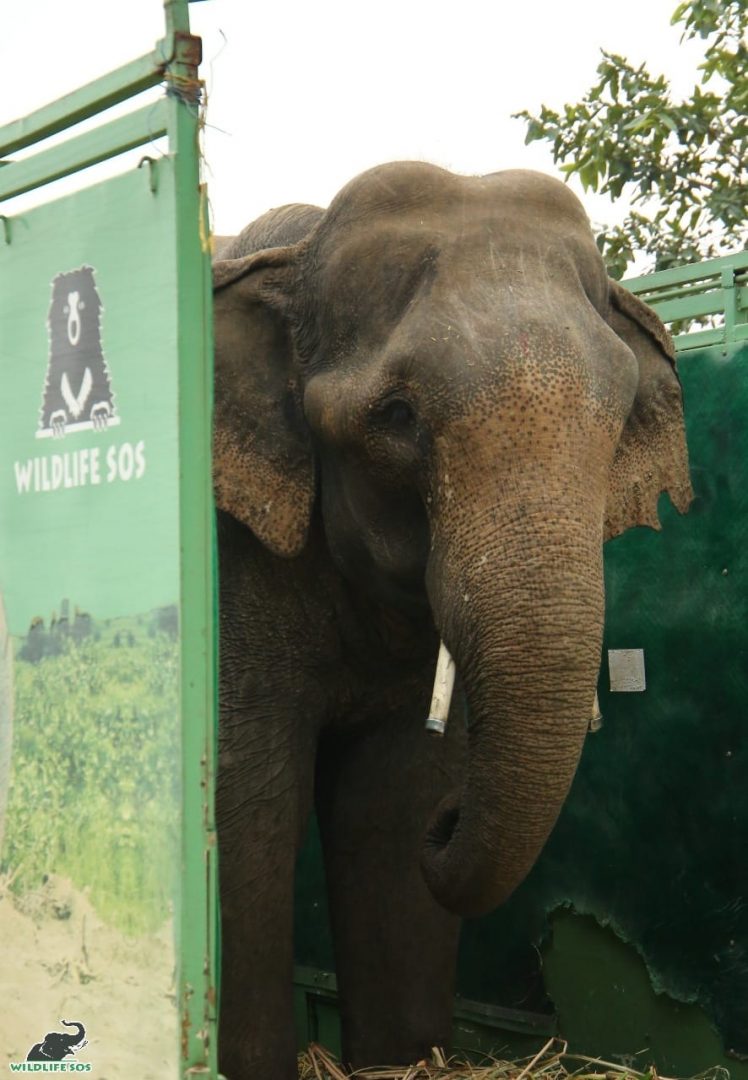 12th December, 2020 – 2:00 am (IST)
Jai was taken to the Elephant Hospital after a short duration of his arrival. Slightly resting for a while, Jai was taken to the hospital as his wounds required immediate attention.
Wildlife SOS constructed the country's first hospital specially designed to treat injured, sick or geriatric elephants in 2018. The Hospital is equipped to test and diagnose elephants for a host of diseases and pathogens with an inbuilt path lab, deal with emergency situations with a hoist and support structure, and quarantine the elephant for required durations to avoid the spread of diseases.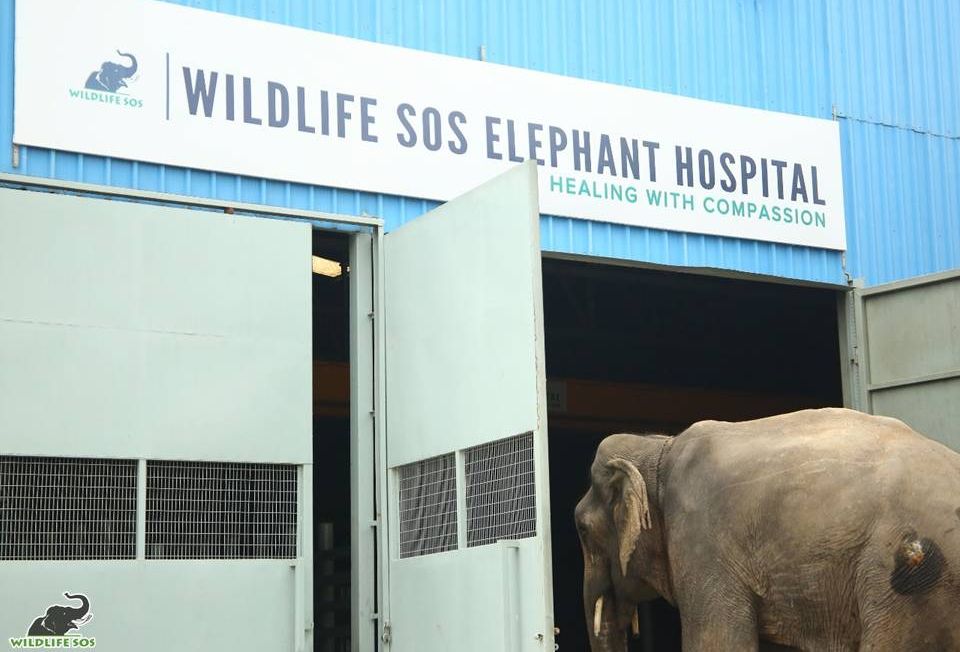 12th December, 2020 – 4:00 am (IST)
While Jai gets accustomed to his new surroundings, we are making sure to treat him with delicious fruits and vegetables. Here he is eating an antibiotics-laced watermelon from the veterinarians.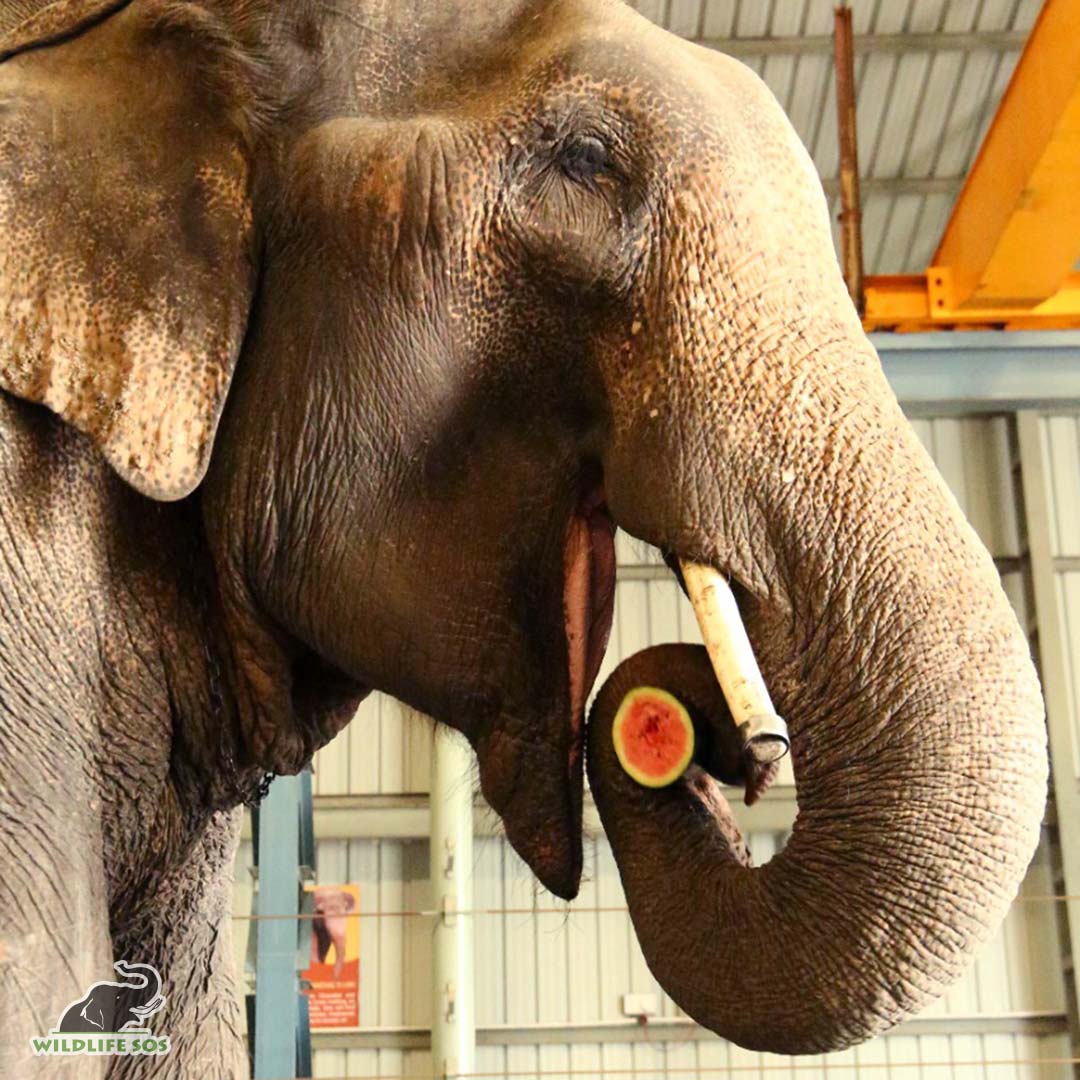 12th December, 2020 – 5:30pm (IST)
Our veterinarian team is providing Jai the urgent care he needs and this involves putting him on a regimen of antibiotics and immuno-boosters to help Jai fight off infections and gain strength.

To ensure Jai's consumption of the medicine, Jai consumes his food only after the doctors lace his food with medication. Here you can see him gobbling down a papaya laced with antibiotics!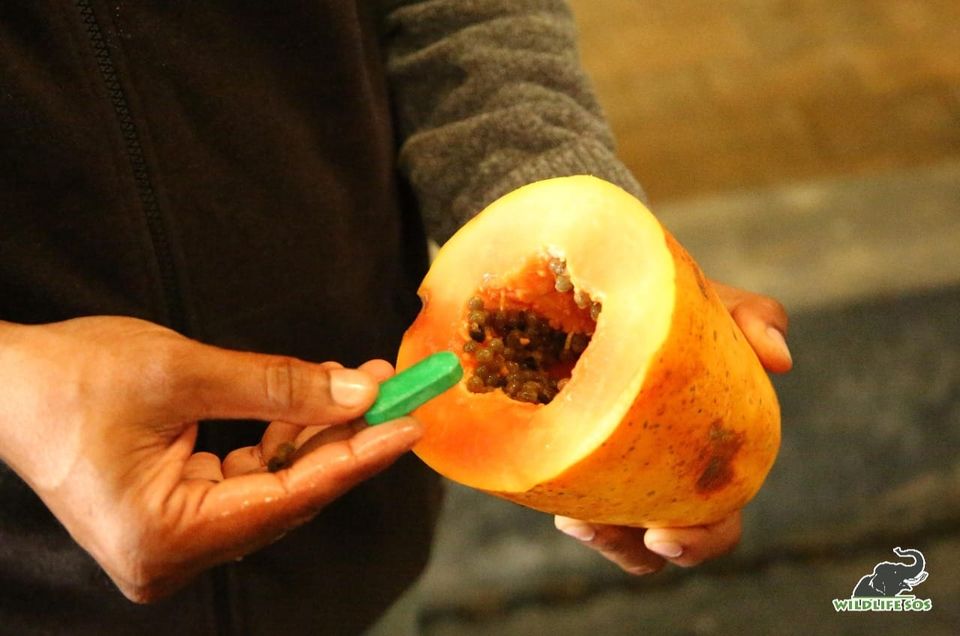 12th December, 2020 – 9:30pm (IST)
Infected abscesses, rope burns and overgrown, disfigured toenails – these are some of the things ailing Jai. He has severe, infected foot pad abscesses and septic wounds on both his hindlimbs along with rope burn injuries. All his toenails are overgrown and disfigured with a possible callous formation in his right hindlimb's toenail due to an unhealed fracture. He also has a fungal infection in both his ears and the saddle on his back has left him with severe injuries in the spine.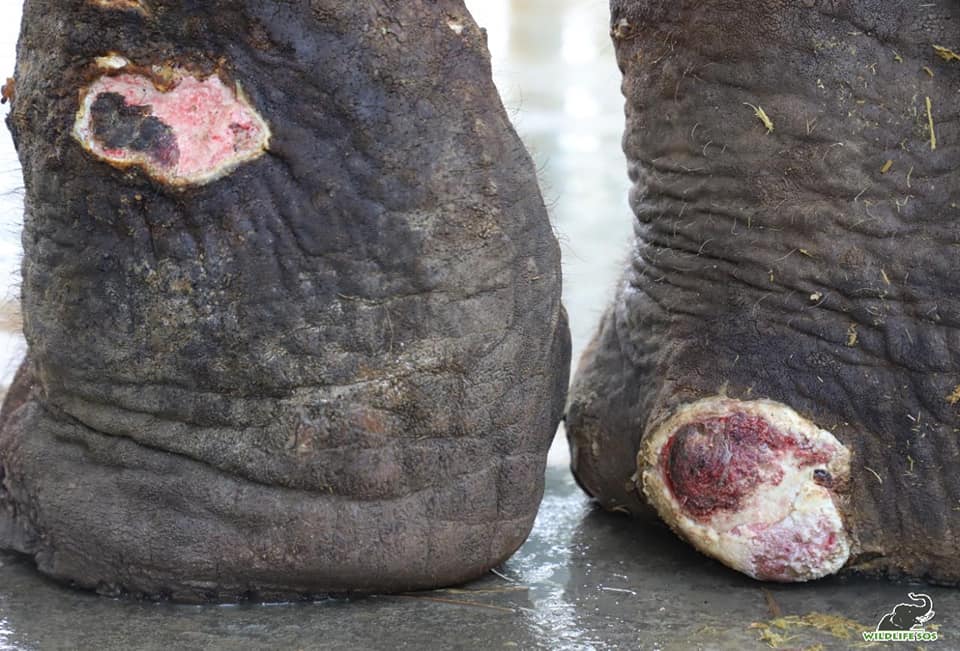 13th December, 2020 – 3:00am (IST)
Through the pain and apprehension, Jai is having moments of carefree play and his personality it starting to shine!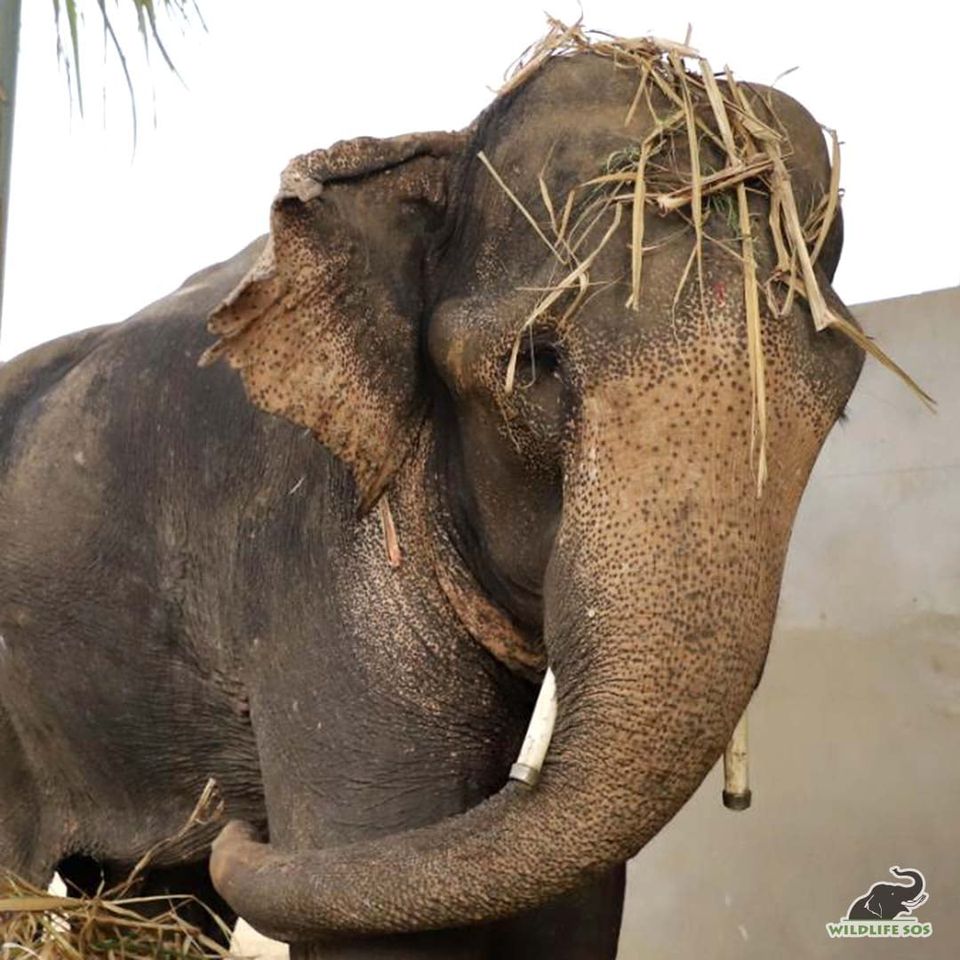 14th December, 2020 – 7:00pm (IST)
Apart from dressings, antibiotics, painkillers and other treatments, Jai is undergoing regular bouts of laser therapy, an incredible procedure that provides a multitude of benefits to the ailing animal by accelerating healing on a cellular level. This form of therapy also helps soothe the wound and provides relief to Jai's aching limbs.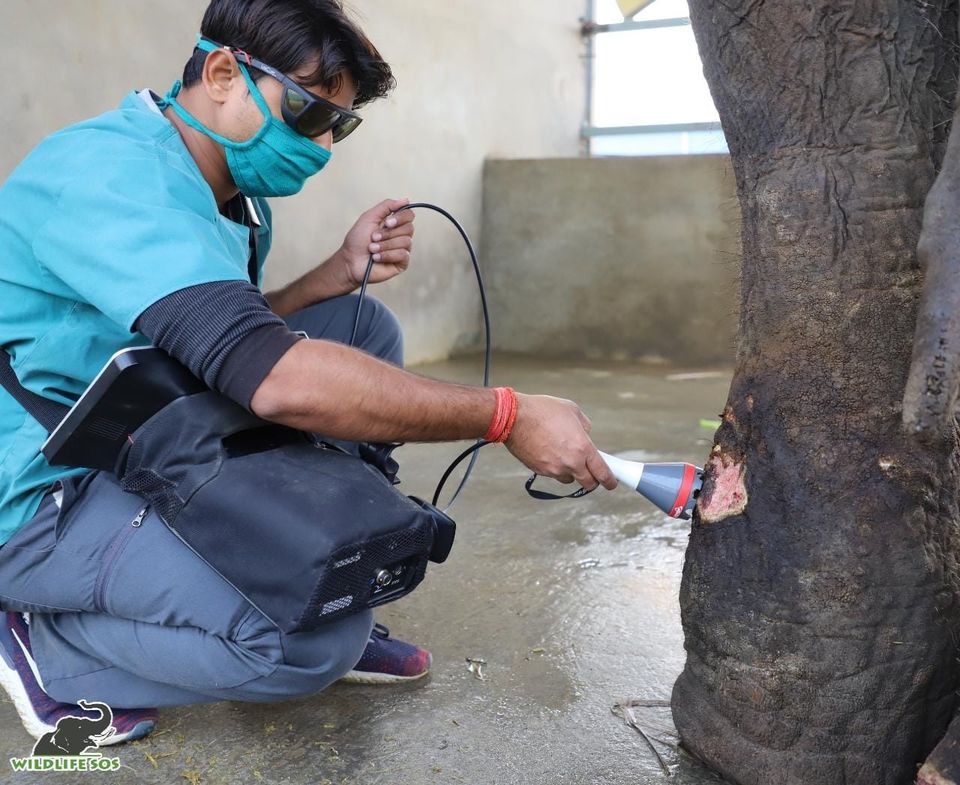 14th December, 2020 – 10:00pm (IST)
Jai was introduced to one of our fabulous fruit feasts with a platter of bananas, watermelon and papayas. Curiously sniffing his way around the buffet, Jai happily polished off the meal within minutes!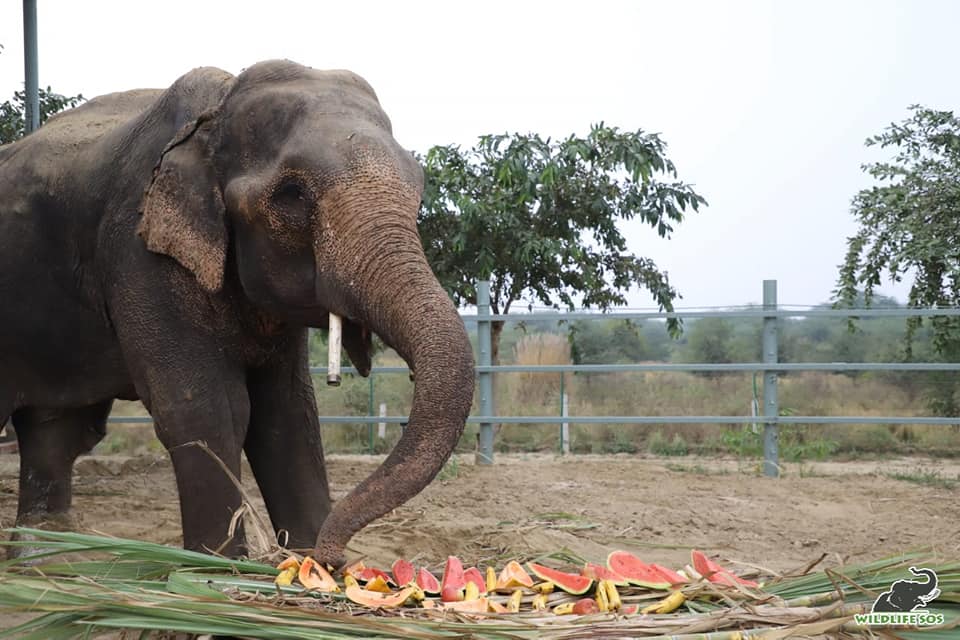 14th December, 2020 – 8:00pm (IST)
Amidst all the uncertainty, Jai stole a free moment today to indulge in a mud bath and he seemed quite delighted with the experience. We watched him coat himself with the loose, amorphous mud and it was a delightful spectacle to witness!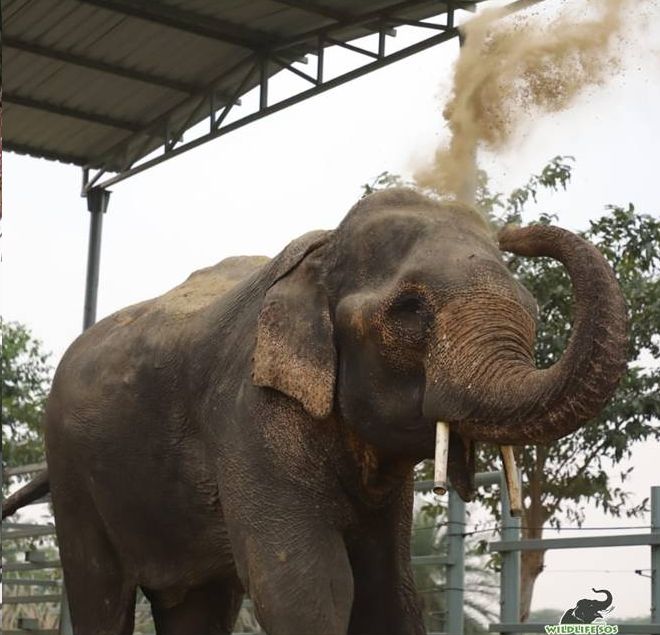 16th December, 2020 – 9:30pm (IST)
We conducted an x-ray on Jai which found calluses – which are spots of thick, hard skin – on his hind limbs, implying an unhealed fracture. The vets have also discovered the presence of pus in his toenails which are a result of infected abscesses. He is being rendered anti-inflammatory medication and joint supplements along with topical dressings and regular cleaning to tackle his infected abscesses.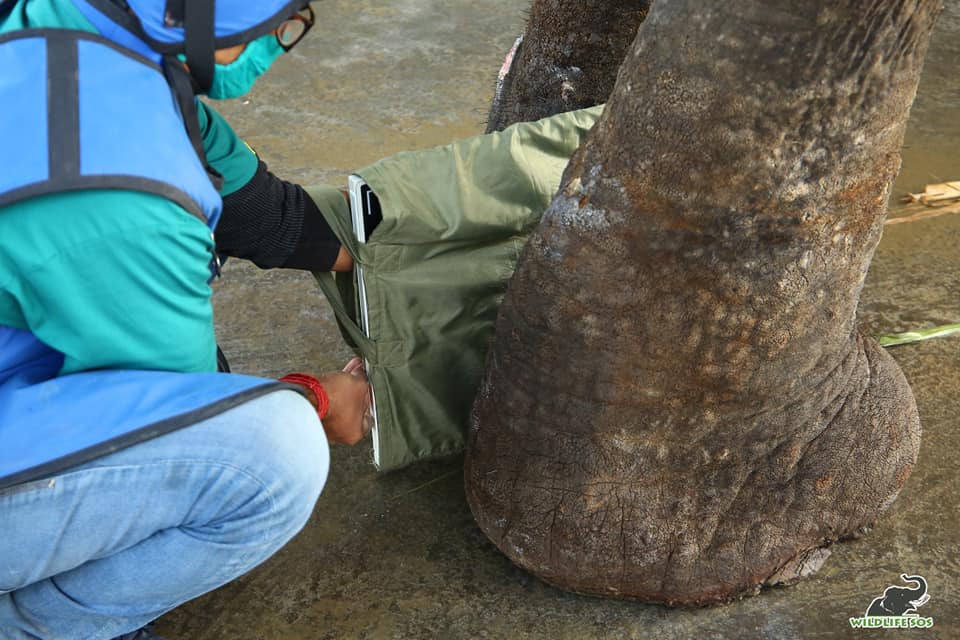 20th December, 2020 – 11:30pm (IST)
The treatment for dermatitis in Jai's ear pinna has begun. His ears are regularly cleaned and he is being rendered a herbal medication of turmeric and coconut oil. Depending on the weather at Field of Dreams, Jai also receives anti-parasitic baths.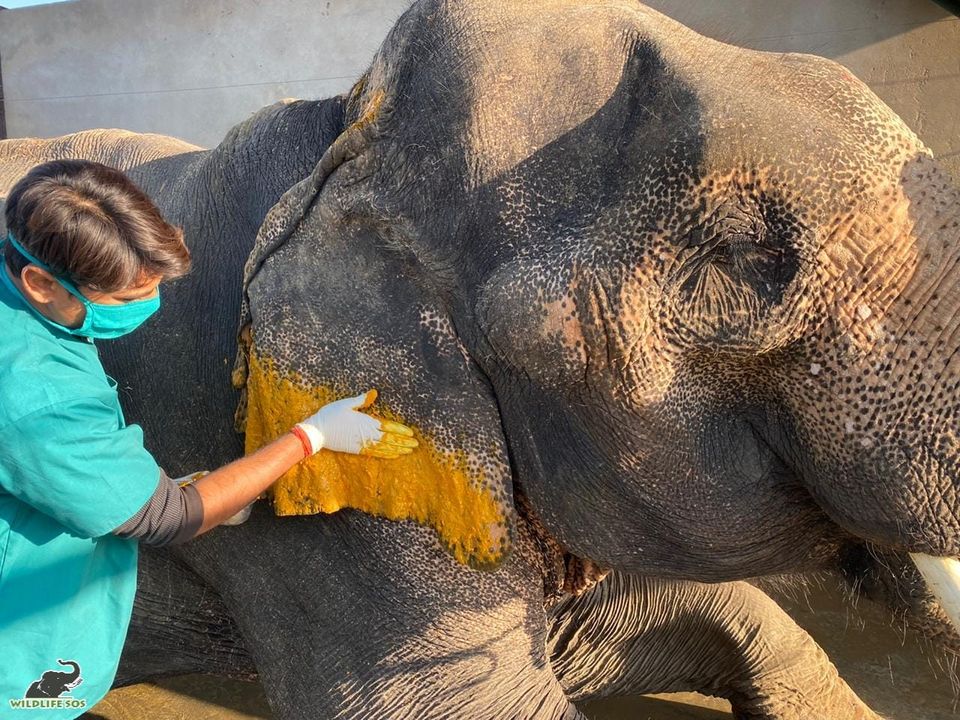 4th January, 2021 – 7:00pm (IST)
Jai enjoys the warm spells of crisp winter sunlight in the morning and is an early sleeper – all set to retire to the warmth of his tarpaulin covered enclosure and relax against the mud bed created for him by his caregiver.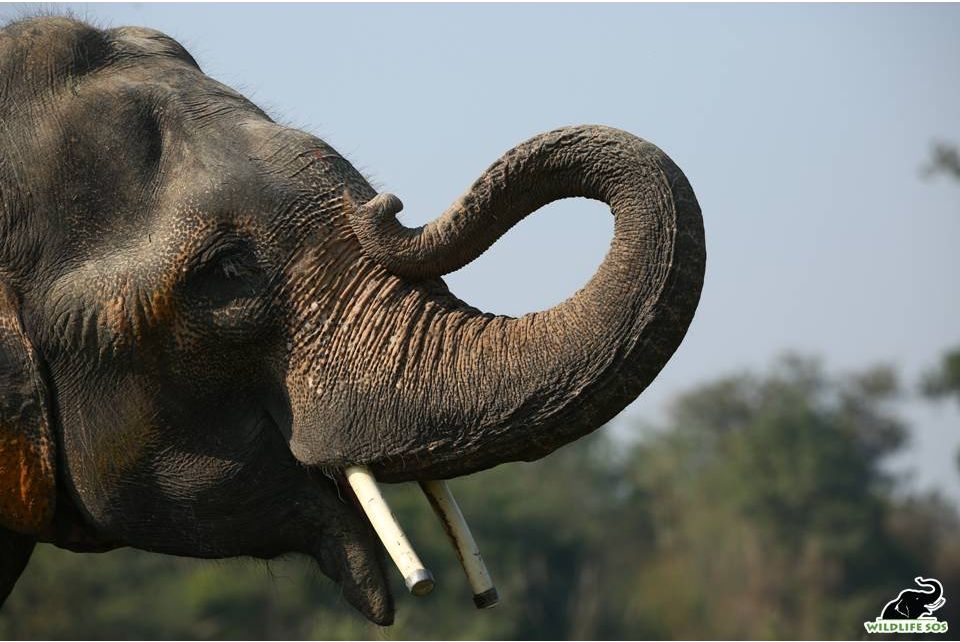 The wounds caused by his spiked chain have seen significant healing due to constant laser therapy sessions and topical application of medication. He's also undergoing treatment for an elbow abscess on his right forelimb which is regularly cleaned and dressed with zinc oxide and calendula paste, serving as an antiseptic. He's also on a regimen of antibiotics and anti-inflammatory and joint supplement medication.
You can help us give Jai the life he deserves by donating or becoming a sponsor here!