On Sunday, Canadian Prime Minister Justin Trudeau and his family visited the Elephant Conservation and Care Centre in Mathura to spend a day with the rescued elephants and meet the team working with these amazing animals. Prime Minister Trudeau was escorted around the sanctuary by our co-founders Kartick Satyanarayan and Geeta Seshamani, who talked to him about the organization's roots and its many projects being run for the conservation of India's wildlife and natural heritage.
The Prime Minister and his family were given a personal tour of our specially designed elephant ambulance, the first of its kind in the country, followed by an introduction to some of the staff involved in the rescue and rehabilitation of these amazing elephants, including our fantastic veterinary team and mahouts. The Prime Minister and his wife, Ms. Sophie Grégoire, paid close attention to all that was told to them about the elephants, asking lots of questions about the animals' care and well-being, and expressing their gratitude warmly  to all of the staff for the work being done to protect these animals.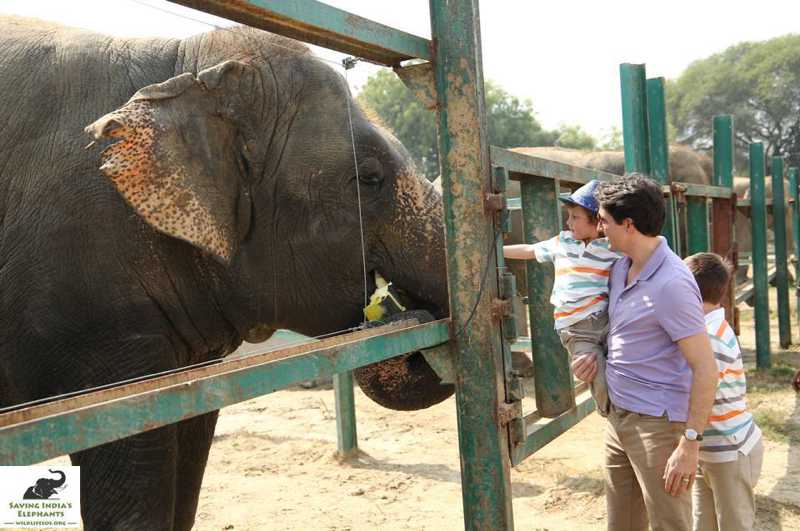 The highlight of the visit for the Prime Minister and his family, particularly his three young children was a chance to feed an assortment of healthy fruit and vegetables to some of the elephants while learning about their stories of abuse and rescue.
Mr. Trudeau and his family then got to watch a Target Training and Positive Reinforcement training sessions with our rescue elephant Rhea, and witnessed a demonstration on the kind of critical footcare Wildlife SOS provides its elephants with at ECCC, as one of our senior veterinarians explained the importance of footcare in captive elephants and the care provided by our team to the elephants to manage and heal the damage done by years of neglect and abuse on the feet of the elephants.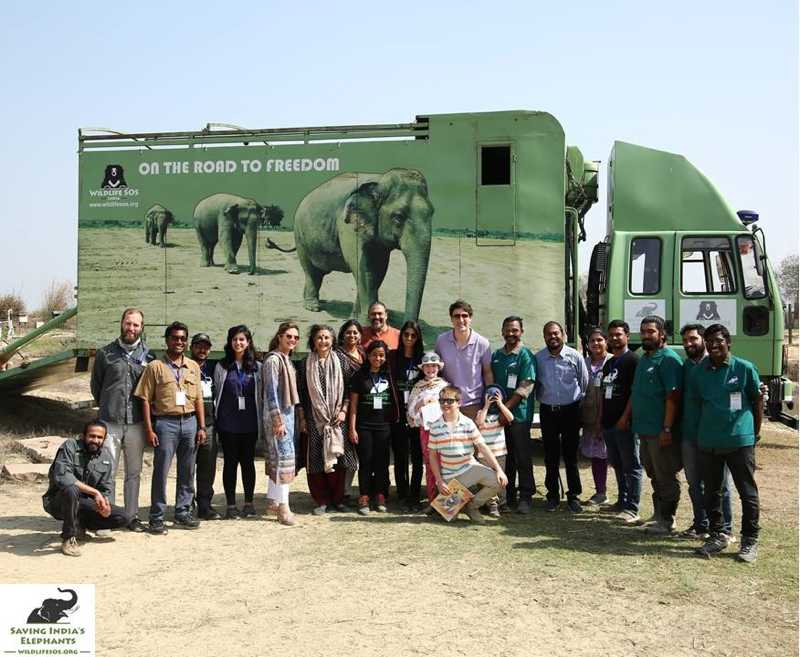 Moved by what he had experienced while at the rescue centre, the Prime Minister made an urgent appeal to people to conserve this iconic and incredible species, and to support organisations that work to preserve elephants, so that future generations are also able to share this planet with these amazing mammals, and never have to see elephants exploited and abused to satisfy human greed.
It was exceptionally heartening to see the Prime Minister take cognizance of the inherent cruelty behind elephant captivity, rides and other exploitative industries that abuse elephants for tourist attractions and choose instead to visit the Elephant Conservation and Care Centre, which rescues and rehabilitates elephants rescued from illegal and abusive captivity and allows them years of respite, sanctuary and critical medical intervention. Mr. Trudeau was engaging and attentive, eager to learn about the organisation's mission and campaign for the abolishment of poaching of wild elephants for illegal and abusive captivity. By doing so, the Prime Minister set an excellent example for his children as well as a precedent for people across the world looking to travel to countries like India.
As a token of our appreciation to Prime Minister Trudeau and his family for extending their support to our cause, the Wildlife SOS team was thrilled to present him with a 'Padhchinh' – a collaborative footprint artwork made by Singapore-based artist Alpana Ahuja and our rescued elephant Phoolkali, who the Prime Minister had the chance to interact with over the course of his visit. His children in particular were thrilled to receive the colourful, and meaningful, piece of art and immediately launched into a discussion as to whose room it would go up in!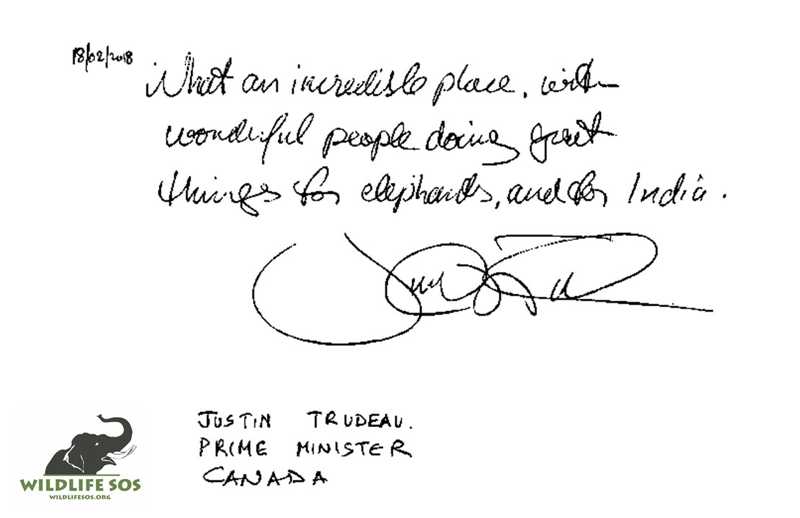 Having the eminent leader of a country recognize our work in the field of elephant conservation and encourage its support was extremely motivating for all of us, and we hope it sets a precedent across the world to safeguard a safer future for elephants.
You can hear Prime Minister Trudeau talk about the plight of Asian Elephants and why he feels it is important to preserve them and support their conservation, by clicking here.