The Wildlife SOS Rapid Response Unit operating in Vadodara, Gujarat, along with the Gujarat Society for Prevention of Cruelty to Animals (GSPCA) landed upon a golden opportunity to uncover illegal wildlife trade. The team rescued quite a few wild animals that were victims of the illegal trade racket.
The raid was conducted in the city of Surat in a small, inconspicuous shop. The team, assisted the Surat Forest Department in the seizure of a total of 11 Alexandrine parakeets, 7 Rose-ringed parakeets, shells (motisankh in Hindi), black corals and six genitals of monitor lizards in the raid.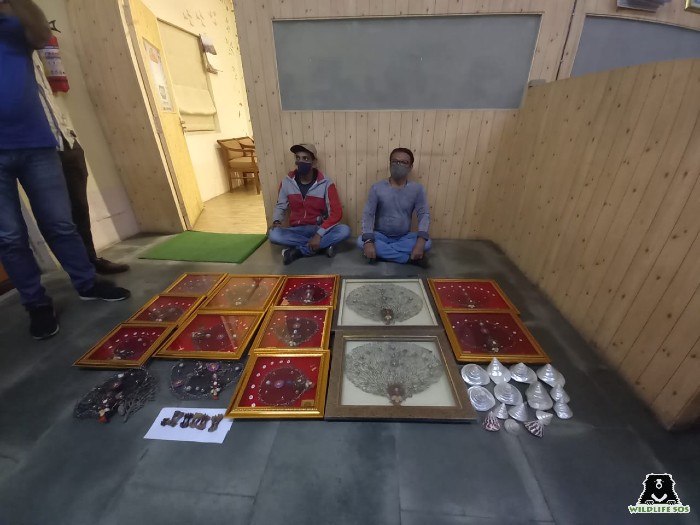 Conducting such raids is extremely complicated and these operations are dangerous, posing a lot of risks. The team has to be careful so that the traffickers and sellers don't get a whiff that they're being targeted for a bust. This requires months of surveillance and intel gathering and once they have zeroed in on the location, the team launches an undercover operation to nab the perpretrators with the help of the enforcement authorities, which in this case was the Forest Department.
Most of these animals are traded due to demands which are propelled by superstitions and irrational rituals. For instance, black corals are framed and kept in cash counters of shops and hotels, since they are believed to bring in good fortune. These beliefs, however, have no logical basis and are completely unscientific.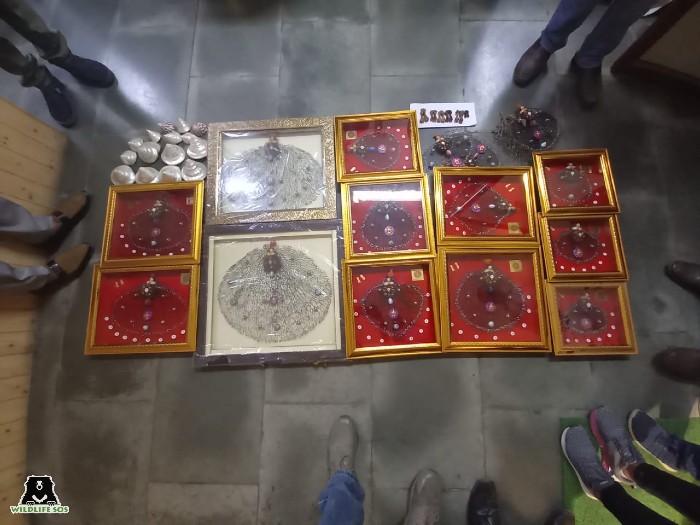 It is similar in the case of the monitor lizards, a reptile which falls under Schedule I of India's Wildlife (Protection) Act (WPA), 1972. The genitals are passed off as the rare hatha jodi plant. It is believed that the plant, found in parts of central India, is a harbinger of good fortune. They resemble human hands with clenched fists. These plants have extremely high demand but since it is extremely rare to find, people poach monitor lizards and sell their genitals, which are almost indistinguishable from the plant. Monitor lizard parts also find their uses in making items such as leather, percussion instruments and herbal medicines, to name a few. People also consider their flesh and eggs as a delicacy and an aphrodisiac. Poachers sell each and every part of this endangered reptile for financial gains.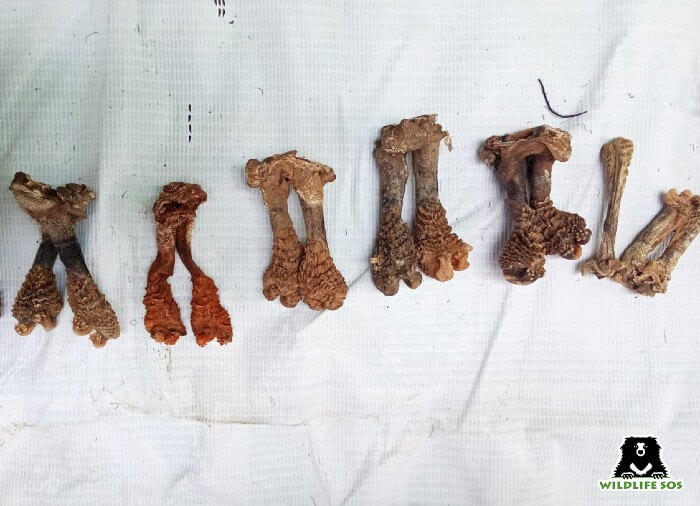 The Rose-ringed and Alexandrine parakeets on the other hand are protected under Schedule IV of WPA. According to law, it is illegal to trap, sell or keep these birds under captive conditions. These helpless birds are often the victim of illegal wildlife trade due to their demand as pets, the use in occult rituals and for predicting horoscopes.
A second raid was conducted by the Wildlife SOS-GSPCA team in Chhota Udaipur, situated 60 km away from Baroda. From there the team rescued another 12 birds, namely Alexandrine and Plum-headed parakeets, who were kept confined in tiny cages. This time around, the Vadodara Forest Department extended their full co-operation in completing the raid and rescuing the birds.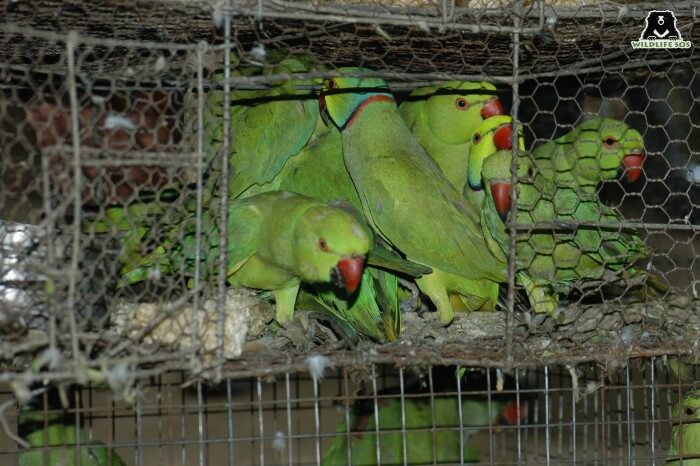 That the illegal trade of wildlife poses a huge threat to endangered species is no secret today. The global illegal trade in wildlife is reportedly the fourth largest illicit trade after drugs, counterfeit and human trafficking. According to reports, India is among the top 20 countries in terms of wildlife trade. The fast expanding airport sector has helped it grow even further. Data collected from seizures shows that 31% of trafficked items were found in checked-in luggage, and 20% in air cargo. Today, wildlife trade poses the second-biggest threat to the survival of biodiversity, after habitat destruction.
Wildlife SOS contributes significantly through various initiatives to curb poaching and wildlife trafficking. Our anti-poaching unit 'Forest Watch' assists State Forest Departments and law enforcement agencies to capture wildlife traffickers and smugglers, and recover animals and their body parts. Wildlife SOS also conducts capacity building training programs to prevent wildlife crimes from happening at all. Consider becoming a monthly donor or sponsor for Wildlife SOS and you can also play a huge role in curbing these activities.