"We are born of love; love is our mother." —Rumi
Barely a day old, a baby monkey bid farewell to his mother. Much like a human infant, the orphaned monkey reacted to the loss of his mother with intense grief. He held on to her lifeless body with all his might, refusing to let go. The Wildlife SOS team in Agra heard about the plight of the baby monkey through our 24X7 hotline that operates round the clock rescuing animals in distress. As the Wildlife SOS Rapid Response Unit arrived at the location to rescue and rehabilitate the distressed monkey, we knew we were taking up a formidable task; a task we had to fulfil with utmost love and compassion.
Wildlife SOS is a nonprofit that operates with the generous support of donors and grants. Please support our lifesaving work today as we rescue India's elephants, bears, leopards and other precious wildlife like baby monkeys.
If you see a video of a baby monkey dressed in cute clothes, engaging with humans in a non-medical way, or eating unnatural foods, be skeptical! Many baby monkeys are being poached from the wild to make money for the makers of the video. Please don't support these people. Don't share the videos, and report them to the social media platform.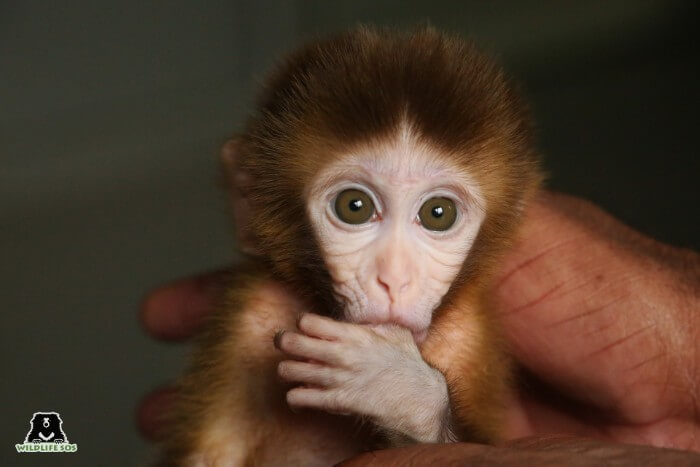 The mother of this baby monkey passed away during childbirth. Without his mother, the orphaned baby was now in a precarious situation. In the world of Rhesus macaques too, mothers play a pivotal role. They are sole providers of essential nourishment for their child. As the heart of a rhesus society, a mother teaches its infant skills that are needed to survive the world. It is through this relationship that a baby monkey develops emotionally and physically into a healthy adult. But this infant was now facing lack of nutrition as well as valuable knowledge, both of which his mother would have provided. The distress of this baby monkey was stark.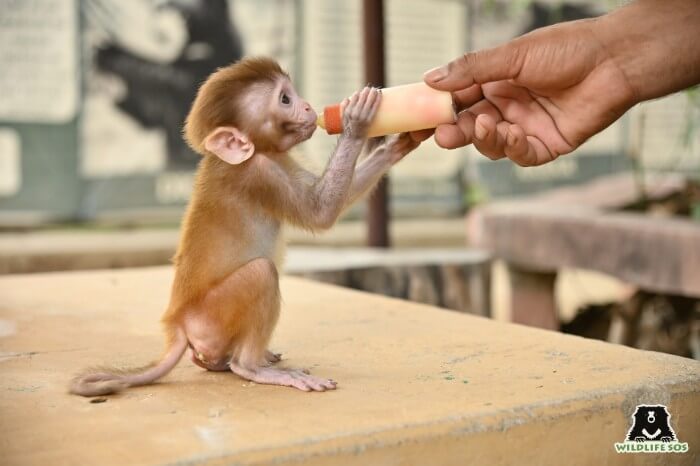 The Wildlife SOS team immediately took the monkey to the Animal Care Unit that provides specialised treatment to infant animals. Since his arrival, the veterinary team has been working incessantly to provide him with the care he needs. He is hand-fed milk at regular intervals so that he gets the nutrition he requires. To keep track of his progress, he undergoes regular check-ups to ensure normal development.
Yet, our work did not end by merely providing veterinary care to the orphaned monkey. An integral part of providing care to him has been to help him feel safe so that he can heal emotionally. So, in order to provide him with a sense of security, the Wildlife SOS care team has given him a stuffed toy. It's not merely a distraction; the stuffed toy acts as an enrichment for the monkey to feel safe. This stuffed toy is an alternative which the baby monkey would rely on, and hold on to for comfort. His caregiver has remained the same since his rescue, so that the familiar face instils a sense of trust between the monkey and his caregiver. With care and stability, the baby monkey is gradually healing from his scarred past.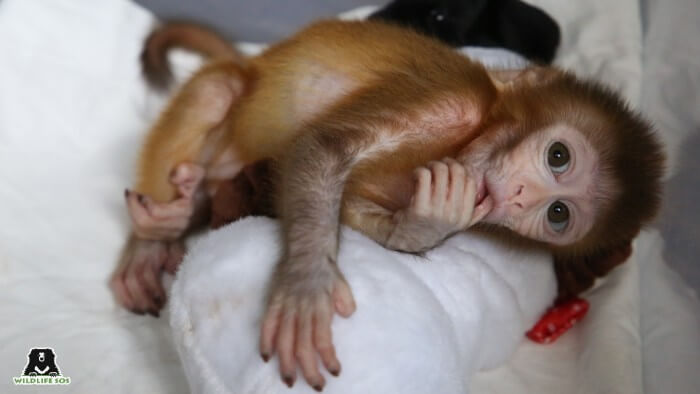 During his initial days at Wildlife SOS, the baby monkey was kept in an isolated area to ensure he did not contract any diseases since his immune system was still developing. As he grows more and more confident of his surroundings, the baby monkey has been introduced to other rescued monkeys who, like him, are coping with the tragic loss of their mothers.
Shortly after the rescue of this baby monkey, the Wildlife SOS Rapid Response Unit rescued another infant Rhesus macaque who was abandoned by his mother. When the two monkeys were introduced to each other, they formed an instant connection with one another. Such socialisation is integral for cognitively complex primates like the Rhesus macaques. A study by scientists at the University of Exeter has shown that friendships between monkeys can increase their chances of survival and improve their reproductivity. Sociability in the wild creates a defence against predators, and increases access to food and other resources. Wildlife SOS is privy to the benefits of socialisation, because in 2021, two rescued orphaned monkeys under our care had helped each other heal through their friendship.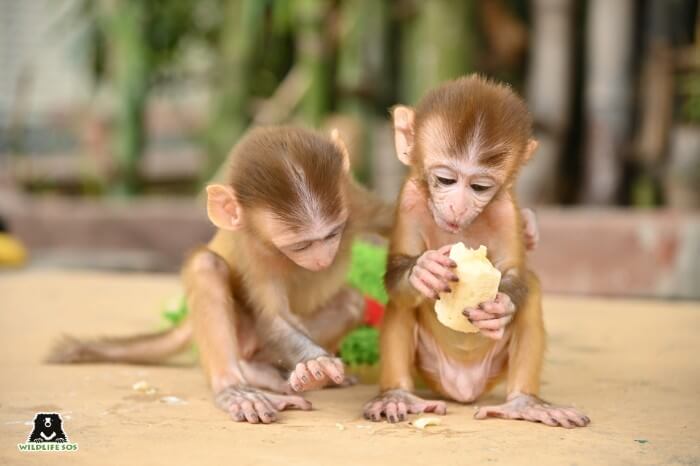 Our newly rescued monkeys spend their time simply napping next to each other or giving each other long warm hugs. Often their caregiver surprises them with a few pieces of soft banana which the two monkeys lovingly share with each other.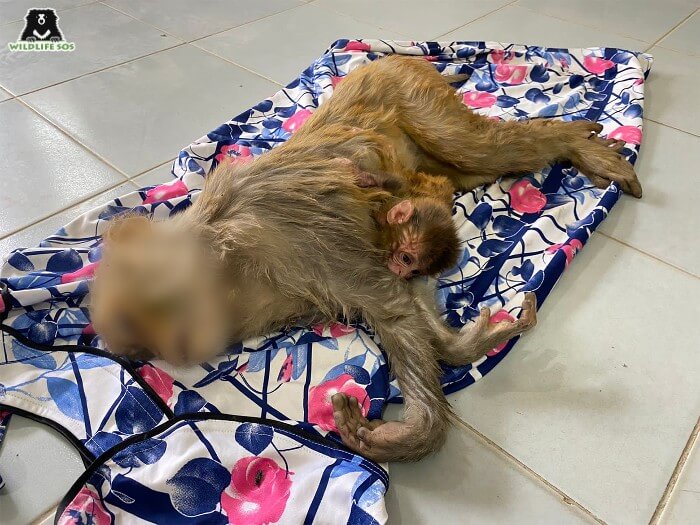 As we watch the baby monkeys heal, we can not forget that their story points to the larger problem of human-primate conflict that is slowly chipping the Rhesus macaque population.
The Wildlife SOS 24-hour helplines continue to receive distressed calls about rhesus monkeys. Lured by improperly disposed garbage and provisioned feeding, adult Rhesus macaques have adapted to city life very well. But they often fall victim to the wrath of humans. If not chased away, they fall victim to road accidents, electrocution, and other perils of the concrete jungle. One of the dire consequences of such conflict is the rising numbers of orphaned monkeys. With no maternal figure to help them survive, these baby monkeys are left to fend for themselves, often succumbing to their harsh reality.
Timely intervention and care by Wildlife SOS has helped save the lives of many rescued, orphaned monkeys. Along with medical treatments, these orphans require care and compassion to heal holistically. Once the monkey's are healthy and grown, they will be released back into their natural habitat.
You too can be a part of Wildlife SOS' effort to protect orphaned baby monkeys. Click HERE to contribute towards the care of orphaned monkeys rescued by Wildlife SOS.
Read more:
Role Of Wildlife SOS In Rehabilitating Baby Monkeys
Orphaned Baby Monkeys Heal Through Friendship at Wildlife SOS