A decade seems to have flown by a little too fast as we celebrate another elephant's brave healing journey. These ten years not only signify the conclusion of cruelty and neglect for these gentle giants but also celebrate the establishment of the Wildlife SOS Elephant Conservation and Care Centre. In these ten years, we have given over 30 elephants another chance at life, and the chance to be elephants again.
Talking about one such special elephant whose trumpet echoes through the vast stretch of the Centre, we wish our dear Rajesh a happy tenth rescueversary!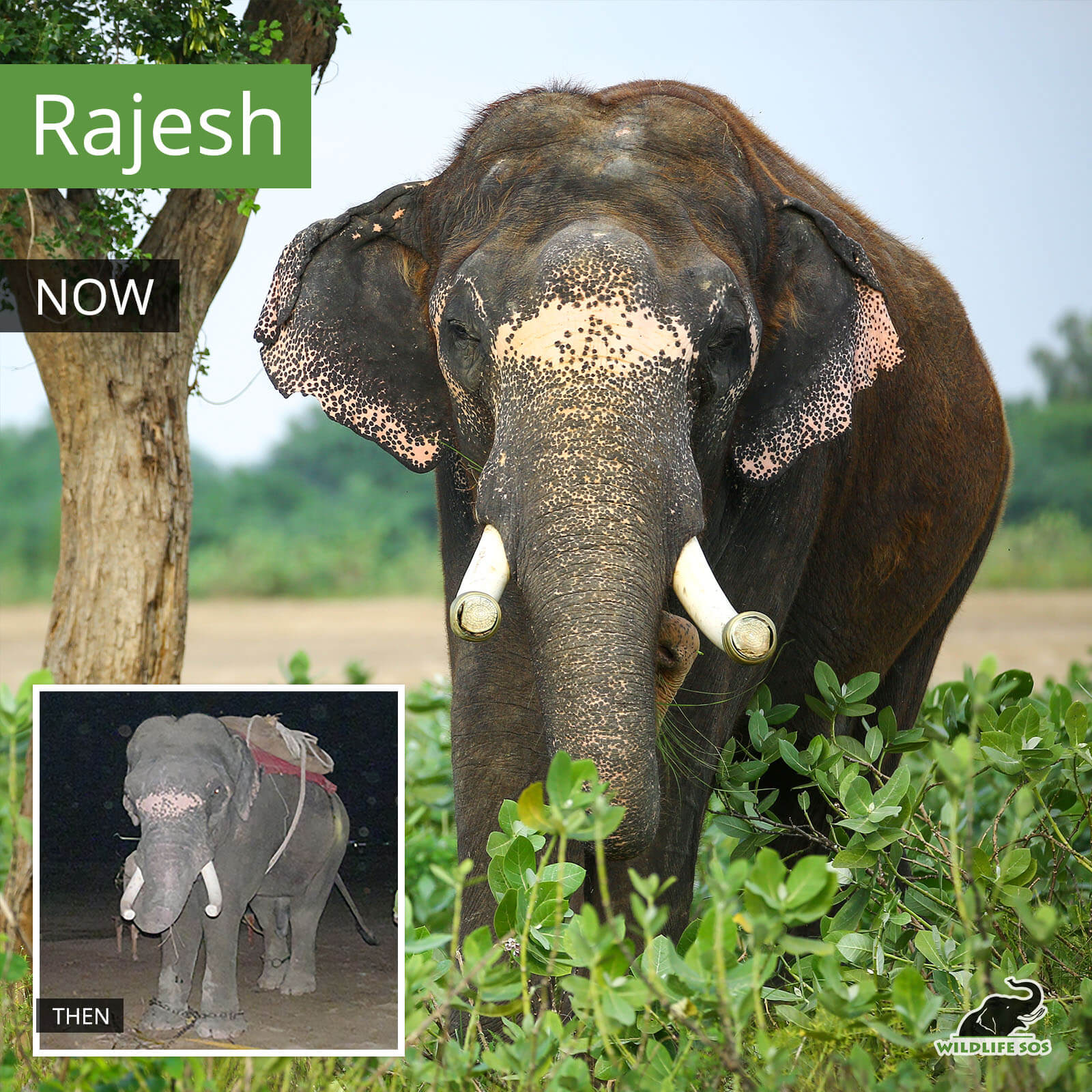 Rajesh was rescued from a circus in Uttar Pradesh where he was a popular elephant due to his imposing height and tusks. The audience would be overjoyed to watch a tusker stand on his hind legs and play football, oblivious of the brutal training that he had to endure to be able to perform all these unnatural tricks. For Rajesh to be able to perform such tricks, he would spend hours being brutally trained, beaten with sticks and bull-hooks to "obey" the command. Rajesh would cower in fear, tremble with discomfort and bob his head under the severe mental stress that he was put through.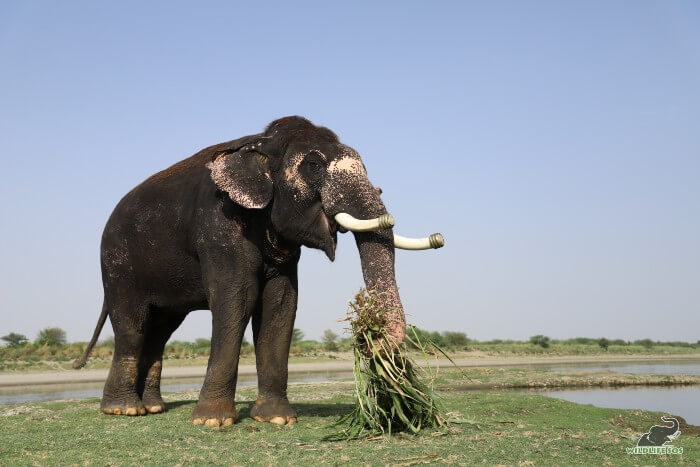 During musth, when a male elephant needs specialized care and attention, Rajesh would be left tethered to a corner with dry grass and water. The concrete, unnatural surfaces severely affected his joints and at the age of 30 years, Rajesh developed a condition of osteoarthritis that largely compromised his gait. Needless to say, his tryst with abuse as a performing elephant rendered him with sensitive mental health.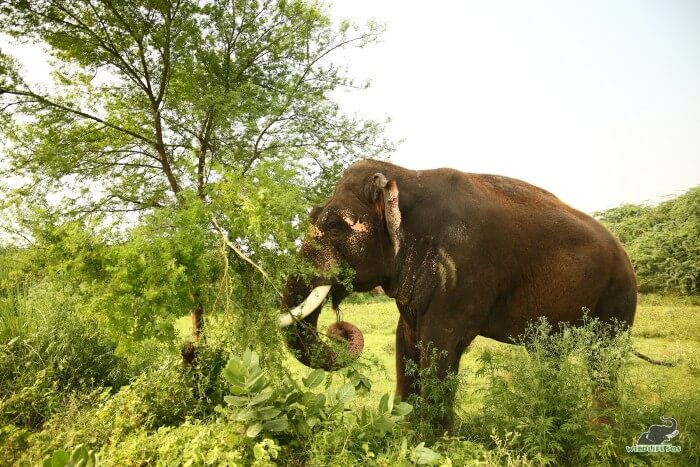 Rajesh was freed from this painful and unkind life when Wildlife SOS successfully rescued and rehabilitated him. As Rajesh's mental health was severely compromised, he would spend hours displaying aggressive stereotypic behaviour, which moved us to tears. He refused to rest and would constantly trumpet loudly in agony and discomfort when the veterinary team would approach him for treatment.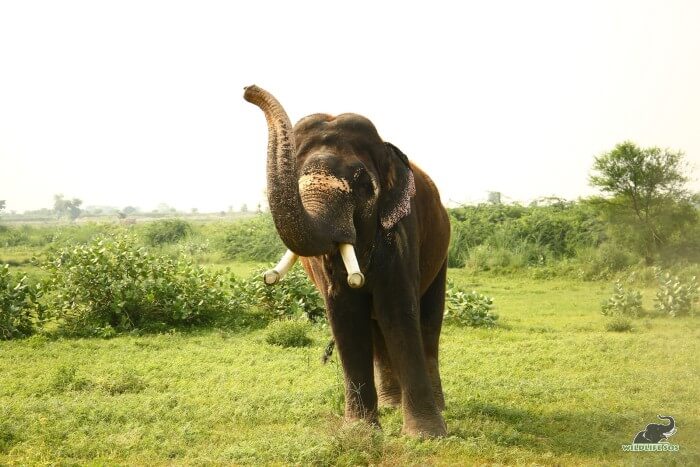 To help Rajesh comfortably adjust to his new life, we decided to adopt a unique method. They say music has the power to heal one's soul, so our staff would play soothing songs to calm him down. The music worked wonders for Rajesh and he gradually learned to trust his caregiver. The veterinary doctors would regularly treat the wounds on his footpads and they placed him under a nutritious diet as it was important for him to gain his strength.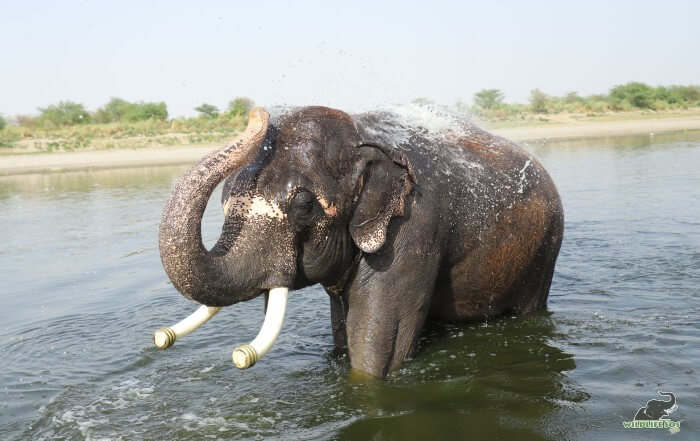 In the past decade, we have witnessed a scared, weak elephant regain his confidence and bloom into one of our most loved elephants at Wildlife SOS. Rajesh is very demanding and will start rattling his empty cage-feeders whenever there is a delay in his meal – his love for watermelons, pumpkins, melons, apples and cucumbers remains unfettered. Rajesh loves his excursion to the Yamuna riverside and will be quick to take a detour for a relaxing dip, which is why we thought this would be the best gift to give him.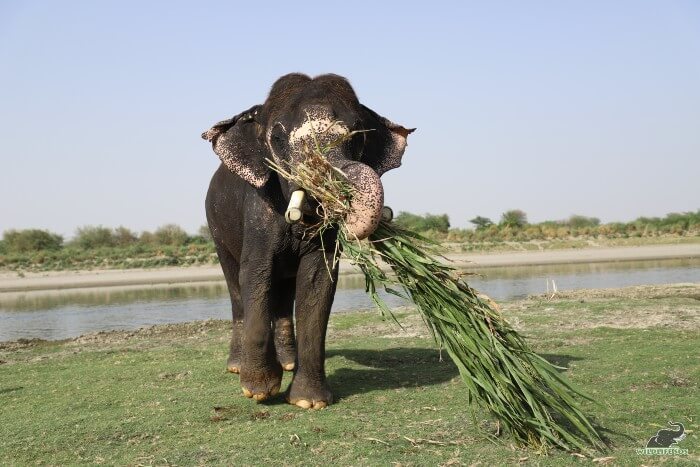 Rajesh celebrated his tenth rescueversary splashing around in the Yamuna river. He completely immersed himself and softly trumpeted in sheer delight, the water plays an important role in spelling relief for his arthritic limbs. His caregiver watched in awe as this majestic tusker unleashed his playful side and refused to step out! After hours of coaxing, Rajesh obliged us by stepping out of the water and frisking his caregiver's bag of treats.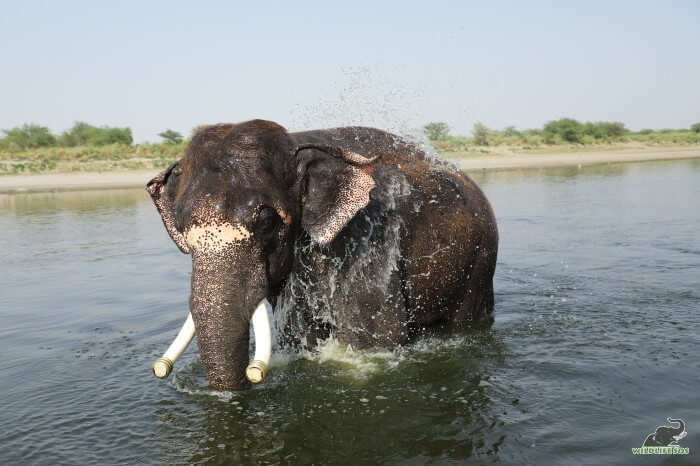 Rajesh is presently in musth which is a healthy phenomenon for bull elephants of his age. At Wildlife SOS, we ensure that our bull elephants have access to freshwater for drinking and that their pools are always full should they decide to expend their energy. Bull elephants are often unpredictable during these times but our veterinary team makes use of the Protected Contact wall that allows them to administer medication to elephants. The Protected Contact wall allows safe interaction between the elephant and the veterinarian during treatment procedures. Rajesh manages to stay calm during medical check-ups with a steady supply of peanuts and dates and the positive affirmations from his caregiver for being the excellent elephant he is. Listen to Elephant Tails Podcast Ep11 – The Challenges of Caring for Bull Elephants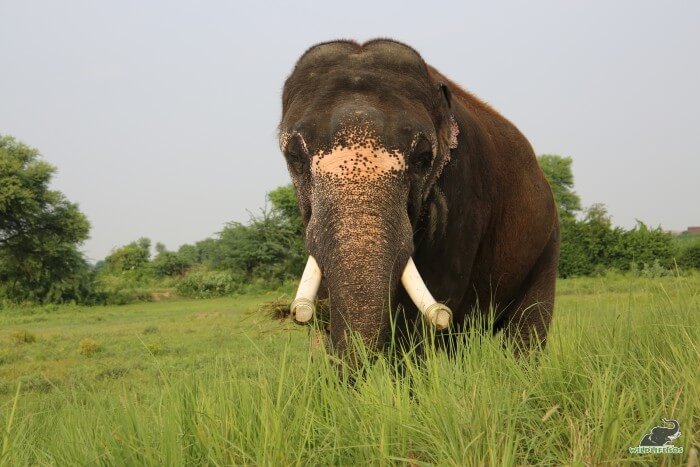 Rajesh's compromised mental health and his arthritic limbs will require intensive care and medical treatment, kindly consider becoming his sponsor and playing an intrinsic role in his healing journey.