In 1952, the Indian board of Wildlife began wildlife week to raise awareness about Wildlife in India and promote measures to protect our four-legged citizens. 2021 is the 67th edition of wildlife week which sees a plethora of events mobilizing people to create a world where Indians live in harmony with animals and forests.
Every year wildlife SOS conducts a multitude of events during this week across our 12 centers that are home to leopards, bears, elephants, and other animals that have been rescued and rehabilitated over the years. Governmental organizations, private agencies, civil societies, and educational institutions also participate in this week by organizing workshops and seminars about man-animal conflict, climate change, and other issues.
One such event was held by the Jammu and Kashmir Forest Department on forest biodiversity and climate change at Sher-i-Kashmir International Conference Centre in Srinagar. This one-day event was held on 7th October and was attended by various dignitaries and shed much-needed light on the burgeoning topic of climate change through technical sessions and interactive kiosks. The enthusiastic attendees were also addressed by dignitaries including the chief guest of the event, Sh. Bhupender Yadav, Hon'ble Union Minister for Environment, Forest and Climate Change (MoEF&CC).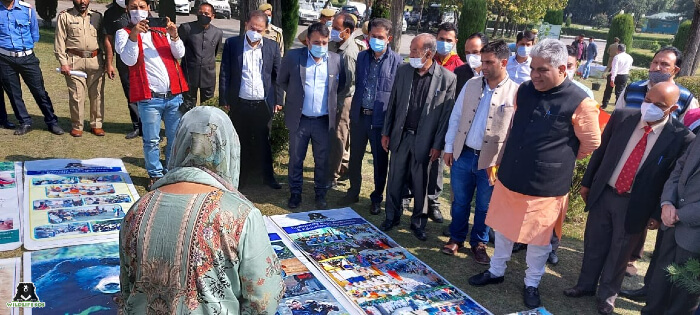 Wildlife SOS' Project Coordinator and Education Officer, Aaliya Mir, set up an awareness kiosk at the event. The chief guest, Sh. Bhupender Yadav visited the Wildlife SOS kiosk and was eager to learn about the efforts of the wildlife conservation NGO. The honorable Minister eagerly listened to a brief about Wildlife SOS and hailed the efforts made by the NGO to preserve the rich biodiversity of J&K. The Minister also visited the Wildlife SOS bear rescue center at Dachigam, which is run in collaboration with the Forest Department and is home to 4 Asiatic black bears and 1 Himalayan brown bear.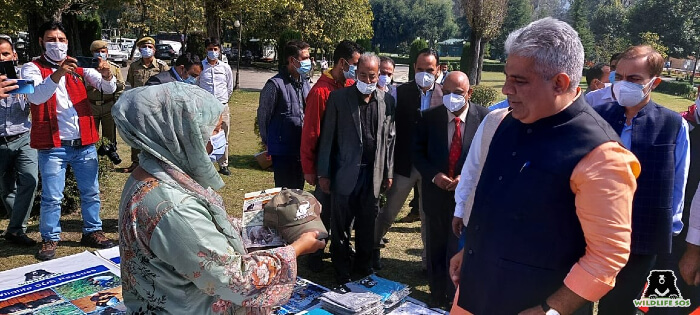 Restoring harmony between man and nature is the need of the hour. We are grateful to the J&K Forest Department for giving us this opportunity to raise awareness about the plight of wildlife in the area.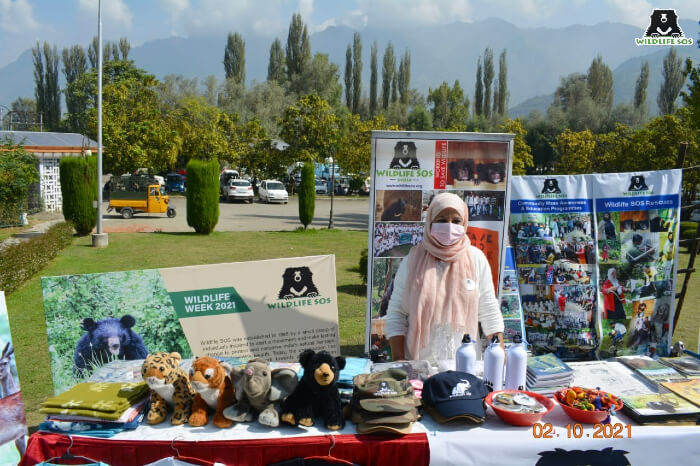 The only female rescuer at Wildlife SOS, Aaliya Mir, has worked hard to ensure that Wildlife SOS is well represented in the J&K area during this week. To commence World Wildlife Week, Aaliya Mir had also set up a similar kiosk on 2nd October for the Department of Wildlife Protection J&K. This time Lieutenant Governor of J&K, honorable Manoj Sinha joined in on the fun!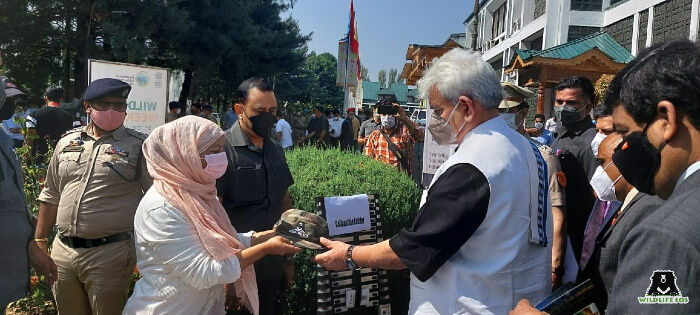 The governor interacted with the Wildlife SOS team and was offered a Wildlife SOS cap on the occasion, which he graciously wore throughout his visit!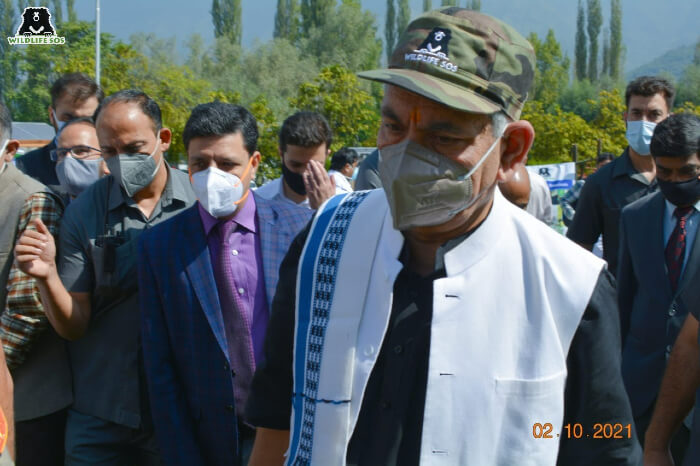 Wildlife SOS has 12 rescue centers throughout the country that rescues and rehabilitates wild animals in distress. To address wildlife conflict problems in J&K and rescue animals in pain, the NGO has recently launched a 24- Hour wildlife rescue helpline in J&K. The hotline has already rescued over 60 animals in distress! You can read about our various J&K rescues HERE!
We are honored by the support shown by the various dignitaries that took out time to learn about the work Wildlife SOS is doing. Their kind words have made us more resolute in our resolve to create a world where animals, too, can live a life of dignity and freedom.