Of the four billion species that have evolved on this planet, nearly 99% are no longer extant. According to the IUCN Red List, over 35,765 species belonging to all taxonomic groups are threatened with extinction. At this moment in time, species are vanishing at an unprecedented rate. Be it fish, amphibians, reptiles, birds, or mammals – none of them are spared from natural and anthropogenic threats. And by the time you finish reading this article, the planet might have lost another innocent wildlife species.
The alarming rates highlight the need to spotlight the practices of preservation and conservation. In order to do our bit and protect the myriad of species, we engage in dialogues and activities that concern biodiversity. By standing up for the wrongdoings, we take a step in the direction of halting this crisis. By involving larger communities, we make this campaign to save the planet, not just one person's mission, but that of the entire humankind.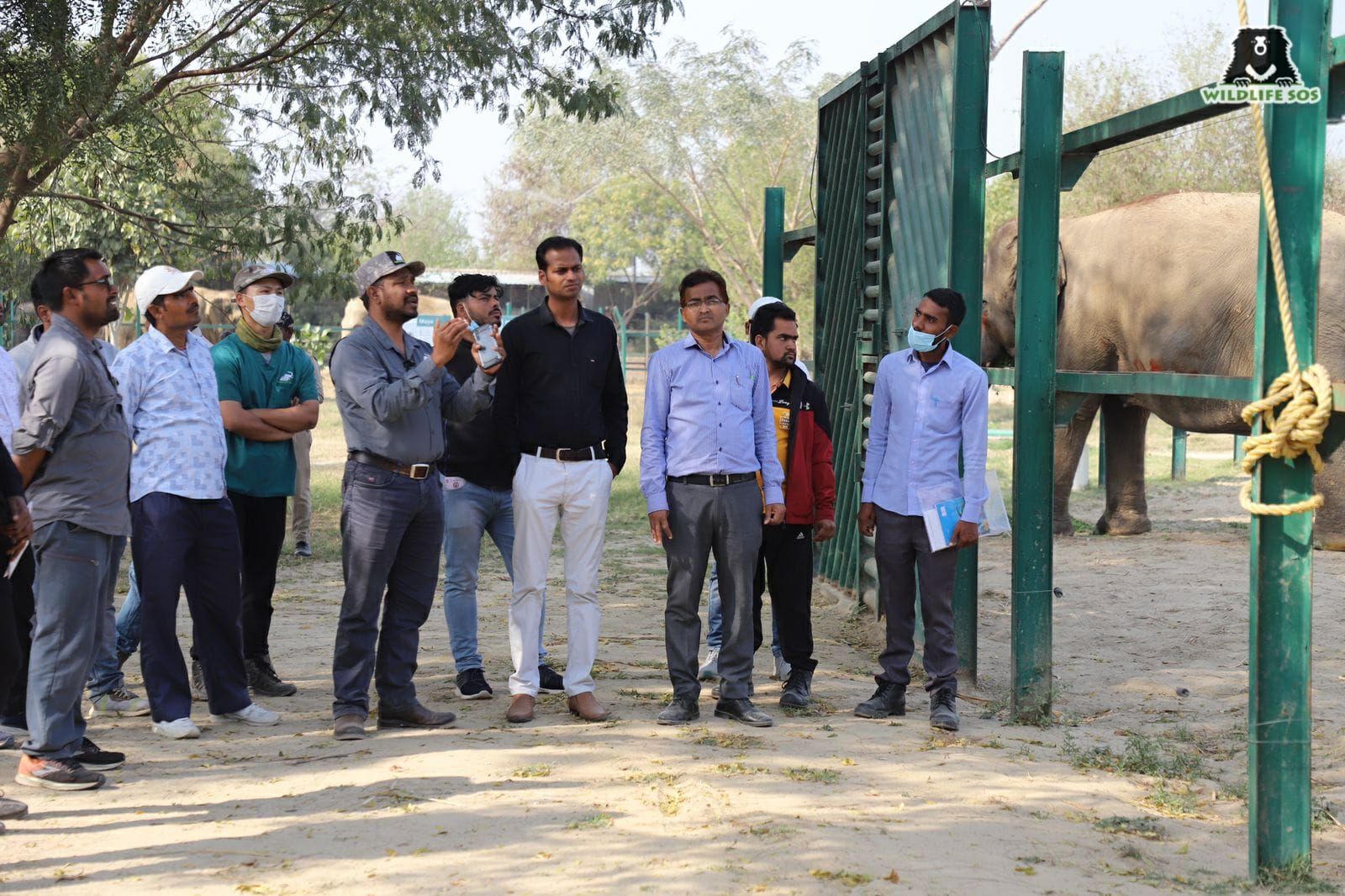 Keeping this in mind, we celebrate World Wildlife Day on 3 March, which focuses on wild species across the globe facing the brunt of extinction. In 2022, Wildlife SOS went above and beyond to reach and make an impact amongst communities across the country.
Launching Official Merchandise
On World Wildlife Day, the entire Wildlife SOS family is thrilled to announce the launch of Wildlife SOS Shop on Amazon India. We present our audience with a means to add the essence of wilderness to their everyday lives. Ranging from apparel to stationery, the e-commerce store offers a wide variety of products for one to choose from. Our team has hand-picked some of the most unique animal-inspired designs exclusively for our audience. The Amazon store offers signature cotton t-shirts, elephant scarves and stoles, stylish caps, and lifestyle and stationery items. With a variety of calendars, diaries, notebooks, and cards as stationery and mugs and bottles as lifestyle items – we've got you covered for your day-to-day groove. We've got products for all your moods – be it your Monday Blues, Mid-week slumps, and Friday Feels!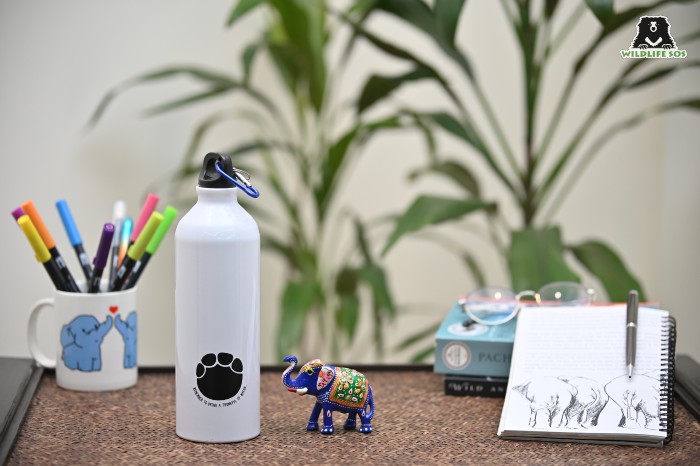 With this, we aim to bring nature to you – right by your side, in many styles and forms. We couldn't have introduced our initiative on a better day, as the proceeds will benefit the welfare and management of India's wildlife. Proceeds collected from your contribution to our products will directly add to our efforts to protect animals and their habitat. With our Amazon store now live, we invite you all to contribute to saving the country's animals by shopping for a cause. Wildlife SOS wishes to create a community that comes together to support the efforts of conservation in India.
They say it takes a village to raise a child. This is indeed true when it comes to setting a venture in motion – it takes blood, sweat, and tears! Our team has worked tirelessly to easily avail you of our official merch – which is a single click away. We are overwhelmed to have received an endearing response from our audience and can't wait to continue bringing more such products to you. Please note that the new range of products is currently only available in India, as our international supporters can shop from our Arm The Animals and SmugMug stores.
An Artistic Affair
People believe, "art that serves the artist best is an experiment in expanding awareness." Taking into consideration the role of artistic expression and learning about important issues, our team organised an international art contest. Keeping the World Wildlife Day 2022 principal theme in mind, the art contest followed the theme of "Endangered flora and fauna." The contest was announced online in mid-February, encouraging people of various age groups to participate. We received over 170 entries – 60+ in Category 3 (Age 8-15), 65+ in Category 2 (Age 16-25), and 40+ in Category 1 (Age 26+). Submitted artworks included portraits of the magnificent tiger, fiery red panda, wild dog, various species of birds, turtles, and macaques to name a few. Our team called upon three extremely talented artists – Anjali Mehta, Richa Kedia, and Nayan & Vaishali – to judge and help us select the winners.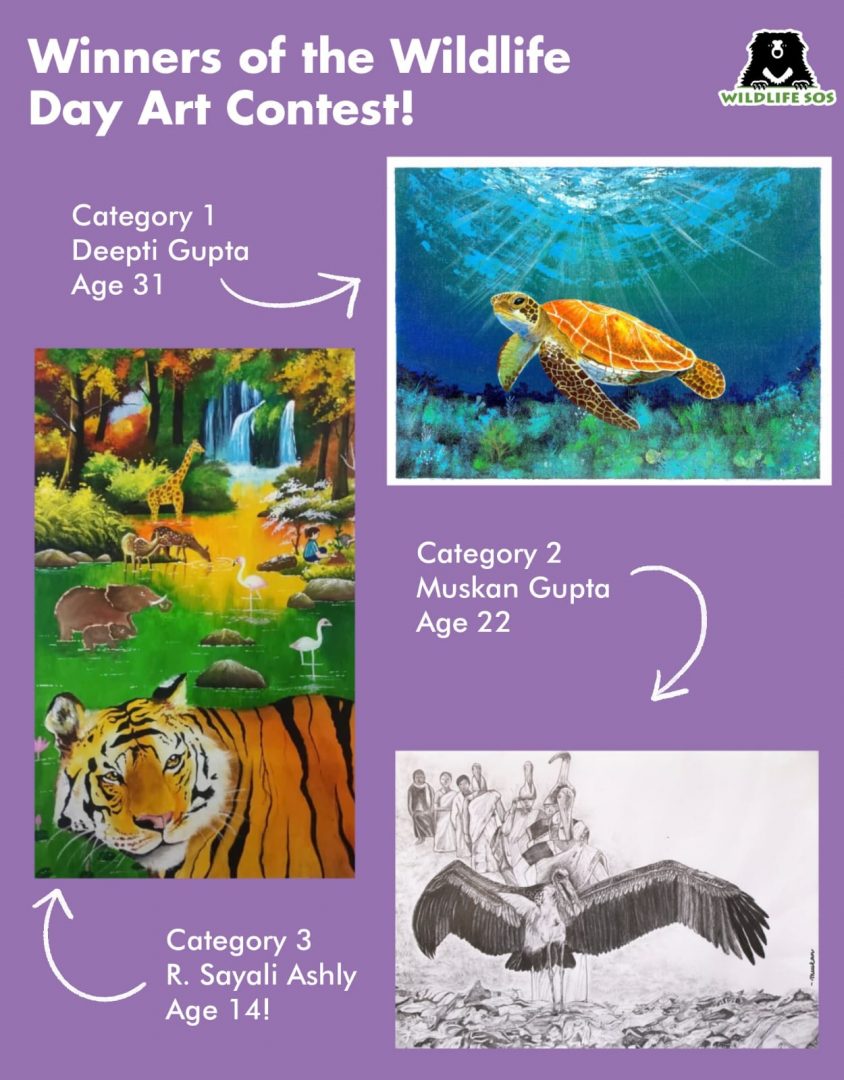 On 3 March, we finally announced a winner and two honourable mentions under each category, who were featured across all our social media platforms. R. Sayali Ashly, a 14-year-old, was the winner of the youngest category. She beautifully painted a plethora of animals ranging across various habitats, including tiger, elephant, giraffe, and a few bird and deer species. 22-year-old Muskan Gupta intricately weaved the story of Greater Adjutant Stork's conservation through her artwork, bagging the win under the second category. The meticulous pencil-sketch work highlighted the plight of the bird species in Assam and the army of women painstakingly striving to conserve it. The winner of the adult category was Deepti Gupta, who painted a leatherback sea turtle, the largest turtle of all, swimming in the deep sea. The three winners shall be sent Wildlife SOS merch amongst other goodies to acknowledge their participation in the contest.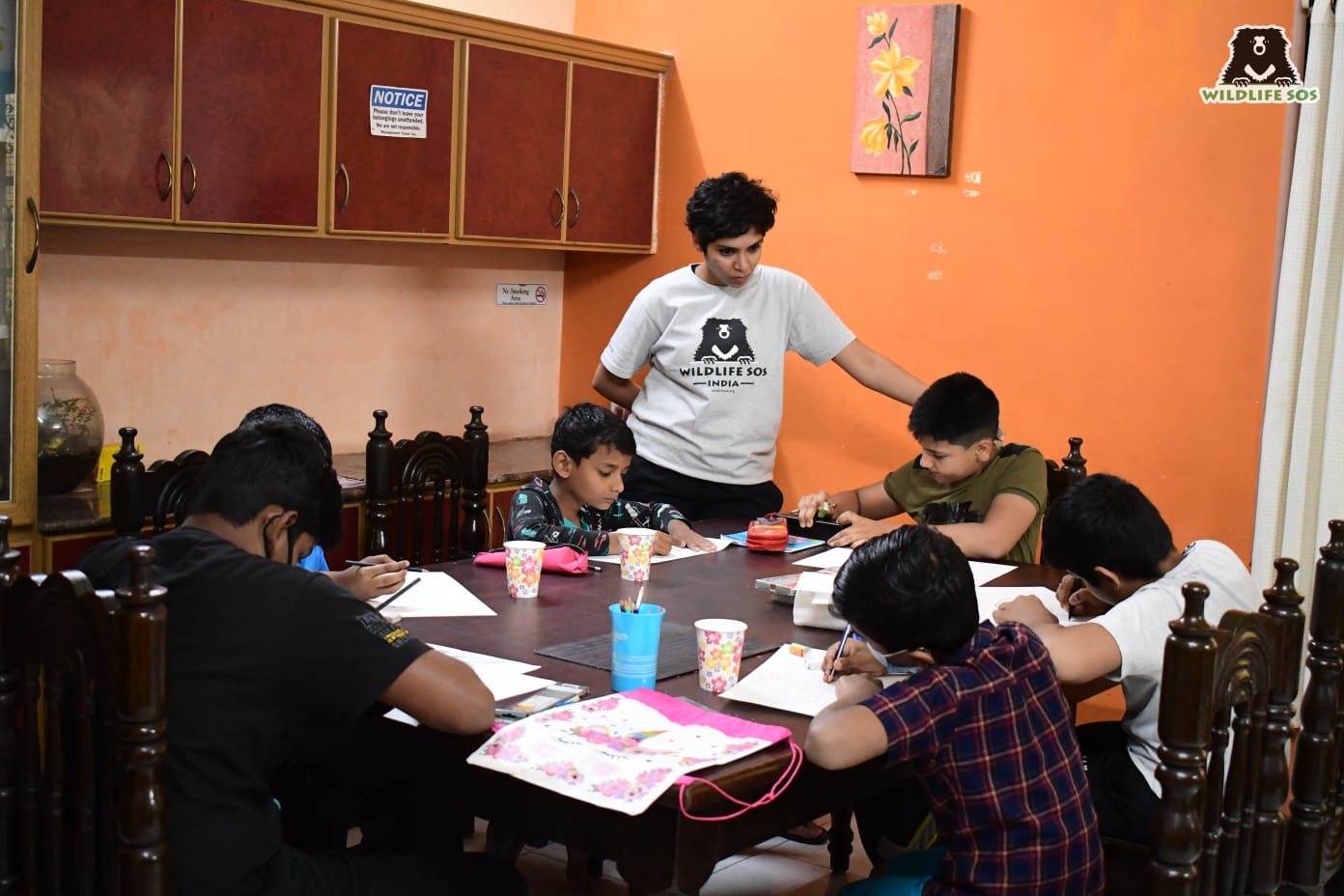 Our team at Bangalore also conducted an offline art competition for young children at the BBRC Volunteer house on the occasion of World Wildlife Day. A total of 13 kids participated and showcased their artistic skills on the theme of "Endangered Flora & Fauna." They spun the story of their understanding of nature and wildlife, by highlighting the threats faced by species today. The winners were awarded goodies such as the organisation's official caps, mugs, and Elefact diary. We were filled with joy seeing the participants' enthusiasm and interpretation of the theme. As an ally of the mission to save wildlife, Wildlife SOS is elated to have generated awareness on the importance of nature and conservation on a global scale. We're grateful to have stirred up compassion and empathy for nature amongst people of all age groups
Training Workshop
Our team along with the Uttar Pradesh Forest Department hosted a workshop on 'Welfare and Management of Captive Animals' for zookeepers and veterinary officers from Gorakhpur Zoo at the Agra Bear Rescue Facility and Elephant Conservation and Care Centre in Mathura. On 2nd and 3rd March, the training was conducted with ten participants including zookeepers, veterinary doctors, and officers from the Gorakhpur Zoo. With the aim of improving skills for humane management techniques, it also intended to undertake capacity building in ex-situ conservation.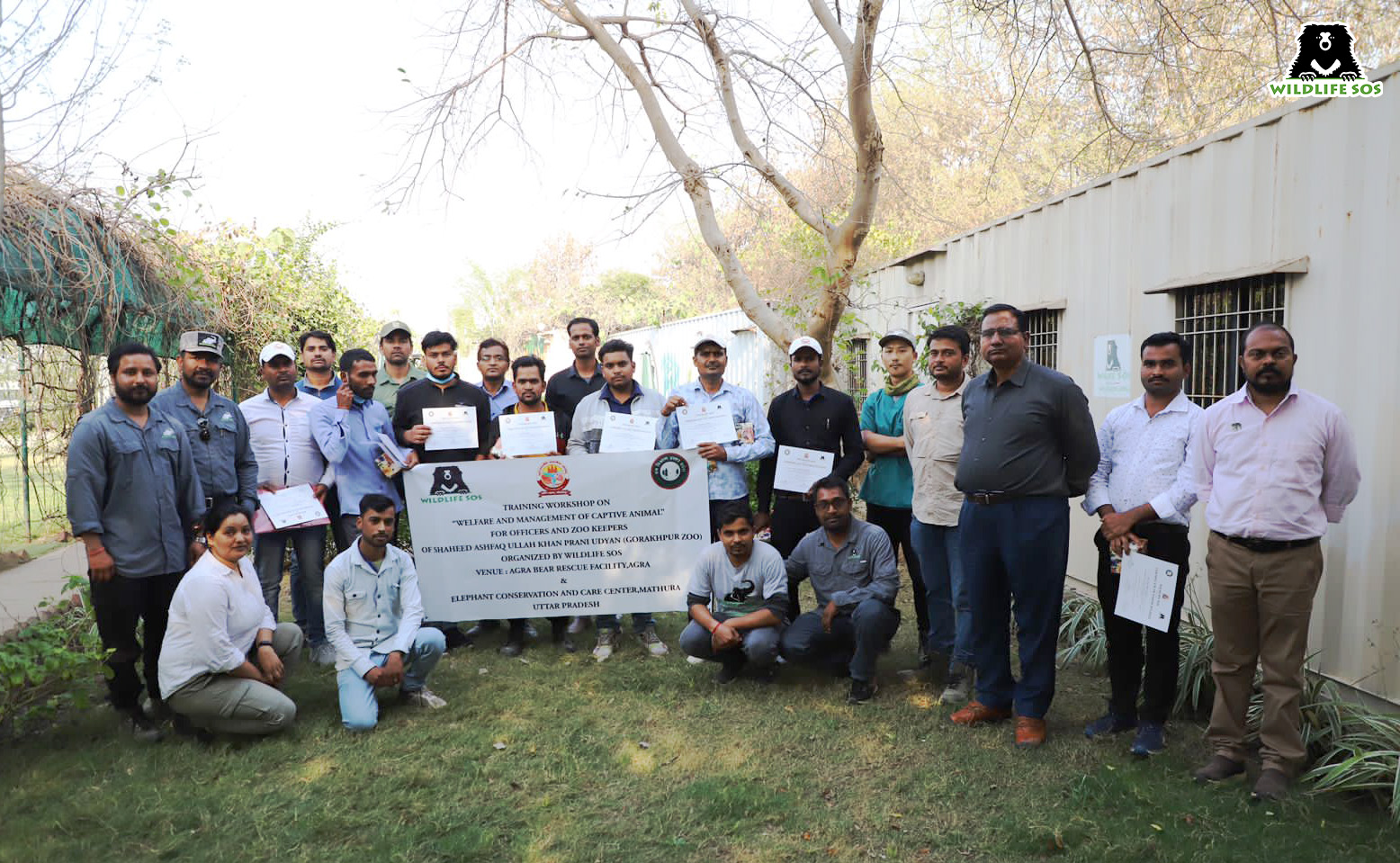 Talks held by Baiju Raj M.V, Director Conservation Projects, Wildlife SOS and Dr. S, Ilayaraja, Deputy Director-Veterinary Services on welfare, rescue and rehabilitation, and management of wild animals. The presentations were followed by a practical session on animal housing, enrichment building, veterinary support for field-based diagnosis, and overall management. The next day, the participants were given a tour of India's first and only Elephant Hospital. This was followed by a workshop at the Elephant Conservation and Care Centre (ECCC), covering aspects like scientific and humane elephant management techniques. Positive conditioning, target training, and foot care were practically demonstrated on our rescued residents. The workshop will be conducted in two more batches, which will take place on March 7-8 and March 11-12.
Wildlife SOS has model standards for the humane management of animals and our team is grateful to be able to use it as a knowledge-sharing platform to create similar facilities across India. Such hands-on sessions contribute largely to the improvement of animal care and welfare. Capacity building is an effective way to share expertise and knowledge on important issues regarding wildlife management.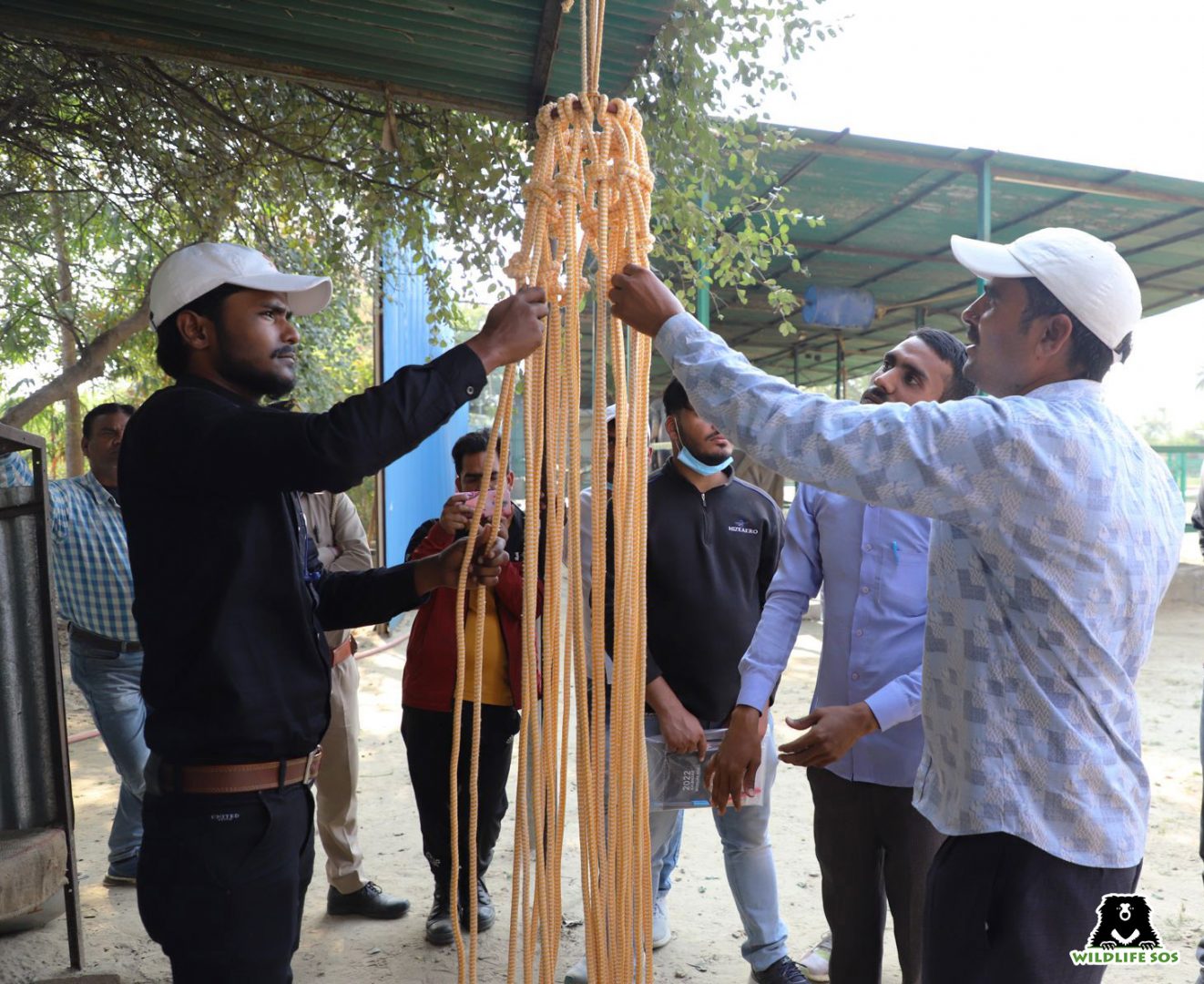 We can't stress enough the significant role of these interactive awareness sessions. Training workshops, art contests, and being able to share our official merchandise with our supporters is a rewarding experience. We thank each and everyone – supporters, participants, and our team members who made the events a success. On the auspicious World Wildlife Day, it is crucial to foster sensitivity and understanding around the natural world in one and all. With this, we do not just aim at conserving biodiversity but generating leaders of tomorrow who will further diversify the noble idea.