The emotional similarities between humans and non-human primates are astounding. Much like humans, mothers in the society of Gray langurs play a pivotal role. Infant langurs need their mothers to provide them with all the love, care, and all the nutrients they need. Mother langurs are extremely protective of their infants. Another similarity between human and non-human primates is the awareness of death. Scientists have found that non-human primates respond to death how grief is expressed by humans. In 2017, BBC showcased a group of Langurs grieving the death of what they thought was a dead baby. And so, when Wildlife SOS rescued an illegally kept Gray langur who had just lost her child, we knew she was going through an immense sense of grief.
Despite being provided a high degree of protection under Schedule II of the Wildlife (Protection) Act, 1972, Gray langurs are commonly captured to tackle the rising Rhesus monkey population in urban areas. Propagated by the age-old myth that the rivalry between both species can be used to scare away Rhesus monkeys, numerous Gray langurs are taken around by langur handlers in residential communities, farmhouses, and hospital establishments.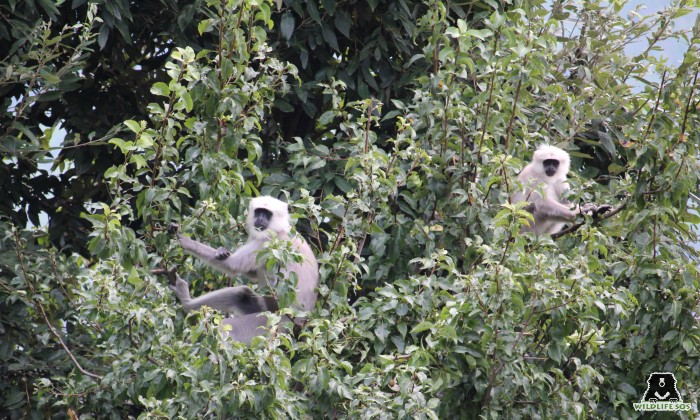 The rescued female Gray langur too was kept captive in a residential area in Swamibagh, Agra, along with her infant. Much like most langurs that are in captivity, she was perhaps torn apart from her family and habitat at a young age as well. While it is unknown how she managed to conceive, it is assumed that her infant was born in captivity. The mother and infant were kept together in a cramped cage, and were tied by their necks at all times. The only respite they had was a short walk that they were taken on every evening.
On one such walk, the handler of the langurs left them tied by the neck to a tree as he ventured far away. Unaware of the consequences, the infant attempted to climb the tree. As the infant leapt higher, the noose around his tender neck tightened, leading to his death.
On realising that her child was no more, the mother langur let out loud, mournful cries that reverberated across the neighbourhood. With the sudden loss of her child, the mother grieved just how a human mother would. She isolated herself, and refused to eat. As her health deteriorated, a concerned resident immediately contacted Wildlife SOS on its 24-hour helpline.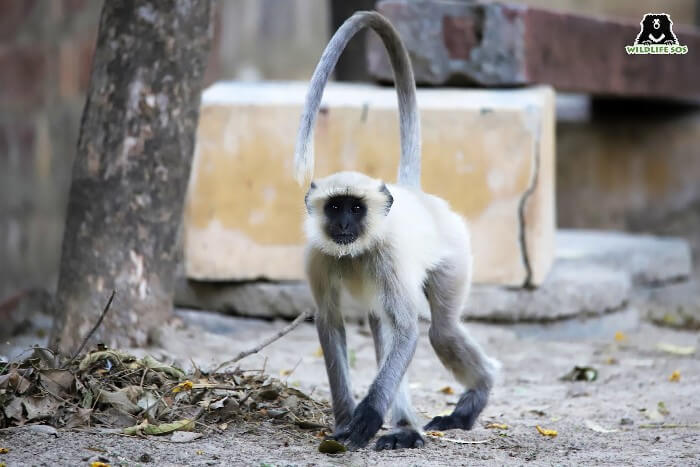 The Wildlife SOS Rapid Response Unit along with the Uttar Pradesh Forest Department rushed to rescue the langur and carefully transported her for medical treatment and care at the WSOS centre.
Upon examining mother langur, the WSOS veterinary team found that she was suffering from gastric problems and hypothermia (a significant drop in body temperature). Her breathing was slow, and her nose was discharging a white fluid. Our team immediately created a plan of action that involved treating the langur with antibiotics, multivitamins, and anti-allergy medicines. As she became better, the medicines were diluted in water and given to her regularly. She was also put on a liquid diet to help her with the nutrients she needed.
Presently, the mother langur has started consuming a few solid foods like banana and papaya. While our veterinary team is attentive towards her care, she continues to be in a precarious health condition. Once the veterinary team declares her to be fit, she will be released back into her natural habitat.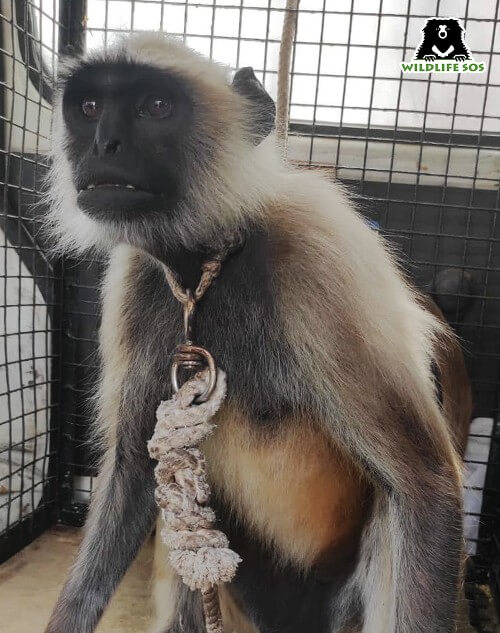 Langurs will continue to be captured and tamed to scare away Rhesus monkeys, if no action is taken. Poor conflict management can significantly impact the langur population in India. Kept in cramped and suffocating cages, more langurs will be made to suffer— impacting their physical and psychological welfare, and reducing their quality of life.
If you come across a Gray langur or any other wild animal in distress, you can contact the Wildlife SOS helplines. Wildlife SOS Rapid Response Unit is established in the following regions and can be reached out at any time for assistance:
Delhi NCR – +91-9871963535
Agra & Mathura in Uttar Pradesh – +91-9917109666
Vadodara, Gujarat – +91-9825011117
Jammu & Kashmir – +91-7006692300, +91-9419778280