As a wildlife conservation organisation, we always remind ourselves that wildlife is a part of nature and without conserving nature, there would be no wildlife to protect. That is why at Wildlife SOS, we engage in several eco-friendly and sustainable practices keeping in mind the broader picture.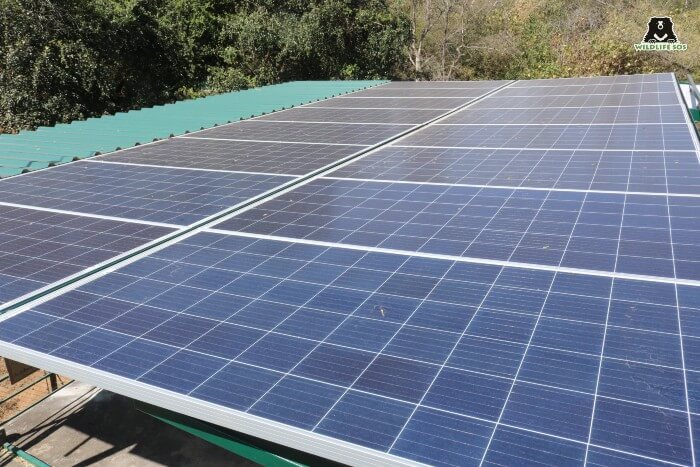 Sustainability as a discussion will never cease to exist as long as we do not attain sustainable living collectively as a species. So we do the needful by setting an example, and ensure that people learn from our practices. One major chunk of the sustainability discourse has to do with how we handle our waste. Today India grapples with a Gordian knot called waste management, with waste disposal and waste segregation being the two major problems.
The Bangalore Metropolitan Area reportedly generates over 6,000 tonne of solid waste per day, which translates to 186,990 tonne per month and 2,275,045 tonne per year. 60% of this daily waste is wet (organic), which can be turned into compost or manure for the soil. Keeping this enormous predicament in mind, we thought of contributing in our own way to tackle the waste problem. At the Wildlife SOS Bannerghatta Bear Rescue Centre (BBRC) in Bangalore, we have turned our bear kitchen completely eco-friendly and sustainable.
Running in circles
Presently BBRC is home to nearly 70 sloth bears, who are under long-term care and require a nutritious diet. While preparing their meals, our team has ensured that we adopt green practices in our bear kitchen, where we use biomass-based cooking stoves. The kitchen uses briquette stocks to cook porridge for the bears which is made from vegetable waste, hay stack and saw dust. This is a renewable source of energy as compared to gas and leads to lower carbon dioxide emissions than fuel wood. For the past 8 years, BBRC has resorted to this eco-friendly marvel instead of firewood and gas cylinders. Another huge benefit of using this sustainable method is its cost-effectiveness and longevity – it can burn consistently for up to 24 hours.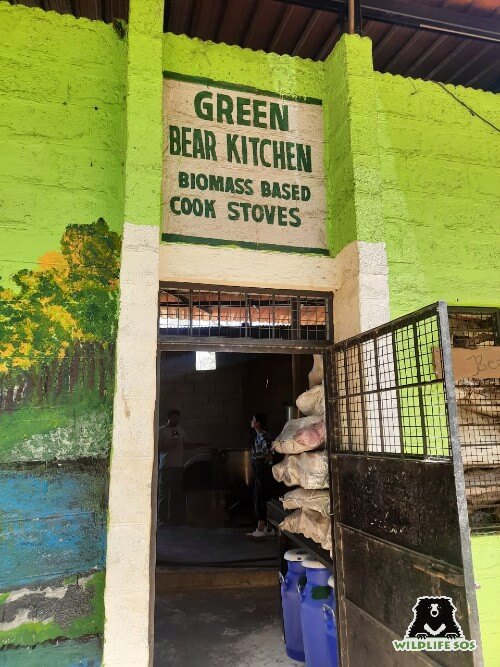 We are constantly reminded about the mammoth twins called climate change and global warming. Therefore, even the smallest steps can contribute in a way that is immeasurable. The steam which is produced from cooking the porridge has the perfect temperature to boil eggs, which are then given to the bears for their protein intake requirements. On top of that, the steam is also used for heating water, which in turn, are utilised for various purposes such as cleaning the kitchen floor and washing utensils. At BBRC, we strive towards using each and every natural resource to its maximum potential, in order to bust the myth of zero waste and make it a reality.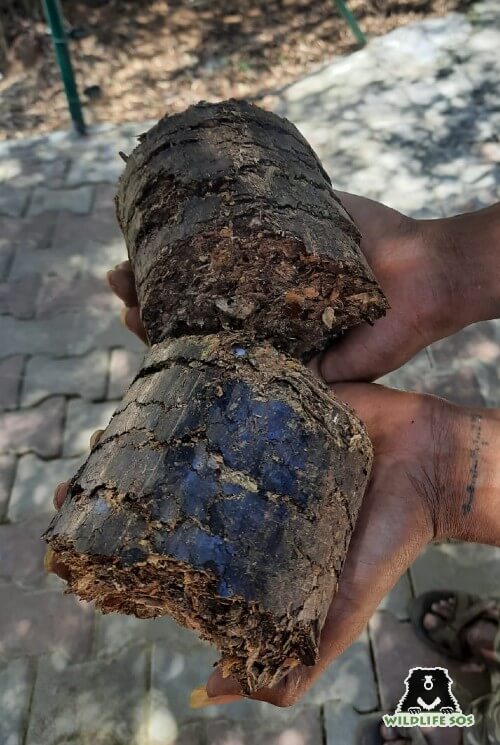 BBRC is also the first fully solar-powered rescue centre of Wildlife SOS, and this abundant natural power source helps us supply electricity to the entire centre. Additionally, on significant occasions such as World Environment Day and Wildlife Week, our team actively organises plantation drives and plants hundreds of saplings inside the centre. There are also regular cleanliness and plastic pollution drives, wherein volunteers assist us in keeping the surroundings spotless by picking up and responsibly disposing the garbage.
Bear your waste in mind
Our Kashmir rescue centres face a different kind of problem and hence requires a unique approach. Human produced organic food wastes from hotels and restaurants act as an attractive source of meal for the bears living in Jammu & Kashmir. Asiatic Black bears and on the rare occasion even Himalayan Brown bears were seen raiding garbage bins and dumpsters at night, which sparked concerns for potential conflict situations. In fact, after we analysed their faecal samples, we got shocking results where the samples contained harmful inorganic substances such as corrugated boxes, cartons, plastic wrappers etc.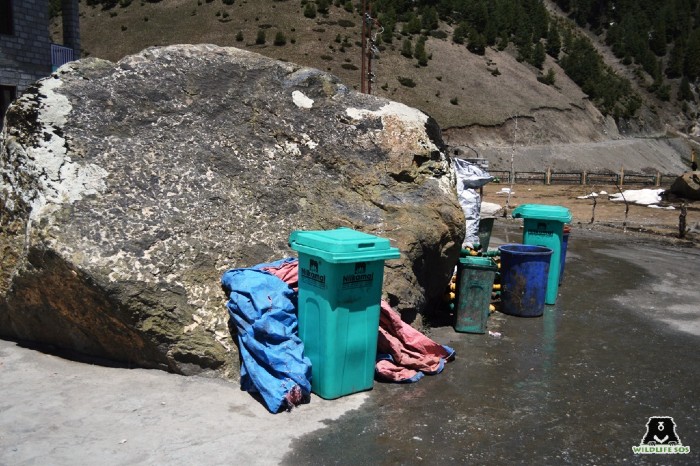 To tackle this problem, the Kashmir team launched the 'Be Bear Safe' initiative to encourage the people there to adopt proper waste management methods which would be eco-friendly, such as covering the trash bins and installing bear-proof bins to avoid any such future incidents. The team themselves make sure to follow this practice and make sure that the waste generation is at the bare minimum. Since waste disposal is vastly different in a mountainous terrain compared to an urban setting, our team ensures that whatever waste is produced is properly disposed of with regards to the waste management guidelines of the local authorities.
Reuse, rebuild and repair
70% of the water usage by human beings goes into agriculture. So for a sustainable future, it is not only important to understand what food we are putting on our plate, but in what manner it is grown. Wildlife SOS takes great pride in this matter, since the Elephant Conservation and Care Centre (ECCC) in Mathura engages in organic farming. ECCC spans over 40 acres, out of which 3 acres are dedicated to growing organically fresh produce. Started in 2018, this initiative mostly caters to the daily food requirements of our staff, and to some extent for our elephants.
Some of the veggies which are grown at the centre include cauliflower, cabbage, carrot, tomato, green chilli, radish, turnip, okra or ladies' finger, different kinds of beans, potato, garlic, pumpkin, bottle gourd, onion, beetroot, spinach, fenugreek and coriander. The 3-acre-farm uses the run-off water from the elephant centre, i.e the water used for the care of the elephants is reused on the plants, thereby saving a vast amount. We also use natural fertilisers or manure for the soil procured from a local cow shelter, and completely avoid inorganic pesticides and artificial fertilisers.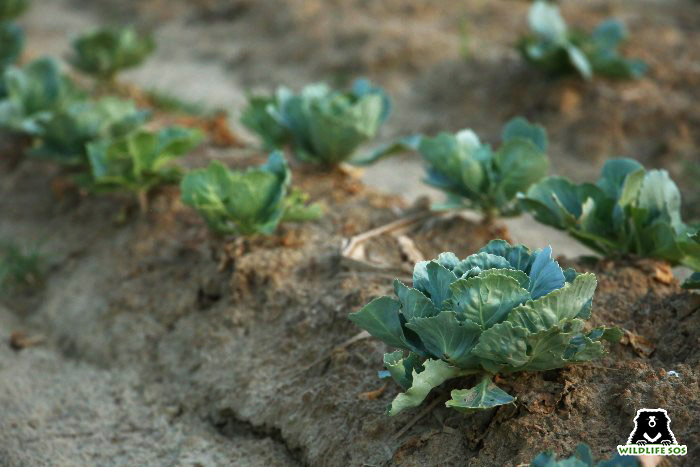 In the last two years, the farm has seen a sharp rise in the yield and the team has been able to use almost 80% of it for regular use. Since setting up the farm, the land has rejuvenated naturally and during off-seasons, we grow soil nitrogen-fixing plants to renew the soil from within.
Apart from an unimaginable amount of water usage, unsustainable agriculture also leads to something called soil desertification which leaves lands unfit for cultivation, thereby needing to clear more forests to create new cultivable land. But the organic way of production keeps soil healthy, helps fight climate change by sequestering more carbon and does not lead to any kind of pollution. Hence organic farming is the right way to go forward in growing what we eat, and at the same time giving back to nature.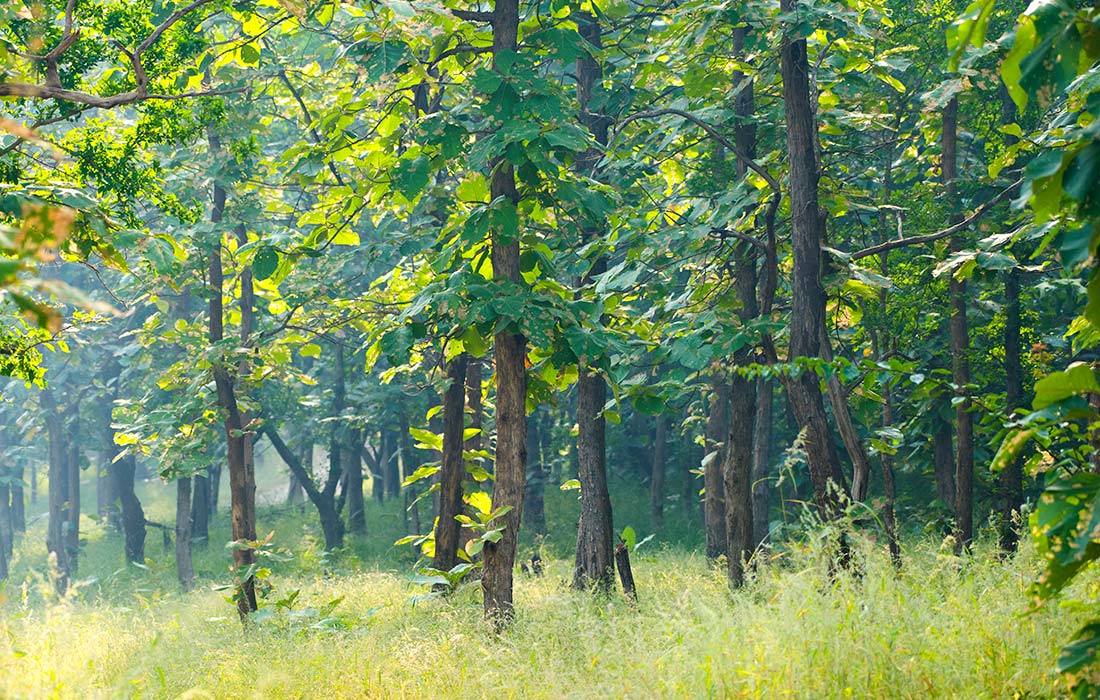 Tree planting has significant benefits. The land around many of our facilities has been farmed for centuries, and with that agricultural focus came the clearing of trees to make room to grow food crops. In addition to our regular tree-planting efforts, Wildlife SOS has pledged to plant 10,000 trees as part of our Elephant Hospital Campus expansion. Trees provide shade, help conserve water, and reduce runoff, they absorb harmful CO2 and release oxygen, and they attract birds and other wildlife that gives our elephant residents a more natural, peaceful home.
It's fair to say that we all despise "junk mail." Apart from being a nuisance, it's extremely wasteful. It is estimated that 100 million trees are cut down every year for unsolicited commercial mail. It's also very costly, and we would much rather use those funds to directly benefit the animals in our care. At Wildlife SOS, we have chosen to conduct all of our communications and fundraising efforts digitally, which is why we encourage everyone to visit subscribe.wildlifesos.org.
Through all these eco-friendly and green initiatives, we not only want to contribute in a meaningful manner but also inspire you in joining us to build a better future.