As Daisy's imposing figure makes a breathtaking appearance against the bright forested background of the Wildlife SOS Elephant Rehabilitation Centre in Haryana, she walks slowly and proudly around her home, away from memories of abuse and pain. Daisy suffered immensely as a begging elephant, who'd spent most part of her day, navigating through the crowded streets of the capital city, Delhi. The blaring horns would cause her immense psychological distress and confuse her to no end, but a sharp jab of a bullhook was all that guided her.
In addition to her steadily deteriorating mental health, Daisy suffered the disadvantage of having no vision in her right eye and almost completely losing her vision in her left eye. The reason for her blindness can be attributed to many reasons ranging from malnourishment, bullhook wounds, or an untreated case of cataract. The fact remained that in a city bursting at the seams with people and vehicles, how could a blind elephant possibly survive?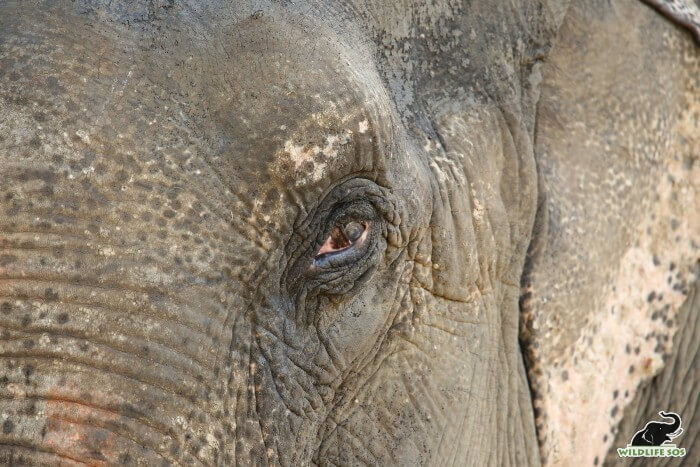 The timely intervention of the Delhi High Court along with the Forest Department paved the way for Daisy's freedom, two years ago! Daisy was shifted to the Wildlife SOS Elephant Rehabilitation Centre in Ban Santour, Yamunanagar, Haryana, run in collaboration with Haryana Forest Department.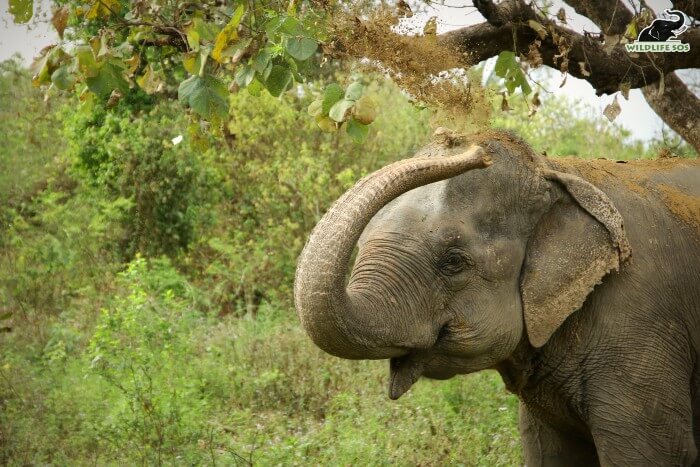 Initially unfamiliar with the new surroundings and the smell of fresh air that engulfed her, Daisy would appear anxious and would even walk around the field at night. Having spent over five decades in shackles, Daisy was facing a lot of trouble adjusting to this new, kinder life that we were providing her with. Other than the chronic blindness, Daisy suffered from foot abscesses and her delicate footpads were worn thin due to the ordeal of walking on blazing tarmac roads. Her toenails were overgrown to a point that they were cracked due to lack of proper care and her right ear was severely torn, which indicated the use of sharp tools such as bullhooks, etc.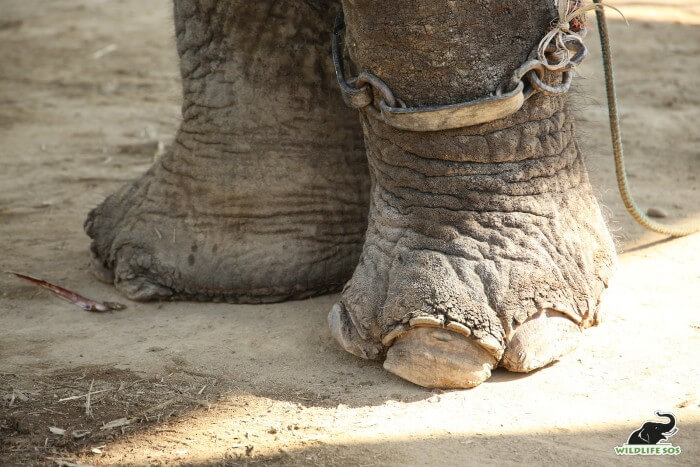 She needed immediate medical intervention and our veterinary team wasted no time in providing her with the same. She continues to remain under treatment for her toenail abscesses and her foot pad abscesses which includes an elaborate routine of medicated foot baths, followed by cleaning of the abscesses and application of medication.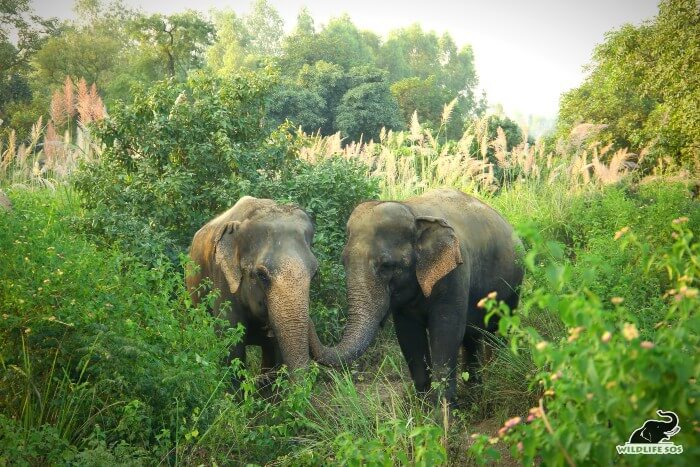 Daisy undergoes regular toenail trimming sessions which has been facilitated by positive conditioning, wherein her caregiver gives her treats in exchange of responding to him for treatment. Her love for bananas and cucumbers is unmatched and she will be quick to stretch her trunk to munch on her treats even before her positive conditioning begins! Her diet presently includes cauliflower, cabbage, pumpkin, watermelon, bananas and her favourite cucumbers.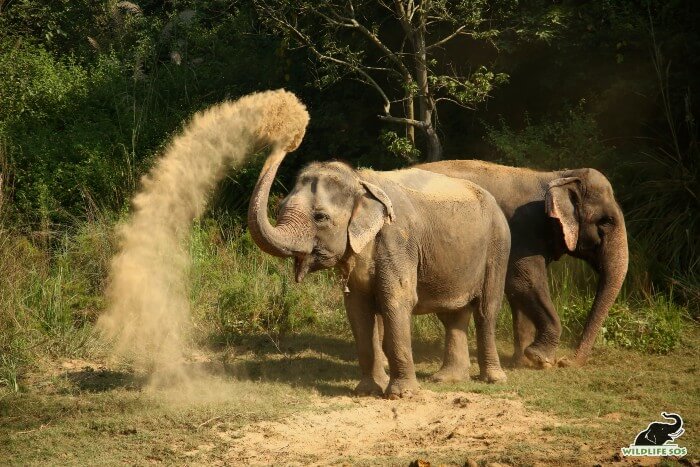 She shares a special bond with her caregiver who leads the walks, ensuring that no stray pebbles or sharp stones hurt her footpads, clearing them right off the path. He renders oil massages to Daisy's severely arthritic limbs as she rumbles in relief. Recently, Daisy has been enjoying a lot of pool-time as temperatures steadily rise in Northern India, and she can be seen enthusiastically splashing water all over herself. The water helps take the weight off her limbs which is why she often ends up napping in the pool with her dearest companion, Jasmine.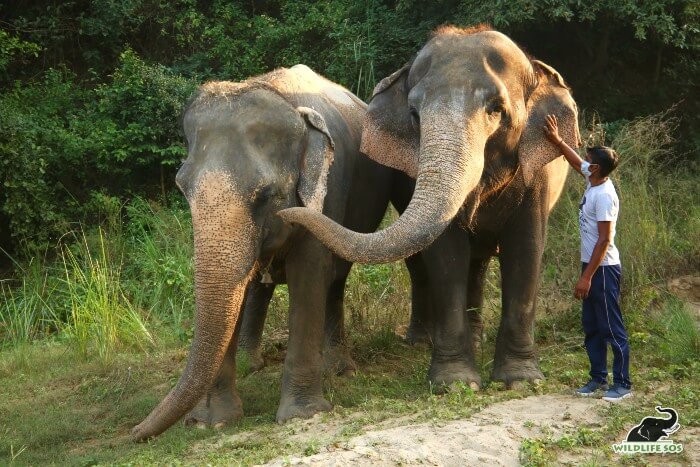 Jasmine and Daisy were both rescued from Delhi and we are certain that these two elephants must've crossed each other's path on more than one occasion. They got along almost immediately and it fills our hearts with joy to see them making the most of their new found freedom. Two years into her healing journey and we see a more relaxed side to our dear Daisy as she walks with confidence and grace, softly rumbling and occasionally loudly trumpeting to Jasmine and her caregiver. Daisy is an explorer in every sense of the word and hates to repeat the same old path during walks, which is why her caregiver always has to find different routes for her. She will be quick to walk astray and tackle an itch on her rump, break a branch and sample some local green vegetation.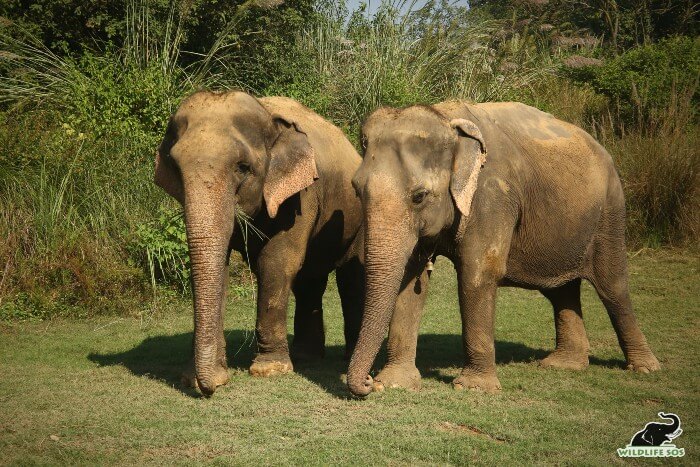 You can play an intrinsic role in Daisy's journey by considering becoming a monthly donor or sponsoring as she continues to heal with us and her herd!