No matter how much we ever try, we can never truly understand what it is like to spend nearly 60 years being dragged forcefully from one place to another, merely for the purpose of begging. Holly is well aware of this feeling, as she herself underwent that horrific experience. This was the story of Holly, prior to her life at Wildlife SOS.
Having arrived in the winter of 2018, when she first stepped into the Elephant Hospital Campus (EHC), Holly took time to adjust to her new environment. A major reason behind this was her blindness. She slowly grew close to her caregiver, who was always ready to comfort her with soothing words, and her favourite fruits, bananas and papayas.
The Healing Then
Holly's gait was abnormal and her hind limbs let out a strange noise, so the doctors decided to carry out a health assessment immediately. Initial diagnosis revealed that she suffered from stifled joints and severe arthritis in her hindlimbs. She also carried untreated abscesses on her elbows and open septic wounds.
The veterinarians used topical medication to dress the wounds regularly. Holly's arthritis was also a concerning health issue as she was unable to walk long distances and avoided lying down on the ground completely. For the first few months that she was under our care, Holly preferred to sleep standing up. All of this changed when she began to spend time in the hydrotherapy pool, where her bruised and battered legs gradually started to gain strength. The team also administered laser therapy which relaxed her leg muscles. Incidentally, Holly was the first patient of the Elephant Hospital, thus making her the first one to experience these amenities.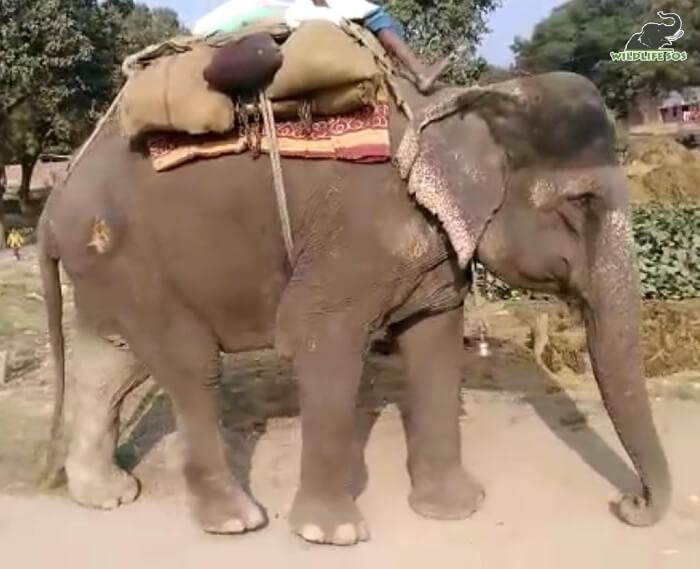 Another concerning issue that plagued Holly was prolonged malnutrition. As her body was starved of vital minerals and vitamins, the veterinary team first prepared a thorough diet chart for her to gain weight. During the initial months, she relished fresh sugarcane, seasonal fruits and vegetables, along with a protein-rich snack made using ragi (finger millet) flour.
The Healing Now
Five winters have passed since Holly walked into our lives, and her health has seen considerable improvement since then. At present, Holly is facing minor swellings in her hind legs due to which her long walks are kept on hold. She goes on walks close to her enclosure these days. A footbath with lukewarm water and Epsom salt is provided to her regularly to tackle the swelling. Moreover, geriatric elephants like Holly require some extra care during the severe winter months in northern India.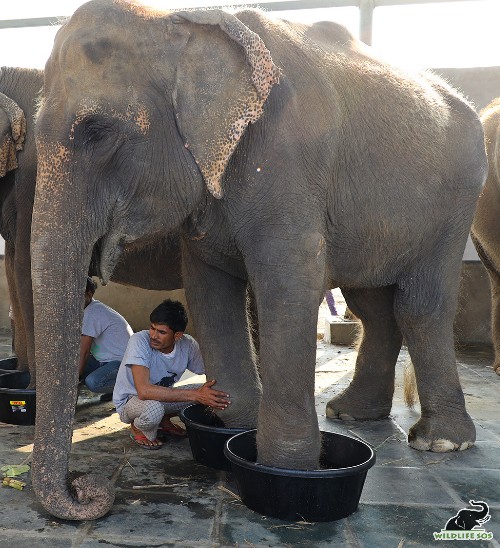 Holly's enclosure has been covered with curtains and thick tarpaulin sheets. Additionally, the staff at EHC has installed halogen and sodium lamps inside the enclosure, and organic fuels are also burnt throughout the night to provide warmth. Intermittent massages with coconut and mustard oil improve blood circulation in her body. As a last resort, we have provisions for jumbo jackets and blankets for the elderly elephants under our care.
These measures are part of the winter care management implemented across our various centres. All these steps are supplemented with dietary changes. Their regular meals this season are complemented by 'masala', which is a concoction of jaggery, carom seeds, ginger and turmeric that helps elephants like Holly fight the cold and digest food more easily. This addition also boosts immunity by keeping the elephants warm internally, and shields them from chilly winds during the night.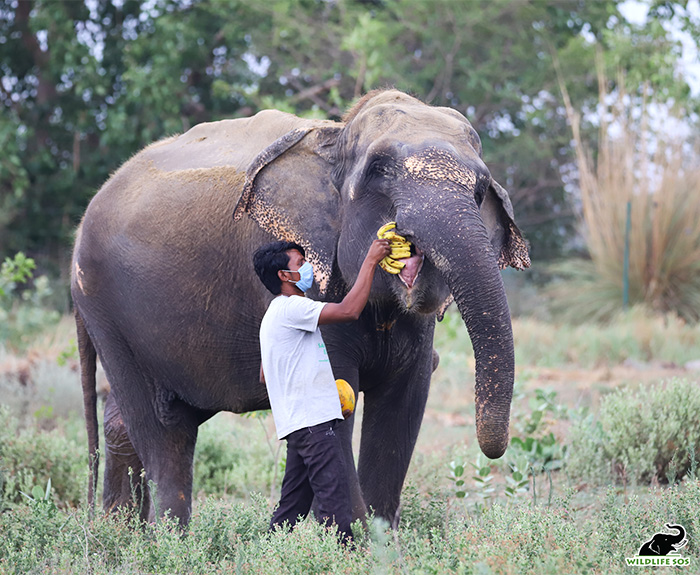 For fodder, in addition to the seasonal sugarcane, the elephants are given stems of the Peepal tree. The stem is highly nutritious and helps in generating internal warmth. Elephants in the wild can generally consume up to 150 kg of food, and they spend most of their day eating. Holly's caregiver provides her with nearly 100 kg of green fodder. Holly is especially fond of bananas and papayas, but has developed a liking for sweet potatoes and apples of late. She's also given chopped cucumbers, within which her caregiver cleverly hides medicines as and when required.
In the Company of Friends
Last year, another of our resident elephants joined Holly in her walk sessions, besides her close pal Kalpana. This was Nina. Nina's enclosure is right beside Holly and Kalpana's enclosure, and these three elephants adjusted to each other quite amicably. The vets factored in this recently flourished bond and introduced Nina to the duo. Given Nina's sensitive health condition, she was perfectly suited to accompany Holly. Kalpana walks at a much faster pace, which Holly often finds difficult to keep up with. With Nina, Holly could take her time as they both walk slowly.
Walks help elderly elephants like Holly to remain active, but the purpose of enrichments cannot be discounted here. After she is done taking a few laps across her field in the afternoon, Holly makes a few stops to engage with the enrichment items placed in her field.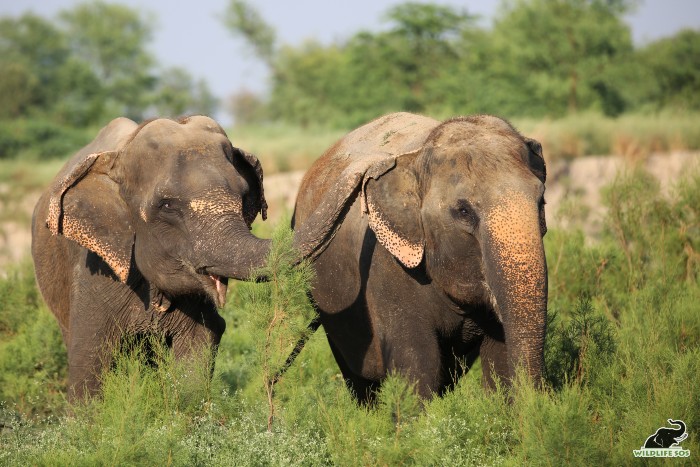 Holly's newly discovered penchant for cage-feeder enrichment is known well by her caregiver, who adds fresh stalks of fodder into the feeder. She works her trunk quite intelligently inside the feeder and picks up the stalks to gobble them up. All this is concluded with a peaceful nap in a cosy spot in her enclosure.
Overall, Holly's year was quite eventful, even though minor health hiccups such as abdominal and molar issues kept popping up. The latter is a common problem seen in old elephants and therefore, the elephant care staff are mindful to peel the harder, outer shells of fruits. Nina and Kalpana's soothing company, the meticulous treatment provided by our veterinary team and the constant monitoring by our caregivers have all played a huge role in improving Holly's health.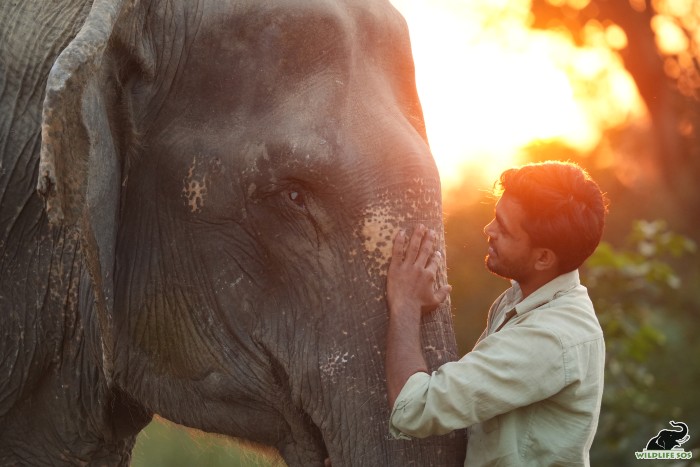 Behind Holly's calm composure today lies years of physical and psychological cruelty she had to endure. Her perseverance and will to live are what makes us respect her even more, for which we acknowledge Holly as our Elephant of the Month. You can contribute towards her upkeep if you consider becoming a monthly donor for Wildlife SOS, and watch our dame continue to live a beautiful life ahead.