January 16-25, 2023
India is a study in contrasts; a historical backdrop for a modern-day narrative, a traditional outlook co-existing with fresh, global lifestyles, an ensemble of ethnic disparities creating a cohesive, cultural identity. India is a mélange of colorful, exuberant scenes, of tangible, delectable cuisine, a multitude of languages and dialects exchanged like currency, and the ebb and flow of a billion people working through their daily routines!
What better way to discover this land of wonders and diversity than on a trip hosted by the founders of WILDLIFE SOS. This is not just a discovery of India's culture and cuisine. It's also an opportunity to learn about the tireless and dedicated work of your hosts, Kartick Satyanarayan and Geeta Seshamani. Each story of rescue and rehabilitation will touch your heart and validate your invaluable support to WILDLIFE SOS.
*Itinerary subject to change but Wildlife SOS will make every attempt to include the sites/stops listed below unless otherwise closed to the public or due to other unforseen circumstances.
*Hotel selection subject to change, comparable hotes will be chosen in those cases.
Trip Highlights
• Enjoy an exciting rickshaw ride through the bustling narrow lanes of Old Delhi.
• Listen to the stories of the creation of the Taj Mahal and learn about its marvelous architecture.
• Visit the Wildlife SOS Elephant Conservation and Care Centre, in the company of its founders. Take a tour of India's first and only elephant hospital as well as the world's largest sloth bear rescue center, the Agra Bear Rescue Facility.
• Look for endemic and migratory birds at the UNESCO listed natural heritage site of Keoladeo National Park, Bharatpur.
• Explore Ranthambore's beautiful habitat and its unique wildlife on jeep safaris across the protected zones of this first project Tiger reserve of India.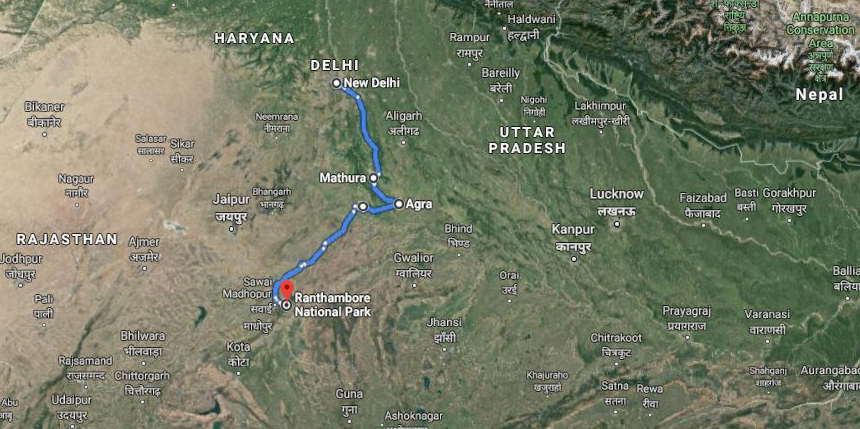 Meet Your Hosts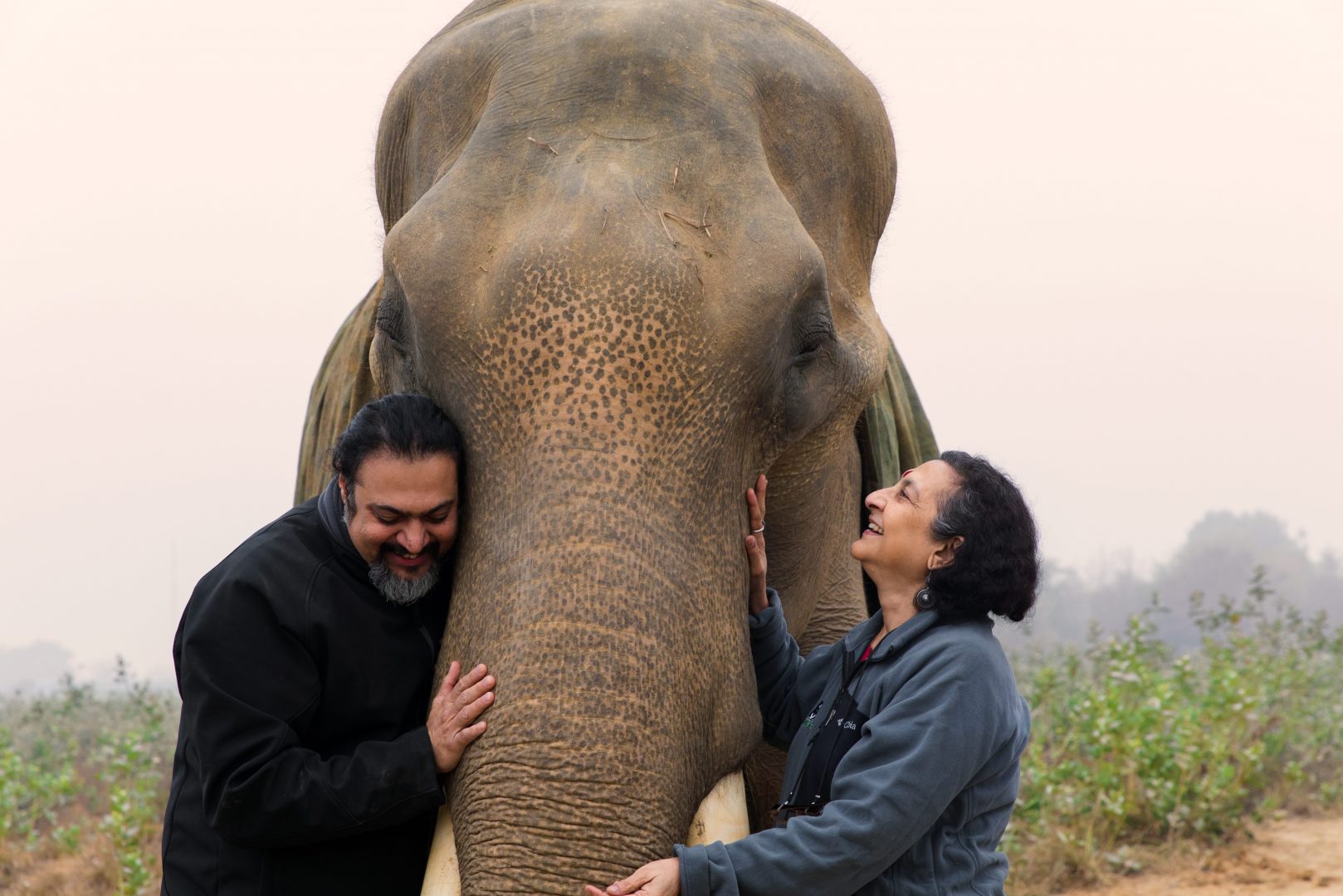 Kartick Satyanarayan – Co-founder & CEO of Wildlife SOS
Kartick Satyanarayan's love of the natural world began early in life. He spent his youth rescuing animals and exploring the forest near his Bangalore home. He began his wildlife career as a field research biologist tracking tigers for the Wildlife Conservation Society.
In 1995 he founded Wildlife SOS with Geeta Seshamani, dedicating this non-profit organization to protecting India's environmental and wildlife resources from unsustainable exploitation. Wildlife SOS changed Indian history by rescuing over 600 performing dancing bears. They brought to an end to the centuries old barbaric practice by providing alternative livelihoods to the Kalandar communities who previously depending on the bears.
Kartick manages Wildlife SOS as CEO and oversees 10 wildlife rescue and rehabilitation facilities for Tigers, bears, leopards, reptiles, birds and elephants. The recent establishment of India's first Elephant Conservation and Care Centre has resulted in the rescue of 29 elephants to date and, through education initiatives, endeavors to make lasting change in human attitudes and treatment of elephants.
Kartick also heads the anti-poaching unit of Wildlife SOS called 'Forest Watch' and often goes undercover as a decoy to crack poaching gangs. He is responsible for sending several tiger and elephant poachers to jail.
Kartick is a member of the IUCN Bear Specialist Group (Sloth Bear Team Expert), the Wildlife Crime Control Bureau, and an Honorary Wildlife Warden of the Government of NCT Delhi.
He is a TED International Fellow and recipient of the prestigious Indira Gandhi Paryavaran Puraskar Award (2010), the Elisabeth Lewyt Award for Disaster Management and Planning, and the Karamveer Puraskar of the Congo Civil Society (2009). He has been an invited speaker at the European Parliament in Brussles, Belgium, the House of Lords in London, Clinton School in the US among others. He also received the San Diego Zoo Global 2018 Conservation Medal for Conservation – in – Action. Recently Wildlife SOS was recognized by the City of Los Angeles and the State of California for their contribution to Environment and Wildlife Protection in India.
Geeta Seshamani – Co-founder & Secretary of Wildlife SOS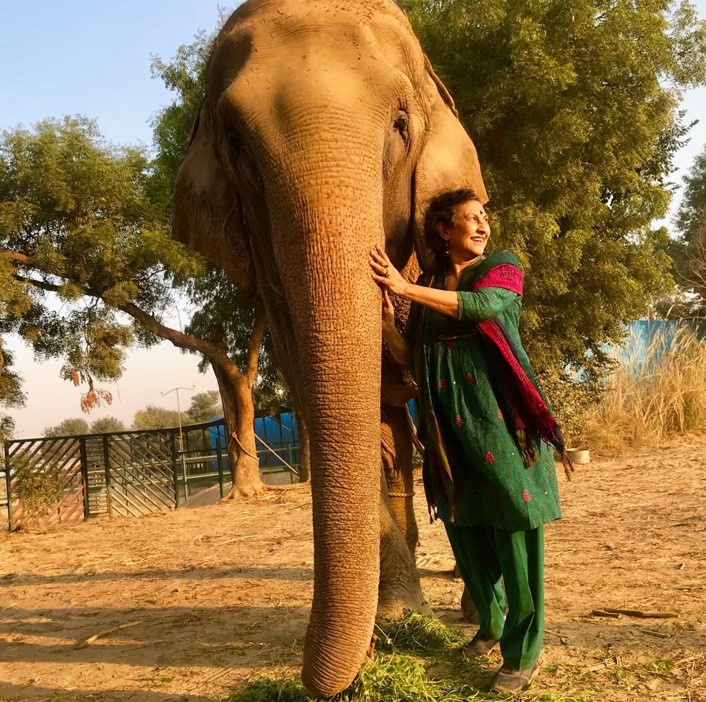 Geeta is an active senior wildlife conservationist and animal rights activist. For over three decades, her life has been centered on the profound belief that man can coexist with animals and forests. She is the Vice President of Friendicoes SECA and also the Co- Founder and Secretary of Wildlife SOS.
Having witnessed the cruel treatment of stray dogs in New Delhi, she felt compelled to become their voice and champion their cause. In 1979, she became a part of Friendicoes SECA (Society for the Eradication of Cruelty to Animals), an animal rescue and welfare nonprofit, and currently serves as its vice president.
Friendicoes SECA began as a shelter for sick, injured animals or abandoned pets and has gradually grown into Delhi's largest shelter for domestic animals. Today, it has a hospice, outpatient department (OPD) and ambulance services, an animal sanctuary in Gurgaon and a mobile clinic for horses and donkeys. The organization runs five municipal corporation hospitals for spaying, neutering, and vaccinating stray dogs in Delhi and Gurgaon, to control stray populations of animals in a humane and scientific way.Geeta is an active senior wildlife conservationist and animal rights activist. For over three decades, her life has been centered on the profound belief that man can coexist with animals and forests. She is the Vice President of Friendicoes SECA and also the Co- Founder and Secretary of Wildlife SOS.
When Geeta witnessed a sloth bear being forced to dance while its owner begged for money in Uttar Pradesh, she joined forces with Kartick to launch a 30 month long investigation to understand the problem and later that year Wildlife SOS was born. In a historic moment in 2009, Wildlife SOS was successful in bringing an end to the 'dancing bear' practise by taking the last dancing bears off the streets of India. Today, nearly 40% of the Wildlife SOS staff comprise of members of this community, who opted for a more sustainable future.
Geeta is now focused on developing human wildlife conflict mitigation strategies to aid wildlife conservation in India. She is currently a Special Officer of the Wildlife Crime Control Bureau, Govt. of India. She is also a member of CPSCEA committee for the ethical treatment of animals in experimentation and a former member of the Central Zoo Authority, Govt. of India as well as the Animal Welfare Board of India (AWBI).
Geeta has been felicitated with the prestigious "Pehal Award" by Zee News (2004), the Planman Media Award for Environmental Activism (2009), the Karamveer Puraskar Award (2009), Limca's "People of the Year" Award (2014), and is a two-time winner of The Elisabeth Lewyt Award for Disaster Management and Planning. Recently she received the Wockhardt Foundation prize for Human Rights Popular Award. Geeta was featured amongst the 'Women of Pure Wonder' in the Vodafone 2016 book of the same title. She also received the The Jeanne Marchig Animal Welfare Award, 2017and the San Diego Zoo Global 2018 Conservation Medal for Conservation – in – Action 2018.
She is co-author of 'Dancing Bears of India and Trade in Bears and Their Parts in India: Threats to Conservation of Bears.' A lauded guest speaker at innumerable global conferences, Geeta demonstrates her lifelong devotion to the protection and well-being of all living things tirelessly.
Day 1 / January 16: New Delhi, India
Meals Included: None
On arrival at Indira Gandhi International airport terminal 3, a VIP meet & greet service has been arranged for you.
A representative of meet & greet service will meet you across the jetway holding a paging sign indicating your name and will guide you through immigration formalities and baggage collection.
A WILDLIFE SOS representative will receive you at the visitor's lounge. You will then be escorted to your hotel in a private vehicle.
Overnight – Taj Palace / New Delhi
Room Category – Superior
Note: Standard Check-In time at hotels is 2 PM. Your room will not be ready until 2 PM on 16th January 2023. In case your flight arrives earlier on the 16th January then you are requested to pre-book an additional night's accommodation. WILDLIFE SOS will be happy to assist you with booking additional pre-tour nights with the help of their in-country travel partners.
Day 2 / January 17: Delhi, India
Meals Included: Breakfast / Lunch / Dinner
If trees and streets could talk, the stories that would pour out of Delhi would keep listeners mesmerized for years. With a history as a capital, Delhi has seen the tides of several rulers from the pages of epic poems like the Mahabharata, the Tughlaq, and Mughal empires from Persia to the imperial colonial armies and the present-day government. Looted, plundered, and resurrected over the years, Delhi emerges from the ashes of her past to take her place in the world as a global capital – politically, culturally and commercially.
We commence our adventures through India with an exploration of Old Delhi. There is a lot to be said about a country as diverse in its faiths as India, and as tolerant in its attitudes towards each. We'll drive to Red Fort in Delhi and board pedal rickshaws for an exciting ride across the city of Shahjehanabad. Witness the hectic business deals at one of India's biggest trading centers, learn about the sacred and secular way of life that is typical of India, ride past churches, mosques and temples, walk through a wholesale spice market, smell freshly cooked street food, and simply immerse in the chaos of Old Delhi as your rickshaw pullers navigate through traffic on the noisy streets of Old Delhi.
Continue to New Delhi. Drive past Lutyen's Delhi, named after Sir Edward Lutyen, commissioned by the then British Government along with Sir Herbert Baker to design the architecture of a new administrative Capital of India. We'll visit India Gate, a monument commemorating the sacrifices of over 70,000 Indian soldiers in the British Forces during the World War I, the North Block and South block that house the administrative offices of the Federal Government of India, the circular shaped Parliament building first inaugurated in the year 1927, and the majestic Rashtrapati Bhawan, (President House) the official residence of the President of India. Enjoy lunch at United Coffee House, one of our recommended restaurants.
We then visit the majestic Bangla Sahib Gurudwara, with its eye-catching golden dome glistening in the sun. A holy place for the Sikhs, the Gurudwara complex includes a temple shrine, a community kitchen, a school, a library, and an art gallery. A walk through the Sikh temple gives you insight into this religion based on the teachings of their 10 Gurus (preachers) who wrote the Guru Granth Sahib, the holy book of the Sikhs that prescribes the 10 basic principles of life for the people of Sikh religion.
A highlight of the visit to the Sikh Temple is a walk through the community kitchen where tens of thousands of people are fed free meals every day. It is a fascinating experience to watch the volunteers engaged in cooking whether it's making breads or stirring the mega pots to cook lentils and vegetables. Visitors are welcome to try their hands at making the chapathis, local breads made out of wheat flour.
We complete our day with a visit to the UNESCO World Heritage Site of Humayun's Tomb – a red sandstone edifice constructed in the 16th Century to become the first Garden Tomb in India to be built by the Mughal rulers. Built to house the tomb of the 2nd Mughal Emperor Humayun, the construction of the tomb was commissioned after 9 years of Humayun's death by his wife Bega Begum and completed in the year 1572 AD. The dome of the Humayun's Tomb is also said to have inspired the design of the dome of the Taj Mahal in Agra, which was commissioned 60 years later in 1632.
Tonight we convene for a Welcome Dinner with your hosts and fellow supporters of WILDLIFE SOS.
Overnight – Taj Palace / New Delhi
Day 3 / January 18: Agra
Journey Time – Approx. 4 hour drive
Meals Included: Breakfast / Light Lunch / Dinner
After breakfast, we depart for the Elephant Conservation and Care Centre where we will interact with the staff, elephant keepers, and education officers learning about the stories of the 30 elephants that Wildlife SOS has rescued. Lunch which will be set up at the deck overlooking the elephants.
We then embark on a tour of the elephant center where we will meet the rescued elephants, who have a long, traumatic history of neglect and abuse but have finally found a safe haven surrounded by people who love and care for them. We then participate in some hands-on activities of setting up enrichments in elephant enclosures and then observe them while they playfully munch on the surprise treats we've left for them! Our day ends at 5pm when we head back to the hotel.
Overnight – ITC Mughal / Agra
Room Category / Superior Room
Day 4 / January 19: Agra
Meals Included: Breakfast / Lunch / Dinner
After breakfast at the hotel, we head to the world's largest sloth bear rescue center, the Agra Bear Rescue Facility, where almost 200 rescued bears reside. Most of these bears at this center have been rescued from the gruesome 400-year-old practice of dancing bears.
The tour will begin as we split into two groups. The first group starts with the complete tour of the center, the wildlife hospital, education center while distributing breakfast to the bears. The second group heads across the river to the extension for a tour while distributing porridge to the bears on the other side. After the groups swap, we head to lunch at the Education Center. We then partake in some fun group activities and end the day by interacting with the staff over hot refreshments and listening to stories from those who have been taking care of these bears for several years.
We head to the hotel at 5pm
Dinner & Overnight – ITC Mughal / Agra
Day 5 / January 20: Agra
Meals Included: Breakfast / Lunch / Dinner
After breakfast we'll head back to the elephant center and visit India's first and only elephant hospital. You'll see state-of-the-art equipment that Wildlife SOS uses for the treatment of their rescued elephants. We then meet with the veterinarians who will talk about the health condition of the elephants at the hospital while you observe the examination and treatments like laser therapy and foot care. We will then head to the enclosures to observe on-site treatments.
During lunch, we have an interactive Q&A session with some of the elephant keepers. We then head back outside and observe a target training session and the building of mud beds for the elephants. The day ends with hot refreshments in the company of the Wildlife SOS staff at the river bank while enjoying the view of the elephants bathing in the river. Head back to the hotel at 5pm.
Simple home style vegetarian lunch will be served at the center during your visits.
Dinner & Overnight – ITC Mughal / Agra
Day 6 / January 21: Agra
Meals Included: Breakfast / Lunch / Dinner
It is believed that Agra's history dates back to the times of the great Indian epic Mahabharata. Like many cities in Northern India, it became a bastion of Mughal rulers in the 16th Century. But Agra came into prominence in the 17th Century when the Mughal Emperor Shah Jehan, placed a Jewel in the Mughal crown with his creation of the Taj Mahal for his beloved Queen Mumtaz.
After breakfast, we will drive a short distance to board battery operated vans to access the eastern gate of the Taj Mahal. As we walk towards the entrance, your expert guides will share stories of its creation and subtle nuances of its architecture. While we give you time to admire its beauty in the subtle morning light, it is natural that you would also want to get into that ideal spot for a picture with the Taj in the background.
We then walk closer to the monument to admire the finer details of the pietra dura work (inlay art). We spend some time navigating its perfectly symmetrical sides and taking in the views before walking back towards the exit where our battery operated buggy waits to take us back to the parking where we'll board our bus back to the hotel. Lunch today will be at the hotel.
Later in the afternoon we have the option to visit the Agra Fort. On the right bank of the Yamuna river, is one of the most important and robustly built strongholds of the Mughals, embellished with a number of richly decorated buildings. Shopping recommendations can be made available for select boutiques in Agra for those interested in checking out the local art and crafts.
Dinner & Overnight – ITC Mughal / Agra
Day 7 / January 22: Agra, Bharatpur, and Ranthambore
Agra to Bharatpur Journey Time – Approx. 1.5 hour drive
Meals Included: Breakfast / Lunch / Dinner
After breakfast, commence your drive to Bharatpur.
Bharatpur Bird Sanctuary or popularly known as Keoladeo Ghana National Park is an UNESCO World Heritage site, regarded as one of the world's most important habitats for both endemic and migratory birds. This once-arid-scrub-land was developed by Bharatpur's rulers in the mid-18th century, by diverting the waters of a nearly irrigation canal to create a private duck reserve. Today, the park spreads over 20 square-miles of wetlands and attracts a wide variety of migrant and water birds that fly in each winter from as far as Siberia. It also has the largest concentration of Sarus Cranes.
We will be taking pedal rickshaws for a ride through the sanctuary roads. The rickshaw pullers at Bharatpur are skilled spotters and experienced identifying the myriad species of birds.
Lunch today will be at the Heritage Hotel in Bharatpur.
Bharatpur to Ranthambore Journey Time – Approx. 4 hour drive
Dinner & Overnight – Sawai Villas / Ranthambore
Room Category / Luxury Villa
Day 8 / January 23: Ranthambore
Meals Included: Breakfast / Lunch / Dinner
Ranthambore National Park is India's first wildlife sanctuary to have come under Project Tiger in the year 1974, when it was declared a protected forest. The conservation effort initiated by our then Prime Minister, Mrs. Indira Gandhi, was taken forward by the first Wildlife Warden of Ranthambore National Park, conservationist Fateh Singh Rathore. The dedicated efforts in conserving the forests and protecting the tigers has resulted in healthy numbers of the big cats in Ranthambore National Park.
There are over 500 wildlife sanctuaries across the country, and each one offers an unforgettable look into the teeming forest life of India. Most wildlife enthusiasts come to India with just one agenda — to catch a glimpse of the tiger. This beautiful and majestic cat is the country's national animal and is loved by photographers and tourists alike. While sighting a tiger might be the ultimate thrill, the overall jungle experience is something to be treasured.
Safaris will be conducted using jeeps. Enjoy the sights and sounds of the jungles as your chauffeur and naturalist guide navigate through your designated safari routes.
Your tour guides will communicate the timings for the morning and afternoon safaris.
Lunch and Dinners will be at the Hotel.
Dinner & Overnight – Sawai Villas / Ranthambore
Day 9 / January 24: Ranthambore
Meals Included: Breakfast / Lunch / Dinner
We continue to explore the forests of Ranthambore further today, on a morning and afternoon jeep safari. Lunch will be at the hotel.
Tonight we will convene for our Farewell Dinner. Our dinner will precede with a short performance of folk dances from Rajasthan.
Lunch and Dinners will be at the Hotel.
Dinner & Overnight – Sawai Villas / Ranthambore
Day 10 / January 25: New Delhi
Meals Included: Breakfast / Lite Refreshment / Dinner
Train details – 12060 Kota Janshatabdi
Departure Sawai Madhopur at 7:05 AM
Arrival Delhi at 12:30 PM
We will wake up early this morning. A small set up will be available for tea/coffee service before we depart for the Sawaimadhopur Railway Station. We will carry packed breakfast boxes from the hotel comprising of sandwiches, cutlets and fruit. Upon arrival at Delhi railway station, we will drive to our hotel and check-in.
The Indian Railways is the 2nd largest Rail network in the world carrying 25 million people across the country. It is by far the best way to experience India's colors and cultures. We will be taking the Jan Shatabdi train which connects the more remote destinations in the country. We will be traveling in the air-conditioned chair car, the best available class on board these trains.
Note: Standard Check-In time is 2 PM. Check-out time is latest 12:00pm (noon) on 26 January. Your guides will advise you of your pick-up timings for your individual airport transfers according to the departure time of your flights. A WILDLIFE SOS representative will provide assistance with check-in formalities at the airport.
Lunch and dinner not included in trip costs but is available for purchase at the hotel.
Day 11 / January 26
Meals Included: None
Take off from Delhi on your respective homebound flights. We thank you for participating in the Founders Trip to India and we wish you safe travels back home.
Namaste!