On January 9, 2022, our oldest and beloved sloth bear, Gulabo, bid us farewell. As the entire Wildlife SOS team mourned the loss of Gulabo, we realized she had left behind a trail of lessons, hidden in the crevices of the story of her life – a life worth remembering, cherishing, and learning from.
Gulabo first arrived at the Wildlife SOS Van Vihar Bear Rescue Facility located in Bhopal, Madhya Pradesh in 2006. By this time, she had already spent nearly 20 years of her life in captivity – being abused as a dancing bear. In order to make bears like Gulabo dance and perform tricks , they had to be captured at a young age. Once captured, their muzzles were punctured with the help of a hot iron poker, and a rope was slid through it. As the bear's captor would pull this rope the bear would wriggle in agitation, standing on its hind legs – an act grossly misinterpreted as dancing. Seeing Gulabo's brutal mental and physical condition when she first arrived gave us all a first hand lesson on the consequences of human greed. Despite having a free-ranging field and no chains restricting her anymore, Gulabo stood in one corner refusing to move. The fragile bear was blind in both eyes, had developed severe arthritis, and had lived a life devoid of proper nutrition and veterinary care.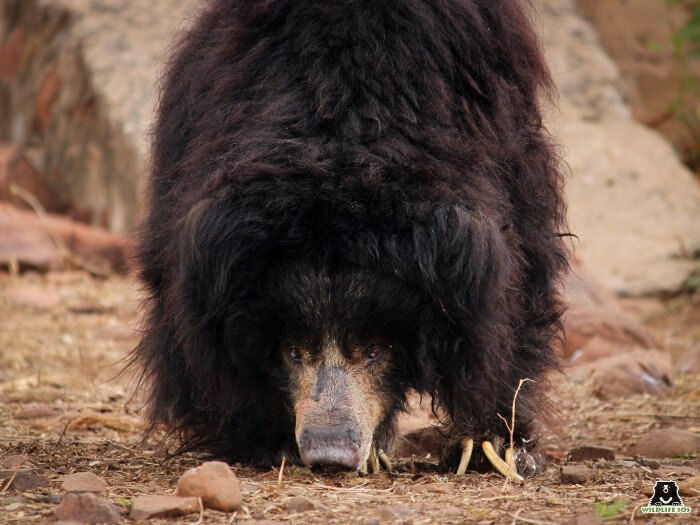 Ubed, her caregiver, saw her on her very first day. He recalled " Gulabo was so meek and timid, it looked as if her spirit had been shattered. She was afraid of any human presence, even mine." To build a relationship of trust with Gulabo, Ubed began spending time with her. He would go to her enclosure every morning, calling out her name as he gave her food. Slowly, Gulabo began recognizing his voice and responding to it – trusting that she was safe with him.
As time passed, Gulabo and Ubed formed a unique bond. Like a ritual, Ubed would call our Gulabo's name every morning and she would come to him ready to eat her meals.. With her caregiver's love and ongoing medical care, Gulabo began healing.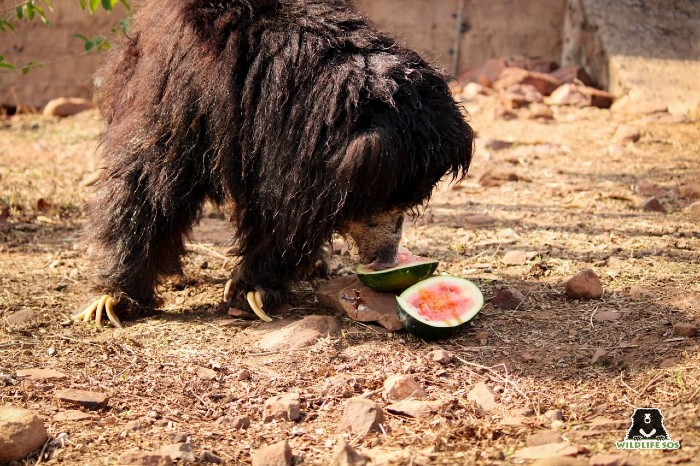 When we asked Ubed what lessons Gulabo had taught him he said " Gulabo taught me that time was an elixir. It could fix people, animals, and situations. All I needed to do to help Gulabo was give her my time."
And time was on Gulabo's side. On average, sloth bears live up to 15-20 years in the wild but under captive care, they can survive up to 20-25 years. At approximately 35-40 years of age, Gulabo was one of the oldest living sloth bears in the country. Despite her age Gulabo had the raw innocence of a child. In fact, when Ubed is asked to recall one moment with Gulabo that he will always remember he says " I remember going to check on Gulabo one day when it was raining heavily. Gulabo had made herself cozy in her enclosure and I found her hugging a rock as if a young child was holding on to a toy! I remember smiling from ear to ear as it was that day I could not recognize Gulabo as the fearful and timid bear she was."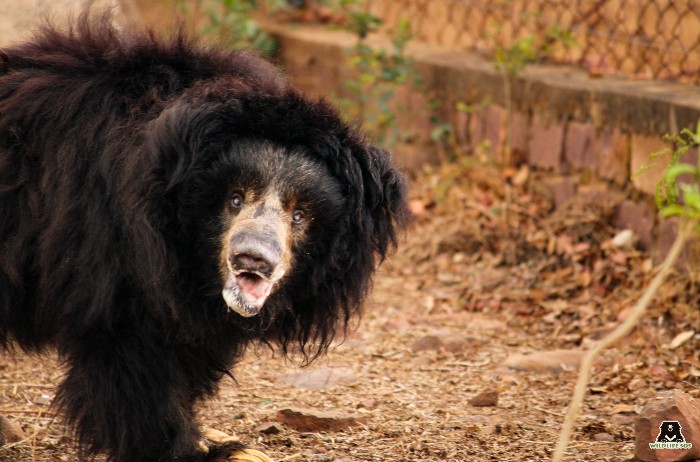 Gulabo's childlike demeanor inspired all of us to keep our inner child alive. She enjoyed each and every moment of her long life. She healed at a pace never seen before. She astounded all of us with her ability to relinquish any grievances of the past and live in the moment. She spent every day in leisure either basking under the sun or napping in a freshly dug termite mound. Her love for food also soon became evident as Gulabo would begin rattling her enclosure gate minutes before her meal times! Her love for mangoes and grapes was unmatched and Ubed would make sure he snuck in some extra mangoes for her whenever possible.
While Gulabo's spirit soared free, her body could not survive the ravages of time. She had been placed under our specialized geriatric care routine since her first day. She was regularly administered multivitamins and immunity-boosting supplements. Her regular medical checkups became even more frequent over the years after she experienced a minor epileptic fit. Gulabo was diagnosed with intermittent epilepsy and put on anti-epileptic drugs.
Gulabo's age caught up with her and earlier this week, she passed away in her sleep. Much like her first day at the center, Ubed was right next to her even during her last breath. Yet, unlike the meek timid bear, Gulabo was when she first arrived, Gulabo died as a fierce and happy bear.
Her demise left everyone at Wildlife SOS with a heavy heart, especially Ubed who woke up the next morning calling for Gulabo only to realize that she was long gone.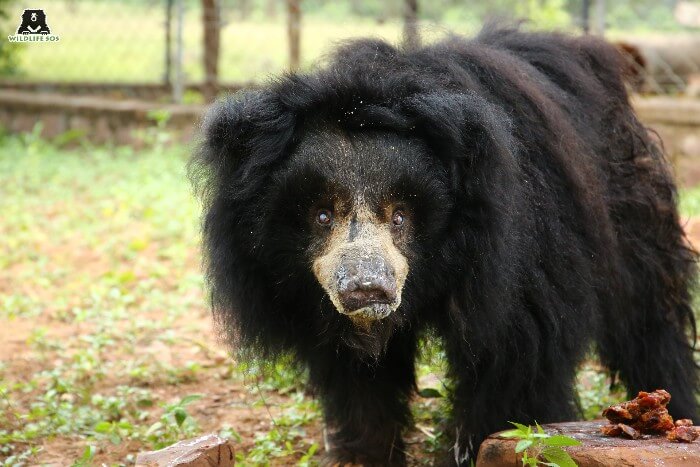 " I am not sure what my life looks like after Gulabo. I have begun every day for the last 16 years calling her name first thing in the morning. I am not sure what I will do when I wake up tomorrow. Yet what I do know is that Gulabo led a fulfilling life and we must do the same" says Ubed.
While Gulabo is gone, she continues to live in our hearts reminding us of the importance of time and pushing us to live every day to its fullest.