While the world has come to a complete standstill due to the Coronavirus outbreak, nature seems to be reclaiming her territory. All around the world, there have been reported incidents of wild animals venturing into cities as pollution levels have decreased, public spaces are lying deserted and human encounters have reduced. This has in turn given animals an opportunity to venture beyond their usual territory.
In India, there have been reports of a Malabar civet roaming the streets in Kozhikode, Kerala, a massive Nilgai (Blue-bull) wandering outside Noida's GIP Mall, a spotted deer running across a deserted lane in Dehradun, Uttarakhand and even a Leopard making a rare appearance in the heart of Chandigarh city.
A similar incident took place in Govardhan town located in Mathura, Uttar Pradesh earlier this week. A full grown leopard was seen walking on the street, right in the middle of town! It's not everyday that one spots a leopard in their neighbourhood and the local residents were rightfully worried for their safety when faced by one in such close proximity.
By nature, most wild animals are shy, and their primary instinct is to avoid contact with humans. Leopards are even more elusive when it comes to confrontations with humans. It was understandable for the big cat to be stressed out and scared as well, after its presence sent out a wave of panic and it rushed to seek refuge inside a culvert nearby.
Taking quick action, the locals alerted the Forest Department who reached out to the Wildlife SOS team operating out of the Agra base, requesting the deployment of a rapid response unit at the location to avert a human-wildlife conflict situation. Equipping themselves with safety nets, a trap cage and Personal protective equipment (PPE), an eight-member team from Wildlife SOS led by Dr. Yaduraj Khadpekar, Assistant Director – Veterinary and Research immediately set out for Govardhan town. In the meantime, Shri K Praveen Rao, Addl. Principal Chief Conservator of Forests, Uttar Pradesh Forest Department and Raghunath Mishra, Division Forest Officer Mathura arrived on site to access the situation.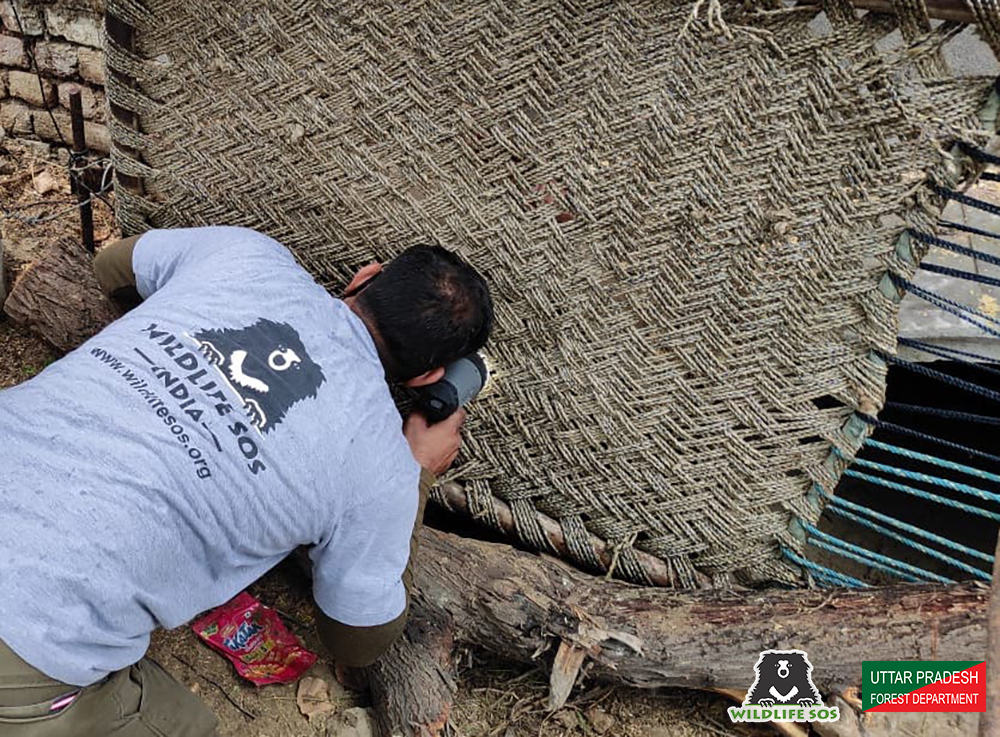 Dr. Yaduraj Khadpekar, Assistant Director – Veterinary and Research explained that operations like this can be quite nerve-racking as the team has to exercise caution while approaching such a large and powerful feline. We decided to follow a more careful approach by using food bait to lure it into a trap cage. After cordoning off the area, the team set up safety nets and placed two trap cages provided by Etawah Lion Safari and Wildlife SOS, on both ends of the narrow culvert.
According to Baiju Raj MV, Director – Conservation Projects, Wildlife SOS, the rescue operation was quite a challenge as it was difficult to pinpoint the exact location of the leopard while also ensuring that it wouldn't get further agitated. Moreover, the rescuers had to ensure that they were taking appropriate health and safety measures against COVID-19, throughout the operation.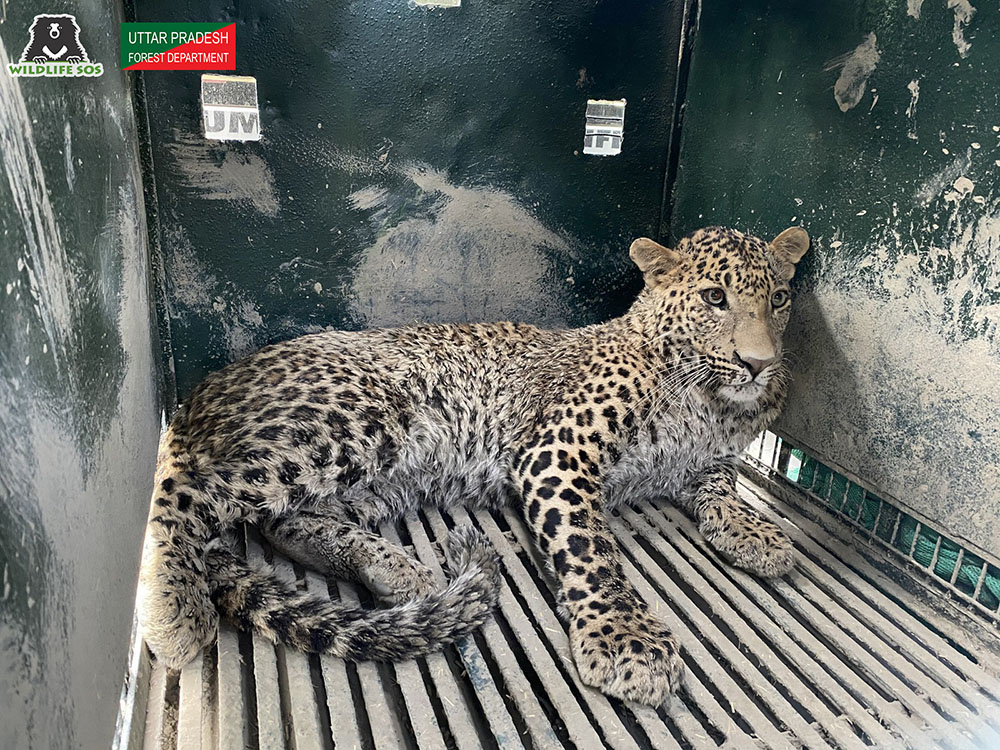 After a nearly ten hour long wait, the leopard finally emerged from its temporary refuge, walking straight into one of the cages. Following an order issued by Shri Sunil Pandey, IFS – PCCF (Wildlife) and Chief Wildlife Warden of Uttar Pradesh Forest Department, the leopard was transferred to Saharanpur where it was released in the Shivalik forest range.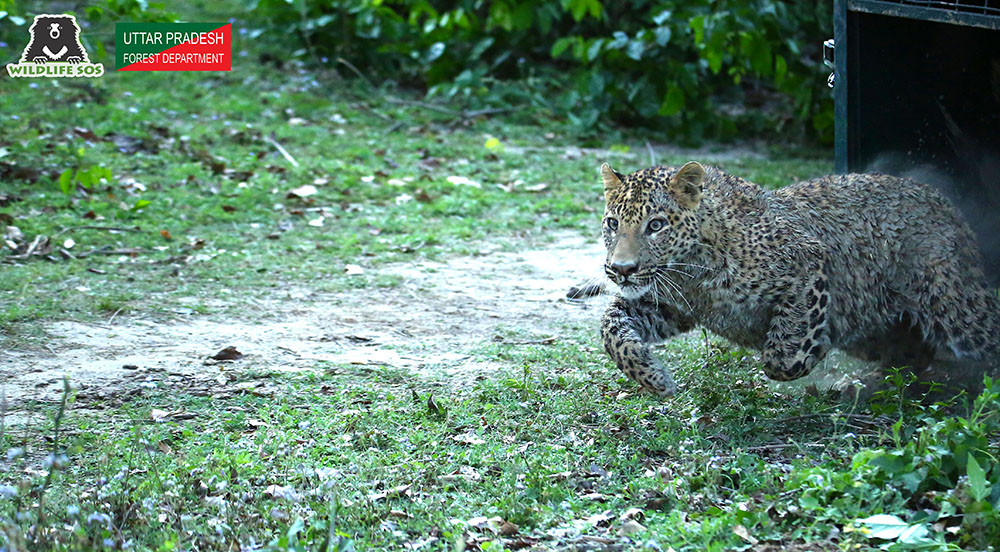 Talking about the rescue operation, Shri K Praveen Rao, Addl. Principal Chief Conservator of Forests of the UPFD expressed his relief to see that the leopard was safe and able to return to its natural habitat. He applauded our team for their timely response and for assisting the Forest Department in the rescue. He further stated that there have been increased wildlife sightings due to the lockdown as usually leopard sightings in these areas is rare.
Kartick Satyanarayan, co-founder & CEO Wildlife SOS explained that the depletion of the leopards natural prey base and habitat due to encroachment and deforestation forces them to seek out easily available prey such as poultry and livestock in human settlements. This often leads to human-leopard conflicts which have violent and brutal consequences for both humans and wildlife.
Over the years, we have assisted the Uttar Pradesh Forest Department with several rescue operations and are grateful for their support. Wildlife SOS is continuing to work round the clock to provide essential service and protect the community and wildlife in distress, amidst the nationwide lockdown.