Working with local communities is an integral aspect of wildlife conservation, and Wildlife SOS takes this seriously. Since 2002, Wildlife SOS has helped over 3,000 Kalandars– a community that once tamed Sloth Bears for a living. The Wildlife SOS Kalandar Rehabilitation Programme supports the community by providing alternative livelihoods for its members to become economically self-sufficient. Recently, Wildlife SOS provided livelihood support, marriage support and roofing support to 11 Kalandar families in Haryana and Uttar Pradesh.
Poverty is a vicious cycle, the perils of which Ms. Rakhee Sharma, head of the Kalandar Rehabilitation Program, witnessed first-hand as she ventured into Haryana and Uttar Pradesh. Numerous Kalandar families lived with deep-rooted financial insecurity, and struggled to meet the most basic of needs. A few were unable to get their daughters married, while others desperately sought a stable income. Determined to help them, Ms. Rakhee identified 11 families in both states in dire need of aid.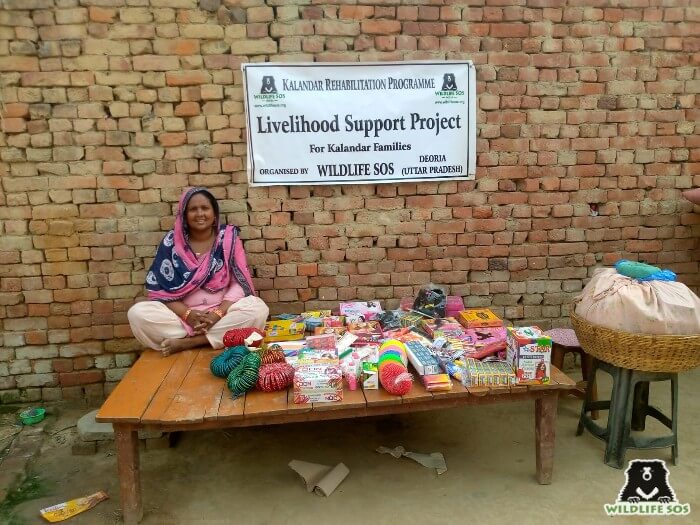 To ensure that Wildlife SOS is able to create a sustainable long-term solution, the families were asked to fill out forms listing their needs, skills, and essential requirements. The responses helped Ms. Rakhee to understand the families intimately, and think of innovative ways to create employment.
Some members of these families had prior experience of selling artificial gems, stones, bangles and some other materials. These items would sell regardless of the season or occasion. Thus, Wildlife SOS procured the materials required and set up a flourishing sales business. Within a matter of days, many Kalandar families across both states were proud owners of a small, yet lucrative shop!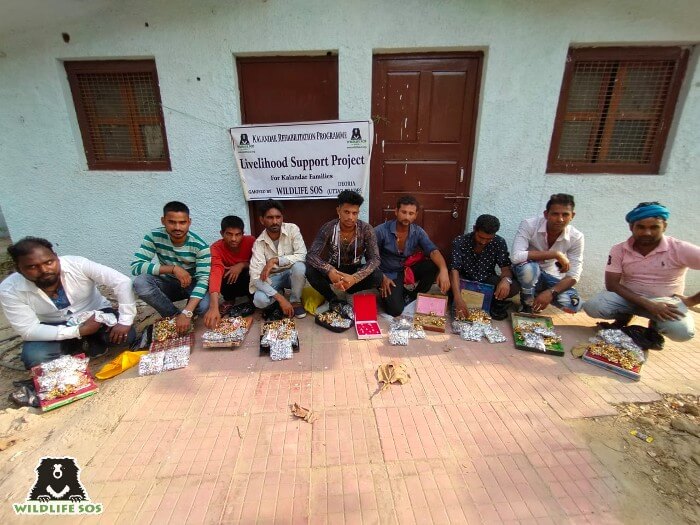 During her time at Deoria, Uttar Pradesh, Ms. Rakhee interacted with Mainudeen, a Kalandar man. As a father and a husband, Mainudeen hoped to provide for his family. His home, as he described, was a shanty with no roof. Ms. Rakhee reached out to the family and found out that a storm had blown off their roof. Lacking a stable income, Mainudeen was unable to pay for a new roof.
Determined to support Mainudeen, Ms. Rakhee ensured that secure roofing was provided to the Kalandar family. Roofing support has been an integral component of the Kalandar Rehabilitation Programme. Kalandars would earlier live in temporary shanties, and with the end of the Dancing Bear practice, their nomadic lifestyle too came to an end. It was then that Wildlife SOS helped the Kalandar tribe settle in one location, with roofing support for their new and permanent homes. Now, with a reliable shelter over their head, Mainudeen and his family felt a sense of home after a long time.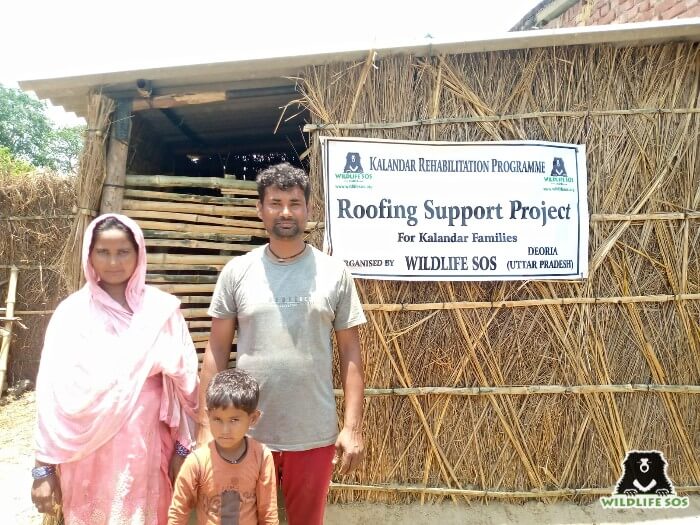 Many Kalandar families benefited from the basic needs they were provided; they now attempt to provide holistically for their children. A daughter's wedding is a joyous occasion for the Kalandar community as well. Yet, many Kalandar parents stated that they cannot afford their daughter's wedding. Ms. Rakhee met with these Kalandar families. As a result, Wildlife SOS has provided marriage support to girls above the age of 18. This entailed providing the bride with household items such as utensils, cookers, and pans. Many brides were also given sewing machines to encourage them to continue being financially independent even after marriage.
Earlier, child marriage was rampant in the Kalandar community. However, through continued awareness programmes, this archaic practice has gradually declined. Wildlife SOS has set certain protocols in the marriage support programme to further discourage child marriages. This includes providing marriage support only to those brides that are of legally marriageable age and have received a certain degree of education.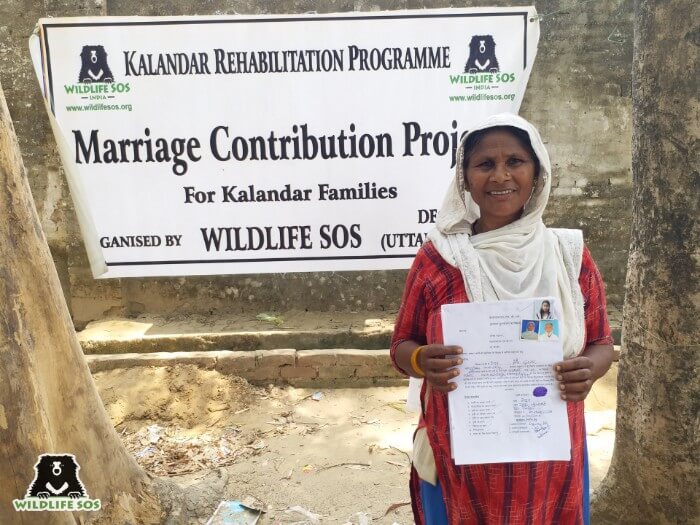 For the Kalandar community, the seizure of Sloth Bears altered their lives permanently. For generations, the Kalandars had tamed bears for a living. With their primary source of income gone, they were haunted by uncertainty and insecurity. Poverty, child marriage and illiteracy had always plagued the community and were consequentially amplified.
Rehabilitating a community requires persistence. People of the Kalandar community, with their proximity to nature, are key stakeholders of wildlife. Through our Kalandar Rehabilitation Programme, we continue to support the Kalandar community and aim to strengthen their future.
You can donate towards the Kalandar Rehabilitation Program by clicking HERE!