The name Sanjay means victorious, a title apt for this majestic tusker who has emerged triumphant from an uphill battle against illegal elephant trafficking and trade. Today, as Sanjay celebrates his five years of freedom, we look back on his tumultuous life, celebrating his resilience and strength that stems not from his large stature but his big, forgiving heart.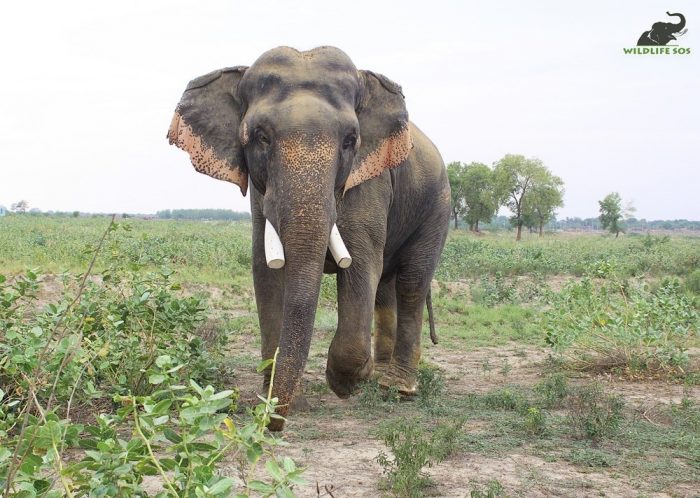 Hippocrates once said, "healing is a matter of time, but it is sometimes also a matter of opportunity." For Sanjay, time and opportunity conspired to usher in a new dawn of healing and love in his life. Exactly five years ago, this majestic tusker's life was dependent on timely action by the Forest Department and Wildlife SOS. Having been abused as a begging elephant and used as the processional elephant in temples, Sanjay had led his entire life at the command of a bullhook. Parts of his tusks had also been cut off to be sold in a burgeoning black market. As the court issued orders for Sanjay to be rescued and rehabilitated with Wildlife SOS, his owners planned to file a case in court asking for the elephant to be returned to them. If the tusker was not moved to our sanctuary in the next 24 hours, he would be lost in a world of illegal elephant trafficking and trade. Taking advantage of the small window of opportunity to rescue Sanjay, Wildlife SOS got him to safety within 36 hours.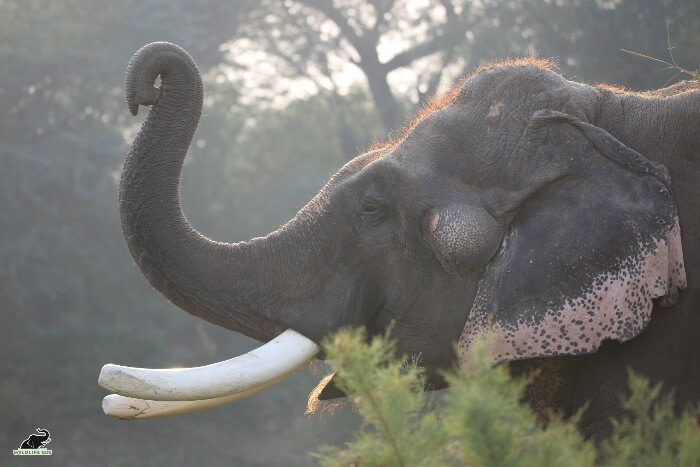 When Sanjay took his first steps into the Elephant Conservation and Care Centre, our veterinarians were taken aback by the deteriorating condition of his body. One usually imagines a bull elephant as magnanimous, towering above us mortals with an unmatchable might. Yet, years of abuse had made Sanjay frail – unrecognizable as the wild elephant he should have been. He had overgrown, and cracked toenails, swollen footpads, a hairline fracture in one of his rear limbs, and was severely undernourished. Our team immediately got to work to heal Sanjay, giving him a course of calcium and phosphorous supplements, along with painkillers to help him cope with the pain of his injuries. Today, we are proud to say that Sanjay is not undergoing primary treatment. While he still undergoes regular health checkups, Sanjay's wounds have healed significantly, making him a healthy bull elephant!
Today, as Sanjay grows healthier and stronger, his diet has increased. Currently, he is fed 20 kilograms of seasonal fruits and vegetables, 5 kilograms of porridge, and a whopping 150 kilograms of green fodder.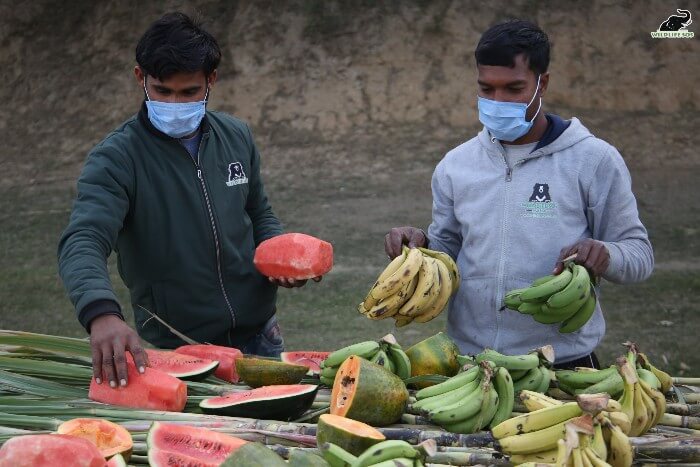 Over the five years we have spent with Sanjay, his once broken spirit has also begun to heal. Years of captivity had led to Sanjay losing his wild instincts. To create an environment as close to the wild forests Sanjay should be in, the care team filled his enclosure with a multitude of enrichments. These enrichments nudge our elephants to use their natural instincts of foraging and even help them gain a sense of control over their environment. To date, Sanjay's favorite pastime is engaging with a wooden log enrichment in his enclosure that he kicks around and sniffs for hours! Our team also regularly puts hanging enrichments in his enclosure filled with his favorite snack – sugar cane. Sanjay extends his long neck and trunk to retrieve the juicy cane, giving him much-needed exercise! However, his true personality comes alive during his regular walks, where he sniffs the environment and allows the cool breeze to engulf him as he leisurely strolls with his caregiver on his side.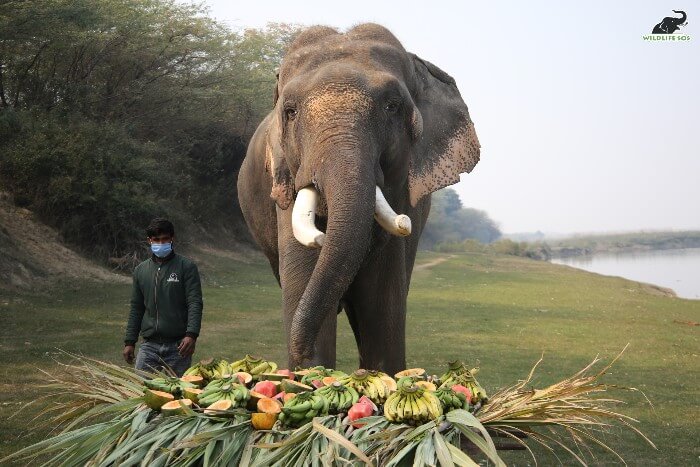 With ongoing medical care, a stimulating environment, and a lot of love and care, Sanjay blossomed into a calm yet jovial elephant. What surprised us more than his large stature was his big heart that opened up to the Wildlife SOS team and allowed us to care for him despite years of abuse at the hands of humans. Today as we watch him calmly standing in his enclosure, he is unrecognizable as the frail bull we had first laid eyes on.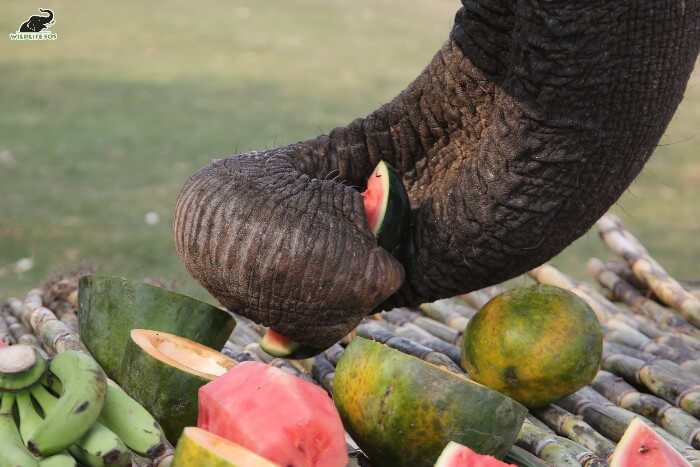 To celebrate the tremendous progress Sanjay has made during these five glorious years, our team took Sanjay on a relaxing walk next to the Yamuna riverside. Sanjay was a happy tusker with the soft grass grazing his feet and no chains binding his soaring spirit. He was in no rush to return to his enclosure and walked calmly, observing all the trees, birds, and plants surrounding him. 
While on his walk, our team even surprised him with a decadent feast. A platter of fresh seasonal fruits and vegetables such as cucumber, pumpkin, bananas, and cauliflower was laid out for Sanjay, who gobbled up the feast in no time!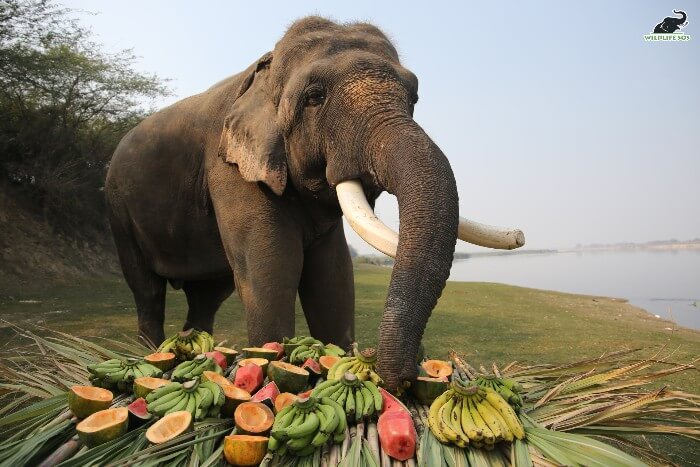 As we watch Sanjay enjoy his rescuversary feast, surrounded by his loved ones, we are reminded of why we continue to the uphill battle of fighting for India's elephants.