Mahak, a 13-year-old Kalandar girl from Haryana, faced formidable challenges in her effort to gain education. With a little help from the Wildlife SOS Education Program, Mahak is now receiving an education, and has recently received the first rank in her school examinations. Lack of access to education continues to be one of the biggest barriers faced by women around the world. Mahak's outstanding performance adds momentum to the larger revolution of educating women in India.
For Mahak, the odds were never in her favor: Having lost her mother at a young age, she yearned for her care in her early years. Her father lost an arm in an accident, leaving him handicapped. Distressed, he was unable to provide for his daughter the way he had wished he could. The only work he could do was deal in scrap. As Mahak grew older, he married Bano Bi, who gave birth to two children. Having a younger sister and a younger brother added a sparkle to Mahak's life. But, with a meager income, Mahak's father was unable to provide her any education.
Wildlife SOS heard Mahak's story, and in its determination to educate every Kalandar child, helped Mahak enroll in a school in Haryana.
Author and motivational speaker Leo Buscaglia once said, "Change is the end result of all true learning." For Mahek, gaining access to education truly transformed her entire life. It opened up her world to wider horizons and greater possibilities. In school, Mahak fell head over heels for mathematics. She found solace in numbers that brought an order to an otherwise chaotic world. She learned the English language, and soon became fluent with it.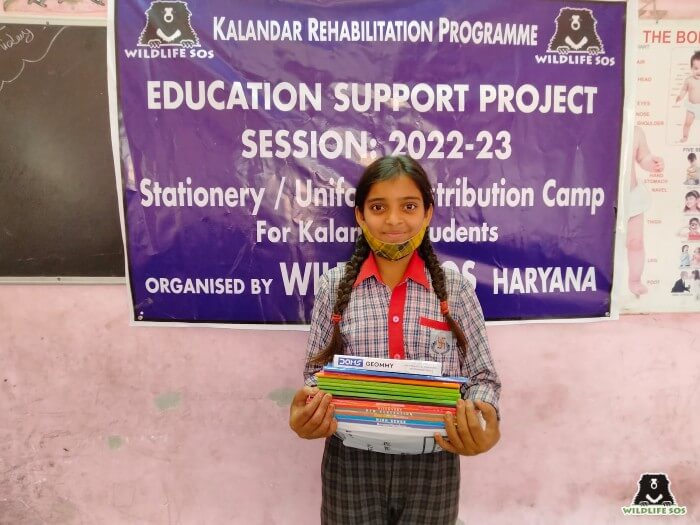 School provided Mahek with a life she deserves. Her day begins early in the morning, when she gets ready to reach school at 7:30am sharp. She returns home to a warm meal prepared by her mother. In the evening, Mahek trots over to the Wildlife SOS Tuition center, where she completes her homework and has her doubts in any subject cleared. Our tuition centers in the region have indeed become a pillar of support for the Kalandar children there.
Access to school also allowed Mahek to connect with children her age, with whom she has formed a deep bond. Mahek likes to spend time with her friends, and she spends hours playing with her friends in the neighbourhood park. She and her friends can often be seen memorizing dance steps, hoping to perform it together someday!
After a fun evening, Mahek heads home. She spends some time helping out her mother with daily chores. Bano Bi herself never had access to education, and seeing her daughter's accomplishments fills her heart with pride.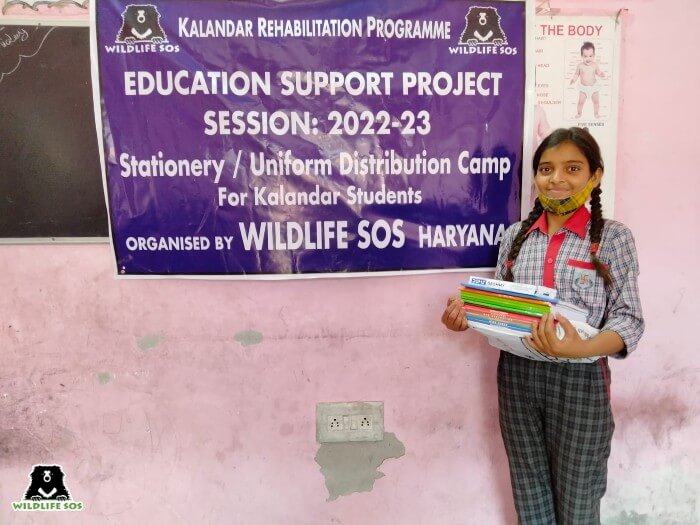 But the day is still not over. Determined to succeed, Mahek adds extra effort during examinations. After school and tuition, she devotes two more hours before sleeping to studies, going over all her assignments.
This year, Mahek's hard work bore remarkable results. She scored 98% in her grade 4 examinations, securing the first position in her school! Her excellence in academics was cheered by everyone at WSOS, her teachers, family, friends, and the whole community.
As we watch Mahak smile in delight, holding her certificate of achievement, we think of how once, numerous Kalandar girls could never hope of entering a school. With the prevalent 'Dancing Bear' practice,, young girls were confined within domesticity and married off at a young age. Since seizing the bears, Wildlife SOS has spent years working hand-in-hand with the Kalandar community to alleviate issues such as poverty, child marriage, and access to education. Today, Mahek stands as a testament to the strides made by the Kalandar community, and the efforts of Wildlife SOS.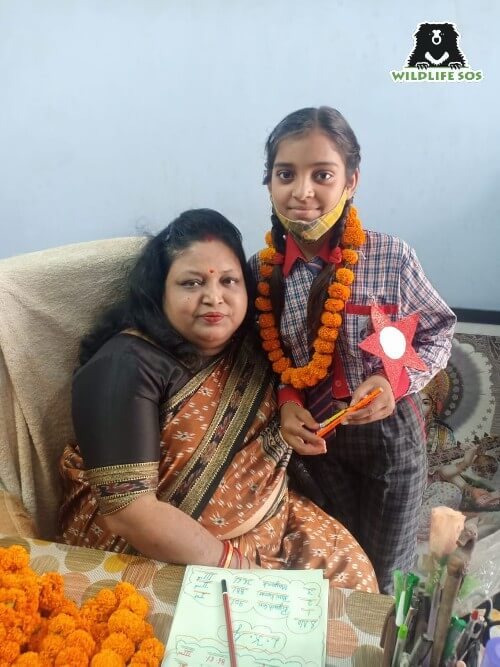 As per data collected in 2018 by National Sample Survey, India's female literacy rate is 70.3% while the male literacy rate is 84.7%. While the number of women getting an education has increased in the last few years, a gap still remains. For a Kalandar woman or child, the obstacles to acquire an education are harder.
The biggest of revolutions are made of every single victory along the way. Mahek's victory is one we hope will inspire education for women in India.
You can contribute towards a Kalandar child's education. Click HERE to be a part of the change.