In June 2022, a disturbing video surfaced where a leopard was seen hit by a private four-wheeler on the Pune-Nashik highway in Maharashtra. Even though the leopard somehow managed to escape, the video showed the leopard stuck in front of the bonnet of the car till he ran off with grievous injuries. These disturbing visuals hide a more deep-seated quandary.
It is not just leopards who are afflicted by this torment. Another nocturnal animal, the hyena, shares the same terrible fate. The Striped hyena is found in the same landscape as the leopards and is often sighted in the Otur Forest Range of Maharashtra, near the Wildlife SOS Manikdoh Leopard Rescue Centre (MLRC).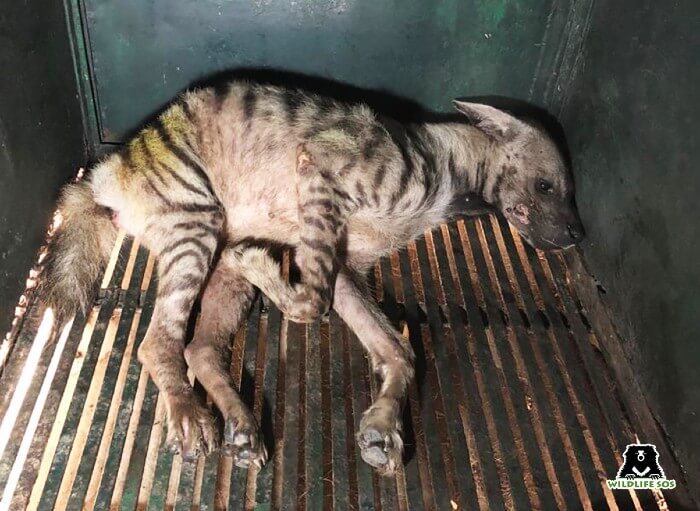 With an estimated population of less than 10,000, India is home to 20% of the world's hyena population but road accidents have become a major threat to these important scavengers of the ecosystem. Both the leopard and the hyena are victims of linear intrusions and we need to take a look at the figures and treat them as individuals rather than numbers.
Hyenas Suffer
Being nocturnal animals, it is not surprising for hyenas to venture out at night. They follow their prey at night or hunt for food and in doing so, put their lives at risk while navigating roads and highways. This sometimes leads to their collision with vehicles on these fatal highways.
In a span of just 8 months, Wildlife SOS encountered two cases where hyenas became victims of hit-and-run cases in Maharashtra. This year in June, a male Striped hyena met with a terrible accident which involved getting hit by a speeding vehicle on the Pune-Nashik highway in the Manchar Forest Range of Pune district. The animal was left grievously injured and was spotted by locals on the side of the highway.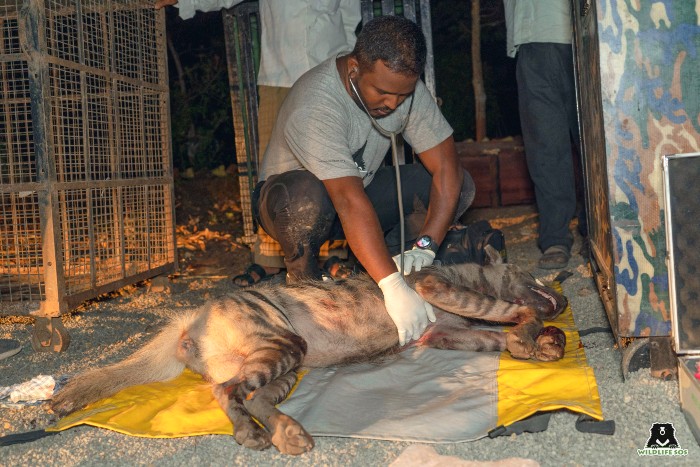 In another incident from November last year, a hyena was badly injured after a two-wheeler hit the animal in Maharashtra's Otur Forest Range near Junnar. In the past 2-3 years, there has been a distinct rise in sightings of hyenas, and these accidents are not isolated cases. Given the presence of hyenas in this landscape, the expanding roads and highways continue to remain fatal for these invaluable mammals. More worrying is the lack of data regarding hyena mortalities caused by road accidents and vehicular collisions.
Leopards Suffer Too
While there is an absence of data for hyena deaths caused by road accidents, such is not the case for leopards. According to media reports, Maharashtra lost 33 leopards in less than six months in 2021 due to road accidents and by now, this number could have risen. The year before that, the state had lost 34 of these felines to vehicular accidents.
There were 35 road accident related deaths in 2019, preceded by 27 in 2018, 21 in 2017, and 29 in 2016. The Ministry of Environment, Forest and Climate Change released the 'Status of leopards in India' report in December 2021, which states that Maharashtra has close to 1,700 leopards, the third highest in the country after Madhya Pradesh and Karnataka. Up until this point, there was no comprehensive report on the leopard population in Maharashtra. The high number of leopard mortalities due to road accidents can be regarded as one of the contributing factors for bringing out this report.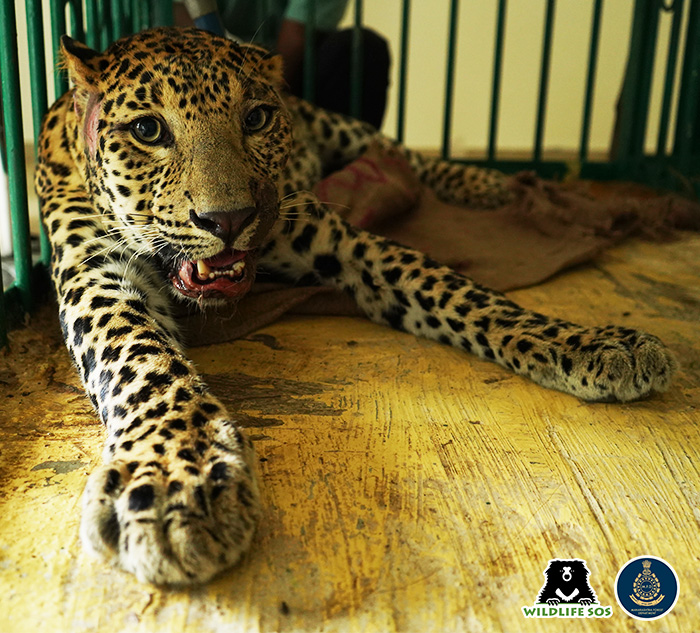 Road widening projects, continuous expansion of linear infrastructures and lack of vigilance on speed limits are making these roads murder machines. In February 2021, a 4-year-old leopard died in a vehicular accident near Atgaon village in Thane district. Last month, a leopard was hit by a speeding vehicle on the Nagar-Kalyan highway (NH-61) near Ale village located in Junnar, Maharashtra. This was an approximately 5-year-old male, who suffered grievous injuries and was paralysed below the neck.
Where Wildlife SOS Comes In
This male leopard was rescued by Wildlife SOS and brought to the Manikdoh Leopard Rescue Centre (MLRC) for treatment. But despite our best efforts, the leopard succumbed to its injuries. However, not all rescue incidents have had tragic conclusions, and some are filled with hope.
In 2019, Wildlife SOS brought in an approximately 7-month-old female leopard cub after it was hit by a speeding vehicle on a highway in Maharashtra's Nashik district. Paralysed and unable to walk, her chances of recovery appeared bleak as the cub had sustained spinal injuries, leading to complete limb paralysis. Extensive physiotherapy treatment that comprised stretching exercises, massages and assisted walks ultimately helped restore normal muscle control and functional ability, and put the leopard back on her legs. Given a second chance at life, the young feline was able to return to the wild.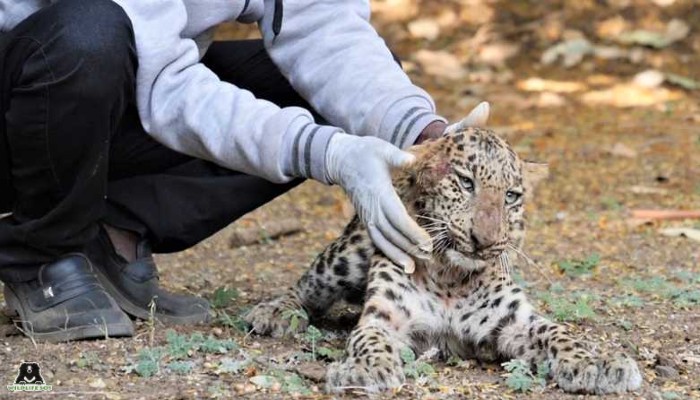 In the case of the injured hyena found near Otur, it was brought to MLRC for off-site treatment. The young male hyena, no more than two years old, was found with complete hindquarter paralysis and was unable to bear its own weight. After prolonged treatment and intensive care such as anti-inflammatory and oral medication, the hyena was able to make a recovery.
In the case of the Pune-Nashik highway accident mentioned above, the hyena had sustained injuries on its head, shoulders and legs, and was placed under intensive care at MLRC. Further examinations revealed that the hyena had a mandibular symphysis fracture, also known as fracture of the jaw. Following the diagnosis, the Wildlife SOS Veterinary Officer performed surgery on the animal's lower jaw.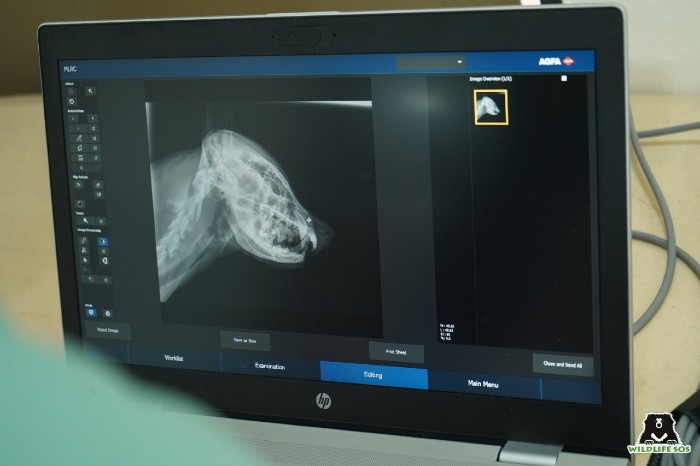 It is disheartening to deal with cases where unsuspecting animals put their lives at risk as they wander onto busy highways, only to end up getting injured or killed. While infrastructural development is a blessing for man, it has been a curse for wild animals. We are putting our best foot forward in trying to save these innocent animals. You too can become a supporter of wildlife conservation by becoming a monthly donor to Wildlife SOS and contributing to our life-saving work.